<! cd = 11/14/13 > <! MP3 11/14/13 > <! outside 11/14/13 - WP, AM > <! pix 00/00/00 > <! 208-pix: 00/00/00 > <! styles: Bluegrass, Hillbilly Fillies > <! UPDATES: 11/14/13 - posted, updated - bio could use some beefing up >
---
Claire Lynch emerged in the 1990s as one of the leading women bluegrass artists, bending the genre to meet up with the folk-oriented Americana and adult-contemporary styles of the time. Here's a quick look at her work...
---
Discography - Best-Ofs
---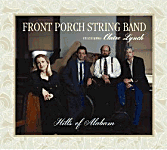 Front Porch String Band "Hills Of Alabam' " (Rebel, 2012)



A nice overview of two old albums the Front Porch String Band recorded for the Rebel label, 1983's Front Porch String Band and Lines And Traces, from 1991... FPSB is best known as Claire Lynch's old band, but they were memorable in their own right, with plenty of sweet picking and a strong repertoire. Lynch has a sweet voice, though her stylings and phrasing often seem derivative, somewhere between Emmylou Harris and Nanci Griffith (with much more of an Emmylou vibe...) Nothing wrong with that, though! Nice to hear these classic recordings back in print again.
---
Discography - Albums
---
Claire Lynch "Out In The Country" (Copper Creek, 2001)



Reissue of an old pre-Front Porch String Band album... Apparently this one has more of a country vibe and less 'grassiness... I haven't heard it yet, though, so I couldn't say for sure.


<! 144 x 144 >

The Front Porch String Band "The Front Porch String Band" (Rebel, 1981)



Here's Lynch playing with her husband Larry Lynch and a couple of their pals, including Michael McClain of the McClain Family Band... She went on to a long solo career, recording under her own name (see below), but this was fine band in and of itself... The FPSB had been together for several years before this disc was recorded, but this is their earliest album currently available in print...


<! 144 x 144 >

The Front Porch String Band "Lines And Traces" (Rebel, 1991)



(Produced by Claire Lynch & Larry Lynch)
A fine reunion album, made after a ten year hiatus...
Claire Lynch "Moonlighter" (Rounder, 1995)



Emerging as a solo artist from the Front Porch String Band, Claire Lynch seemed to have a bit of a Nanci Griffith jones going on... In strictly bluegrass terms, I think many of these songs are overwritten, too lofty and densely packed to really draw you in. But as pretty-sounding singer-songwriter folk, it's nice stuff. So... take your pick how you want to approach this material. She plays slow ballads and perky pickin' numbers with equal ease... even a bit of cajun music thrown in for good measure. About half the songs on here are Lynch originals, an impressive feat in and of itself!


<! 144 x 144 >
Claire Lynch "Silver And Gold" (Rounder, 1997)



A few years back, this was the first Claire Lynch CD I came across, and -- boy! -- was it an eye opener! Of the current crop of truegrass traditionalists, I think she's one of the top artists to keep an eye on. Again, I'd prefer hearing her stick to more traditional-sounding material, but whatever she chooses to play, she's a major talent. Recommended!


<! 144 x 144 >

Claire Lynch "Friends For A Lifetime" (Rounder, 1998)


Claire Lynch "Love Light" (Rounder, 2000)



An unfortunate distancing from the more traditional-sounding blend of bluegrass and straight country which had so endeared her to us before. This is a move in the pop crossover direction already taken by Laurie Lewis and Alison Krauss, although with a much stronger voice and a nice Tin Pan Alley, torch-singer savvy that those other Rounder gals don't quite have. Not my cup of tea, but for those who enjoy Rounder's pop-fusion material, this album should be a gas. Heck, even I found myself tapping my toes to the swing-tinged "Stranger Things Have Happened..." and you know what a big ole meanie I am!


<! 144 x 144 >

Claire Lynch "New Day" (Rounder, 2006)


Claire Lynch "Crowd Favorites" (Rounder, 2007)


Claire Lynch "Whatcha Gonna Do" (Rounder, 2009)


Claire Lynch "Dear Sister" (Compass, 2013)


---
Links
---
---