<! cd = 11/25/10 > <! MP3 11/25/10, 08/29/13 > <! outside 11/25/10 - WP > <! pix 00/00/00 > <! 208-pix: 00/00/00 > <! icons 11/25/10 > <! UPDATES: 11/25/10 08/29/13 - new pix, review >
---
Former rodeo rider and cowboy poet Red Steagall entered the music scene in the early 1970s as a latter-day honky-tonk and western swing singer; later on he refashioned himself as a singing cowboy and has become one of the best-known western music revivalists, along with Don Edwards, Chris LeDoux and others. Here's a quick look at his work...
---
Discography - Albums
---
Red Steagall "Party Dolls And Wine" (Capitol, 1972)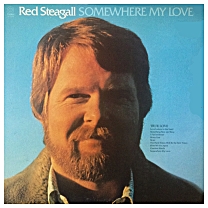 Red Steagall "Somewhere My Love" (Capitol, 1973) (LP)


(Produced by Joe Allison)
Great record, a little on the mellow side. Steagall does an uncanny job channeling the spirit of (the then-still active) Hank Thompson, soulfully crooning his way through a jovial set of mellow western swing-style ballads and robust honky-tonkers. The set is split between covers of standards such as "Mona Lisa" and Cole Porter's "True Love" and a handful of Steagall originals, which generally have a more robust, more hard-country feel. The title track, "Somewhere My Love," comes from the film "Dr. Zhivago," but somehow Steagall manages to stop just short of it sounding cheesy, and all around this album is a class act. If you like Hank Thompson, you're gonna love this one.
Red Steagall "If You've Got The Time, I've Got The Song" (Capitol, 1973) (LP)

Red Steagall "Finer Things In Life" (Capitol, 1974) (LP)


Red Steagall "Lone Star Beer And Bob Wills Music" (ABC/Dot, 1976)


One of the greatest western swing albums of the 1970s, this fine, fiddle-drenched, beer-happy singalong set gave the Bob Wills sound a hefty infusion of honkytonk barroom backbeat, while offering up a swell batch of original new tunes. If Steagall had only recorded the album's anthemic title track, his name would still be forever set in the annals of true-country immortality, but the rest of the album rocks mightily as well. Songs like "Neons And Nylons," "Alexis From Texas," "The Walls Of This Old Honky Tonk" and "My First Night Without You" are quite simply about as good as hard country can get, and Steagall's jaunty delivery is just about the most upbeat, jovial thing this side of good ole Hank Thompson. Highly recommended.


<! 144 x 144 >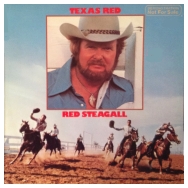 Red Steagall "Texas Red" (ABC/Dot, 1976) (LP)


(Produced by Glenn Sutton)
Another fine, cheerful record with many songs sung in praise of the Lone Star State (and, mysteriously, a straight cover of "I Left My Heart In San Francisco") and the same basic sound as the Lone Star Beer album. This kicks off with a nice version of "Miles And Miles Of Texas," and album highlight along with "San Antonio Champagne," "Her L-O-V-E Is Gone" and a plainspoken, heartbreaking weeper, Sonny Throckmorton's "Rosie (Do You Want To Talk It Over)." Four of the songs were written or co-written by producer Glenn Sutton, including "Lone Star Love," which recycles the melody of "Lone Star Beer And Bob Wills Music"... But that's okay, nobody's complaining. Plenty of sweet picking and some hot fiddle courtesy of Johnny Gimble, and robust vocals by Steagall and his band, with the mod-'70s edition of the Jordanaires pitching in on the chorus. Maybe not as inspired as some of his albums, but still a solid, thoroughly enjoyable set of honky-tonk and western swing, Texas style.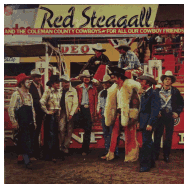 Red Steagall "For All Our Cowboy Friends" (ABC/Dot, 1977)


Steagall, an old rodeo rider himself, applies his irresistible honkytonk swing sound to a slew of rodeo-themed western tunes and semi-plausible tall tales... If you like the material, then this set can't be beat; if dogie ropin' and cattle wrangling is less interesting to you than beer drinkin' and girl chasin', then you might find your attention wandering a bit. Still, I dig the way Steagall sings, and compared to just about any other goat roper album I'm ever heard, this one's a masterpiece.
Red Steagall "Hang On Feelin' " (ABC/Dot, 1978) (LP)

Red Steagall "It's Our Life" (Hesston Productions, 1979) (LP)


(Produced by Ken Sutherland)
A delightful, topically-themed album, recorded on behalf of the Hesston Manufacturing Company, a farm equipment firm based in Kansas which became associated with the rodeo scene in the '70s (and was long ago purchased by some ginormous ag conglomerate, though the brand still survives...) Anyway, there's some great stuff on here, including patriotic songs such as "My America," songs in honor of farming families, especially the grandmothers and wives, and pointed political commentary, such as Baxter Black's anti-subsidy anthem, "I'm Here To Help," which would fit right in today at a contemporary Libertarian Party rally. There's also plenty of fine, twangy, good-time country swing, Steagall style, although this is a distinctly message-y album, and kind of an odd anomaly in Steagall's career, a prickly punctuation mark between his honkytonk years and his later close identification with the singing-cowboy sound. For novelty hunters and fans of heartland political kitsch. Worth tracking down, for sure.
Red Steagall "Cowboy Favorites" (Delta, 1982) (LP)

Red Steagall "Red Steagall" (Dot/MCA, 1986) (LP)

Red Steagall "Born To This Land" (Warner Western, 1993)


Red Steagall "Faith And Values" (Warner Western, 1995) <! mostly gospel >


Red Steagall "The Cowboy Code" (Eagle, 1996)


Red Steagall "Dear Mama I'm A Cowboy" (Warner Western, 1997)


Red Steagall "Love Of The West" (Warner Western, 1999)


Red Steagall "Wagon Tracks" (Shanachie, 2002)


Red Steagall "The Wind, The Wire And The Rail" (Wildcatter, 2006)


Red Steagall "Here We Go Again" (Wildcatter, 2007)


---
Links
---
---