<! cd = 01/03/13 > <! MP3 01/03/13 > <! outside 01/03/13 - Trevino's site, no WP > <! pix 01/03/13 - only one > <! 208-pix: 00/00/00 > <! icons 01/03/13 > <! UPDATES: 01/03/13 - posted >
---
Texas native Justin Trevino has been a mainstay of the Lone Star indie scene since his teenage years when he joined old-timer Johnny Bush's band. Trevino went on to work with artists such as Darrell McCall, Don Walser and Cornell Hurd and emerged as a solo artist, as well as a prolific record producer, helping dozens of artists put their music on wax. Here's a quick look at his work...
---
Discography - Albums
---

Justin Trevino "Travelin' Singin Man" (Lone Star/TMG, 2000)



A compelling set of good, old-fashioned, independently produced honkytonk shuffles, very much in the tradition laid down by Ray Price, Carl Smith and Charlie Walker. A stalwart of the Texas indie scene, Trevino is a notably imperfect singer (he's got a lisp and tendency to flub some of his phrasing), but he really throws himself into the material and carries the day with the lyrics, particularly on upbeat heartsong faves such as "Brand New Mister Me" and "I'll Sign The Papers." His pal Johnny Bush duets on a couple of tunes, and co-produced the album; Trevino's band totally rocks, particularly the twin fiddles and steel guitar players. Worth checking out!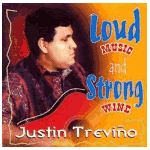 Justin Trevino "Loud Music And Strong Wine" (Neon Nightmare, 2000)


The good, old-fashioned Texas shuffle is alive and well in the work of this indie-oriented Panhandle troubadour. His musical leanings place him in the neighborhood of Ray Price and Carl Smith, while his light voice and slight lisp give him an imperfect charm not unlike that of Hank Locklin or Freddy Fender. Not bad company at all!
Justin Trevino "The Scene Of The Crying" (Lone Star/TMG, 2002)


Justin Trevino "Too Many Heartaches" (Heart Of Texas, 2004)


Justin Trevino "More Loud Music And Strong Wine" (Heart Of Texas, 2005)



Justin Trevino "Before You Say Amen" (Heart Of Texas, 2006)



An all-gospel offering...
Justin Trevino & Johnny Bush "Texas On A Saturday Night" (Heart Of Texas, 2007)


Justin Trevino "Take One As Needed For Pain" (Heart Of Texas, 2008)


Justin Trevino & Amber Digby "Keeping Up Appearances" (Heart Of Texas, 2010)


Justin Trevino "Two Of The Usual" (Heart Of Texas, 2011)


---
Links
---
---