<! cd = 11/01/10 > <! MP3 11/01/10 > <! update 11/01/10 > <! outside 00/00/00 > <! pix 11/01/10 - some, still need best-of pix > <! 208-pix: 00/00/00 > <! icons 11/01/10 >
---
Travis Tritt made a big splash when he first hit the scene, playing with a crack bad that had a healthy respect for old-school Southern rock, as well as a lot of real-deal twang. Fame changed that, of course, as it does with so many other country stars... Over the years he softened his sound, kept some of the twang but balanced it with ballads and high-concept songs, and just as inevitably he slid off the charts when the Top Forty crowd went looking for something else shiny and new. I was disappointed when he reemerged in 2003 and went out of his way to pick a fight with and try to bully the Dixie Chicks over their stand on the Iraq War... I'm sure the patriotic posturing helped his album sales, but the way he attacked his fellow artists didn't speak well to his character. Regardless, that early stuff still sounds pretty potent, and you may be pleasantly surprised if you take the time to check out his first few albums. Here's a quick look at his career...
---
Discography - Best-Ofs
---
Travis Tritt "Greatest Hits: From The Beginning" (Warner-UK, 1995)


Travis Tritt "The Lovin' Side" (Warner Archives, 2002)


Shamelessly belaboured, cloying love songs that would have been worthy of Kenny Rogers in his prime. Even though he broke through as a balladeer (with 1990's "Help Me Hold On," buried in the middle of this disc), Tritt is probably better known as a young country rocker... This collection goes against the Nashville formula of balancing slushy stuff with uptempo numbers and old-fashioned honkytonk. So unless you're really into Nashville power ballads, this disc may be a little hard to get through: a little bit of this stuff goes a long way.

Travis Tritt "The Rockin' Side" (Warner Archives, 2002)


The companion disc to the Lovin' Side collection, this also abandons the Music City formula of pairing weepy sensitive-guy songs with more crotch-grabby, macho material. Tritt delves deep into Southern Rock terrain on this collection of 1990s hits -- it's the sound he's most associated with, having pushed the "young country" envelope further than his predecessors such as Clint Black and Randy Travis, who stuck closer to the Nashville mainstream. A more varied best-of might be better for casual listeners, but anyone looking for Tritt's hard-rockin' material and nothing else, then this disc will be a real winner.

Travis Tritt "The Very Best Of..." (Warner/Rhino, 2007)



See? He's both a lover and a fighter... This'll probably be the definitive best-of collection of Tritt's work for some time to come... Other than that big old playlist on your harddrive at home, that is!
---
Discography - Albums
---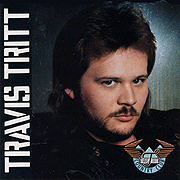 Travis Tritt "Country Club" (Warner Brothers, 1990)



(Produced by Gregg Brown)
A strong debut by a Southern rock rowdy with some real country roots... The title track, which kicks this album off, is a fine hard country tune with a theme similar to "I'm Gonna Get A Wino To Decorate My House" or "All My Rowdy Friends Are Coming Over" -- the roughneck hero proudly proclaiming his low-class background and giving a one-finger salute to anybody who doesn't like it. Plus, it's a great song, musically speaking -- Tritt's band, called the Country Club, were a crack ensemble that played in a hard, sharp-edged style, and floundered a little when they tried to play the soft stuff. This whole album isn't as good as that opening track, but for a new kid on the block, Tritt made quite a strong first impression. Worth checking out!
Travis Tritt "It's All About To Change" (Warner Brothers, 1991)



(Produced by Gregg Brown)
Another strong record, with Tritt at the height of his powers as a ballsy "young country" pioneer -- sure, he sings some weepy slow songs ("Anymore," "Someone For Me," and the more soulful "Nothing Short Of Dying"), and sure, ballads turned out to be his real money-makers, but what makes Tritt's music so fun is the rompy-stompy, Southern rock-tinged rowdy stuff, particularly sarcastic hard country numbers like "Here's A Quarter (Call Someone Who Cares)" (the album's highlight), the slightly scandalous "Bible Belt," and "The Whiskey Ain't Workin'," a downcast duet with Marty Stuart. There are several tunes on here that haven't made it onto Tritt's standard-issue best-ofs, the best of these is the title track, which is a fine, steel-drenched, hard country ballad, the worst of which is the cluttered, clumsy uptempo number, "If Hell Had A Jukebox," which may be the only song on here that really just doesn't work. Tritt also gets some trad cred with a cover of Jimmie Skinner's old hit, "Don't Give Your Heart To A Rambler" -- it doesn't really work with the new, dense-sounding modern arrangement, but ya gotta give the guy credit for trying! Overall, a record that's worth checking out.

Travis Tritt "T-R-O-U-B-L-E" (Warner Brothers, 1992)



(Produced by Gregg Brown)



Travis Tritt "A Travis Tritt Christmas: A Loving Time Of The Year" (Warner, 1992)


It's a bubbadelic Christmas! A mixed bag, actually... Tritt romps through a bunch of new tunes, and spices up some oldies with a dose of Southern- and 'Fifties-style rock. Some of the more distinctly hard-country songs are quite nice -- particularly his version of "Santa Looked A Lot Like Daddy." The musclebound blues of "Christmas Isn't Christmas Without You" seems really out of place, and while his Southern rock rearrangment of "Silver Bells" is boldly original, it still sounds a little too raucous. Nice croony version of "Have Yourself A Merry Little Christmas," though! Six of one, half dozen of the other.

Travis Tritt "Ten Feet Tall And Bulletproof" (Warner Brothers, 1994)



(...Although apparently still not mulletproof...) You can practically feel your brain cells popping in a beer-buzzy stupor as you listen to this disc... This is good stuff, real country music! At least... that's what you'll think when you hear the first couple of songs, the catchy, clever, good-timin' title track and the narcotizing "Walkin' All Over My Heart," which are both mighty fine, old-style hard country tunes. Things get dicier on the rest of the album, though, from the self-aggrandizing flatulence of the Hank, Jr. duet, "Outlaws Like Us" to the frenetically paced Southern rock of "Hard Times And Misery" and "Wishful Thinking" (co-written with Gary Rossington, no less...) and weirdly overproduced slow tunes like "Tell Me I Was Dreaming." This mostly seems like an album where all concerned didn't know when to let well enough alone; even when he regains his equilibrium on tunes like Keith Stegall's "Between An Old Memory And Me," there are still some touches that drag the album down -- just a tad too much guitar here, an egregious key change there. Overall, not bad, but I wish he and producer Gregg Brown had been able to rein themselves in a bit and keep it more country.
Travis Tritt "The Restless Kind" (Warner Brothers, 1996)


Travis Tritt "No More Looking Over My Shoulder" (Warner Brothers, 1998)


Travis Tritt "Down The Road I Go" (Columbia, 2000)



(Produced by Billy Joe Walker & Travis Tritt)


Travis Tritt "Strong Enough" (Columbia, 2003)



It's pretty telling that Travis Tritt, who did his best to lead the Nashville backlash against the Dixie Chicks (for daring to --gasp!! -- have an opinion that wasn't the same as his!), starts this album off with a song about how his career isn't over, and he isn't all washed up ("You Can't Count Me Out Yet"). It's also interesting that he follows it up with a song about a guy who's a big ole stubborn butthead, "Can't Tell Me Nothin'." Yeah, if I was a country superstar who had as much trouble holding a melody and writing or picking a good song as Tritt does, I'd probably go after the Dixie Chicks, too -- less competition on the charts, if you're lucky. Note to Travis: if you don't like freedom of speech, why don't you move to Singapore or Saudi Arabia, where they don't have any? America: love it or leave it alone, dude.

Travis Tritt "My Honky Tonk History" (Columbia, 2004)



(Produced by Billy Joe Walker, Jr. & Travis Tritt)
He used to be kinda cool, but by the time this disc came out Tritt was mostly just pompous and overblown... The music is overcooked and pretentious, and that seems to suit Travis just fine; he's pretty full of himself anyway. There are a couple of okay songs -- his cover of Philip Claypool's "Circus Leaving Town" is pretty good right up until the end, when the production starts to get a little bit lush. "I See Me" is okay, too, though it ain't great. He also tries, a little late in the game, to get in on the 9/11 patriotic song bandwagon, with "What Say You," an almost-catchy duet with John Mellencamp. It's a weird song, though, where Tritt tries to have it both ways -- it's a macho patriotic song that preaches tolerance and brotherhood on one hand, and then gets in your face and decries welfare bums and cowards and demands to know where you stand. Are you tough enough to love your country?? Overall, I'd say that with all the strained musicianship and endless chest-puffing, this isn't Tritt's greatest record, although it did get him back on the charts for a while, and considering how old-news he is these days, that's no small accomplishment. Diehard fans probably liked it, but it's really pretty mediocre. I'll pass.
Travis Tritt "The Storm" (Category Five, 2007)


Travis Tritt "Calm After" (Redneck Records, 2013)



Well, here it is... 2013 and I'm still kind of pissed at Travis Tritt for how he dumped on the Dixie Chicks during the whole post-9/11 we're-ashamed-of-George-Bush kerfuffle... But, whatever. I'm willing to move on now, even though I still don't think it's cool to dogpile on people like that. Cowardly, even. But like I say, I'm willing to let it go. Looks like he has a new album.
---
Links
---
---