<! MP3 00/00/00 > <! update 00/00/00 > <! outside 00/00/00 > <! pix 00/00/00 > <! icons 02/28/11 >
---
"Old-timey music" (*)-- that plinky-planky acoustic hick style -- is admittedly an acquired taste. The grumpy backwoods aunt and uncle of bluegrass music, old-timey harkens back to an older, plainer, more down-country era. Even though there's a lot of stylistic crossover, many bluegrass and country fans find the old-timey stuff to be a bit too nasal, or twangy, or primitive, or goofy... while legions of others love the stuff.
After years of qualifying my reviews of old-timey albums by starting off, "this might not be for everyone, BUT..." I finally decided to put up a web page devoted to the style and be done with it.
Here is a quick look at some of the best collections of old-timey music available... a great way to check this odd old music out!
(Also featured are pages reviewing albums by the original old-timey musicians of the Great Depression, and their musical kin in the bluegrass and old-timey revivals.)
---
Old-Timey Collections
---
Various Artists "BLOODY WAR: SONGS 1924-1939" (Tompkins Square, 2010)



A nice set of historical songs, mostly old-timey hillbilly material, but also a bit of blues, chewing over the experience of the First World War. Lots of squeaky fiddle and plunky banjos, and odd, unruly lyrics. Includes hillbilly stars like Fiddlin' John Carlson, Darby & Tarlton, Buell Kazee, Zeke Morris and Ernest V. Stoneman, performing in that otherworldly air of the pre-WWII era. Worth checking out, particularly for the historically-minded.

Various Artists "THE BRISTOL SESSIONS" (Country Music Foundation, 1987)


Welcome to the motherlode. In 1927, Victor Records A&R representative Ralph Peer set up a recording studio in a rural Tennessee hotel, and brought to the world the first recordings of the Carter Family, as well as future superstar, blues yodeller Jimmie Rodgers. Other dimly remembered old-timey artists were also recorded, such as gospel singers Alfred G. Karnes and Ernest Phipps, old-timey singer Ernest V. Stoneman, and various stringbands, as well as a slew of local performers who never enjoyed the commercial success of the more luminous stars mentioned above. This 2-disc set is completely fabulous -- if you like old-timey hill music, this is the motherlode, an absolutely essential collection.

Various Artists "CLASSIC FIELD RECORDINGS: LANDMARK COUNTRY SESSIONS FROM A LOST ERA" (JSP, 2010)


Various Artists "CLOSE TO HOME: OLD TIME MUSIC FROM MIKE SEEGER'S COLLECTION" (Smithsonian Folkways, 1998)


Wonderful raspy rural music recorded between 1952-'67 by Pete's little brother Mike. Includes later recordings from legends such as fiddler Eck Robertson, banjo-pickin' ne'er-do-well, Dock Boggs, and Sara and Maybelle Carter, as well as dozens of jes-plain-folks recorded off the cuff by the eager kid from New York City. Some of the recordings are fragmentary, and all were recorded under the simplest of conditions, with just one microphone, out on a porch or in someone's kitchen. But it's precisely this informal, non- professional nature of these recordings which give them their appeal. Also, check out the wonderful CDs of Seeger's own band, the New Lost City Ramblers (listed above).
Various Artists "COUNTRY MUSIC PIONEERS ON EDISON" (Document, 2006)


Various Artists "FOLK MUSIC FROM WISCONSIN" (Rounder, 2001)


My family has roots in Wisconsin, so I couldn't resist checking out this disc of old Library of Congress recordings... It's all good stuff, although I was surprised by the preponderance of English and Celtic material, and the absence of German and Nordic folk songs... Does this reflect the cultural bias of the folks who collected these recordings in the 1940s, or is there perhaps another volume in the works? At any rate, if you like old-timey stuff, this disc holds up pretty well... even includes a few logging songs of local origin!
Various Artists "FOLKS, HE SURE DO PULL SOME BOW!" (Old Hat, 2001)


Another astonishing album from this truly great, tiny independent label... This features rare old recordings of fiddle music, some old-timey and some straight blues, made during the height of the Great Depression. There are a few familiar names, such as Peetie Wheatstraw and Peg Leg Howell, but for the most part this is pretty ultra-obscure material (even including one track of music by immigrants from Cape Verde. This is high-quality stuff, and comes with generously informative liner note... Highly recommended!

Various Artists "GENNETT OLD TIME MUSIC: CLASSIC COUNTRY RECORDINGS: 1927-1934" (JSP, 2010)

Various Artists "THE HALF AIN'T NEVER BEEN TOLD v.1" (Shanachie/Yazoo, 1999)


Various Artists "THE HALF AIN'T NEVER BEEN TOLD v. 2" (Shanachie/Yazoo, 1999)

Old time religious expressions as simple as reverence, rapture and humility have become so foreign to our society -- replaced by stock market investments, est seminars and intolerant rightwing fundamentalism -- that these ancient hick recordings have all the vibrant, jangling other-ness about them as the best "world music" records. Rural America itself has given way to cable TV and the home shopping network, so a world filled with fire, brimstone and the blood of the lamb really does sound like something from far, far away. As with other Yazoo compilations, this is powerfully programmed, with strong, striking selections, and is chock full of ultra-rare material. And, sadly, it's also a little sketchier on discographical material than maybe some of us would like. But still, if you like the passion and feeling of old-time gospel music (even if you don't go for the whole Jesus thing...) this is an astounding collection. Features both white hillbillies and African American artists -- and the black stuff ranges outside of the usual blues and shouting gospel styles into several delightfully atypical stringband tracks. Highly recommended!
Various Artists "HARRY SMITH ANTHOLOGY OF AMERICAN FOLK MUSIC" (Smithsonian Folkways, 1952/1998)


Oddball record collecting mystic-savant Harry Smith was one of the first eggheady bohemian types to take stock of the vast ocean of hauntingly evocative, genuinely odd, music recorded by rural blues and country artists during the Great Depression. While living in New York during the early '50s, Smith assembled a three-volume compilation of albums that acted as a Rosetta Stone for the nascent folk scene, moving many artists to earnestly take up the song-collecting banner, and later inspired others such as Bob Dylan and Phil Ochs to create a whole new folk canon of equal power. This widely-praised, Grammy-winning Smithsonian-Folkways box set reissues four discs worth of material originally assembled in the early 1950s by an oddball record-collecting savant who became the guru of the 'Sixties folk scene. And it's pretty awesome. (Note: legend has it that these albums represented only a fraction of his collection of rare 78s; the rest of them were pawned to the New York City Library, which musicians such as John Cohen and Mike Seeger -- of the New Lost City Ramblers -- later used as their creative wellspring during the folk revival).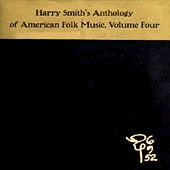 Various Artists "HARRY SMITH'S ANTHOLOGY OF AMERICAN FOLK MUSIC, Vol. 4" (Revenant, 2000)


Another absolutely gorgeous release on this John Fahey-related label. This 2-CD set of primal folk and old-timey recordings follows in the wake of the Smithsonian-Folkways box set and has fewer unknown artists -- there are several tracks from way out in left field, but mainly it's heavily populated with well-known acts such as the Carter Family, Leadbelly, Memphis Minnie and the Blue Sky Boys. What is specially compelling about this set, though, is its excellent sequencing, in which each song -- even those by the well-known artists -- is set into a larger context, and sounds new, fresh, and mysterious. The collection opts for melody rather than the quirky starkness associated with old-timey music. The effect is lulling and trance-inducing, making this set much more accessible than many similar collections. In addition, the lavishly-designed booklet, which includes amused, laudatory essays by acoustic music veterans such as John Cohen (of the New Lost City Ramblers), Ed Sanders (of the Fugs) and John Fahey (who owns Revenant) is both aesthetically beautiful and wildly informative... a fitting tribute to one of the most charismatic cultural eccentrics of the Beat era. For accuracies sake, I have to point out that the provenance of this collection is a little up in the air, since the erratic Smith had assembled a precise playlist for Volume Four, but lost it during one of his down phases. Still, with the input of so many folks who knew him personally, I think it's safe to say that this collection is pretty much the real deal.


<! Various Artists "I KIND OF BELIEVE IT'S A GIFT" (Meriweather) "...The vinyl 2-LP set " I Kind of Believe It's A Gift", published on Meriweather records. These recordings were published in limited quanitity, and originally produced for libraries and educational institutions, but fell into the hands of many Old-Time Music fans. > <! Various Artists "MIRTH, MUSIC & MOONSHINE: OLD TIME COMEDY" (BACM) CD D 141 >

Various Artists "MOUNTAIN FROLIC: RARE OLD TIMEY CLASSICS" (JSP, 2008)

Various Artists "MOUNTAIN MUSIC OF KENTUCKY" (Smithsonian Folkways, 1997)


Another great collection of old, bedrock backwoods material. Par for the course, many of these artists were not professionals (or had only modest careers...) and were just old mountain folks who played and kept alive the music they grew up with. If it weren't for albums like these, this music may well have died out decades ago. Some tracks are only so-so, but just as often, this'll make your spine tingle with the intensity with which the singers believe in their songs. Great stuff, which should pass just about any litmus test of "authenticity" you could come up with.


Various Artists "MUSIC FROM THE LOST PROVINCES" (Old Hat, 1997)


Various Artists "VIOLIN, SING THE BLUES FOR ME: AFRICAN-AMERICAN FIDDLERS: 1926-1949" (Old Hat, 1999)


It's pretty amazing, this late in the folkloric/historic reissues game, to find not one, but two albums worth of "undiscovered" old-timey music that are of such a high caliber. These two discs, issued by a tiny North Carolina indie label, are jam-packed with some of the best music in the style that you're ever likely to hear. The Lost Provinces CD concentrates its attention geographically, collecting old 78s from artists out of Ashe County, NC, one of those backwoods areas unusually rich in hillbilly talent. The best known of these artists was the team of Grayson & Whitter (who were favorites of Ralph Stanley), but there are plenty of other great Ashe County artists on here, with fab names like The Woodies, The Carolina Night Hawks and (my favorite) Ephraim Woodie & The Henpecked Husbands. The second volume, Violin, Sing The Blues, highlights an even rarer style, the African-American fiddle bands that dotted the landscape 'way back when. These groups mixed stringband styles and jazzy jug-band blues and, not incidentally, made some of the catchiest music ever. In addition to great sound and great material, both discs are also quite handsomely packaged; the insert booklets include some really cool archival photos, as well as extensive liner notes of the sort that have been woefully absent on similar recent reissue efforts. Both discs get my highest recommendation.

Various Artists "PARAMOUNT OLD TIME RECORDINGS" (JSP, 2006)

Various Artists "PEOPLE TAKE WARNING! MURDER BALLADS AND DISASTER SONGS: 1913-1938" (Tompkins Square, 2007)



A fab 3-CD set exploring the rich tradition of topical songs in the old-timey music of the early 20th Century. Weird, wonderful stuff.


<! SERENADE IN THE MOUNTAINS B000GPIBRI - one disc only? >
Various Artists "THE STUFF THAT DREAMS ARE MADE OF" (Shanachie/Yazoo, 2006)


A cool set of blues, gospel, and proto-country rarities from the early days of the record industry, harvested from the 78 RPM libraries of several of the world's old-school uber-collectors, folks who spent their youth in the 1950s and '60s canvassing the South, going door to door asking people if they had any old 78s they'd care to part with... This 2-CD set includes rare material that went unreleased over seventy years ago, and several songs that only exist today in one or two known copies, Holy Grail material found only on precious, whispered-about, highly prized solitary shellac and vinyl copies. Oh, I admit, I was suckered into buying this just because of the R. Crumb cover art -- that, plus the tagline about how this is "The Rosetta Stone Of Record Collecting" made me think this might be like the keeno Crumb-curated That's What I Call Sweet Music jazz collection from a couple of years ago... Other than the artwork, though, I'm not sure how much involvement Crumb has with this project... The provenance of this collection is a little fuzzy, but the dozen or so ubercollectors that contributed include folks like Dave Freeman, Dick Spottswood and Joe Brussard, who have been at this kind of thing for a while. And, boy, do they have some fun stuff! If you like old-timey music and rugged country blues, then this collection will definitely float your boat. It's great stuff. The liner notes are a hoot, too, full of plenty of knowing, self-deprecating jibes at the world of obsesso collector nerds, including a scary article about the Collyer Brothers, a pair of New York nutjob packrats who filled every cubic centimeter of their sprawling, four-story house with tons and tons of crap, bric-a-brac and junk, and actually died inside the labyrinth... That could never happen to me, say all the collector nerds who'll pick this set up... Oh, no. Of course not.
Various Artists "TRADITIONAL FIDDLE MUSIC OF THE OZARKS, v.1" (Rounder, 2000)


Various Artists "TRADITIONAL FIDDLE MUSIC OF THE OZARKS, v.2" (Rounder, 2000)


Various Artists "TRADITIONAL FIDDLE MUSIC OF THE OZARKS, v.3" (Rounder, 2000)


These three discs, Along The Eastern Crescent, On The Springfield Plain, and Down In The Border Counties, represent some of the finest (and raspiest) Ozark old-time music you're ever likely to hear. A bit different than that fancy stuff they played back in the Appalachians, this is rough-and-tumble hick music, recorded pretty recently (in the late 1990s!) with charming performances by dozens of good-natured locals. Nice stuff.
Various Artists "THE VICTOR LABEL: CLASSIC OLD TIME MUSIC" (BACM, 2005)
(Available through the British Archive of Country Music website.)


<! CD D 129 >


Various Artists "THE WARNER COLLECTION v.1: HER BRIGHT SMILE HAUNTS ME STILL" (Appleseed, 2000)


Various Artists "THE WARNER COLLECTION v.2: NOTHING SEEMS BETTER TO ME" (Appleseed, 2000)


Well before the Lomax-and-Seeger-led boom in folkie field recordings during the late 1950s and early '60s, Anne and Frank Warner travelled America's backroads, hauling their recording equipment to front porches throughout the rural hill country. These two CDs collect several dozen recordings from the 1940s (and a few from later on...) that later wound up in the Library of Congress. These tracks have the usual charm of old-timey field recordings: plain folks plunking out the tunes they grew up with and love, the occasional unmoderated laughter, the audible twinkle in their eyes as they sing a silly love song or a spooky ghost story. What may be a bit of a letdown is that many of these tracks are only snippets of longer songs -- the Warners were song "collectors", who wrote down lyrics and often recorded just enough of the song so that they could get the melody (and the variations in melody) down right. They weren't particularly interested in the recordings per se, although many of these songs are full-length, and pretty much all of them are magical and captivating. Anne Warner also is the author of a highly-regarded book of and about old-timey music, which is also available through Appleseed.
Various Artists "SOUTHERN JOURNEY v.1-13" (Rounder)


Rounder recently got the rights to the capacious Alan Lomax Collection, which was originally released on a variety of labels in the late '50s and '60s. Included in the projected one-hundred CD release schedule is this awesome series of old-timey and country-blues recordings, which shifts back and forth between African-American and white Appallachian traditions. For the hardcore hillfolks stuff, I recommend Volumes 4, 9 and 10, which concentrate on bedrock religious music, the sort of stuff which makes "fundamentalism" sound like something more appealling than mere intolerance. There are few collections out there which do a better job presenting the ultra-primitive "shape-note" style of line singing; also included are some rather fascinating brimstone-and-fire sermons, recorded straight off the pulpit. Volume 7, OZARK FRONTIER, highlights slightly more secular music.

Various Artists "THE STORY THAT THE CROW TOLD ME v. 1" (Shanachie/Yazoo, 2000)


Various Artists "THE STORY THAT THE CROW TOLD ME v. 2" (Shanachie/Yazoo, 2000)


I love these fab collections of rural songs written for (and in some cases by) young children... This is so delightful on a variety of levels -- mostly because the things that were funny to little kids in the 1920s are still entertaining today. The songs are so weird, the perfomances so energetic and the topics (such as barnyard animals rooting up the turnip patch) are so old-fashioned and foreign to our ears today that you may find them as captivating as I do. Highly, highly recommended!
Various Artists "WHITE COUNTRY BLUES: 1926-1938 -- A LIGHTER SHADE OF BLUE" (Columbia Legacy, 1993)


The hazy line between old-time hill music and blues-influenced proto-country is mighty fine... This set falls well into the blues camp, but it's such a great collection that if you're poking around the edges of antique twangcore, then this album might also run a shiver down your spine. Recommended!
Various Artists "WORK HARD, PLAY HARD, PRAY HARD" (Tompkins Square, 2012)


"...Hard Time, Good Time, And End Time Music: 1923-1936." A fascinating 3-CD set of old-timey records culled from a nearly-discarded, massive 78 collection that included a large number of previously unknown recordings. The discs are grouped into categories of work songs, gospel tunes and hillbilly party music. A nice addition to the wealth of vintage old-timey music available to modern listeners!
Various Artists "WPAQ: THE VOICE OF THE BLUE RIDGE MOUNTAINS" (Rounder, 1999)


A fab collection of hard-core mountain music recorded several decades ago at a small, locally-oriented radio station in rural North Carolina. In assembling this disc, Rounder has stayed true to the station's local community orientation -- although big-name stars often visited the station, the tracks stick pretty firmly to obscure regional musician; Jim Eanes is probably the best-known artist on here, otherwise it's just plain folks, playing live on the radio. Murder ballads, bluegrass bounces, squeaky fiddle tunes and glorious/goofy gospel -- it's all here, and it's all really good. These recordings come from the days in the late '40s/early '50s when bluegrass was still ascendant, so there is a strong stylistic pull towards more melodic material, and you should be able to get your bluegrass-only pals to give it a listen...
---
More Old-Timey Music >> Letter "A" | Old-Timey Links | Bluegrass
---