<! MP3 10/10/09 > <! update 10/10/09 > <! outside 00/00/00 > <! pix 00/00/00 > <! icons 02/28/11 >
---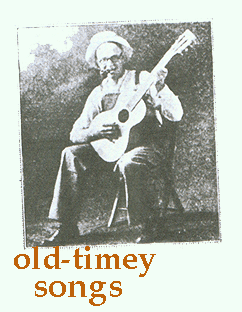 "Old-timey music" (*)-- that plinky-planky acoustic hick style -- is admittedly an acquired taste. The grumpy backwoods aunt and uncle of bluegrass music, old-timey harkens back to an older, plainer, more down-country era. Even though there's a lot of stylistic crossover, many bluegrass and country fans find the old-timey stuff to be a bit too nasal, or twangy, or primitive, or goofy... while legions of other listeners love the stuff.
If old-timey music so damn irritating, then what is its appeal? Maybe part of it is some sort of elitist/obscurist search for something "different", and the shock at finding something so exotic and foreign sitting right there in your back yard... Perhaps it's an academic impulse, the fascination of seeing folk material reworked and retranslated into so many forms, with each gulley and hamlet spinning out its own version of some time-worn theme, and the thrill of realizing that -- like so many folk forms -- this music has been brought back from the brink of extinction by only a thread... and there it is for you to listen to and enjoy. Finally, maybe it's actually just the starkness of the material, the sincerity of the performers, the discovery of an art form that really is pure and self-contained, and the low-key familiarity these singers have with weird old tunes that they've heard all their lives... Especially their sense of humor when that wide-eyed kid from New York shows up on the porch with a microphone, asking if you could break out the banjo and play Grandma's version of "Froggy Went A-Courtin' " one more time.
At any rate, after years of qualifying my reviews of old-timey albums by starting off, "this might not be for everyone, BUT..." I have finally decided to put up a web page devoted to the style and be done with it.
Here, then, is my celebration of old-timey music and the art of the plinky-planky, with reviews of music by artists both new and old, old, old.
This page covers the letter "A"
---
A | B | C | D | E | F | G | H | I | J | K | L | M | N | O | P | Q | R | S | T | U | V | W | X, Y & Z | Comps | Other Country Styles
---
Roy Acuff - see artist discography

The Allen Brothers "Complete Recordings, Vol. 1: 1927-1930" (Document, 2000)

The Allen Brothers "Complete Recordings, Vol. 2: 1930-32" (Document, 2001)

The Allen Brothers "Complete Recordings, Vol. 3: 1932-34" (Document, 2001)


Any Old Time String Band (Bay/Arhoolie, 1978/1980)



This San Francisco Bay Area ensemble was one of the most charming -- and accomplished -- of the late -'70s string band revivalists. This CD combines two LPs originally issued in 1978 and 1980, and features their lovely version of the melodic oldie, "C-U-B-A." Sweet and highly recommended.
Arkansas Sheiks (Bay, 1975)
An early SF Bay Area "all-star" band, with folks such as Jody Stecher, Kate Brislin, Laurie Lewis and Tony Marcus, trotting through a widely diverse repertoire of "American and English" tunes... Stylistically this ranges from straight bluegrass to western swing-tinged jazz and old-timey numbers, as well as a few vocal numbers reminiscent of England's Watersons... There are plenty of rough edges here, but it's a nice glimpse at this style of folk revivalism made at a time when stylistic differences weren't so clearly cut, and bands were in it strictly for fun, and didn't feel the pressure to specialize in order to get an audience.
Emry Arthur/Dock Boggs "Dock Boggs & Emry Arthur" (BACM, 2009)


More early recordings... This disc isn't a collaboration, but rather two sets of tracks by two different artists, evenly divided between Arthur and Boggs. Kentuckian Emry Arthur is a pretty obscure figure nowadays, but he has a place in hick music history as the first person to record the song "Man Of Constant Sorrow," which is unfortunately not included on this otherwise super-groovy collection.
Clarence "Tom" Ashley "Greenback Dollar" (Rebel/County, 2001)



A top-notch set of blues-tinged early country music from this North Carolina guitarist. Many of these songs are now folk scene standards, including the title track, which was one of the pivotal early hits for the late-'50s folkie revival, when recorded by the Kingston Trio. In these original versions, Ashley's Depression-era recordings strike the perfect balance between the grimly morbid sensibilities of the old-time mountain music and the buoyancy of the emerging commercial country scene. He has an edge, yet avoids the psychotic intensity of Dock Boggs, who could also be considered a precursor to rock-style music. This is a great set, full of lively, good-humored performances and plenty of great tunes. Highly recommended!
Clarence "Tom" Ashley & Doc Watson "The Original Folkways Recordings, 1960-1962" (Smithsonian-Folkways, 1994)


Clarence "Tom" Ashley & Tex Isley "...Play And Sing American Folk Music" (Smithsonian-Folkways, 1994)


---
More Old-Timey Music >> Letter "B" | Old-Timey Links | Bluegrass
---