<! MP3 00/00/00 > <! update 00/00/00 > <! outside 00/00/00 > <! pix 00/00/00 > <! icons 02/28/11 >
---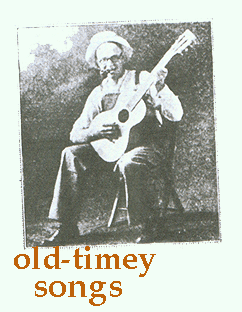 Hi, there... This page is part of the Slipcue guide to old-timey musicians, both old and new. This old-timey guide is part of a much larger Hick Music website. This "guide" is not meant to be comprehensive or authoritative, just a quick look at a few records I've heard recently, as well as some old favorites. Comments, corrections and/or recommendations are are always welcome!
This page covers the letter "T"
---
A | B | C | D | E | F | G | H | I | J | K | L | M | N | O | P | Q | R | S | T | U | V | W | X, Y & Z | Comps | Other Country Styles
---


<! GID TANNER see: The Skillet Lickers >

Benny Thomasson "Legendary Texas Fiddler" (County/Rebel, 2005)



This is some mighty fine fiddle music, representing the true, authentic regional styles that Thomasson -- an old-timer himself -- grew up with in a lifetime of Texas dancehalls and front porch jam sessions. If you like raspy, truly rural fiddle tunes, then this disc is one you'll not want to pass up. Recommended.
Ernest Thompson "Pioneer Artist From North Carolina" (BACM, 2005)





<! CD D 031 >

Tom, Brad & Alice "Holly Ding" (Copper Creek, 2000)



That's Tom Sauber, Brad Leftwich and Alice Gerrard, as venerable a group of old-timey revivalists as you're ever likely to hear. This is the trio's second album (I still haven't tracked down the first), and it's a nice, gangly set of oddly-arranged proto-bluegrass tunes, arranged and performed in a style that takes the music back to its unruly back-woods roots, when song measures and lyrics veered about with wild unpredictability. This album starts out with an unusual version of a familiar folk tune ("The Cuckoo"), forcing you right off the bat to meet these guys on their own terms. But once you settle in on their wavelength, it's a really fun little record. Recommended!
Tom, Brad & Alice "We'll Die in the Pig Pen Fighting" (Copper Creek, 2002)


Tom, Brad & Alice "Carve That Possum" (Copper Creek, 2005)


The Tobacco Tags "Get Your Head In Here" (BACM, 2005)





<! Delightful collection of 24 tracks of old time singing and playing by this excellent group from North Carolina, recorded between 1931 and 1939. The earlier sides feature a trio with two mandolins and a guitar - by 1938 their were several personnel changes and the group configuration changed to two guitars, mandolin and fiddle or string bass. Their repertoire was extensive including blues, old time mountain songs, gospel songs, humorous songs, sentimental songs and novelties. Except for the two earliest tracks which exhibit to much digital noise reduction the sound is fine and their brief notes by Brian Golbey. >

Leroy Troy "The Old Grey Mare" (Rounder, 2001)



A little goofy, slightly over-the-top, but convincing and compelling nonetheless, cornpone without being corny. Leroy Troy is not as old as he sounds, singing in a gravelly, whispered lisp, trotting through a bunch of old-time tunes, but his affectations aren't intrusive, they work pretty well in the context of his tunes. Helped out by a bunch of pickin' pals, including Marty Stuart in a welcome return to his hillbilly roots, this is as much a bluegrass novelty album as it is old-timey, although for folks looking for the old-timey sense of nostalgia without quite as much of the musical severity, this could be a fun record to explore. I liked it. (Also see: The Tennessee Mafia Jug Band.)
---
More Old-Timey Music >> Letter "U" | Old-Timey Links | Bluegrass
---