<! MP3 00/00/00 > <! update 00/00/00 > <! outside 00/00/00 > <! pix 00/00/00 > <! icons 02/28/11 >
---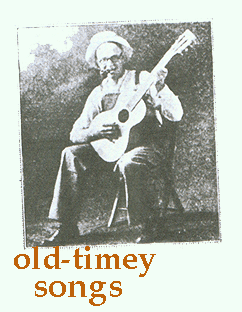 Hi, there... This page is part of the Slipcue guide to old-timey musicians, both old and new. This old-timey guide is part of a much larger Hick Music website. This "guide" is not meant to be comprehensive or authoritative, just a quick look at a few records I've heard recently, as well as some old favorites. Comments, corrections and/or recommendations are are always welcome!
This page covers the letter "S"
---
A | B | C | D | E | F | G | H | I | J | K | L | M | N | O | P | Q | R | S | T | U | V | W | X, Y & Z | Comps | Other Country Styles
---


<! John Morgan Salyer http://www.oldtimemusic.com/FHOFSalyer.html John Morgan Salyer "Home Recordings: 1941-1942" (Berea College) (cassette only) >


Mike Seeger -- see artist discography




Alan Senauke "Old Songs From The Southern School" (Native & Fine, 2002)


A sweet set of Antebellum-flavored old-timey (and moderately bluegrassy) story songs, featuring Berkeley-based picker Senauke and a slew of super-talented pals such as Jon Scholle, Eric & Suzy Thompson, Kate Brislin, Jody Stecher, and others. Senauke, who has been picking and singing in various back-porch bands ever since the early days of the 1960s bluegrass revival, has a very soulful, expressive feel for this material. This wonderful little album (affectionately designed to look like an old Folkways LP) might be easy to miss if you don't know what to look for, but it'll be a gem for those who manage to pick it up. Recommended!
Mark Simos "Race The River Jordan" (Self-Released, 1995)


Mark Simos "Crazy Faith" (Devachan, 2003)


Contemporary folk sung in an old-timey musical meter, with a dash of Celtic music thrown in for good measure. Songwriter Simos comes very much from the coffeehouse folkie tradition, but with pals like Bruce Molsky, Tom Rozum, Sally Van Meter and Ronnie Simpkins backing him up (and glowing encomiums from Alice Gerrard and Alison Krauss on the album art), this is a record that should attract a fair amount of attention within the bluegrass/folksinger communities. Molsky produced this album, and his deep old-timey influence is deeply felt, and most welcome... the mix of styles is pretty interesting and unique. Many of Simos's songs have been covered by the likes of Laurie Lewis, Del McCoury, and Union Station; here's a chance to hear him perform them in his own voice and style. Sweet guitar work by Simos, too!
The Skillet Lickers "Old-Time Fiddle Tunes And Songs From North Georgia" (County, 1996)


The Skillet Lickers "Complete Recorded Works, v.1: 1926-1927" (Document, 2000)


The Skillet Lickers "Complete Recorded Works, v.2: 1927-1928" (Document, 2001)

The Skillet Lickers "Complete Recorded Works, v.3: 1928-1929" (Document, 2000)

The Skillet Lickers "Complete Recorded Works, v.4: 1929-1930" (Document, 2000)

The Skillet Lickers "Complete Recorded Works, v.5: 1930-1934" (Document, 2000)

The Skillet Lickers "Complete Recorded Works, v.6: 1926-1927" (Document, 2000)






<! Daniel Slosberg "Pierre Cruzatte -- A Musical Journey Along the Lewis & Clark Trail" (xxxxxxxxxx) >
Fiddlin' Arthur Smith "...And His Dixieliners" (County, 2002)


Fiddlin' Arthur Smith "Give Me Old Time Music" (BACM, 2005)





<! CD D 215 -- OTHER STYLE? Spring Street Waltz/ There's More Pretty Girls Than One/ Love Letters/ Sweet Heaven/ Beautiful Memories/ Smith's Breakdown/ Farmer's Daughter/ Give Me Old Time Music/ I'm Lonesome I Guess/ I Wish I'd Never Learned To Love You/ Smith's Waltz/ Across The Blue Ridge Mountains/ It's A Weary World/ Hen Pecked Husband Blues/ Answer To There's More Pretty Girls Than One/ Her Little Brown Hand/ That's The Love I Have For You/ Orange Blossom Special/ Walking In My Sleep/ It's Hard To Please Your Mind/ Why Should I Wonder/ Beautiful, Beautiful Brown Eyes/ I Miss You Since You've Been Gone/ The Crazy Blues >

Hobart Smith "Hobart Smith Of Saltville, Virginia" (Folk-Legacy, 1964) <! date? >

Hobart Smith "Blue Ridge Legacy" (Rounder, 2001)






<! part of Alan Lomax series >

Hobart Smith "In Sacred Trust: The 1963 Fleming Brown Tapes" (Smithsonian-Folkways, 2005)

Walter Smith & Friends "Volume One: 1929-1930 -- The Bald-Headed End Of The Broom" (Document, 2003)


Walter Smith & Friends "Volume Two: 1930-1931 -- North Carolina Blues" (Document, 2003)


Walter Smith & Friends "Volume Three: 1931-1936 -- I'll Roll In My Sweet Baby's Arms" (Document, 2004)

The Spark Gap Wonder Boys "Cluck Old Hen" (Rounder, 1970)
I mostly picked this up as a historical curio (was this really the second album Rounder put out? Golly.), but was pleased to find that the New England-based SGWBs were as able an agile an old-timey band as any that came before or after, rollicking through an impressive repertoire of Depression-era oldies, with plenty of zippy, accomcoplished picking and grumpy, old-man vocals. They also let their hippie side drag, peppering a few tunes with contemporary pop culture references, such as a shout-out to underground cartoon character Snappy Sammy Smoot, during the comic patter in "Lee Highway Blues." It's a shame this disc is long out of print, because it really is one of the best, most stylistically varied albums of its kind. If you see it used, snap it up.
The Stairwell Sisters "The Stairwell Sisters" (Yodel-Ay-Hee, 2003)



The Stairwell Sisters "Recording No. 2: Feet All Over The Floor" (Yodel-Ay-Hee, 2005)



The second album by this SF-Bay Area fivesome is a fine set of squeaky, raspy old-time music with plenty of fiddle, banjo and twang... The songs are a nice mix of older material from the public domain and a half dozen originals written by the band members... These gals -- Lisa Berman on guitar, Martha Hawthorne on bass, Evie Landin on banjo, Stephanie Prausnitz sawing on the fiddle and Sue Sandlin on guitar -- hail from several other local bands and have a nice, relaxed feel as a band. Their new material fits right into the classic old-timey vibe -- if you like your stringband music "crooked" and uncompromised, like, say, Jim & Jennie or the Crooked Jades, this is a fine record to check out... (Available through www.stairwellsisters.com )
The Stairwell Sisters "Get Off Your Money" (Yodel-Ay-Hee, 2008)



(Produced by Lloyd Maines)
Another fun, rollicking set from this Bay Area quintet, with a canny mix of oldies and originals, tunes like "Stay All Night" and "Silly Liza Jane" next to new compositions such as Sue Sandlin's "Shuffle And Shine," which as a pleasantly Stephen Foster-esque sentimentality to it... The SIsters continue to get the old-timey feel right without succumbing to the style's more dour side... Fun stuff!

Jody Stecher "Going Up On The Mountain: The Classic First Recordings" (Acoustic Disc, 2000)



Amid the 1960s jugband scene, and well into the acoustic revival of the 1970s, '80s and '90s... and heck, right up to the present day, old-timey purist Jody Stecher has walked like a giant. This CD -- a reissue of his first solo album -- will show you why Stecher wins the "my repertoire is more austere than your repertoire" award. Old-timey fans will rejoice at this CD re-release of his first two albums, which were originally out on the tiny Bay Area label, Bay Records. Stecher has long been recognized as a pivotal member of the '60s folk-bluegrass revival, and particularly of the acoustic music scene in San Francisco. These early '70s recordings feature him along with a slew of well-known countrerculture acoustic types, such as John Herald, Eric Thompson, Fred Solokow and, of course, Stecher's long-time partner, Kate Brislin. It's a deliberately arid, high lonesome sound; Stecher tackles the music with a severity that's still unnerving today. He wants to make sure that listeners know this is "the real stuff," and his raw, live-wire delivery rivals that of Bill Monroe at his most intense. There's also a nice back-porch feel to the proceedings, a mix of devotion and informality that up-and-coming acoustic plunkers will strive to revive for decades to come. Recommended!
Jody Stecher & Friends "Snake Baked A Hoecake" (Bay, 1974)
A fine set of twangier-than-thou, hippie bluegrass, with a youthful Jody Stecher delving into Appalachian and Celtic culture, and a bit of Indian drone as well... Features a slew of shaggy Bay Area locals, including Fred Sokolow and Eric Thompson, all pickin' their little hearts out. A nice, fun, innocent little record. A half dozen of these tunes made their way onto the Classic First Recordings collection listed above; the rest of it's worth hearing as well.
Jody Stecher "Going Up On The Mountain" (1977)

Jody Stecher & Krishna Bhatt "Rasa" (1982)

Jody Stecher & Kate Brislin "A Song That Will Linger" (Rounder, 1988)


Jody Stecher & Alasdair Fraser "The Driven Bow" (Culburnie, 1989)



A Celtic folk collaboration with Scottish-American fiddler Alasdair Fraser...
Jody Stecher & Kate Brislin "Blue Lightning" (Rounder, 1991)


Jody Stecher & Kate Brislin "Our Town" (Rounder, 1992)


Jody Stecher & Kate Brislin "Stay Awhile" (Rounder, 1995)


Jody Stecher & Kate Brislin "Heart Songs: The Old Time Country Songs Of Utah Phillips" (Rounder, 1997)


Jody Stecher "Oh The Wind And Rain: Eleven Ballads" (Appleseed, 1997)



Jody Stecher & Kate Brislin "Songs Of The Carter Family" (Appleseed, 2000)



This Bay Area duo has long been a potent force in the old-timey revival scene, and here they capture the plaintive emotional longing of the Carter Family sound, although their take on things may be a bit softer and less desolate (or rowdy) than the Carters themselves. Still, this is pretty sweet and certainly loyal to the material. Nice stuff.
The Stewart Family "Come On In And Make Yourself At Home" (BACM, 2005)





<! CD D 138 >
Lowe Stokes "Volume 1: 1927-1930" (Document, 1999)



Solo work from one of the members of the Skillet Lickers band; mostly a rural white blues sound...
Ernest Stoneman "1928 Edison Recordings" (County, 1996)


Ernest Stoneman "...And His Dixie Mountaineers" (Diamond Cut, 1998)

Ernest Stoneman "...With Family And Friends, v.1" (Old Homestead)

Ernest Stoneman "...With Family And Friends, v.2" (Old Homestead)

Ernest Stoneman "Gospel Music Treasures" (King, 2003)

Ernest Stoneman "The Unsung Father Of Country Music: 1925-1934" (Five-String Productions, 2008)

E. V. Pop Stoneman & Stoneman Family "The Great Old Timer At The Capital " (Starday, 1964) (LP)

The Stoneman Family "Old-Time Tunes Of The South" (Folkways, 1957)



The Stoneman Family "28 Big Ones" (King, 2000)


One of the most generously programmed of the recent King/Gusto releases, with over two dozen tracks included (as opposed to their usual skimpy eight or ten songs...) The Stonemans were an old-timey family act with deep, deep country roots ("Pop" Stoneman was an early country star, way back in the 1920s...!!) During the 1960s folk boom, they found a new resurgence of interest in their music, and tried to hit the bigtime, mixing their old-fashioned mountain rambling with the glitzy modern show-biz style of the new Nashville. It wasn't always an easy balance to make, particularly as the venerated but aging vocalist, Pop Stoneman, slowed them down quite a bit. His two daughters, Donna and Roni, (mandolin and banjo) were dazzling instrumentalists, and you can hear them tearing it up on a few of the instrumental tunes on this disc, but the vocal numbers are a little clunky, and the rest of the band rarely seemed to be able to keep pace with the gals. Still, it's a great assortment of material, ranging from gospel and novelty numbers to topical ballads like "The Sinking Of The Titanic" and "Heroes Of Bataan," written about the conflict in WWII. I'm not sure of the vintage of these recordings, but it's pretty recent, to be sure -- early 1970s, perhaps?


<! a BUNCH of LPs... >

The Stoneman Family "Family Tradition: The Stoneman Legacy" (CMH, 2002)


Strange Creek Singers "Strange Creek Singers" (Arhoolie, 1972)



An old-timey classic, joining Hazel & Alice later with Mike Seeger and Tracy Schwartz of the New Lost City Ramblers. They open the album with a shape-note song ("When I Can Read My Titles Clear"), just to let us know that they've got the real low-down on this mountain music... Then they gradually ease into more melodic, bluegrassy terrain. It's great stuff from start to finish, originally recorded between 1968-70.
Stringbean "Stringbean And His Banjo: A Salute To Uncle Dave Macon" (Starday) (LP)





<! This recordings were made at Starday Sound Studieos in Nashville. Tenn. under the direction of Tommy Hill. Accompanying Stringbean and his banjo were Jack Drake on bass, Hoss Linneman is heard on dobro and Eddie Wilson played rhythm guitar >
Stringbean "Front Porch Funnies" (King, 1996)



An iffy set of later recordings by 1950s country comedian, David "Stringbean" Akeman, who performed regularly on the Grand Ole Opry, toured with Porter Wagoner, and later was in the cast of Hee Haw. This isn't electrifying material, but it does give a good sense of his latter-day vaudeville showmanship, and cornball humor routines. (The Kentucky Konnections website has a brief entry on Stringbean's career.)
Stringbean "Barn Yard Banjo Pickin" (Gusto, 2006)


A 2-CD set...

The Stripling Brothers "Complete Recorded Works, Vol. 1: 1928-1934" (Document, 1997)



Excellent fiddle music from Alabama... These Depression-era tunes have great melodic hooks and nice, concise accompaniment on guitar. Great stuff, with good sound quality. Recommended!

The Stripling Brothers "Complete Recorded Works, Vol. 2: 1934-1936" (Document, 1997)



Some fine, fine fiddle music, with alert, sparse accompaniment on guitar. Great music, although perhaps best heard in moderate doses, along with other artists of a similar vintage. These tracks are drawn from some rare old 78s, and many have the surface noise to prove it. But other than the pops and occasional needle burn, the sound quality overall is pretty good -- a lot brighter and cleaner than you might imagine. Fiddle fans will definitely want to check this one out.
---
More Old-Timey Music >> Letter "T" | Old-Timey Links | Bluegrass
---