<! MP3 00/00/00 > <! update 00/00/00 > <! outside 00/00/00 > <! pix 00/00/00 > <! icons 02/28/11 >
---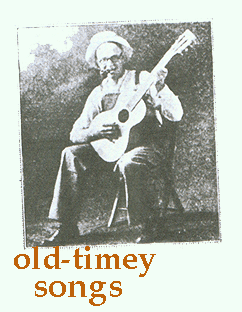 Hi, there... This page is part of the Slipcue guide to old-timey musicians, both old and new. This old-timey guide is part of a much larger Hick Music website. This "guide" is not meant to be comprehensive or authoritative, just a quick look at a few records I've heard recently, as well as some old favorites. Comments, corrections and/or recommendations are are always welcome!
This page covers the letter "J"
---
A | B | C | D | E | F | G | H | I | J | K | L | M | N | O | P | Q | R | S | T | U | V | W | X, Y & Z | Comps | Other Country Styles
---
---
Old-Time Records: Letter "J"
---
Tommy Jarrell & Fred Cockerham "Best Fiddle-Banjo Duets" (County, 1993)

Tommy Jarrell "The Legacy Of Tommy Jarrell, v.1: Sail Away Ladies" (County, 1999)


Tommy Jarrell "The Legacy Of Tommy Jarrell, v.2: Rainbow Sign" (County, 1999)


Tommy Jarrell "The Legacy Of Tommy Jarrell, v.3: Come And Go With Me" (County, 1999)


Tommy Jarrell "The Legacy Of Tommy Jarrell, v.4: Pickin' On Tommy's Porch" (County, 1999)



Tommy Jarrell, Oscar Jenkins & Fred Cockerham "Down To The Cider Mill" (County, 2004)



Tommy Jarrell, Oscar Jenkins & Fred Cockerham "Stay All Night And Don't Go Home" (County, 2004)



As scrappy and deliciously raspy an old-timey set as ever you will hear. All three men -- banjoist Fred Cockerham, fiddler Tommy Jarrell and fiddler Oscar Jenkins -- come from North Carolina families with long musical lineages, including elders who played with old-timey legends such as Ernest Stoneman, back in the 1920s and '30s... The flame was definitely still bright in 1967 when County Records founder Dave Freeman corralled all three of these old coots together for a few marathon sessions, capturing their mountain music in its purest and most gleeful form. This Stay All Night disc showcases vocal number: Jarrell barks out the lyrics to crowd-pleasers like "Old 97" and "Sally Ann," as well as a slew of more obscure songs, and he takes plain delight at making the songs sound as raw, rowdy and difficult as possible. If you're a city slicker, you're gonna have to work to like this style... But once you "get" it, this is one of the most rewarding albums of its kind you'll come across. The companion album, Down To The Cider Mill, is also a real doozy, although it centers in ont he instrumental side a bit more. Both are fine, fine records. Recommended!
Snuffy Jenkins "Pioneer Of The Bluegrass Banjo" (Arhoolie, 1998)



1930s banjo plunker Snuffy Jenkins is often cited for his profound stylistic influence on early bluegrass superstars such as Earl Scruggs and Don Reno, who took the three-finger technique Jenkins popularized and transformed it into the dazzling, show-stopping melodic style that countless younger banjoists have copied ever since. This 1962 album, reissued in the early '70s by the Arhoolie label, captures Jenkins older but no less lively, still fronting his band, The Hired Hands. These guys were clearly seasoned pros, delivering great performances on comedic tunes and old chestnuts left over from their long career on the hillbilly radio circuit. Jenkins' half-spoken comedy recitations sound a lot like Jerry Reed did in the early '70s... just a decade or so earlier! This is a really fun record, definitely worth tracking down!
Snuffy Jenkins And The Hired Hands "Carolina Bluegrass" (Folk-Lyric, 1998) (LP)

Jim & Jennie "...And The Pine Barons"

Jim & Jennie And The Pinetops "Little Birdie" (Overcoat, 2000)



This clattersome, Philadelphia-based quartet brings back some of the rowdy rambunctiousness of the old-timey stringbands... Their original material, about half of this album, is pretty strong, though it's also nice to hear them pay homage to their inspirations -- among them, the Carter Family, Flatt & Scruggs and the Delmore Brothers. I have to confess that although he's a very strong songwriter, Jim Krewson's vocals irritate me in that he's too strained and exaggeratedly twangsome, a little too schtick-y, if you see what I mean. His partner Jennie Benford mostly sounds pretty nice, though, and the two harmonize in a pleasantly unruly fashion. Benford reminds me quite a bit of Hazel Dickens, and it's quite appropriate that she pays Hazel homage, in a version of "Won't You Come Sing For Me." Nice record, definitely worth checking out.
Jim & Jennie And The Pinetops "One More In The Cabin" (Overcoat, 2002)



This is the first J&J album that's composed of all-original material, and it's a real doozy. Kinda hard to believe that these perfectly-crafted old-time-ish tunes were not in fact written by some mistily-remembered contemporary of the Carter Family or Grandpa Jones, but rather by a bunch of modern urban hipsters who just happen to have an uncanny grasp of the oddball mountain music of the early 20th Century. They get the constrained emotionality and matter-of-fact narrative tone just right, as well as the subject matter -- song after song starts with a familiar set-up, and it's really only until you open the CD booklet that you can be sure that these songs were actually written by the band. These folks aren't hotshot superpickers, and they purposefully sing all raspy and offkey, yet unlike oh, so many of their twangcore contemporaries, the Pinetops don't come off as pretentious dilettantes. Rather, this is a band that is respectful and utterly in command of the genre they've adopted, and their material is emotionally resonant and entirely convincing. In fact, I'd say that if at least some of these songs don't work their way into the official bluegrass canon, something is seriously wrong in the world. Highly recommended!
Jim & Jennie And The Pinetops "Rivers Roll On By" (Bloodshot, 2005)



It was definitely worth the three-year wait for fans to get this new Jim & Jennie album... They've rosined up the bow and spun another enchanting set of bluegrass and old-timey stringband music. Oddly enough, even though they've moved from the artsy Overcoat label onto the ostentatiously altie Bloodshot, the Pinetops have actually inched away from the clattersome anarchy of their previous albums towards something closer to straight-up bluegrass and folk. The softer, more professional approach gives their work a more authoritative feel, yet just as they seem to be settling into a more mainstream bluegrass mode, they gently drift into space-rockish terrain on a couple of tunes towards the end of the album, which helps keep things a little freaky. There's something compelling about this band -- the group has a singular presence, exuding a freshness and enthusiasm unlike that of many mainstream bluegrass crews -- Jim & Jennie take respectful advantage of the mountain music style without subsuming themselves to tradition and, as always, they dazzle us with a remarkable blend of naifish simplicity and canny innovation. Recommended!
jimmyjohnnnyjoe "Old Time Fiddle Music And Songs" (Tin Halo, 2008)





<! Debra Clifford (of the Lonesome Sisters) with Joe Thrift, Jason Sypher and Mark Olitsky >
Earl Johnson "Complete Recorded Works, Volume 1: 1927" (Document, 1997)



Very muscular, brisk stringband music, with a heavy dose of vaudeville showmanship. Johnson had the same manic, almost psychotic, intensity that you sometimes felt in the music of Grandpa Jones or Bill Carlisle -- very in your face and energetic, and sometimes a bit jarring.
Earl Johnson "Complete Recorded Works, Volume 2: 1927-1931" (Document, 1999)



More great old-timey music. Some of the racially-themed song titles (which are only one or two) will raise a few eyebrows, but the music is solid, and Johnson's repertoire doesn't seem particularly racist... just, um, "of its time," in a few regards. Also includes a few gospel tunes towards the end; all pretty good stuff.
Grandpa Jones "An American Original" (CMH Records, 1989)



Best known during the '60s and '70s for his comedic bits on the Hee-Haw TV show, Grandpa Jones' country pedigree goes 'way back to the Depression era, where like hundreds of performers he roamed from radio show to radio show, broadcasting to Mom and Pop audiences for the better part of two decades. Eventually Jones landed a gig on the Grand Ole Opry, in the early '50s, and built his reputation as a comic singer, although he was also a formidable traditional musician. His work -- particularly his 1940s recordings on the King label -- formed a unique bridge between the for-real old-timey music of the hills and the blues-influenced hillbilly boogie and honkytonk country that took root in the postwar years. In the 1970s and '80s, CMH Records recorded a series of LPs with Jones and his family -- this CD boils those albums down to their essentials. Lots of old standards like "Old Rattler" and "Chewing Gum" are included, along with a wealth of more folkloric tunes. Admittedly, he was pretty long in the tooth by this time -- and the reissue art is pretty lame -- but the source material is cool, and since his classic recordings from the 1940s are still pretty hard to come by, this might fill the gaps for curious fans.
Grandpa Jones "Country Music Hall Of Fame Series" (MCA, 1991)



This disc collects all fifteen tracks Jones made for Decca in the late 1950s, and it's a doozy. On several tracks Jones reprises the themes and songs from his '40s heyday, when he recorded with Merle Travis and the Delmore Brothers on the King label. Remakes of old standards "Dark As A Dungeon" and "Mountain Dew" fall a bit flat, although only in comparison to the rawer King originals. Later on, Jones finds his feet with newer material, including a slew of great novelty tunes such as the "protest" song, "Daylight Saving Time" and the rocknroll spoof, "The All-American Boy." Sentimental material provides balance, and tracks like the gospel song, "Falling Leaves" are genuinely haunting. Definitely recommended.
Grandpa Jones "Steppin' Out Kind" (Ace, 2006)


It's been so, so very long since Hee Haw has been on the air that I suppose there's no reason anymore to half-apologize for Grandpa (Louis Marshall) Jones' role on the show... (Don't get me wrong: I loved Hee Haw when I was a kid, but I'm sure for many people it was nothing more than a hallmark of cornball humor...) Anyway, it's been a long time. Finally, Jones' music -- his old stuff, made back when TV was barely a viable medium -- has emerged from underneath the long shadow of his best-known role, and now it's just out there in reissueland, plain old hardscrabble country music, the kind of stuff that only hardcore hick music weirdos (like me) can really get into. Now, if that description fits you as well, and you haven't already delved into Jones' work, then you're in for a treat. This is a top-notch collection of his earliest recordings for the up-and-coming King label, made back in the mid-1940s, when Jones worked closely with King's other country stars, particularly hotshot guitarist Merle Travis and the Delmore Brothers, whose driving rhythmic style trailblazed country music's contributions to the rock'n'roll explosion of the 1950s. Some of that fire is evident in Jones' old 78s, mostly through Travis's peppy, consistently innovative picking, which weaves throughout these discs. The material tends to be a little weird thematically -- Jones cut his teeth in country's vaudeville circuit, and he maintained his novelty-song edge throughout his career -- but he also recorded some great serious material, like his mournful 1946 hit, "It's Raining Here This Morning," and his heartfelt version of "Will You Miss Me When I'm Gone." Jones's raw, plaintive delivery was pure, old-school, pre-honkytonk country, tempered with a strong feeling for the blues... This disc might not be for everyone, but for the right old-timey/country boogie fans, it'll be pure heaven. Recommended!
Grandpa Jones "You're Never Too Old For Love" (BACM, 2005)





<! 206 >
Grandpa Jones "16 Greatest Hits" (Starday/Hollywood, 1978)

Grandpa Jones "16 Sacred Gospel Songs" (King, 2000)


Includes vintage material with The Brown's Ferry Four (including the Delmore Brothers) along with old solo stuff, from Jones's gospel side.
Grandpa Jones "Country Music Hall Of Fame: 1978" (King, 1999)

Grandpa Jones "Pickin' Time" (MCA Special Products, 1999)


Grandpa Jones "Rollin' Along With Grandpa Jones" (King, 1962) (LP)

Grandpa Jones "Live" (Monument, 1969)

Grandpa Jones "...Sings Hits From Hee Haw" (Monument)

Grandpa Jones "Family Album" (CMH, 1979) (LP)

Grandpa Jones "Pickin' And A'Grinnin'" (Sony, 1995)

Grandpa Jones "Everybody's Grandpa" (Bear Family, 1997)





<! also B000001B2O > <! On this 5 cd set is everything Grandpa Jones recorded between 1960 and 1973 on the Monument record label, including a number of hits from Jones' height of fame as well as some remakes of his earlier hits on Decca, King, and RCA. >
---
More Old-Timey Music >> Letter "K" | Old-Timey Links | Bluegrass
---