<! MP3 00/00/00 > <! update 00/00/00 > <! outside 00/00/00 > <! pix 00/00/00 > <! icons 02/28/11 >
---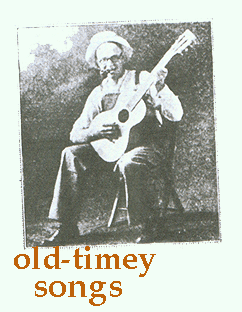 Hi, there... This page is part of the Slipcue guide to old-timey musicians, both old and new. This old-timey guide is part of a much larger Hick Music website. This "guide" is not meant to be comprehensive or authoritative, just a quick look at a few records I've heard recently, as well as some old favorites. Comments, corrections and/or recommendations are are always welcome!
This page covers the letter "K"
---
A | B | C | D | E | F | G | H | I | J | K | L | M | N | O | P | Q | R | S | T | U | V | W | X, Y & Z | Comps | Other Country Styles
---
---
Old-Time Records: Letter "K"
---
Karl & Harty "Old Time Harmony Singing" (BACM, 2005)





<! Major figures on radio and record through the thirties, Karl Davis & Harty Taylor have rarely been tapped for reissues. Their singing style - recalling the 19th-Century parlor balladry of their idols Lester McFarland and Robert Gardner (Mac & Bob) - is admittedly a generation removed from the crooning and/or high-energy "brother" duets that followed in their wake. However, many close-harmony duet singers cited Karl & Harty as an influence, and their most popular songs still endure. Natives of Renfro Valley, Kentucky, Karl & Harty moved to Chicago in 1931 to become a featured act within WLS's popular string band, The Cumberland Ridge Runners. After making their first recordings for Paramount, the duo hit their stride in 1934 after signing with ARC. Such Davis-penned or collaborative songs as Kentucky, I'm Just Here to Get My Baby Out of Jail and A Prisoner's Dream became country harmony standards. By the 1940s Karl & Harty were continually at odds with their record companies, which demanded racier, upbeat jukebox novelties. Though Davis penned suitable numbers, the duo's performances were perfunctory. In 1951 the men dissolved their act rather than further compromising their ideals. This collection sidesteps Karl & Harty's best-known songs from the mid-'30s in favor of traditional material and lesser-known originals. Two songs are from Paramount and fourteen are from ARC/Columbia, including We Buried Her Beneath the Willow, a tribute to the Ridge Runners' recently deceased vocalist Linda Parker. Five Capitol and Gold Seal sides capture the waning days of their recording career. The sound quality is adequate, though lacking high end. Brian Chalker's notes distill the duo's fascinating and ultimately heartbreaking story. A welcome release, if not the definitive anthology Karl & Harty really deserve. The correct song sequence is below. (DS) >
Karl & Harty "Memories Of The WLS Barn Dance" (Binge Disc/Cattle Records, 2001)


Buell Kazee "Sings And Plays" (Smithsonian Folkways, 1958)



Folkloric recordings with banjo plunker Buell Kazee, recorded a couple of decades after his heyday as an old-timey recording star... Kazee chats quite a bit on this one, which may be of interest to the more historic-minded among us. But if you really want to hear Kazee "sing and play," you might want to check out some of his older recordings, available on the specialty-label titles listed below.

Buell Kazee "Legendary Kentucky Ballad Singer, v.1" (BACM, 2005)





<! 027 >

Buell Kazee "Legendary Kentucky Ballad Singer, v.2" (BACM, 2005)





<! 214 > <! some vinyl LPs mostly on comps >
---
More Old-Timey Music >> Letter "B" | Old-Timey Links | Bluegrass
---