<! MP3 00/00/00 > <! update 00/00/00 > <! outside 00/00/00 > <! pix 00/00/00 > <! icons 02/28/11 >
---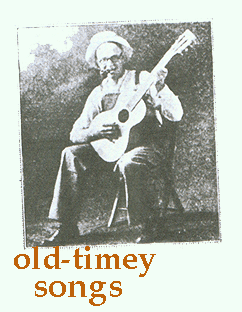 Hi, there... This page is part of the Slipcue guide to old-timey musicians, both old and new. This old-timey guide is part of a much larger Hick Music website. This "guide" is not meant to be comprehensive or authoritative, just a quick look at a few records I've heard recently, as well as some old favorites. Comments, corrections and/or recommendations are are always welcome!
This page covers the letter "M"
---
A | B | C | D | E | F | G | H | I | J | K | L | M | N | O | P | Q | R | S | T | U | V | W | X, Y & Z | Comps | Other Country Styles
---
Mac & Bob "Songs For Country Home Folks, v.1" (BACM, 2005)





<! Robert Gardner & Lester MacFarland >
Mac & Bob "Songs For Country Home Folks, v.2" (BACM, 2005)





<! Uncle Dave Macon >
Uncle Dave Macon "Country Music Hall Of Fame Series" (MCA, 1992)

Uncle Dave Macon "Travelin' Down The Road" (County, 1995)

Uncle Dave Macon "Go 'Long Mule" (County, 1995)






<! "...With The Fruit Jar Drinkers" >
Uncle Dave Macon "Keep My Skillet Good And Greasy: The Complete Recordings" (Bear Family, 2004) <! originally 1979? >


A 10-CD (!) box set covering all of Macon's work... Yow.
Uncle Dave Macon "Classic Sides: 1924-1938" (JSP, 2004)





<! 4-CD >
Uncle Dave Macon "Classic Cuts, v.2: 1924-1938" (JSP, 2006)





<! 4-CD >
Uncle Dave Macon "Uncle Dave At Home" (Bear Family/Spring Fed, 2002)





<! digitally remastered version of the original Bear Family recording, Uncle Dave Macon at his most relaxed and authentic, sitting before his own fireplace on a warm spring Sunday afternoon in 1950. In the background you can hear an occasional truck pass on the Woodbury pike that Uncle Dave used to drive with his mule teams hauling freight: in a couple of songs a banty rooster gets under the window and decides to sing along. For those that know and love Uncle Daves music and personality, this album is not merely a trip into the past, but it is in a sense a personal visit with one of Americas greatest folk musicians. > <! * Early Recordings (Uncle Dave Macon) - County Records (1971) * Go Long Mule - County Records (1972) * The Gayest Old Dude In Town - Folk Variety Records (1973) * At Home - Bear Family Records (1976) * Laugh Your Blues Away - Rounder Records (1979) * Keep My Skillet Good and Greasy - Old Homestead Records (1979) * Country Music Hall of Fame Series - MCA Records (1992) * Travelin' Down the Road - County/BMG Records (1995) * Uncle Dave Macon (1963) (Folkways) * Country Gospel Song (1971) (Folkways) * Anthology of American Folk Music (1997) (Folkways) >

J.E. Mainer's Mountaineers "The Golden Age Of J. E. Mainer's Mountaineers" (Binge Disc, 2000)
If you thought old Bill Monroe sounded rough and rowdy back when he started the bluegrass sound way back when, then you gotta check these guys out! Mainer and his family enjoyed a healthy career revival in the 1960s and '70s as the old-timey folk scene unearthed them... Their latter day recordings were all quite nice, but this collection of material from the 1930s and '40s is flat-out awesome. When they play fast, there's no one more clattersome and rambunctious, and when they play slow and sentimental, few folks are more hearfelt. For fans of squeeky, scraping fiddles and grizzled old-man vocals, this is the disc to check out.
J.E. Mainer's Mountaineers "1935-1939" (BACM, 2005)

Ernest Martin "...And His Gospel Melody Makers" (BACM, 2005)





<! Johnny & Frankie Marvin? >
Harry McClintock "The Great American Bum" (BACM, 2005)

Frank & James McCravy "Old Time Harmony Singing" (BACM, 2005)





<! CD D 085 > <! Kirk & Sam McGee >
Clayton McMichen "The Legendary Fiddler, v.1" (BACM, 2005)





<! CD D 081 > <! 24 tracks recorded between 1926 and 1939 by this legendary fiddler who is best known for his work with The Skillet Lickers and features him with various groups mostly going under the name of McMichen's Georgia Wildcats. About half instrumental and half vocal it includes some vocals by McMichen himself, Riley Puckett, Slim Bryant and others. >
Clayton McMichen "The Legendary Fiddler, v.2" (BACM, 2005)

Bob Miller " 'Leven Cent Cotton Forty Cent Meat" (BACM, 2005)





<! Emmett Miller B000002B10 >
Polk Miller "...And His Old South Quartette" (Tompkins Square, 2008)



We're talking deep old South here, like a bunch of pre-jazz, pre-ragtime, Antebellum "plantation Negro" music, drawn from a traveling show that Virginia-born performer Polk Miller toured with in the 1890s... This collection comes from some cylinder recordings from 1909 and 78s recorded two decades later. Polk himself apparently did not perform in blackface, but the cultural context is much the same, so you have to be open to filtering out the negative connotations in order to see the historical value of these old songs. Cool stuff, but it's part of a long, sometimes troublesome, historical narrative.


<! Polk Miller was born James A. Miller, near Burkeville, in Prince Edward County, Virginia on August 2, 1844. He picked up the banjo early on and grew up learning the music of the slave quarters on a large Virginia plantation. In 1892, he created a traveling show, "The Old Virginia Plantation Negro," including banjo tunes, nostalgic dialect stories and a lecture, without resorting to farce or black-face. The show glorified the plantation music and Negro spirituals that America was hungry for in the 'Gay '90s.' Mark Twain, upon hearing Miller and his Quartette exclaimed, "I think that Polk Miller, and his wonderful four, is about the only thing this country can furnish that is originally and utterly American." It is in this historical context that Tompkins Square reissues a CD of seven 1909 Edison cylinder records and seven 1928 QRS/Broadway disc recordings. The booklet includes photos and memorabilia with notes by African-American music scholar Doug Seroff. The CD package is designed by multiple Grammy Award nominee Susan Archie. Tompkins Square has also released `People Take Warning! Murder Ballads & Disaster Songs, 1913-1938', which received a Grammy nomination for Best Historical Album. >
Bruce Molsky & Bob Carlin "Take Me As I Am" (1990)


Bruce Molsky "Lost Boy" (Rounder, 1996)



Bruce Molsky "... & Big Hoedown" (Rounder, 1997)



Fiddler and banjo picker Bruce Molsky may be the preeminent old-time musician of his generation -- he's certainly one of the most highly regarded, and his fab albums on Rounder will show you why. Working here with a fiesty trio, Molsky perfectly captures the raspy, bouncy playfulness of old-timey music. His song selection is all first rate, and the record is captivating from beginning to end. Highly recommended.

Bruce Molsky "Poor Man's Troubles" (Rounder, 2000)



Another wonderful album. Here Molsky takes some of the twang out, replacing it with a sorrowful drone, akin to some of Norman Blake's best stuff. The song selection is uniformly great, and the playing -- with high-powered assistance by the likes of Darol Anger, Martin Hayes and Dudley Connell -- is first-rate. Smooth, captivatingly melodic and accessible, but undeniably and richly authentic. Recommended!

Bruce Molsky/Michael Doucet/Darol Anger/Rushad Eggleston "Fiddlers 4" (Compass, 2002)



Molsky's old-timey fiddling rubs up against the eclectic bowings of cajun music legend Michael Doucet, spacegrasser Darol Anger and classical wunderkind Rushad Eggleston... It's a pretty classy crossover operation, which glides from style to style. The sugary excesses of newgrass fusion and the raspy clatter of the old-timey are both toned down a bit, and this disc is nice and listenable from beginning to end. A fiddle fan's dream.

Bruce Molsky "Contented Must Be" (Rounder, 2004)



Traveling from triumph to triumph, Molsky has come out with yet another that fans must laud as the best one ever. This time around the talented multi-instrumentalist mainly sticks to the fiddle (for twelve songs out of seventeen), and plunks and picks some mighty fine banjo and guitar on the other five tracks. The material is all old-time stuff gathered by folklorists of years gone by, and able acoustic accompaniment is provided by Darol Anger, Dudley Connell and others, including Irish-American icon Mick Moloney (veteran of numerous top-flight Celtic bands.) Retaining the antiquated rasp of authentic American mountain music, while introducing a compelling melodic sweetness, Molsky has once again set the standard for the genre. Highly recommended!

Bruce Molsky "Soon Be Time" (Compass, 2006)



Fiddler/guitarist/banjo plunker Bruce Molsky is one of Americana's finest "old-timey" musicians, fully in command of the style's history and repertoire, and gifted with an immensely charismatic presence... On this disc, his sound has notably softened, moving away from the uncompromising traditionalism that so many favor in the old time scene into a more fluid, tranquil tone. There's a lot more "give" to his performance, and thus a lot more soul. From start to finish, this is a lovely album, one that will compel repeat auditions. The material ranges from backwoods standards learned from elders such as Ed Haley, Sam McGee and Tommy Jarrell to Scandanavian and Slavic folk, and a bit of the Delta blues... There's only one Molsky original on here, and yet he manages to make all these tunes utterly his own. This is a mighty fine album.
Bill Monroe -- see artist discography
The Monroe Brothers -- see artist discography
Spencer Moore "Spencer Moore" (Tompkins Square, 2007)



A nice set of modest, modern recordings by an old-timey elder... Guitarist Spencer Moore started his musical career in the 1930s, and in the 1950s was captured in field recordings by folklorist Alan Lomax. Here, at eighty-eight years of age, Moore runs through a set of old-timey tunes, including standards such as "Little Rosewood Casket," "Wildwood Flower" and "Great Speckled Bird," as well as several less well-known songs from his extensive repertoire. If you enjoy old-coot recordings (I do) this one's pretty nice. Nice that they managed to get one of the precious few living links to the Depression-era music scene back in front of the mic to bring the old music back.
The Morris Brothers "Salty Dog Blues" (BACM, 2005)





<! CD D 220 I Love The Silver In Your Hair/ Don't Say Goodbye If You Love Me/ Riding To See The Sun Go Down/ Wabash Cannon Ball/ Let Me Be Your Salty Dog/ Blessed Jesus Hold My Hand/ Telephone To Glory/ If You Love Your Mother/ I Will Meet My Precious Mother/ Farewell Kentucky/ Old Covered Bridge/ The Story Of Charlie Lawson/ Answer To Blue Eyes/ Little Nellie/ Just How Pretty You Smile/ The Tragic Romance/ Salty Dog Blues/ Somebody Loves You Darlin'/ He'll Set Your Fields On Fire/ It's Blues/ Does Jesus Care/ Gabriel's Trumpet/ Great Speckled Bird/ Darling Think Of What You Have Done >
---
More Old-Timey Music >> Letter "N" | Old-Timey Links | Bluegrass
---