<! MP3 00/00/00 > <! update 00/00/00 > <! outside 00/00/00 > <! pix 00/00/00 > <! icons 02/28/11 >
---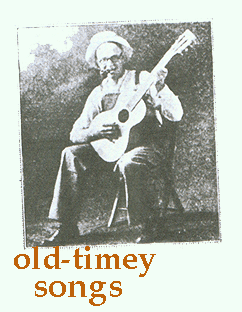 Hi, there... This page is part of the Slipcue guide to old-timey musicians, both old and new. This old-timey guide is part of a much larger Hick Music website. This "guide" is not meant to be comprehensive or authoritative, just a quick look at a few records I've heard recently, as well as some old favorites. Comments, corrections and/or recommendations are are always welcome!
This page covers the letter "L"
---
A | B | C | D | E | F | G | H | I | J | K | L | M | N | O | P | Q | R | S | T | U | V | W | X, Y & Z | Comps | Other Country Styles
---


<! Brad Leftwich >
The Lonesome Sisters "The Lonesome Sisters" (Tin Halo, 2004)






<! vocal similarity to Roseanne Cash >

The Lonesome Sisters & Riley Baugus "Going Home Shoes" (Tin Halo, 2004)



A quiet, stripped-down set of old-timey spiritual songs and bluegrass ballads, sung with in an understated style that skirts both the folkie and indie-pop scenes. The Lonesome Sisters are a female duet -- Sarah Hawker and Debra Clifford -- accompanied by fiddler-banjoist Riley Baugus, with vocals that sound a lot like Rosanne Cash in a contemplative, quiet, acoustic mood. Their approach is very low-key, and very effective as a result... Some of the songs are standards and oldies, though most are originals. Both Hawker and Clifford have serious old-timey pedigrees -- Hawker is the niece of old-timey singer Ginny Hawker (who was also the wife of New Lost City Ramblers co-founder Tracy Schwartz); Clifford has played in several old-timey bands, and as an accompanist for Hawker and Schwartz. Here they show that the younger generation has definitely taken up the torch, and they are gonna run with it for a long, long time. Recommended.
The Lonesome Sisters & Rayna Gellert "Follow Me Down" (Tin Halo, 2006)





<! Emmett Lundy http://www.oldtimemusic.com/FHOFLundy.html Emmett Lundy "Fiddle Tunes From Grayson County" (Topic, 1977) (LP) (Produced by Tom Carter and Tony Russell) "Round The Heart of Old Galax, v.3" (County, 1980) >
Frank Luther "Will The Angels Play Their Harps For Me" (BACM, 2002)

Frank Luther "An Old Man's Story" (BACM, 2005)





<! Later did a bunch of children's records - Winnie the Pooh, Babar, Lois Lenski, etc. >
---
More Old-Timey Music >> Letter "M" | Old-Timey Links | Bluegrass
---