<! MP3 00/00/00 > <! update 00/00/00 > <! outside 00/00/00 > <! pix 00/00/00 > <! icons 02/28/11 >
---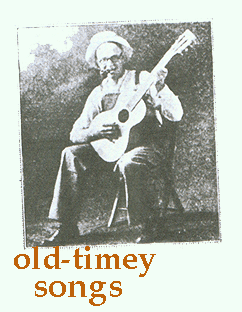 Hi, there... This page is part of the Slipcue guide to old-timey musicians, both old and new. This old-timey guide is part of a much larger Hick Music website. This "guide" is not meant to be comprehensive or authoritative, just a quick look at a few records I've heard recently, as well as some old favorites. Comments, corrections and/or recommendations are are always welcome!
This page covers the letter "P"
---
A | B | C | D | E | F | G | H | I | J | K | L | M | N | O | P | Q | R | S | T | U | V | W | X, Y & Z | Comps | Other Country Styles
---
Chubby Parker "...And His Old Time Banjo" (BACM, 2005)





<! CD D 244 >

The Perfect Strangers "Perfect Strangers" (Rebel, 2003)



Bay Area old-timey elder Jody Stecher, Chris Brashear and some stringband pals zip through this tasty set of old-timey and bluegrass tunes, with plenty of traditional and public domain material, as well as several excellent new tunes written by Brashear, as well as fellow strangers Peter McLaughlin and Bob Black. Sometimes they're a bit odd and off-kilter (on purpose, in that unruly, old-timey way) but mostly this is sweet and straightforward. Fans of the style will enjoy this a lot.
The Pickard Family "Walking In The Parlour" (BACM, 2005)





<! CD D 084 > <! Delightful collection of 21 tracks by this family who are little known today but were among the first stars of the Grand Ole Opry. Led by multi instrumentalist Obed Pickard who played fiddle, guitar, banjo, harmonica and Jews harp he was usually joined by his wife Leila May on piano, daughter Ruth on accordion and sons Bubb & Charlie on guitars. A varied collection recorded between 1927 and 1930 it includes traditional and vaudeville songs performed with skill and enthusiasm >
Fiddlin' Jack Pierce "...And The Oklahoma Cowboys" (BACM, 2005)





<! CD D 132 > <! old timey? >
The Pine Ridge Boys "Mississippi River Blues" (BACM, 2005)





<! CD D 216 Farther Along/ I Won't Care/ Railroad Boomer/ Just Tell Me That You Love Me Yet/ There's A Mother Always Waiting You At Home/ Whitehouse Blues/ When Mother Prayed For Me/ Mississippi River Blues/ Wind/ You Are My Sunshine/ Old Shep/ Answer To You Are My Sunshine/ No Matter What Happens/ This Means Our Last Goodbye/ You'll Be Sorry Dear You'll Pay/ When You Have No One To Love You/ Crooning Bachelor/ Where The Old Red River Flows/ Lonesome For You Annabelle/ Put Your Arms Around Me Honey/ The Convict And The Rose/ The Clouds Will Soon Roll By/ Little Darling I'll Be Yours >
Charlie Poole "Volume One: Old Time Songs Recorded From 1925 To 1930" (County, 1994)


Charlie Poole "Volume Two: Old Time Songs Recorded From 1926 To 1930" (County, 1996)


Charlie Poole "Volume Three: Old Time Songs Recorded From 1926 To 1930" (County, 1999)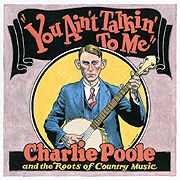 Charlie Poole/Various Artists "You Ain't Talkin' To Me" (Sony Legacy, 2005)


This fascinating 3-CD set sheds light on the career of country music pioneer Charlie Poole, whose Depression-era recordings helped set the standard for the energy level and professionalism of the new musical style, and who recorded many songs that became hillbilly standards for decades to some. This set is unusual, however, in that it spotlights not only Poole's work, but the recordings of several of his contemporaries, rivals and imitators in the 1920s and '30s, artists such as Arthur Collins, Kelly Harrell, Uncle Dave Macon, Ford Van Eps, and numerous craggy old-time stringbands from the pre-bluegrass, pre-swing, pre-honkytonk era. There's plenty of homespun humor, salty raunchiness, bluesy twang and several dazzling tracks, including whizbang instrumentals like Dave Macon's amazing "Uncle Dave's Beloved Solo." Poole emerges as an immensely charismatic figure, and hearing him in the full context of his times is a treat. If you just want to hear Poole by himself, the old anthologies on the County label will do ya right, but this is a fun, well-thought out collection... Recommended!
Charlie Poole "...With The North Carolina Ramblers And The Highlanders" (Proper, 2005)





<! Loudon Wainwright Charlie Poole Tribute album B002H3EU8G >
Dirk Powell "If I Go Ten Thousand Miles" (Rounder, 1996)


Dirk Powell/Tim O'Brien/John Herrmann "Songs From The Mountain" (Howdy Skies, 1998)



A nice set of reconstructed traditional mountain music, with old reels and gospel tunes, with all three of the headliners switching off on various instruments -- banjo, fiddle, mandolin and guitar -- and several notable guest performers such as Ron McCoury, Mollie O'Brien, Pete Wernick and Andrea Zonn pitching in on several songs. It's a nice, mellow, lulling set, and deeply, deeply traditional as well. Recommended!
Dirk Powell & Tony Furtado "Tony Furtado & Dirk Powell" (Rounder, 1999)


Dirk Powell "Hand Me Down" (Rounder, 1999)



A fine, old-timey tinged album by this youthful traditionalist... Many songs on this set are actually a bit bouncier and more "bluegrass" than some of Powell's later work, although many of the vocal numbers featuring Ginny Hawker (about half the album) have a decidedly stark feel to them. Nice stuff, from start to finish!
Dirk Powell "Time Again" (Rounder, 2004)



An exemplary set of oldtime-ish mountain music, Appalachian tunes played informally and with a relaxed warmth that takes off much of the edge that many contemporary old-timey revivalists have adopted as a badge of honor. Powell's approach is accessible and inclusive: there's no denying the authenticity of these songs, yet listeners who are apprehensive towards or new to the genre won't have to push past abrasive antonalities or shrillness in order to appreciate the music's depth. Doubtless there are crusty purists out there who will grumble about Powell "softening" the music, but there's an equally strong argument to be made that this music was originally intended as entertainment, and that clinging to dissonance as a litmus test of purity is just a form of snobbishness and exclusion. Obviously, there's room for both approaches: I like hyperpurist old-timey music when I'm in the mood, but it's also nice to be able to put on a record or two that friends can listen to as well. Along with a sweet set of traditional tunes and original compositions, this disc is peppered with home recordings of Powell and his maternal grandfather, James Clarence Hay, picking and reminiscing together in 1990. Just the right touch to anchor this album is the past, while personalizing Powell's deep connections to his Kentucky roots.
Riley Puckett "There's A Hard Time Coming" (BACM, 2005)

Riley Puckett "Gonna Raise A Ruckus Tonight" (BACM, 2005)

---
More Old-Timey Music >> Letter "Q" | Old-Timey Links | Bluegrass
---