<! MP3 10/25/11 > <! pix 10/25/11 > <! archived 10/25/11 > <! DATA RECOVERED - 10/25/11 >

---
Howdy, neighbors! Here are my reviews of new country, bluegrass and Americana records, from 'way back in 2001. These reviews have also been added to my genre-specific hick music guide, which includes dozens of artist profiles, and other, older record reviews. If you find this review archive useful, you're strongly urged to also check out the rest of the hick music section.
---
New Reviews 2001: Artists A-H | I-M | N-Z
---

Tom Paxton & Anne Hills "Under American Skies" (Appleseed, 2001)



A good old-fashioned hardcore leftie-liberal earnest folkie album, with many songs old and new, thematically linked around the idea of living in the good old US of A... Mostly the album is a bit of a downer, focusing on poverty, injustice and environmental damage, themes that are sure to become more timely as the Bush presidency soldiers on... Many of the songs are cover tunes, and I definitely found myself wishing there was a bit more of Paxton's mellow, romantic side on display here, as well as his playful wit. Without his charm, these proceedings are fairly grim (although Paxton's delivery is, as always, first-rate...)


<! really 109x108 >
Dolly Parton "Little Sparrow" (Sugar Hill, 2001)



As a follow-up to Grass Is Blue, Dolly's impressive 1999 back-to-basics bluegrass album, this disc sounds disappointingly overwrought and florid. I guess when you've spent all those years in big old, cavernous Nashville studios, where any amount of musical layering is possible, then old habits become hard to break. But taken as just a plain-old Dolly Parton album, this is pretty spiffy, hearkening back to her great old folk-countrypolitan albums of the early '70s, back when she was writing sentimental tunes like "Coat Of Many Colors" and "To Daddy." Certainly the overwrought lyrical content on several songs falls well within the traditions of old-time and bluegrass music -- preoccupations with poverty and tragic circumstances, for example -- although coupled with the elaborately crafted music, it does get to be a bit much. Some songs, such as the normally-irresistable Louvin Brothers classic, "I Don't Believe You've Met My Baby" lose direction amid the ornate instrumental stylings and overly-trilled vocals. The big surprise guest appearance is Irish supergroup, Altan, which contributes backing on the Celtic-flavored "In The Sweet By And By", as well as throughout the album. Probably a perfect album to open the gates for listeners who are coming at bluegrass from a commercial-Nashville vantage point, but a little iffy for old-school country traditionalists.
David Peterson & 1946 "David Peterson & 1946" (Self-released, 2001)



These fellows from Tennessee hit the nail on the head with their homage to the postwar heyday of classic bluegrass. The material is all oldies from elders such as Bill, Lester, Ralph and Carter, as well as blue yodel or two and some nice original material. The picking's solid, too... Seems like there are an awful lot of great bluegrass bands out there, and these fellows are as good as any of 'em. Nice traditionalist mountain music.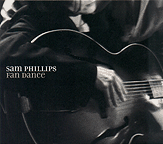 Sam Phillips "Fan Dance" (Nonesuch, 2001)



Not alt.country, per se, but still such a great album it'd be a shame to pass it by. For many a month, this was one of my favorite albums, full of captivating tunes and odd, evocative lyrics. Phillips has long been something of and indie inbetweener, too rootsy for a mainstream breakthrough, and too mainstream to be fully embraced by the indie hipoisie... The production on this mainly-acoustic album -- steered, as ever, by her hubby, T-Bone Burnett -- is slick and mellow, but inviting. Orchestral pop pioneer Van Dyke Parks pitches in, as well as Tom Waits' erstwhile guitarist, Marc Ribot, who lends a recognizably Kurt Weill-ish twist to several tunes. This is Phillips' first album in five years, and while she seems to have missed the "Alice" style of femme-centric Top 40 programming, she certainly has my attention. This is an album packed with songs you could fall in love with. Mature, mysterious, enchanting rootsy modern music.

Rice, Rice, Hillman & Pedersen "Running Wild" (Rounder, 2001)



Larry and Tony Rice team up with Byrds/Dillards vets Chris Hillman and Herb Pedersen for a pleasantly low-key set of country-bluegrass ballads. Overall, I'd reluctantly have to admit that this lacks ooompf, but it is a nice reminder of the pioneering crossover work that Hillman and his various crews did in the '70s to help widen the palatte of modern-day hick music fans. A pair of EZ dino-rock covers ("Things We Said Today" and CCNY's "4 +20") are alternately charming and a bit iffy. One interesting is Larry Rice's "The Mystery That Won't Go Away," a CNN-era update of the old topical ballads that once filled traditional music... Only this time, instead of the sinking of the Lusitania or some train crash, it's about the murder of Jon-Benet Ramsay. Worth checking out; they really seem to be hitting their stride on this one...

Bruce Robinson "Country Sunshine" (Boar's Head, 2001)



A groovy self-released album from this Nashville semi-outsider. Fans of earlier albums will notice the change of tempo right off: the album art is a parody of early '70s EZ-listening countrypolitan, and while this is no Johnny Rodriguez album, it is a bit mellower and less hook-laden than, say, Wrapped... Solid songwriting, though, and definitely worth checking out. As ever, the duets with Kelly Willis are worth the price of admission alone.

Charlie Robison "Step Right Up" (Sony-Lucky Dog, 2001)



Making his best pitch as part of the outlaw-poet lineup, Robinson's style is just a little too showy and self-conciously craftsmanlike for my taste... His band's pretty solid -- there's a strong undercurrent of Dave Edmunds/Rockpile-like bar band bounce, and the tone is pure, well-produced honkytonk pop -- but I personally just don't much go for the whole country profundity thing, and the lyrics seem wildly over-written. I'm sure there's plenty on here to hold lots of folks' attention... but I found mine wandering. The rambling, absurdist tall-tale, "One In A Million," is kind of fun, in a Pecos Bill/Paul Bunyan kinda way. If you're looking for an alternative to the synths and strings of Nashville, this certainly could fill the bill.
Leon Russell "Hank Wilson v.2" (Leon Russell Records, 2001)


Leon Russell "Hank Wilson v.4: Rhythm & Bluegrass" (Leon Russell Records, 2001)


"Hank Wilson" was an alter-ego created by roots crooner Leon Russell back in the late '70s, sort of an outlaw/oldies singer who allowed him to indulge his preference for classic country, even while Nashville coasted into "Rhinestone Cowboy" terrain. Now the gag continues, and the new Hank Wilson albums have become straight-up country cover albums, packed with oldies like "I'm Movin' On," "Wabash Cannonball" and "Oh Lonesome Me." Volume Four of this series is a collaboration with the New Grass Revival, adding a bluegrass twist added to the mix. The great thing is that these records are a lot of fun... Russell really has a command of this material, and an understanding of how to make it work. If you have an yen for old-time country music, then you might get a real kick out of these records.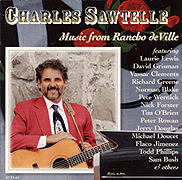 Charles Sawtelle "Music From Rancho DeVille" (Acoustic Disc, 2001)



An absolutely gorgeous album with and all-star cast of newgrass/acoustic revivalists. The late Charles Sawtelle was a veteran of one of my favorite bluegrass bands from the '80s, Hot Rize, who infused their albums with a driving but subtle country and pop sensibility. This record, recorded over a long period of time while Sawtelle battled with leukemia, covers a lot of musical territory. It includes good old-fashioned hi-speed bluegrass breakdowns, sentimental ballads and sweet instrumentals, old-time classic like the Carter Family standard, "Storms Are On The Ocean", and even a cajun tune or two. with folks like Norman Blake, Michael Doucet, Peter Rowan and Vassar Clements on board (to name only a few...), how can this go wrong? Mostly, it's the mellow, relaxed atmosphere that label head David Grisman seems to promote which helps make this such a delightful album -- it's so great to hear these super-talented folks just taking it easy and enjoying themselves, rather than trying to sculpt a Grammy-winning album, or whatever. Sawtelle's Hot Rize pals, Pete Wernick and Tim O'Brien also pitch in, as well as album producer Laurie Lewis. Great stuff -- highly recommended!
Billy Joe Shaver "The Earth Rolls On" (New West, 2001)



This was Shaver's last album recorded with his guitarist son, Eddy, who died on New Year's Eve, and by and large it's a pretty good record. The best songs are tuneful backwoods honkytonk toss-offs, such as "Hard Headed Heart" and "New York City Girls," which remind me of his understated releases on Columbia, 'way back when. It's when he gets all rocket-science-y and craftsmanlike that my attention starts to wander - Billy Joe's got a touch of Townes Van Zandt-style grandiloquence that makes some songs sound a bit forced. And although I don't wish to speak ill of the dead, his son Eddy's muscle-bound, flashy guitar work was a bit too blaring and Stevie Ray Vaughn-ed out for my tastes. (Possibly they mixed the guitars up higher than normal, in tribute... regardless, it seems a bit intrusive...) On balance, though, this is a record worth checking out; it might not be as mind-numbingly fab as the folks at No Depression would have you believe, but it's still pretty tasty. As a songwriter, Billy Joe's got a great way with a melody, and as a performer, he's much more vigorous and engaging than, say, Merle Haggard, who he's frequently compared to. At least Shaver's heart is really in it. One wonders where things will go from here, but so far so good.

Karl Shiflett & The Big Country Show "In Full Color" (Rebel, 2001)



Wow! What a stunner...!! These Texas fellas have the old-style bluegrass sound down so well that when this disc starts belting out your speakers, you might do a double-take wondering if you bought an old Flatt & Scruggs album or some old Bill Clifton by accident. No fooling -- they're really that good, and they have that old-time sound. Recording through vintage equipment explains part if it, but how anyone in this day and age can sound so durn authentic is still pretty impressive! If you like the traditional, driving classic sound of late-'40s bluegrass, then you owe it to yourself to check these guys out!

Split Lip Rayfield "Never Make It Home" (Bloodshot, 2001)



Even as a dutiful former son of Lawrence, KS, I didn't have high hopes for this hometown outfit... I guess the dopey bandname kind of put me off. Turns out they're a pretty decent, old-time-ish stringband, along the lines of the early Red Clay Ramblers albums, and their album is surprisingly good. Their material is almost all original, and balances rambunctiousness with a certain fresh approach... Sure, it's a little cluttered and a little forced in the hick schtick department, but far less so than I would have imagined. If you're looking for something new and original in this field, then check these guys out. This isn't the kind of album that sends me into the stratosphere, but I am really curious to find out where they go from here.

Loudon Wainwright III "Last Man On Earth" (Red House, 2001)



Sounding even bleaker than usual, at age 53 Loudon looks at loneliness, loss, death and, naturally, the family. Inspired, if you can use that word, by the death of his mother, this album is the culmination of a years-long bout with depression. It's a bit crushing and seems more sincerely downcast than... well, just about anything else he's ever done. Still, this can hardly be characterized as simply wallowing in it. Loudon's as witty and literate as ever, although he seems to have dispensed with the lighter novelty songs altogether -- the title track is closest thing on here, and it's an examination of his middle-aged alienation from 21st Century googaws such as cell phones, SUVs and computers ("I hate that letter 'e'..." he croons). He also has a song wherein he asks a friend if it's okay to list them as an emergency contact, since his family members are all either dead or dispersed from his life; this is followed by a tune equating sleep with death... A powerful, thought-provoking album with nice arrangements, but also a real downer. Worth checking out.

Dale Watson "Christmas Time In Texas" (Audium, 2001)



This hard country hero throws himself into holiday classics like "Silver Bells" and "The Christmas Song" with the same true-believer gusto he's brought to honkytonk music the last few years. He's also written a slew of really great new originals, such as the slam-bang "Honky Tonk Christmas" and "Christmas Without An Angel"... The real diamond on this disc is "Santa In My Semi," wherein Dale gives Old Saint Nick a loaner when Rudolph throws an axle... They don't make songs like this anymore, but they really oughtta. A couple of tunes fall flat, but overall this is exactly what we need to spice up the holiday country song pool... Less string sections, more Dale Watson! (For other Christmas records, see my Hillbilly Holiday section.)
Dallas Wayne "Here I Am In Dallas" (HighTone, 2001)



This time around, Wayne gets the full-on HighTone studio treatment, with a big, rich-sounding, pedal steel-heavy mix that's reminiscent of the best MCA albums of the mid-'70s... The material's still great, too -- plenty of great hard-drinking hillbilly novelty songs, and even a cover of Hank, Jr.'s "Here I Am In Dallas"... A really solid sound, at times perhaps a little too dense for the lyrics to come through, but satisfying nonetheless... Recommended!

Whiskeytown "Pneumonia" (Lost Highway, 2001)



Feelgood alt-pop with a faint, lingering trace of twang. Whiskeytown's final, posthumously-released album shows songwriter Ryan Adams moving solidly into the more expansive horizons of his future solo career. Nothing on here is as edgy or immediate as his solo work or as unregenterately twangy as the band's early work; I wouldn't go as far as to say this is an unchallenging record, but it certainly is easy on the ears... It's also probably their best record -- nice, pleasant to listen to, although a bit gauzy and narcotic in its overall effect. Take only as directed. And enjoy.
Tony Joe White "The Beginning" (Audium, 2001)



Man... talk about a downer! The crown prince of swamp pop returns after a long hiatus with as morose and mumbly a set of blues tunes as you'll ever hear. The narrative are rambling, but the grooves are still good. A few tunes stand out, including "Drifter" and "Wonder Why I Feel So Bad." Speaking of which, we wonder that too -- what's up, Tony Joe?? Blues fans, take heed: this is a record worth checking out.

The Whites "A Lifetime In The Making" (Ceili, 2000)



There was always something pleasantly quixotic about Ricky Skaggs devotion to his wife's family band, The Whites. Their sugary brand of bluegrass is just a little too soft-centered to attract those who look to mountain music as a form of musical drag-racing; similarly, when they play straight country, the whites don't quite have the type of bite that either traditionalists or young country fans are looking for. But to their credit, The Whites hold the line and stick to playing the kind of music they like. This album is very much in keeping with their past work -- shamelessly sentimental and nostalgic for the hazy rural past. Now, with all the acclaim being paid to the O BROTHER WHERE ART THOU soundtrack, the Whites may finally be having their day, as a whole new crop of listeners are being directed towards tightly crafted albums such as this one... For folk fans with a big ole sweet tooth, this disc might just hit the spot.

Various Artists "AVALON BLUES: A TRIBUTE TO MISSISSIPPI JOHN HURT" (Vanguard, 2001)



A first-rate, heartfelt roots-folk tribute to the acoustic bluesman Mississippi John Hurt, who was one of the great rediscoveries of the '60s folk scene... Spearheaded by Peter Case, this is a captivating and effective album, with performances by some of the best roots musicians around -- folks such as Lucinda Williams, Dave Alvin, Ben Harper and Steve Earle, and even slumming indiepopstars like Beck... The ever-naifish Victoria Williams chirps her way along, as well as Gillian Welch, who does an atypically goofy rendition of the gospel-tinged "Beulah Land". What marks this album is it's near-total lack of the stiff self-consciousness with which folkies have approached blues material in the last few decades -- these artists all "get" the easygoing, playful vibe that made Hurt such an appealling performer, lo those many years ago. Good stuff! Recommended!

Various Artists "CONCERTS FOR A LANDMINE FREE WORLD" (Vanguard, 2001)


A worthy cause, if ever there was one. Landmines and other "anti-personnel devices" get scattered about like popcorn in the dozens of wars and feuds which simmer across the planet... The trouble is, like yard sale signs, no one ever bothers to clean the damn things up and they maim countless civilians, even year after the struggles are over. It's a big problem. The international community (especially the Europeans... god bless 'em!) are grappling with the logistical problems of how to disarm and dispose of all these leftover killer bombs, and there's a big push to ban them outright. So, this album? It's a bunch of the best alt.country types alive -- Emmylou Harris, Guy Clark, John Prine, Steve Earle and others -- gathered together and all on their best behavior to raise awareness and a little cash to help address the situation. Overall, this disc is a little sedate, but it's not very preachy, and there are no sub-par performances. (For more info on the landmine issue, check out the Vietnam Veterans of America Foundation website.)
Various Artists "DOWN FROM THE MOUNTAIN" (Mercury/Lost Highway, 2001)


A live concert follow-up to the enormously successful O Brother, Where Art Thou soundtrack, with all the same artists -- Emmylou, Alison Krauss, Chris Thomas King, et al -- sawing away on stage. Gillian Welch steals the show with a couple of tunes off her current album, and the late John Hartford plays one tune and is properly lauded in the liner notes. Holly Hunter -- who was the one major flaw in the original Coen Brothers film -- acts as emcee. Nice, lowkey acoustic material -- not as arresting as the first album, but nothing to complain about, either.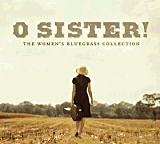 Various Artists "O SISTER...A WOMEN'S BLUEGRASS COLLECTION" (Rounder, 2001)



Nothing to complain about here. Rounder cashes in on the O Brother Where Art Thou? phenomenon with a fem-centric collection packed with goodies by Alison Krauss, Rhonda Vincent, Claire Lynch, Hazel Dickens, Suzanne Thomas, Lynn Morris and others. Sticks to the more traditional end of the spectrum, and keeps the momentum up throughout. Most of these gals are worth checking out on their own, but this makes a perfect introduction to their music.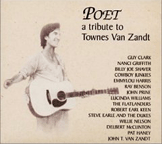 Various Artists "POET: A TRIBUTE TO TOWNES VAN ZANDT" (Navarre, 2001)


I have to confess, I've never been a big fan of the late Townes Van Zandt, although I know a lot of you out there are... So, bear with me, and take what I say here with a grain of salt. One thing about this tribute album is that it certainly captures the somewhat overblown poetic pretensions of Van Zandt's work. It takes a remarkably graceful performer to overcome the belabored craftmanship of this writing: Guy Clark does it beautifully on "To Live Is To Fly"; Billy Joe Shaver and John Prine do alright on their respective tracks. The bulk of this album, though, is awkward and heavy-handed... that is, it follows pretty closely the template set down by Van Zandt himself. If you're into Townes to begin with, you should love this. It didn't rock my world, though.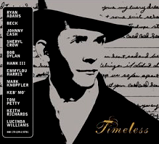 Various Artists "TIMELESS" (Lost Highway, 2001)



Yet another reason for Lucinda Williams fans to look forward to that eventual compilation of her zillions of scattered, non-album tracks. Her version of Hank William's "Cold Cold Heart" is by far and away the best track on here -- a superior rendition of a haunting old song. The rest of these Hank covers have their ups and downs... it's interesting to hear modernized updates of Hank's rather sparse sound, although some tracks (I'm not naming names) slide off in the wrong direction. Oh, fine, then: I will name names! Could Sheryl Crow have been any screechier? I thought overstated city-kids-doing-warbly-hillbilly-yodelling performances like that went out in the early '80s... and it's not like she doesn't have the range or ability to sing this stuff with the proper feeling. Overall, though, this is an album a lot of folks will enjoy; other than the Lucinda track, it doesn't move me that much, but it's not offensive, either.
---
---



Hick Music Index
Shop Amazon, Support Slipcue


---