<! MP3 10/21/11 > <! pix 10/21/11 > <! archived 10/21/11 > <! * >

---
Hey there! Welcome to my country reviews archive... This page covers records that came out (or were reviewed by me) in the year 2002. Other "new reviews" are archived here... Enjoy...!!
---
Country Music Records: 2002 (page 3)
---
Jill Olson "My Best Yesterday" (Innerstate, 2002)



A longtime San Francisco Bay Area local yokel best known as the bass player for the band Red Meat, Olson is a hillbilly with a sweettooth for treble-heavy melodic pop. The Beatles and Byrds echo through this bouncy little album, which nonetheless has an undefinable hillbilly twist. There's also the bright trademark sound of producer Dave Alvin, who is a welcome addition to any team! This charming indie album has its odd moments, but with perky, memorable tunes like "When You Gonna Love Me Again?" it my also be the kind of record you can't quite get out of your mind. It took me a while to warm up to this one, but now I'm into it.

Porter Hall, Tennessee "Welcome To..." (Slewfoot, 2002)


Althought these fellow traffick in the sort of white trash stereotypes that normally drive me buggy (songs about one drinkin,' druggin,' drawlin' foul-up after another...) I have to admit they have the instrumental ooompf to pull it off... mostly, that is. Singer Molly Conley has a major Lucinda Williams jones, which isn't necessarily a bad thing, but it is a bit overplayed... She trades off and occasionally duets with the band's other singer-songwriter, Gary Roadarmel, and overall, this is pretty darn good, at least for the Bloodshot-ish "insurgent country" style. Worth checking out if you like them sassy, rockers-go-urban hick types.
Railroad Earth "Bird In A House" (Sugar Hill, 2002)



For those who really, truly, deeply feel that the Grateful Dead's Cumberland Blues album was just too damn short, comes this latter-day acoustic jam-band outing. Vocalist Todd Scheaffer has the plaintive, broken-voiced Jerry-soundalike thing down pat, particularly on the album's title track, which has a fragile, "Box Of Rain" appeal to it. This stuff is obviously not for the Dead-adverse or hippie-dippie impaired, but for it's good for what it is. Interesting crossover of bluegrass and poetic hippie folk.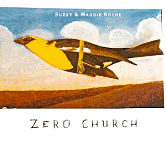 Maggie & Suzzy Roche "Zero Church" (Red House, 2002)



When the Roches hit the folkie scene in the 1970s, their style was a bit keening and odd; now the harmonies are smoother and the voices mellowed into simple beauty. Of course, the difference may also have something to do with the nature of the material -- this is an album entirely devoted to spiritual questing, running Judeo-Christian religiousity through the filter of liberal New Yorker culture. Naturally, there's some September 11th-related material as well, although the religious nature of this album was already in the work before the attacks. Anyway, this is a slightly different Roches than you may remember -- musically it's pretty solid, though if you're not into the whole God thing, this might not be for you.

Bruce Robinson "Country Sunshine" (Boar's Head, 2001)



A nice self-released album from this Nashville semi-outsider. Fans of earlier albums will notice the change of tempo right off: the album art is a parody of early '70s EZ-listening countrypolitan, and while this is no Johnny Rodriguez album, it is a bit mellower and less hook-laden than, say, Wrapped... Solid songwriting, though, and definitely worth checking out. As ever, the duets with his wife, Kelly Willis, are worth the price of admission alone.
Kev Russell's Junker "Buttermilk & Rifles" (Sugar Hill, 2002)



An oddball solo outing by one of the fellas from the Gourds. Yeah, sure, he's trying a little too hard to be all weird and stuff, but his songs are still catchy. In a weird kinda way. The first track that really got my attention here was "(Somebody Get Me A Flower) I'm A Robot," which has a strong refrain... Turns out it's also the only song I can remember, even after this album was stuck in my CD player for several days. If you dig weird, goofy, outsider-arty type stuff, then this record can be pretty fun, and fans of the Gourds will probably not be disappointed. But ultimately I'm not sure how much there is really there.

Rick Shea & Brantley Kearns "Trouble And Me" (Tres Pescadores, 2002)



A delicious, acoustic-based set of well chosen old-timey and old-school country tunes, ranging from dimly-recalled gems such as Jim Ringer's "Rachel," Mary McCaslin's "San Bernadino Waltz," Harlan Howard's "Trouble and Me," and the gentle hobo anthem "Loafer's Glory." Fiddler Brantley Kearns has one of those great, gruff, grizzled-sounding voices that I love to hear, calling to mind folks like Larry Hosford and U. Utah Phillips. This is an excellent, thoroughly enjoyable album, one that would be easy to miss out on, since indie artists have such a tough time with distribution these days. Dave Alvin, whose band both these guys play in, produced this disc, with a light, unobstrusive touch. Fans of the relaxed style of old 1970s-era alt.country will appreciate this disc: I say snap it up while you still have the chance!

James Alan Shelton "Song For Greta" (Rebel, 2002)



Guitar picker James Alan Shelton has a real smooth touch on the Martin flattop; here he steps out from his supporting role helping anchor Ralph Stanley's band to lead another fine, mostly-instrumental album of his own. Ralph Stanley II, mandolinist John Rigsby, banjo picker Steve Sparkman and others join in; Gillian Welch and David Rawlings sing on the gorgeous gospel tune, "Fifty Miles Of Elbow Room," which is certainly one of the album's highlights. Some of the instrumentals are a little too formal and less fiery than some bluegrassers might like, but it's still lovely stuff, with flawless musicianship throughout.

Daryle Singletary "That's Why I Sing This Way" (Audium, 2002)



(Produced by Greg Cole)
Nothing new here, but then again, that's pretty much the point. Singletary pays tribute to his honky-tonk heroes -- Buck Owens, Conway Twitty, Joe Maphis and others -- covering songs like "A-11," "Kay," "Dim Lights, Thick Smoke," and "Long Black Veil..." Ole Possum, George Jones, gets his very own tribute song, with Max D. Barnes's "That's Why I Sing This Way," wherein the singer relates how old Jones albums were used as instruments of corporal punishment ("My mama used to whup me with a George Jones album/That's why I sing this way...") It's a good old, rollicking hard country number, much in keeping with this new traditionalist's other work. If you're looking for evidence that real-live honkytonk music is still alive, this album may cheer you quite a bit.
Ralph Stanley "Ralph Stanley" (Columbia/DMZ, 2002)



As bluegrass music's reigning elder statesman, Ralph Stanley is seen by many as a conservative force, preserving the heritage of Appalachian folk music against the ravages of commercialism. But he's also proved a remarkably adaptable stylist, as heard on his latest record, produced for the Coen Brothers' new DMZ label, which captures Dr. Ralph in an unexpectedly mellow folksong setting. The rounded, melodic arrangements come courtesy of veteran acoustic pickers such as Norman Blake and Stuart Duncan, who play with a delicacy that may feel unfamiliar to Stanley's hardcore fans. Producer T. Bone Burnett adds his own sense of warmth and a depth of texture that is not always apparent in Stanley's more rugged bluegrass outings. It's all pure Stanley, but with a softened, Carter Family quietness.
The Star Room Boys "This World Just Won't Leave You Alone" (Slewfoot, 2002)



Bummed-out, traditionalist honky-tonk with pretty good lyrics and strong musicianship. The production is a little thin, but in a good way, as if to say, "hey, we're just real folks who can't afford a big budget... take it or leave it, dude." Songwriter Dave Marr seems to take his craft pretty ernestly; he coasts near the kind of broadly drawn, miserable-ole-me bathos that folks like Rex Hobart take all the way into camp, but I think Marr is serious about his down-in-the-mouth lyrics. At any rate, his John Anderson-y growly vocals are nice, and the band is pretty sharp. Nice to hear a twangy new band that doesn't mire itself in white trash stereotypes... for once!

Porter Wagoner "Unplugged" (Shell Point, 2002)


God bless Porter Wagoner. He hasn't changed his basic hillbilly orientation in over 45 years in the upper ranks of the country music pantheon, and it looks like he never will. This simple, unpretentious collection of songs sounds just like his old stuff from the early '70s, calculated but heartfelt, corny but cool. As the title implies, the arrangements are pretty down to earth, but really not that much different than any of his classic work. Porter's getting on in years, but still has a great voice, not nearly as creaky or fragile as any number of his contemporaries. The guy's still got it, and this album ranks right up there with anything he's ever done. By the way, Willie Nelson guests on a couple of tunes, and these two veterans sound pretty simpatico. Worth checking out!
Dale Watson "Live In London... England!" (Audium, 2002)



I once had the good fortune to see Dale Watson play a show in Glasgow, Scotland, and the intensity and devotion of that UK crowd is ably reflected in this concert album, where the London fans hoot, holler and sing along to a brace of oldies and a slew of new originals. This is Watson in fine form, stripped down and honkytonk as all hell. He takes advantage of the concert album tradition to get a little dirty and cuss some, but mostly this is about Dale and his high-test, kickass band, who don't mess around for even a note or two. Authenticity is Watson's watchword: he opens the set up with his hick music anthem, "A Real Country Song," reprises his version of the Jimmie Rodgers classic "In The Jailhouse Now" (which was also a highlight of the recent Webb Pierce tribute album reviewed below...), and thumbs his nose at Nashville with "Country My Ass..." He might not be subtle, but he sure is good. You can't hear solid country playing like this anywhere else but on a Dale Watson album. Highly recommended!

Robin & Linda Williams "Visions Of Love" (Sugar Hill, 2002)

This reknowned bluegrass-y couple cover a slew of mountain love songs, mostly of a remorseful or nostalgic nature... "You're Running Wild," "After The Fire Is Gone," "I'll Twine 'Round The Ringlets," and even "I'll Keep The Homefires Burning," an Ivon Novello torch song, atypically performed as a standard, with piano backing. The Williamses tackle this material with perhaps excessive gravity... their take on every song is so solemn that you'd think that even modest melodic bounciness had never been invented... Still, they set a mood, and if you're looking for a little downcast romanticism, in an acoustic folk vein, this disc just might fill the bill.
Kelly Willis "Easy" (Rykodisc, 2002)



(Produced by Kelly Willis & Gary Paczosa)
Another solid, soulful album, this time with a wealth of songs written or co-written by Willis, and a couple of well-chosen covers. There's the obligatory Bruce Robison tune ("What Did You Think"), a sweet cover of the late Kirsty Maccoll's "Don't Come The Cowboy With Me, Sonny Jim" and a bouncy bluegrass number, "You Can't Take It With You," written by Paul Kelly. That one turns out to be the most upbeat number on the album, which otherwise sticks to a pretty languid, wistful vibe. The musical backup is gorgeous throughout, with guest appearances by Alison Krauss and Dan Tyminski, as well as understated acoustic guitar work by Bay Area roots rocker Chuck Prophet. It's doubtful whether Willis will get any major country chart action with this one (then again... who knows??) but it sure is a lovely record to listen to. Highly recommended.
Various Artists "CAUGHT IN THE WEBB: A TRIBUTE TO THE LEGENDARY WEBB PIERCE" (Audium, 2002)


An all-star tribute to my personal honkytonk hero, Webb Pierce. The level of talent assembled for this project is staggering, ranging from grizzled old-timers such as George Jones and Charley Pride to contemporary Top 40 stars Trent Summar, Dwight Yoakam and Pam Tillis. The twangcore crowd and '70s mavericks also get in their licks: Emmylou Harris delivers a plaintive reading of "Wondering," while Rosie Flores and Robbie Fulks cheerfully plow their way through a pair of Pierce's rock-era hits. It's difficult for anyone to match the charm and immediacy of Webb's original recordings, but high marks go to Dale Watson for his explosive version of "In The Jailhouse Now" and to Guy Clark, who hits the goofy mood of "Honk Tonk Song" right on the head. Willie Nelson is also in on the fun, which is appropriate since his 1982 duets LP was the last album Pierce recorded. Here, Nelson takes his time with a bittersweet, appropriately mournful version of "That's Me Without Out You," one of Pierce's weepiest and best ballads. With an all-star cast like this, and such great material to work from, this disc should open a few new ears to the Webb Pierce legend. Check this out, and be sure to pick up one of the great Webb reissues out there as well.
Various Artists "EVANGELINE MADE" (Vanguard, 2002)


An all-star country-folk tribute to cajun music, produced by Ann Savoy, of Beausoliel fame. The artists on here are pretty amazing -- Rodney Crowell, Linda Thompson, Maria McKee, Nick Lowe, Patty Griffin and others, all backed by a crackerjack cajun band fronted by Anne and Micheal Doucet, Steve Riley and others. Richard Thompson contributes a gorgeous version of "Les Flammes d'Enfer" and Crowell's take on "Bosco's Blues" is surprisingly soulful. If you're one of the many who normally find cajun and zydeco a bit too grating, you should think about picking this up: it's much smoother and less chanky-chank than the style normally sounds, and is pretty consistently good throughout.

Various Artists "DRESSED IN BLACK" (Dualtone, 2002)



This sort-of-alt tribute to Johnny Cash features the Man In Black's onetime son-in-law Rodney Crowell, on a fine version of the cornball classic "Teenage Queen," as well as a slew of eminently talented twangsters. Other artists include Dale Watson, Robbie Fulks, Rosie Flores, Kelly Willis and Bruce Robison, as well as the album's producer, Chuck Mead, one of the songwriters in BR549. For the most part, these folks play it pretty close to the vest, straying only slightly from the template Cash laid down all those decades ago. The song selection is also fairly standard-issue, although there are a couple of surprising choices, such as the frankly erotic "Flesh And Blood," covered here by Chris Knight, who digs right into the smouldering heart of the lyrics. High marks also go to Merle Haggard's old guitarist Redd Volkaert, who cuts loose on "Luther Played The Boogie," and to crooner Raul Malo, who has a good time with the mopey "I Guess Things Happen That Way." For the most part this disc holds few revelations, but if you love these songs already, these reverential new versions sound just dandy.

Various Artists "KINDRED SPIRITS" (Sony-Columbia, 2002)



Well, here's the big surprise of 2002: with two competing Cash tributes coming out within a week of each other (this and the DRESSED IN BLACK album above...), it turns out that the major label, packed-with-commercial-stars tribute is by far the better of the two. The reason why is that finally, for once, someone pays homage to Cash without simply aping his style and sound to a "T." Almost all of the songs on here take a markedly new approach to all the same old songs. Cash's trademark slap bass is left behind in favor of languid, drifting rhythms, and instrumental touches that Cash himself would rarely (if ever) approach, such as slide guitars and keyboards, dominate the album, creating entirely original takes on a dozen+ Cash classics. The album opens up with Dwight Yoakam's expansive reinterpretation of "Understand Your Man," followed by a mournful version of "I Still Miss Someone," by Johnny's daughter, Rosanne Cash. Other surprises include neo-Southern rocker Travis Tritt's authoritative reading of "I Walk The Line," here taken as a mellow, super-slow ballad, and blues picker Keb Mo's haunting and similarly slow version of "Folson Prison Blues." Bob Dylan sings "Train Of Love," one of his own songs that Cash covered back in the politically polarized '60s, acknowledges Cash's open-minded approach to music making in a brief but heartfelt introduction. A couple of artists, like Hank Williams Jr. and Steve Earle, fail to surprise us, and an Emmylou Harris/Mary Chapin Carpenter/Sheryl Crow team-up on "Flesh and Blood" sounds perky and bland on a song that is deeply, smoulderingly erotic. On balance, though, this is the Cash tribute album we've all been waiting years for -- respectful, but adventuresome, giving Cash's work new resonance and depth, teasing out nuances that were easy to miss in Cash's rollicking original performances. Check it out!

Various Artists "A TRIBUTE TO THE SOUNDTRACK OF ROBERT ALTMAN'S NASHVILLE" (Mint, 2002)



It's hardly surprising to find out that Carolyn Marks of the Corn Sisters is a big fan of the movie, Nashville, or that she could rope a bunch of like-minded folks into doing a twangcore tribute to the fabled Altman flick. But for all the insider-y wink-winking and rib nudging, this disc merely demonstrates the shortcomings of the warblier end of the twangcore crowd, rather than an understanding of what made the film so great. Robert Altman's 1975 masterpiece was notable both as a breakaway art film and as a well-timed jab at the pretensions of Music City, then at the height of the lofty and lucrative "countrypolitan" scene. It was a nasty bit of satire, remorselessly condescending yet dead-on in the details, the most remarkable of which was the music itself. Altman wrangled a few of his stars into writing their own material, and some, like Ronee Blakley, did a slam-bang job sending up the artsy overreaching of the countrypolitan songsmiths. Keith Carradine even got the last laugh when his sleazy soft-pop ballad, "I'm Easy," became an actual Top Ten hit. Unfortunately, Altman's artistic tightwire act seems a little lost on folks like Marks, who treat the film as an alt.country Rocky Horror Picture Show, worthy of rote imitation and as just another excuse to hoot and holler at the expense of the genre they profess to love. Altman's heartless lampooning of Hank Snow (through the character Haven Harcourt) is left unchanged in Dave Lang's ragged, sniggering renditions. Likewise, Dallas Good (of the Sadies) loses a golden opportunity while covering the Olivia Newton John parody, "Bluebird," which comes exactly as close to plausibility here as it did in the film; it would have been twice as funny to smooth out the song's rough edges and play the preposterous lyrics up to the hilt. Tellingly, one song that has been altered is Tolan McNeil's version of "Easy," in which he perfectly apes Carrandine's vocal tone, but warps the phrasing to make the character sound like just another drawling hick. This is particularly ironic since Carrandine's Jackson Browne-ish folk-rocker was the most talented, least affected of the film's musicians, yet its poorest excuse for a human being. But hipsters such as the Marks' crew could never leave an iconic '70s hit like "I'm Easy" untouched by their misplaced sense of irony: if anything deserves to be made fun of, it's that song! Thus they are undone by their own push towards irreverence -- when it comes to Altman's sneering send-up of country as an artform, these modern day twangsters are all giggles, snorts and stereotypes -- sadly, the same seems to be true about their grasp of Altman's insights into human nature. This half-baked homage is played so close to the vest that you might as well just get the original soundtrack, or better yet, rent the film and see what all the fuss was about.
---



Archived Reviews
Hick Music Index
Shop Amazon, Support Slipcue


---