<! * > <! MP3 10/20/11 > <! pix 10/20/11 > <! archived 10/20/11 - html recovered from archive.org >

Howdy, neighbors!
Here are some reviews of the new country, bluegrass and Americana records that I had the good fortune to listen to in January, 2005. This month: Lynn Anderson, Gene Autry, Jason Boland, Ray Bonneville, Neko Case, Judy Canova, Ramblin Jack Elliott, Raymond Froggatt, Ginny Hawker & Tracy Schwartz, Dan Hicks, Reckless Kelly, Sonny Landreth, NRBQ, The Sadies, Ricky Skaggs, Larry Sparks, Keith Urban, YMSB... and more!
...It's not everything I heard, but it's a nice sample of stuff that either tickled my fancy or ticked me off... Many records that aren't included here are reviewed elsewhere in my full Guide To Hick Music. Enjoy!
---
New Stuff: January, 2005
---
Lynn Anderson "Greatest Hits" (Collector's Choice, 2004)


Wa-hoo! Although she was a mega-huge star in the early 1970s, when her version of Joe South's "Rose Garden" became one of the greatest countrypolitan hits ever, Lynn Anderson's legacy has been poorly served in recent years. Her last serious best-of sets were on the fly-by-night Renaissance label, and these flew quickly out of print. In particular, her dynamic early recordings for the independent Chart label -- the focus of one of the two Renaissance discs -- has faded from sight, remembered by only a few old fans. This new album is the actually first collection that gathers her Chart material with hits from her long run on Columbia Records, a long-overdue real career retrospective that highlights both her most upbeat and most ornate musical moments. "Rose Garden" is, of course, the apex -- (what an amazing pop song!!) -- but there are plenty of other nice oldies on here, including spunky numbers like "Stay There 'Til I Get There," "Talkin' To The Wall," "Flattery Will Get You Everywhere," "No Another Time" and "That's A No-No." Early on, she recorded a lot of songs written by her mother, Liz Anderson, and these are all lots of fun; later as the whole "countrypolitan" thing got a little too serious and stuffy, her endless stream of erotically-tinged, overly orchestrated love songs got to be kind of repetitive, and her chart hits dwindled. To their credit, the folks at Collector's Choice do a fine job balancing this material, giving a good picture of her commercial career while also packing in enough musical goodies to keep more traditionally-oriented country fans hooked as well. This is a must-have for serious students of country history.

Gene Autry "The Essential Gene Autry" (Sony Legacy, 2005)



Like many of the old-time singing cowboys, screen star Gene Autry has long been discounted by some country snobs, who see him as too hokey to be part of the classic country canon. Too bad for those folks, though, because Autry's music is both rich in country tradition and musical show-biz savvy. Like Roy Rogers and other hayseed Hollywood harmonizers, Autry dipped liberally into jazz and swing, giving his music a nice little bounce. The songs are delightfully corny and often well-crafted, drawing on the traditions of the Tin Pan Alley composers -- this is music that was made to entertain, and it still works its magic, all these decades later. This is a nice 2-CD set that gathers material from many of the labels Autry recorded for, including Columbia, Okeh, Vocalion and a slew of smaller outfits, and spans his career from 1931, when he was still singing roughneck blues ala Jimmie Rodgers up through the early 1950s, when his success with "Rudolph The Red Nosed Reindeer" had led him to a profitable sideline singing songs for kiddies. This is an excellent collection that really does justice to the wide range of material Autry covered... Highly recommended!

Jason Boland & The Stragglers "Somewhere In The Middle" (Smith Entertainment, 2004)



Hell, yeah! Texan bandleader-songwriter Jason Boland has come out of left field with this fine, fun set of latter-day outlaw country, produced by and featuring guitar work by Lloyd Maines, and original songwriting by Boland and a guest appearance by Billy Joe Shaver. It may be derivative -- the opening tracks sound like something by a Waylon Jennings cover band -- but it's the right kind of music to emulate... Boland gets the feel just right, singing no-nonsense funky country tunes with lyrics that sing the praise of longneck beers and lay a curse upon them fatcat city slickers in Nashville who wouldn't know a great bar-band if it kicked 'em in the ass... The album starts off with "Hank," a standard-issue tribute to the late, great, sainted Mr. Williams, and moves onto the groggy "When I'm Stoned" and "Somewhere In The Middle," which sings the praises of America's scruffy, untelegenic heartland. There are a couple of tunes towards the end of the record that lost my interest -- I could live without the wanky electric guitar on "Thunderbird Wine" and the prolonged profundity of "Hell Or Bust" -- but two songs versus ten ain't a bad average (!) If you like good, old-fashioned rowdybilly indie country, then this is an album well worth checking out.
Ray Bonneville "Roll It Down" (Red House, 2004)



Really nice! Canadian folk-bluesman Ray Bonneville produces a smoky set of tuneful, catchy roots-rock ramblings, with sly electric and steel guitar work and growly, world-weary vocals reminiscent of J.J. Cale, Guy Clark and Mark Knopfler. The songs have a subtle folkie hue, but with strong, blues-laced melodic hooks that make this disc quite listenable, even if the jaded, looking-sideways-at-the-world lyrical tropes may seem a bit overly familiar. I'd say this is a cut or two above similar records and is pretty darn satisfying... in fact, I've had it on the stereo all week and it's one of the most listenable new roots records I've heard in a while. Definitely worth checking out.
Neko Case "The Tigers Have Spoken..." (Anti, 2004)



...and the tigers say: ROOOOAAAAARRRRR!!! Let's just cut to the chase and say flat out that this live set is Neko Case's best album to date, no question about it. Backed by the ever-versatile Sadies, Case mixes in some of her rock roots with a few power-poppy tunes, and simply kicks ass on the country stuff. This is a record that's made to be played loud, and is probably her most cohesive, appealing record yet. Recommended!
Judy Canova "Ozark Nightingale" (Collector's Choice, 2004)


She wasn't really a country singer, but like many mainstream pop artists such as Dorothy Shay and Arthur Godfrey, Canova played on a broad "hillbilly" stereotype to deliver warped versions of popular songs of the day. These radio performances (from the 1940s perhaps?) capture Canova at her best: playful, corny yet canny, and a powerful performer. Included are several of her signature tunes, such as her rollicking versions of "Just Because" and "The Wabash Cannonball," and omits other songs that play more into the hick schtick... All in all, this is a pretty fun set, although it really should be classed more closely with pop vocals and show tunes than with legitimate country stuff. But does that really matter? Check it out for yourself, and find out.
---
Ramblin' Jack Elliott "The Lost Topic Tapes -- Cowes Harbour: 1957" (HighTone, 2004)



Ramblin' Jack Elliott "The Lost Topic Tapes -- Isle Of Wight: 1957" (HighTone, 2004)



Here are some of the purest relics of the bygone era of the American folk music scene you're ever likely to hear... The crusty, craggy troubadour known as Ramblin' Jack Elliott is the real deal, and has been for over five decades. Woody Guthrie's sidekick and devotee for much of the 1950s, Elliott moved to England in 1955, and brought the Brits a genuine American folk hero, a blues-besotted would-be cowboy who was tight with the Beats and knew a bazillion old folks tunes. Ramblin' Jack must've charmed his English hosts to no end, especially as Great Britain was in the midst of the skiffle craze, England's DIY equivalent of the rockabilly and garage rock movements in the USA. These two CDs present a recently unearthed cache of live recordings made at informal sessions near the Isle of Wight, with Elliott drawling out casual, relaxed versions of old traditional songs -- "Jack Of Diamonds," "Streets Of Laredo," "Rock Island Line," etc. -- along with acoustic blues from Leadbelly, Jimmie Rodgers and some Woody Guthrie tunes, too. These tracks were recorded for the fabled Topic Brit-folk label, but after an initial 10" EP that came out in '58, the rest of the tapes were set aside for future generations. Well, here we future generations are... and boy are we glad to hear these songs! Elliott's mix of vulnerablity and calculating, savvy showmanship is fascinating: he wasn't the greatest singer, but he knew how to compensate through sheer enthusiasm and force of personality. He's charming and imperfect, and his imperfections are charming. The similarities between his vocal style and those of Townes Van Zandt and Jimmie Dale Gilmore are remarkable... Unlike those hippie-era songsmiths, however, Ramblin' Jack Elliott didn't write his own material; living in the shadow of his mentor Woody Guthrie, he figured he'd be better off learning how to sing songs rather than write 'em. Guess he was right, as these vintage recordings demonstrate... (For more info on Ramblin' Jack, check out his ramblin' website, which has tons of info about his life and music...)
---

Raymond Froggatt "Cold As A Landlord's Heart" (Castle, 2003)



Here's an odd one. In the mid-1970s, English rocker Raymond Froggatt was instructed by his label to "go country," presumably because his spacy psychedelic meanderings weren't selling well... As Froggatt confesses, he didn't have any innate interest in country music, or much experience playing it, but he did as he was told, and the results were quite nice. In 1978 he went to Nashville to record Southern Fried Frog, an album that has become a minor cult classic of British alt-country... I didn't have high expectations for this 2-CD set -- which includes copious examples of both his rock and 'billy sides -- but I picked it up on a lark, and now I am quite delighted at the discovery. To his credit, Froggatt took the work seriously, and discovered what many rockers fail to recognize: country is an exacting art form, one that demands real craftsmanship and feeling, both of which he was able to develop as he explored the format. While there are few outright "classics" on here, several songs snuck up on me, and are tunes that would work well in sets of either classic or alternative twang. The rock stuff is a little less enthralling, but if you wanted to give this guy a fair shake, this collection will really fill the bill. Worth checking out.

Ginny Hawker & Tracy Schwartz "Draw Closer" (Rounder, 2004)



As fine and understated a set of old-timey ballads as you're likely to hear... Really fine stuff! Tracy Schartz has, of course, been one of the great champions of old-timey music ever since his days in the New Lost City Ramblers, and Ginny Hawker has been rising through the ranks in recent years... Together they have made one of the prettiest, simplest, most emotionally direct records of the year... The accompaniment is a delight: straightforward and no-frills, but also very melodic and sweet, a perfect match for their plainspoken vocals. Dirk Powell pitches in playing mandolin on a couple of tunes, but fancy picking isn't the point of this new record, the songs are and that's the way it should be. Includes some standards such as "Poor Willie" and "Katie Dear," as well as a bunch of well-chosen obscurities, and some wonderful gospel tunes. Highly recommended!
Dan Hicks & The Hot Licks "Selected Shorts" (Surfdog, 2004)



I'm a big Dan Hicks fan and have all his records, etc., although this one is, admittedly, a little hard to get into... My first couple of listens left me scratching my head; the songs seemed so cluttered and manic it was hard for me to get into. So, I set the album aside for a couple of months, came back to it, and was able to better appreciate it on its own terms. It's certainly Hicksian kookiness, with droll, not-quite-nonsensical lyrics and an odd fusion of pop-rock andswinging retro-jazz that picks up where his last album left off... However, the songs on this album lacks the cohesiveness and sharp focus of Beatin' The Heat, and Hicks seems to be straining at the formula a bit. It sounds like what it is: an indie album by an idiosyncratic local who still loves to jam with his pals and play oldies along with his own kooky tunes. Devoted fans will want to have this record around to keep the collection complete, but it's not the first album I would think of if I was going to try and turn someone new onto his music.
Sonny Landreth "Grant Street" (Sugar Hill, 2005)



Slide guitarist Sonny Landreth plugs in and cranks it up for this loud, intense live set. Fans of Jimi Hendrix, George Thorogood and Stevie Ray Vaughan will find plenty to get worked up about on this one... It's a pretty soulful, convincing presentation, if ya go for this brand of modern electric blues... and it's also Landreth's best album to date!

NRBQ "Dummy" (Edisun, 2004)



I was fortunate enough to see NRBQ play a few gigs back in the 1980s, and they kicked ass to an extent that I could scarcely imagine... It was, as a Q-head friend had promised, an ultimate bar-band show, with the bandmembers communicating almost telepathically to switch gears and shift tempo at the drop of a hat. These timeworn troubadours have been pursuing their own oddball musical vision for nearly four decades, winning a cultish and much-deserved following while wowing listeners across the world. Their albums are always a little bizarre, not always capturing the magic of their live shows, but giving us a glimpse into the shared sense of humor that makes such magic possible. This disc one is no exception, with tunes like "One Big Parking Lot," "Imaginary Radio," "God In A Blue Dress" and "Hey Punkin Head" that follow goofy lyrical paths, backed by solid musical chops and an unchallengable sense of humor. True, you have to be on the band's wavelength to get into this, but if you are, it can be pretty rewarding. They may be gettin' kind of long in the tooth, but NRBQ still have a lot to offer their fans.

Reckless Kelly "Wicked Twisted Road" (Sugar Hill, 2005)



This starts off on a strong note, a few acoustic, folkish songs about hard livin' out on the road, material that's a little corny but works primarily through the strength of the performance, and the moody tone set by the snarling singer. There's definitely a Steve Earle-ish vibe at work here... Unfortunately, they follow Earle all the way down into the deepest, loudest, most leaden, house-rockin' roots-rock pitfalls... The middle section of this album has the band getting louder, more electric and more shrill with each and every song. Just when I was ready to abandon all hope, they relent and return to a more melodic approach, with tuneful choruses and jangly guitar riffs galore. That middle part is pretty rough, though, at least for an old hillbilly like me.
Marty Robbins "Love Songs" (Sony Legacy, 2004)



This made-for-Valentine's Day lover's set concentrates on standards and classic love ballads made famous by others, pretty much to the exclusion of the many romantic themes originally recorded by Robbins himself. His fans may be thrilled nonetheless, but folks looking for more of a best-of set will be excused for a little head scratching: why did Robbins set himself up by covering "Unchained Melody" when it was clear he wasn't going to one-up Bill Medley? The opening track, a nice version of "Have I Told You Lately That I Love You?", is the most country-sounding thing on here; from there on out it's the swanker, slower pop vocals approach that dominates this set. But for the right listner, this is probably a great set of love songs.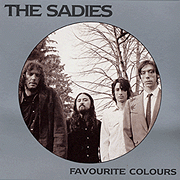 The Sadies "Favourite Colours" (Yep Roc, 2004)



Dunno why it took me so long to review this record (sorry, guys!), 'cause when I first heard it, I totally flipped. This is the best Sadies album yet, with crisp, concise, compelling recreations of the classic psychedelic country-rock sound of the late-'60s Byrds and their ilk. It's a groovy, reverbalicious aural odyssey, with a subtle nudge into the grandiose latter-day trippiness of "navel-gazer" guitar bands such as Galaxie 500 and Spiritualized... You can carp about it being a slavish exercise in hippie nostalgia, or whatever, but the fact of the matter is this is a great record. Very listenable and very fun; definitely more rock than country. Recommended!
Ricky Skaggs "Brand New Strings" (Skaggs Family, 2004)



In his ongoing bid to become the sanctified standardbearer of bluegrass as a commercial, pop cultural force, Ricky Skaggs runs the risk of overperfecting his craft and overselling his wares. Indeed, you could argue that he's already done that to a certain extent on previous albums, and his heightened emphasis on his born-again, evangelical Christianity -- while admirably sincere -- may also leave more than a few truegrass fans feeling a little snubbed and lectured-to. It might be nice to hear him just get back to the music and leave all our spiritual lives out of the picture, thank you very much. That being said, this is a mighty fine album... The first few tracks are misleading: the too-slick performances of "Sally Jo" and "Sis Draper" are showmanlike and contrived, while naming an instrumental track after a passage in Corinthians is a bit tedious. But then, as Ricky and Kentucky Thunder get all settled in and stop being so gosh-darn professional-sounding, they manage to lay some world-class, kickass bluegrass on us. Even the most disaffected old fan among us should smile with delight at snappy breakdowns such as "Monroe Dancin' " and the crisp, electrifying version of "Appalachian Joy," and even at some of the preachier love-thy-neighbor gospel towards the end. Ricky redeems himself once again, and lets his mandolin do most of the talking for him. A strong album that certainly deserves a few good listens.

Larry Sparks "40" (Rebel, 2005)



Singer-guitarist Larry Sparks is a bluegrass insider's favorite artist, a low-key performer who'll blow away any attentive listener with his calm, firm, soulful delivery, pure, simple approach and top-notch repertoire. The title of this album refers to the four decades Sparks has spent making music... He got his big career boost in the late '60s when Ralph Stanley tapped him to become the new lead singer of the Clinch Mountain Boys, following the death of Carter Stanley, and since then Sparks's name has been a hallmark of quality and purity in the bluegrass scene. Here, Sparks again follows in Dr. Ralph's footsteps, recording an all-star guestfest with the likes of Larry Cordle, Vince Gill, Tom T. Hall, Carl Jackson, Alison Krauss, Ricky Skaggs, Rhonda Vincent and Paul Williams join in on rich, soulful versions of many of Sparks's favorite old songs. A few newer Nashville stars like Kevin Denney, Andy Griggs and Rebecca Lynn Howard also pitch in, as well as Southern Gospel vocal stars, The Isaacs, and --of course -- Ralph Stanley himself. It's an excellent record, with each and every song reaching the right emotional height, and Sparks's voice in fine form, as resonant and heartfelt as ever. Highly recommended.

Keith Urban "Be Here" (Capitol, 2005)



(Produced by Dan Huff & Keith Urban)
At this point I think it's safe to say that Keith Urban's conquest of the new Nashville pop sound is complete... He has perfected his art, as far as I can tell, producing his best album yet of perky, inspirational pop tunes, each song with a closely measured, scientifically applied modicum of twang and remarkably ephemeral, anodyne lyrics. Now don't get me wrong, I actually don't mean that as a slam on Urban (or his producers...) This is pop music with a capital "P": it's perfectly tailored to do the job and sell a ton of records, and while it may be completely vacuous, it's also quite salable. I've listened to a lot of commercial country music, and this is about as good as the formula gets. It's not my kind of country, but more power to him, anyway.

Yonder Mountain String Band "Mountain Tracks, v.3" (Sci Fidelity, 2004)



A swell 2-CD set, with these gangly jamgrassers cutting loose and getting funky on a nice mix of original tunes and groovy covers... Newgrass elder Darol Anger joins them on fiddle, and fits in just right... The first disc kicks off with twin covers of Willie Nelson's "Bloody Mary Morning" and John Hartford's "Coo-Coo's Nest..." And with reference points like this, how could they fail to win us over? Yep, you can count me in the true believer's column when it comes to these guys: they bring a lot of passion and playfulness back into the bluegrass scene, and a ragged eclecticism that's largely been lacking ever since the late 'Seventies or so... To put it succinctly, this is a nice, fun album and shows their undeniable strength as a talented band with a strong but not undogmatic connection to the music's past. They may go a little overboard on a tune or two, but the times when they nail the right vibe far outweigh the iffy moments. Recommended!
---



Hick Music Index
Shop Amazon, Support Slipcue



---


<! January, 2005>