<! MP3 10/18/11 > <! pix 00/00/00 > <! archived 04/03/13 > <! * >

---
Howdy, neighbors!
Here are some reviews of the new country, bluegrass and Americana records that I had the good fortune to listen to in September, 2005. This month: Rodney Crowell, Honi Deaton, Val Esway, Eliza Gilkyson, Hacienda Brothers, Zona Jones, Leo Kottke & Mike Gordon, Kim Lenz, Patty Loveless, Delbert McClinton, Willie Nelson, Brad Paisley, The Peasall Sisters, Wayne Scott, Ryan Shupe & The Rubber Band, Marty Stuart, Benny Thomasson, Various Artists: "GREETINGS FROM GEORGIA", "GREETINGS FROM TEXAS"...
...It's not everything I heard, but it's a nice sample of stuff that either tickled my fancy or ticked me off... Many records that aren't included here are reviewed elsewhere in my full Guide To Hick Music.
---
New Stuff: September, 2005
---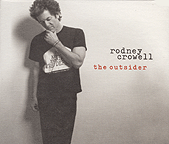 Rodney Crowell "The Outsider" (Sony Nashville, 2005)



Well, good for him! The recently much-lauded Mr. Crowell joins the ranks of those artists who've had a bellyful of George Dubya's reality-challenged Gang That Couldn't Shoot Straight and decided to throw himself whole-hog into a blisteringly political album that decries the astonishly shallow, spoiled, suicidally ostrich-like narcissism of contemporary American culture. The songs are both flippant and dense, expressing an anger and outrage that borders on contemptuousness, a raw bolt of smarter-than-thou hectoring that's as envigorating as it is surprising. Also, the music is loose and loud, a rockabilly-tinged rave-on that gets Rodney back to his roots and that's a breath of fresh air after the dreary self-importance of his last batch of lofty, overly-profound Americana set pieces. Naw, Rodney's just rocking out this time around, setting his word-twisty rants to some of the most lively music he's made in years. Ah, and then there's the ranting. Amid the denunications of crassness, intolerance and greed, Rodney takes time out to stick up for the Dixie Chicks, a move that might not make him too popular in Nashville, but that helps place him back on my A-list... His debt to Dylan's rapid-fire wordsmithing is acknowledged in a cover of "Shelter From The Storm," sung as a duet with Rodney's old pal, Emmylou Harris... And while this album's appeal may be fleeting -- not sure how often I'll be listening to it, after the first couple of times -- it's a keeper as far I'm concerned. Welcome back, Rodney!

Honi Deaton & Dream "Promise To A Soldier" (Chateau Music, 2005)


Heartfelt independent bluegrass, with several 'grassed-up cover tunes -- "Walkin' After Midnight," "Send Me The Pillow That You Dream On" and Patsy Montana's classic "Cowboy's Sweetheart" -- along with a slew of first-rate original tunes. Deaton's greatest strength is as a songwriter, particularly as a gospel composer... Songs such as "I'm Callin' Jesus," "Here I Am Lord" and "Glory, Glory" have the ring of classics, indeed, I was surprised to find out they were new songs written by Deaton in recent years. Her band, Dream, has gotten much tighter as well, and the picking is pretty solid, taking off at a pretty fast clip and keeping the pace through the length of the album. Definitely worth a spin!

Val Esway & El Mirage "Lovers, Losers, Liars" (Self-Released, 2005)



A charming self-produced 7-song EP from an SF Bay Area local has a strong whiff of Tarnation-style twang-meets-torch. A veteran of rock's Ramona The Pest and twang's Loretta Lynch band, singer-writer Esway scores a base hit (if not a homer) with the catchy opening track, "Someone I Used To Know," which has a nice, old-school country feel to it, and shows ever deeper roots on the sweet, Carter Family-flavored "Birds." This is amateur-hour, open-mic night stuff, and that's a big part of its earnest, open-hearted charm. If you like your twang to be locally grown, then you might want to check this gal out. (Available through www.staggeringsiren.com. )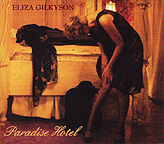 Eliza Gilkyson "Paradise Hotel" (Red House, 2005)



It took me a long time to be able to review this disc... I had been so thoroughly floored by her previous two albums -- particularly 2004's Land Of Milk And Honey -- that it was hard to get past my initial impression that this album was kind of a retread of her earlier work. In many ways, that's still true: this album has a very familiar tone, a mix of richly melodic, well-produced, electrified roots-folk and a clear-eyed, insistent, bitter political vision... When the melodies take hold, these songs emanate sheer beauty, although some of the social content does have a grinding quality to it, and lacks the incandescence of her previous work... This is especially true of the overly blunt "Man Of God," which skewers the religious hypocrisies of the Bush administration -- it's not the content I object to, just the artlessness with which it's presented. Afterwards, the persistent lacing of socially-oriented themes throughout the rest of the record makes it seem of a piece, but then, with subsequent listens, it becomes clear that this album is, indeed, like Gilkyson's others, another minor masterpiece. The spiritual yearning of the epic, Dylanesque "Is It Like Today," the compelling country stylings of "Calm Before The Storm" and the gentle, hymnal grace of "Requiem" -- all songs that bring the album to a close -- are among the finest folk music you'll hear in your life. Gilkyson may be grinding an axe, but she's justified to do so, and she also manages to craft great art and beauty out of her anger and narrowly averted despair, and to offer a doleful, weary hopefulness to anyone with the heart to listen. This is a very rewarding album, well worth checking out.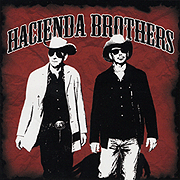 The Hacienda Brothers "Hacienda Brothers" (Koch, 2005)



Hands down, one of the finest, funnest alt-country/Americana albums of recent years... Mixings bits and pieces of Merle Haggard, Waylon Jennings and Dave Dudley, with a hint of Link Wray and Deke Dickerson as well, this duo of songwriter Chris Gaffney and guitarist Dave Gonzalez (of the Paladins) crank out some first-rate honkytonk heartbreak and surfy twang, covering classics like Mel Tillis' "Mental Revenge" while introducing a bunch of swell new tunes into the alt-country canon. Some of the slower, more lethargic singer/songwriter-y material in the second half -- songs such as "The Years Got Away" -- starts to drag a little bit, leading into the album's slowed-down, sedate end, where Gaffney starts to sound like Tim Hardin or Fred McNeil.. But, hey, who am I to begrudge a band that kicks up a wicked little dust storm like the start of this album? All in all, this is mighty nice stuff -- definitely worth checking out!
Zona Jones "Harleys And Horses" (D Records, 2003)



Presumably "Zona" is short for "Arizona," placing this feller square in the tradition of fine country artists from the Southwestern US (even if he currently hails from Beaumont, Texas, where he's worked for several years...) Jones is a fine honkytonker, one of the countless off-the-radar indie-label country singers out there today who may dream of having a hit, but know they're far enough away from Nashville that it doesn't matter if they feel like keeping it country. He does sing a few commercial-style ballads, but it's the hard-edged honkytonk songs on here that are the great ones, packed with dopey lyrics about lost love and lost nights, drinking in bars and howling at the stars. Highlights include "One Fool On A Stool," "Whiskey Kind Of Way" and "Back In Your Arms..." When he lets go of the Texas shuffle backbeat, Jones also loses focus, and the second half of this album drifts into Clint Black-ish material that isn't as entertaining or as vital, but on the whole, this is a damn fine album, with several songs on it that I'd be proud to play on the air. Worth checking out!

Leo Kottke & Mike Gordon "Sixty Six Steps" (RCA Victor, 2005)



To my knowledge, I've actually never heard a single album or song by the now-defunct jam band, Phish, so it's hard for me to comment on how much influence their bassist Mike Gordon has on the shape of this acoustic pick-fest... But a lot of the album sounds like vintage Kottke, with his trademark circular, waterwheel guitar riffs, dry sense of humor, and whimsical covers of classic rock tunes such as Fleetwood Mac's "Oh Well" and Aerosmith's "Sweet Emotion." Midway through, the disc does get a bit spacy, indulgent and dino-delic, so I suppose something phishy might be going on there... At any rate, I'm sure fans of either artist won't be disappointed by this good-natured, easygoing, super-mellow album... It's very technically adept, kinda cutesy... and doubtless fun to get zonked out to, with the aid of whatever illicit substances all those latter-day hippies are using these days... Note: some folks might be miffed by the copy control technology that's locked onto the content... If you buys CDs to transfer the music onto a digital player, this disc might bum you out. (When will those silly record companies ever learn??)
Kim Lenz "Up To My Old Tricks Again" (Hightone, 2005)



Modern-day retro-twang from this grrrroovy Dallas rockabilly filly... If you missed her the first time around, here's a best-of set that gathers the hottest tracks from Lenz's two albums on the Hightone label, as well as a couple of newer cover tunes on here (notably her version of "Cool Love," borrowed from Bloodshot's recent Wanda Jackson tribute album). Lenz has a real knack for writing new songs that sound like oldies from the obscuro vaults, with an authentic mid-'Fifties feel, all sung with an appropriate dose of snarly, throaty gusto. If you're into the whole sideburns'n'gingham scene, then this upbeat album is definitely a disc you'll want to check out.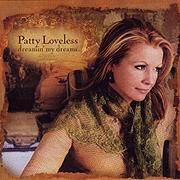 Patty Loveless "Dreamin' My Dreams" (Sony Epic, 2005)



(Produced by Emory Gordy, Jr. & Justin Niebank)
What with all the hubbub over Nashville's current Gretchen Wilson-inspired "return to roots" fad, you gotta figure a new Patty Loveless record will fit right in... And you'd be right! This disc isn't as raw as her Mountain Soul bluegrass album of a few years back, and it doesn't have many tracks that leap out as potential radio hits, but it's still pretty damn sweet, with Loveless showing a mastery over slow and mid-tempo material that few of her Music City contemporaries could hope to match. The record opens with a smouldering cover of Richard Thompson's "Keep Your Distance," setting the tone for an album that's got more depth than a wet well in West Kansas... The highlights include a couple of cover tunes, notably the title track, which matches the Waylon Jennings original in its mournful intensity, and a lovely duet with Dwight Yoakam on Bonnie Bramblett's "Never Ending Song Of Love," and a fine rendition of Steve Earle's "My Old Friend The Blues." Guitarist Albert Lee, a longtime collaborator in Loveless's sleek roots-pop mix, contirutes some fine licks while Jon Randall and Emmylou Harris also pitch in, but really the show is all Patty's. While this album is kind of low-key, it's a solid set that won't lose any of its luster as the years go by. Recommended! (One word of caution: folks who listen to music on their computers may be put off by the copy control encoding, so keep that in mind when considering picking this disc up...)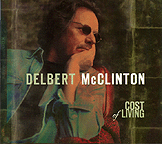 Delbert McClinton "Cost Of Living" (New West, 2005)



Damn, he's good. Good as in, "awesome," and definitely not phoning it in... Here's yet another lively roots music set showcasing this veteran roadhouse pro at his very best, a soulful blues-based performer with feet planted equally firmly in old-school country's honkytonk tradition... This is a very strong set of original material, with highlights that include rollicking, humorous tunes like "Right To Be Wrong" and the lustful "I'll Change My Style," as well as the country-flavored "Two Step Too," which is as concise a description of McClinton's rock-country-R&B world view as we're ever likely to hear. It should be mentioned, though, that with the destruction of New Orleans earlier this month, an unintended sadness hangs over this album as well... The strolling Big Easy vibe of "One Of The Fortunate Few" and other songs are part of McClinton's long love of Louisiana music, and made me wonder what the blues world will do without its home... Hopefully, they'll keep making great records like this one, and if Cost Of Living is any indication, Delbert McClinton will be one of the artists there to lead the way to rebuild and revitalize the New Orleans soul we know and love so well. Anyway, this is a fine record... If you get it, you will not be disappointed.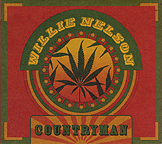 Willie Nelson "Countryman" (Lost Highway, 2005)



Yah, mon... it's Willie Nelson's reggae album... a bunch of his songs done up inna rock steady stylee, with a couple of twangified Jimmy Cliff tunes and a "lost" Johnny Cash song added in for good measure... Willie recorded this album way back in 1996 and '97, but it sat on the shelf for the better part of a decade, and... sadly... it's easy to tell why once you lay ears on the disc itself. To put it simply, this project lacks spark or inspiration -- the tracks sound sterile and mechanically arranged, Willie's affable vocals laid stiffly atop standard-issue reggae arrangements, very much a studio creation, and not fluid enough to live up to the promise the project might have had. And yes, I count myself among the disappointed. I had fantasized that this might actually be a great record, and that Nelson would do with reggae what he did with pop standards during his "Stardust" period. No such luck; he fails to twist the material into something new, or to infuse it with his own odd, idiosyncratic sense of melody and rhythm... He's pretty much just going through the motions. It is interesting how so many of Willie's older songs are plastic enough to be stretched into another genre of music, but there's still a certain something lacking that would actually bring this project to life. I read a review somewhere that said this was the best reggae album of the year, and if that's true, contemporary reggae is worse off than I thought. However, I can see how this might be more exciting for reggae fans than for folks coming at it from the twang side of the fence. But for me, it ain't so great. I'm not feelin' so irie, ya know? Maybe the dub version will vindicate this album, but I'm not so sure. Sorry, Willie... Gotta call 'em like I see 'em.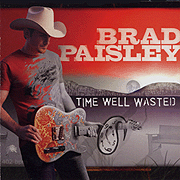 Brad Paisley "Time Well Wasted" (Sony-BMG/Arista, 2005)



(Produced by Frank Rogers)
He's taking himself a little too seriously this time around, and occasionally goes overboard with the production, but Paisley still has a way with clever lyrics that'll keep his twang-cred intact... The album's comedic highlight is the lazy-paced hit single, "Alcohol," which describes all the virtues of the world's favorite drug (including "helping white people dance...") and other tracks like "You Need A Man Around Here" and "Flowers" help add a little grit, while some of the ballads such as "She's Everything," "Love's Never-Ending" and "Rainin' You" send me clickin' the fast-forward button... But that's par for the course for Nashville these days, and I guess we twangfans should just be glad Brad's still trying to keep it country in the first place. The album closes with Paisley showing off his chops as a Telecaster master, including "Cornography" a raunchy, blue humor track where he swaps licks with the great James Burton, and while this stuff is interesting (and probably fun to see live), it's not as much fun as when he sings a few great country songs. This disc isn't nearly as fresh-sounding or as fun as 2003's Mud On The Tires, but it's still got several really nice songs... Definitely worth checking out!

The Peasall Sisters "Home To You" (Dualtone, 2005)



(Produced by John Carter Cash)
Slowly but surely the Peasall Sisters -- Hannah, Leah and Sarah -- are staking out their claim as mature musicians, and breaking free of the awwww, ain't dat cute! novelty of their pre-teen celebrity. First heard as the voices behind a trio of moppets harmonizing sweetly in the film O Brother, Where Art Thou, the Peasalls soon found themselves caught up in the pro-bluegrass hysteria that accompanied the film's phenomenal soundtrack sales. The cutesy factor is still intact, but on the opening tracks of their second album, the Peasalls display a bit more weight and grit than on their first disc, which seemed rather a bit contrived and orchestrated by the adult artists guiding their careers. There's still some of sense that here, but their strengths have solidified, and there's a growing sense that these gals could really become significant stylists someday. However, a little deeper into the album the production meanders and loses focus, and the material starts to seems a bit ephemeral and slight. It'll be interesting to see where they go from here -- will their third album be more consistent and sustained than the ones that came before it? Well, let's hope so! The good songs on here are pretty tantalizing.
Wayne Scott "This Weary Way" (Full Light, 2005)



If you like records with grizzled old men dispensing gruff-yet-tender reflections on the parade of life before them -- road-weary songs from fellas like, oh, say, Johnny Cash or Guy Clark -- then this record is for you. Guy Clark, in fact, is one this record, both as a guest performer and as a co-songwriter, and his influence is keenly felt, echoing in the windswept, dusty, autobiographical feel of many of Scott's songs. The father of Nashville songwriter and indie recording artist Darrell Scott, the elder Mr. Scott has been part of the off-the-radar country scene for decades, playing in honkytonk bars and touring to small venues for years, but this record, made when he was all of 71 years old, is his first album. It's a doozy, too, with a nice mournful, poetic feel that all y'all fans of Robert Earl Keen or Kris Kristofferson will probably love. For me, the standout track was "Sundays With My Son," a very Clark-like weeper about an absentee dad whose big regrets include writing songs instead of playing with his kids... But hey, when the songs turn out this nice, I think the world will understand. This album is definitely worth checking out!

Ryan Shupe & The Rubber Band "Dream Big" (Capitol Nashville, 2005)



(Produced by Jason Deere)
Cheerful, gimmicky, lightweight and likeable pop-country material that is destined to be quite popular. The opening track, "Banjo Boy," is a hip-hoppish novelty song that picks up where Big & Rich's "Save A Horse" left off, with a hint of Bela Fleck in there as well. The next couple of tracks, particularly "Dream Big," are kind of like a less-pretentious version of Emerson Drive-style boy-band country, and then there's dorky bluegrass-ish pop that is kind of like the later stuff by Newgrass Revival, back when they were trying to leave behind the bluegrass ghetto and make it on the charts. This doesn't really do that much for me, but I think it's really catchy, and I'll be amazed if Shupe and his crew don't do really well... They've got just the right balance of roots and yuppie pop, and none of the overblown tough-guy/sensitive stud baggage that drags so many other Nashville dudes down... Keep your eyes on these guys... They're gonna be really big.

The Stairwell Sisters "Recording No. 2: Feet All Over The Floor" (Yodel-Ay-Hee, 2005)



The second album by this SF-Bay Area fivesome is a fine set of squeaky, raspy old-time music with plenty of fiddle, banjo and twang... The songs are a nice mix of older material from the public domain and a half dozen originals written by the band members... These gals -- Lisa Berman on guitar, Martha Hawthorne on bass, Evie Landin on banjo, Stephanie Prausnitz sawing on the fiddle and Sue Sandlin on guitar -- hail from several other local bands and have a nice, relaxed feel as a band. Their new material fits right into the classic old-timey vibe -- if you like your stringband music "crooked" and uncompromised, like, say, Jim & Jennie or the Crooked Jades, this is a fine record to check out... (Available through www.stairwellsisters.com )

Marty Stuart "Soul's Chapel" (Sony Nashville, 2005)



(Produced by Marty Stuart)
Well, I'm not normally a huge Marty Stuart fan, but this all-gospel offering sure is a fine record, a career highlight, as a matter of fact. The album opens with the eerie, echo-y, unmistakable tones of Pops Staples' electric guitar, one of the most famous sounds in gospel music... Of course, it isn't Staples himself playing those wicked notes -- he passed away several years ago -- but rather Marty Stuart, channelling the slinky soulful vibe of the Staples Singers on a cover of their classic song, "Somebody Saved Me," followed by a funky, funny version of Albert E. Brumley's humorous "Lord, Give Me Just A Little More Time." These two songs set the tone for this disc -- a heartfelt but modern country gospel set that lets Stuart indulge his love of rock and R&B riffs without sounding like a by-rote retroholic, as his secular country records sometimes do... Stuart dips deep into real country soul, but he does it in a way that's accessible to younger, pop-savvy listeners, and the results are quite nice. (PS - Mavis Staples gives it her seal of approval as well; she appears and sings a nice duet with Marty on "Move Along Train," another early-'Sixties gem from the Staples Singers catalog.) Nice record -- definitely worth checking out!

Benny Thomasson "Legendary Texas Fiddler" (County/Rebel, 2005)



This is some mighty fine fiddle music, representing the true, authentic regional styles that Thomasson -- an old-timer himself -- grew up with in a lifetime of Texas dancehalls and front porch jam sessions. If you like raspy, truly rural fiddle tunes, then this disc is one you'll not want to pass up. Recommended.

Various Artists "GREETINGS FROM GEORGIA -- THE PEACH STATE" (Bear Family, 2004)


Perhaps the weakest disc to date in this curious, geographically-themed country series... Using non-hick stuff like Frankie Laine's version of "Georgia On My Mind" and Dean Martin "Watermelon Time In Georgia,' or Jim & Jesse's stilted take on "Sweet Georgia Brown" was an unfortunate way to start things off (c'mon... aren't there like a zillion great western swing versions of "Sweet Georgia Brown" that could have been used instead??) In general, the material on this album tends towards the slower, folkier end of the production spectrum., and lacks a lot of the zip and punch that other albums in this series display... There are a few oddities and rarieties here, notably Carl Mann's socially-themed "Marching Through Georgia, but overall I wasnt wowed by the musical end of this one...
Various Artists "GREETINGS FROM TEXAS -- THE LONE STAR STATE" (Bear Family, 2004)


Well, it's true, they don't do things small in Texas, and one of the things they do "big" is recording jovial, regionally-themed novelty songs. This disc is packed with 'em, and if you're a Texas fan, you'll definitely want to pick this one up. Asleep At The Wheel, Willie Nelson, Ernest Tubb, Bob Wills, Tex Williams and a slew of other legitimately legendary country stars are included here, and the songs are all really fun. Recommended!
---



Hick Music Index
Shop Amazon, Support Slipcue



---


<! September, 2005 (*)>