<! MP3 05/26/09, 10/21/11 > <! pix 05/26/09 > <! archived 00/00/00 > <! * >

---
Howdy, neighbors!
Here are some reviews of the new country, bluegrass and Americana records that I had the good fortune to listen to in April, 2006. This month: Billy Burnette, Shawn Camp, Mike Compton & David Long, John Corbett, Radney Foster, James Hand, Shooter Jennings, The McGillicuddy Sisters, Joe Nichols, Pinmonkey, John Rich, Steve Riley & The Mamou Playboys, Bill Sheffield, Rhonda Towns, Loudon Wainright III, The Wood Brothers, Various Artists: "HEARTWORN HIGHWAYS", "VOICE OF THE SPIRIT: THE GOSPEL OF THE SOUTH"
...It's not everything I heard, but it's a nice sample of stuff that either tickled my fancy or ticked me off... Many records that aren't included here are reviewed elsewhere in my full Guide To Hick Music. Enjoy!
---
New Stuff: April, 2006
---
Billy Burnette "Memphis In Manhattan" (Chesky, 2006)



The son of rockabilly pioneer Dorsey Burnette, Billy B. has been knocking around Nashville for many years, as well as in the thick of the mainstream pop scene. Here, on his latest solo in half a decade, Burnette shows himself to be in fine form, cruising through 'billy, bop, blues and pop, often played with a wicked reverb and twang. Four of the songs on here were co-written with Nashville tunesmith Shawn Camp, including the super-catchy "My Love Will Not Change," recently recorded by Hal Ketchum, as well as by bluegrasser Del McCoury. Burnette gives a nod of the pompador to his former employers, Bob Dylan and Fleetwood Mac (two acts he toured with in the past), with covers of "Everything Is Broken" and "Oh Well." There's plenty of soulfulness and grit to enjoy here, as well as a wide variety of style... Roots music fans'll find plenty to groove to on this release.
Shawn Camp "Fireball" (Skeeterbit, 2006)



Songwriter Shawn Camp is one of Nashville's finest young songwriters... Fame may have eluded him as a performer, but he's been quite successful as a Top 40 tunesmith and Back Forty twangster... This is his third album in the last few years and like the others, it's a canny mix of unapologetic Nashville formula and true-blue twang. The album's rompy-stompy opener, "Fireball," is pretty formulaic and obviously pitched as a hopeful hit in the hands of some tight-jeaned young dude, but the Guy Clark-ish "Tulsa Sounds Like Trouble" and "The Way It Is" are goofy, rootsy romps that'll get twangfans lined up to check this guy out. Whether you're coming at this from the hit-oriented mainstream or the alt-Americana side of the street, this disc is sure to set your toes tapping... And the loose-limbed, sloppy sounding "Drank," which closes the album out, is pure alterna-billy worthy of the Jerry Jeff seal of approval. All in all, another fine album from this cult fave. Recommended! (PS - check out my Shawn Camp discography for more info.)
Mike Compton & David Long "Stomp!" (Acoustic Disc, 2006)



One of those wonderfully relaxed sessions that the best bluegrassers can create, when they just settle down and get into the mellow, front porch vibe. Mandolinists Mike Compton, a founding member of the Nashville Bluegrass Band and David Long, of the Wildwood Mountain Boys, are both truegrassers who get into the old-school mode and know how to keep things sweet and simple. This is quite a nice record, with both pickers trading lyrics and licks while working through a bunch of their favorite songs... Another one of those lovely "little" records that producer David Grisman has the class and good taste to release on disc. Recommended!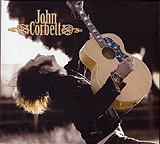 John Corbett "John Corbett" (Fun Bone, 2006)


The guitar-god pose on the cover may be a little embarassing, but the music within is surprisingly solid, in a journeymanlike way... Actor John Corbett is best known as "Chris the DJ," the smarmy, omniscient narrator on TV's long-gone cult classic, Northern Exposure... Apparently, he also had a long-running romantic role in Sex In The City, but I would deny knowing anything about that until my dying day. Anyhoo, here he plies himself to roots music and Nashville-styled twang, getting funky on some tunes and playing it straight-up Top 40 on others. Is he making a serious play for mainstream success, or at least putting this disc out there as a Music City demo? Sure, why not? He's got that voice, after all, and it lends itself well to the deep, velvety growl that's so popular among the current crop of Nashville purty boys... He might fit right in... Then again, maybe he's just having some fun. Either way, lots of folks might be surprised by this one... Yeah, it's formulaic and sometimes even a bit forced, but he hits the right tone on a few tunes.

Radney Foster "This World We Live In" (Dualtone, 2006)



One of the strongest albums of Foster's career, this electrified set sounds a lot like Robert Earl Keen's ouvre, although I'd say Foster -- when he hits the right groove with his lyrics -- moves me more than Keen ever has. Anyway, the comparison is mostly about the guitar-heavy, roots-rock sound the two Texans share... Personally I'm not into the whole crank-up-the-volume, guitar hero approach, but I can unerstand why a lot of people like it. What matters is that the songs speak for themselves, and this disc has plenty of winners on it, notably "Drunk On Love," which opens the album, and a couple of tunes reprised from Foster's jaw-dropping acoustic Back Porch Sessions album, released back in '04. "Fools That Dream" is a great song, with a haunting, lost-in-the-wind chorus that'll clutch at your heart, whether it's played plugged in or not. I'd say, go get both records, this one and the acoustic one, and you'll hear a major Americana artist playing at his peak. Recommended.
James Hand "The Truth Will Set You Free" (Rounder, 2006)



Yeah, hoss, this is an album you oughta pick up. As on his previous recordings, Texas old-timer James Hand taps into the deep tradition of for-real, hard-country hick crooners with hearts of gold and voices of lead... and a bottomless supply of beer-soaked misery and self-pity. Largely due to the tenuous vocals, not everyone's gonna be able to sit through this one, but for folks who appreciate heartfelt heartbreak songs, this disc is a goldmine. There's a rueful tone and deep sense of defeat that makes every song on here ring true, particularly on stingers like "Just An Old Man (With An Old Song)" and "When You Stopped Loving Me, So Did I." Then there's the musical backup -- tight and compact, a no-nonsense dose of good, old-fashioned honkytonk, courtesy of picker Redd Volkaert, steel player Lloyd Maines (who also produced the album) and fiddler Jason Roberts... Pure twang, distilled down into a Dixie cup and ready for you to take a swig. If you like folks like Guy Clark, Tom T. Hall and Floyd Tillman, you might wanna check this guy out, too.
Shooter Jennings "Electric Rodeo" (Universal South, 2006)



(Produced by Dave Cobb)
Ronnie Van Zandt would be proud.

The McGillicuddy Sisters "Hillbilly Hi-Jinx" (Lucky Ron, 2006)


Scrappy, old-school hillbilly music of the late-1940s variety, hearkening back to the glory days of folks like Webb Pierce, Kenny Roberts and -- more than anything else, the great Rose Maddox. The gals in this band (and not all the "sisters" are gals) clearly have a major Rose Maddox fixation, which is understandable since Maddox was one of the greatest hillbilly stars of the 20th Century, as well as one of the strongest female voices in country music history... Now, I gotta say upfront that this clattersome Ottawa-based ensemble are hardly top-flight talent, but they certainly have good taste in country music and their hearts are in the right place... If you like listening to way-off-the-radar recordings by bands with a super-indie, jes-plain-folks orientation, this might be a disc you'd like to check out. (For more information, check out the band's website at www.mcgillicuddysisters.com )
Joe Nichols "The Early Years" (Aspirion, 2005)



(Produced by Todd Wilkes, Randy Edwards & Lee Ogle)
Here's some journeyman work from Joe Nichols, one of the finest new country singers to hit the charts in recent years. This is a nice disc, definitely worth checking out. Although his subsequent, chart-topping major label recordings are much better, you can certainly hear the talent and promise in these early works. Predictably, Nichols started off as a pretty-boy pop-honkytonker in the George Strait/Garth Brooks mould -- he's a little jittery and over-eager to please, but you can still hear the raw talent spilling through. The best songs on here are uptempo, flippant novelty numbers such as "Six Of One, Half A Dozen (Of The Other)" and "To Tell You The Truth, I Lied" and "I Hate The Way I Love You," all of which are included in a bonus disc of videos. Yeah, this is all pretty generic, by-the-numbers material, but then again, in Nashville, that ain't such a bad thing. Fans will dig this collection; and even if you aren't on the Joe Nichols bandwagon (the way I am), you'll be pleased to find some fun, no-nonsense twang on here. Worth checking out.

Pinmonkey "Big Shiny Cars" (Universal/Back Porch, 2006)



(Produced by Mark Bright & Pinmonkey)
These guys started out a few years back with a couple of random, fluke hits that landed in the middle of the Billboard charts; now their knack for catchy melodies has matured, and they are, I'd have to say, one of the more interesting commercial country bands around. Singer Michael Reynolds has a thin, tremulous, almost girlish voice that has some of the same emotional immediacy (and vocal tone) as Rodney Crowell -- it's an acquired taste, but if you give him a chance, you might really enjoy his sincerity and ability to convey the meaning of his lyrics. The album starts strongly, particularly with "Coldest Fire In Town" (a fine honkytonk duet with Elizabeth Cook) then loses focus midway through, only to recover with a rousing version of Bruce Robison's "Wrapped," followed by the surprisingly slow, introspective title tune. Pinmonkey's fine-line balance between tremble and twang is kind of a risky move, commerically, but I'm sure they will only continue to gather more fans as time goes on... This is their best album yet, and shows them mining a vein of plaintive heartsongs and country-rock melodicism that seems fresh and pure in the current era of factorymade hits. Worth checking out!
John Rich "Underneath The Same Moon" (BNA, 2006)



A sorta-kinda reissue from a few years back, this disc is the transition between Rich's tenure in the country-pop vocal group Lonestar, and his present incarnation as half of the creative team of Big & Rich, Nashville's current reigning bad-boy production gods. This album, which was shelved by the label when it was first recorded in 1999, tilts heavily towards his previous work, filled with safe, stable formulae, mainly woeful sentimental ballads and softer-edged songs. There are a couple of blues-tinged bar-bandish tunes, but the wild-child rambunctiousness of the Big & Rich sound is only barely hinted at... Still, this will be of interest to fans -- if you want to hear him ply himself towards more conventional, hat-act material, this may be a lost treasure for you to delve into.
Steve Riley & The Mamou Playboys "Dominos" (Rounder, 2006)


Another winner from one of cajun music's leading lights... A relative young'un, bandleader Steve Riley adds a light touch to the chanky-chank, mixing in a bit of dobro and pedal steel in, introducing softened tones and harmonic richness that are often foreign to the bayou beats, singing mostly in French, but occasionally in English as well.. Recording since 1988, the Mamou Playboys helped revolutionize 20th Century cajun music without losing any of their links to its past... With their new recordings, they look poised to carry it well into the new millennium. I'm not normally much of a swamp music fan, but this album -- like all of Riley's records -- is a real treat from start to finish. This "dual-disc" includes video clips of interviews with various bandmembers and live performances of several songs. Definitely recommended!

Bill Sheffield "Journal On A Shelf" (American Roots, 2006)



A robust, rolling acoustic blues set, in the tradition of John Hammond, Leon Redbone and Dave Van Ronk... Sheffield plays with self-assurance, good humor and warmth, and also displays considerable strength as a songwriter, penning all but a couple of these songs. Some are clever reworkings of old, raunchy blues themes, like "Black Bottom," while others are more folkie/confessional and poetic. Of the other tunes, a cover of Tom Waits' "Invitation To The Blues" is well-suited to Sheffield's low, growling vocals... This is a nice record, with rock-solid guitar work and admirable soulfulness and authenticity. Worth checking out!
Rhonda Towns "I Wanna Be Loved By You" (Dawn, 2005)



(Produced by Norro Wilson & Jim Cotton)
It's a little disconcerting that the album art for this disc is little more than a blank slate -- I guess the label thought it would be better to mask the fact that Towns is an African-American from the eyes of potential country music buyers... Regardless, this is good-enough pop-country material, performed in the slick modern style. Towns, who emerged from the Star Search TV show and caught the attention of veteran producer Norro Wilson, is an adequate singer, performing roughly in the Trisha Yearwood tradition. When the music provides enough oompff to buoy her up, she sounds okay. On some numbers, such as her a capella rendition of "The Lord's Prayer," she flounders without backing tracks. Still, she could make it in Nashville: these days, it's all about what gets done in the studios anyway... She's got enough twang and commitment to the style to have a hit or two. Nothing earthshaking here, but there are a few nice new songs; Wilson's production always tends to sound nice and relatively traditional, so that's a plus.

Loudon Wainwright III "Loudon Wainwright III" (Atlantic, 1970) (reissued on Collector's Choice, 2005)



A really swell debut by one of the world's greatest singer-songwriter troubadours. You can see why this disc put Loudon's name on the map... Looking back, this album is perhaps a bit dense, more literary than his later efforts, but it has a raw power that makes it hard to set aside. On one hand, despite having wit to spare, Loudon hadn't yet discovered the power of the "novelty" song, and this disc is a bit more on the serious side than his fans have since become accustomed to... Wainwright as angry young man, instead of rueful old geezer. My favorite song on here (and one of the best in his canon...) is "School Days," a wry memoir in which Loudon perforates his own ego, lampooning the romantic pretensions of the teenage poet inside us all.. Another striking song is the scalding "Black Uncle Remus," which probably isn't in Loudon's repertoire anymore due to the prickly, potentially un-PC nature of the lyrics. The rest of the songs (as on his nesxt album) are a bit rough and unmemorable, but even at his most callow, Wainwright was a force to be reckoned with.

Loudon Wainwright III "Album II" (Atlantic, 1971) (reissued on Collector's Choice, 2005)



Helping define the "singer-songwriter" genre was no easy chore, but the young, brash, snotty, undeniably witty LW3 certainly got his licks in on this jagged, whiny sophmore outing. A lot of the songs are episodic, many are rather strained and you can practically hear him piecing the themes together, all these decades later. And yet, there was nothing else like it at the time... Although Loudon hadn't yet found his artistic voice, wobbling between scabrous, angry-young-man viciousness and attempted poetics, there are several striking, noteworthy songs. The best of his venal novelty numbers is "Motel Blues," in which a musician on the make says everything he can to get an underage groupie to spend the night with him, including promising to write a song about her -- it's a merciless, incisive blast at the nature of lust and the license given to celebrities (especially back in the '70s...) The most audacious of the songs is "The Suicide Song," in which he advises anyone despondent enough to just go for it, pull the trigger, take the pills, tie the noose, whatever. There's also a funny time-capsule period piece, in which a hippie-era Samson pleads with a redneck cop not to shave off his peach-fuzz mustache and freak-flag hair -- the song kinda picks up where "Alice's Restaurant" left off, and it doesn't have much durability in the post-Nixonian world, but it is an amusing historical footnote... The rest of the album... Well, it's pretty sketchy and doesn't hold together musically... Still, it's worth checking out if you're a devoted Wainwright fan... It's interesting to see him developing his craft, even if he had to work a few kinks out first.
The Wood Brothers "Ways Not To Lose" (Blue Note, 2006)



Funky twang from Chris Wood (of Martin, Medeski & Wood fame) and his brother, guitarist Oliver Wood, joined here by drummer Kenny Wollesen for a tweaky, idiosyncratic set that combines blues, Pops Staples-style reverby gospel and disjointed urban Americana-folk... Most songs are odd, discursive rambles, although they also distinguish themselves on oldies such as "Angel Band," where they summon some of the quiet power of real, old-fashioned country gospel. This should make quite a splash with the alt-country faithful... Definitely worth checking out.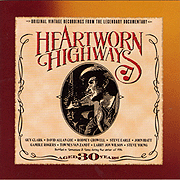 Various Artists "HEARTWORN HIGHWAYS" (Shout Factory, 2006)



Meanwhile, back in Austin... and over in Nashville... things were really starting to cook! This is an amazing historical document, capturing the early years of the Americana scene as we know it. This disc is the soundtrack to a 1975 documentary film that caught giants such as Guy Clark, Rodney Crowell, Steve Earle and John Haitt at the beginnings of their careers, compadres who formed the nexus of a scruffy singer-songwriter contingent that took its cues from the "outlaw" scene, as well as folkie friends like Townes Van Zandt and Steve Young, who had been kicking around a few years earlier. This actually includes the first recordings of Clark, Crowell, Haitt and Earle -- Guy being the most raspy and least eager to please, but each showing their own unique style, even this early on... (Amazing to think that Earle actually carried a tune like "Mercenary Song" around for more than a decade before putting it on wax!) Townes Van Zandt also adds a tune or two, and his densely-crafted, painfully earnest approach casts a long shadow on the others -- particularly on Earle. We're also treated to a few tunes from David Allen Coe, who was apparently slumming with the unsigned set, trying to build up his indie cred... Fans of any of these singers will want to check this album out and, more importantly, will want to see the film as well... Recommended.

Various Artists "VOICE OF THE SPIRIT: THE GOSPEL OF THE SOUTH" (Dualtone, 2006)



(Produced by John Carter Cash)
A mighty fine set of mainly-country gospel, with an impressive lineup of old-guard alt-country types -- folks who were "alt" before the term existed -- twangsters such as Del & Ronnie McCoury, Earl & Randy Scruggs, John Cowan and Jon Randall, as well as soulful commercial artists like Jesse Alexander, Vince Gill and Rodney Crowell. The album opens with a penetrating version of "By The Side Of The Road," by the venerable bluegrass legend Mac Wiseman: his famous high tenor has completely dissipated with age, but the thick, darkly expressive growl that has replaced it is quite effective as well. That song sets the tone, and is quickly followed by an equally rugged version of "Unclouded Day," recorded by producer John Carter Cash's dad, the late, sainted Johnny Cash, and a fine ballad by Connie Smith, who has returned to recordmaking in recent years, much to the delight of fans like me. There are a few out-of-place, overripe African-American gospel tunes on here as well, featuring Mavis Staples, The Mighty Clouds Of Joy and the modern-day remnants of the Fisk Jubilee Singers... I get why Cash wanted to include them here, to give a nod towards the close (and often unacknowedged) bonds between "white" and "black" Southern music... It's just that I don't care much for the modern gospel production style, and would much rather hear more stuff on the calibre of the rest of this fine album. Definitely worth checking out... even if you're not particularly into religious music.
---



Hick Music Index
Shop Amazon, Support Slipcue



---


<! April, 2006 (*)>