<! MP3 05/20/09, 10/22/11 > <! pix 00/00/00 - a couple in xmas are blank > <! archived 08/17/10 > <! * >

---
Howdy, neighbors!
Here are some reviews of the new country, bluegrass and Americana records that I had the good fortune to listen to in November, 2007. ...It's not everything I heard, but it's a nice sample of stuff that either tickled my fancy or ticked me off... Also, check out my full Guide To Hick Music.

This month: Suzy Bogguss, Tom Gillam, Emmylou Harris, Ryan James, Mountain Heart, Billy Joe Shaver, Porter Wagoner... PLUS Holiday Albums: Johnny Cash (DVDs), Eileen Ivers, Lonestar, Mindy Smith, 3 Fox Drive
---
New Stuff: November, 2007 | Previous Reviews
---


By the way, it's that time of year again: my Hillbilly Holiday section is back, for those of you who like a little Christmas cheer while you're stuffing your turkey. Hopefully we'll get to review a few new holiday records as well...
---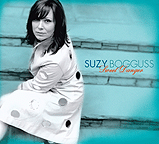 Suzy Bogguss "Sweet Danger" (Loyal Dutchess, 2007)



(Produced by Suzy Bogguss & Jason Miles)
Although former Top-40 country star Suzy Bogguss has been dabbling in jazz and pop vocals for a while now, she still felt obliged to slap a slightly odd cautionary sticker on this one: it reads, "Warning! This Music Is Not What You Expect! Listen With Open Mind" Hmmm. Funny choices all around. Anyway, there's talk of how this is another "jazz" record, a continuation of her 2003 album, Swing. I'd peg it more as a straight pop-vocals album, along the lines of '70s-era Jennifer Warnes or Karla Bonoff, someone like that -- an artist who's knowledgeable about rootsy music, but still goes for a slicker pop sound. In this case, Bogguss is paired up with producer Jason Miles, who's worked with folks like Sting and Luther Vandross... Definitely not my cup of tea, but I could see how some of her old fans could really enjoy hearing her just croon and interpret her little heart out. It ain't country but for the style, this is good.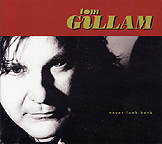 Tom Gillam "Never Look Back" (Treehouse, 2007)



(Produced by Joe Carroll)
A powerful roots-rock/Americana set, with loud guitars, hammering rhythm, scathing, self-reproachful lyrics and alluring melodies. Gillam, a hard-rockin' road warrior who suffered a fatal heart attack during the production of this record (and was, thankfully, resuscitated...) presumably really knows something about the rough-edged, love-lorn, booze-soaked life of his songs. Fans of early Steve Earle, Dave Alvin and the Blasters will find something to cheer about here -- it's a hard-hitting set that stands out for its balls-out forcefulness and embrace of a druggy machismo that seems part of a bygone era. If you like your Americana with a real kick to it, check this guy out.
Emmylou Harris "Songbird: Rare Tracks And Forgotten Gems" (Rhino, 2007)



As the man in Brush Arbor once said, heaven is a girl named Emmylou... And a lot of other folks have thought so, too, over the years, hence her reputation as one of the finest (and most ubiquitous) harmony singers in modern country music, as well as one of its great innovators. This expansive, well-concieved box set of rarities, duets and far-flung collaborations is a triumph on many levels... First, it's marvel of material culture: four CDs and one video disc, snugly folded up in an elegantly-designed, cardboard-encased digipak, as well as a separate booklet of archival photos and generous liner notes -- all less than an inch-and-a-half in width! (Emmylou Harris: the shelf owners of America salute you!) Inside, the content is rich and fascinating. The first disc is the closest this collection comes to a "greatest hits" set, gathering old albums tracks where Emmylou performs with pals such as Willie Nelson, The Whites, folks from the Seldom Scene and future top country hitmakers Rodney Crowell and Ricky Skaggs (who were both late-'70s members of her famed Hot Band...) ...and of course, her mentor, the great Gram Parsons. The rest of the discs go farther afield, with Emmylou pushing herself stylistically while finding ever more surprising folks to work with -- Beck, Elvis Costello, Sheryl Crow, Chrissie Hynde, Dolores Keane, Mark Knopfler, the McGarrigle Sisters -- as well as keeping up with old friends and relations such as Guy Clark, Steve Earle, George Jones, Iris Dement and them gals from Trio... The video material is even more stunning: BBC footage Emmylou in her full, luminous youth, fronting 1975 edition of the shaggy, stellar Hot Band; Emmylou in '78 crooning tunes like "Making Believe" and "Blue Kentucky Girl"; Emmylou's pre-MTV videos for "Mr. Sandman" and "I Don't Have To Crawl"; Emmylou and Elvis Costello harmonizing onstage at the Grand Ole Opry... does it get much better than this? No, it does not. There's also about an album's worth of previously unreleased music -- much of it is of later vintage, when she was getting more high-tech than some of us might like, yet even cranky traditionalists will be thrilled by the sweetness of a "new" pair of songs featuring Carl Jackson and John Starling, two of Harris's longtime guiding lights. All in all, it's amazing that an artist who has had so many fine best-of packages devoted to her work could still have such a rich treasure trove of "extra" material to add to her legacy. If your initial response was, oh not another Emmylou Harris box set!, take another look: this really is stuff you haven't heard or seen before!
Ryan James "Back To The Wind" (Hightail, 2005)



(Produced by Tim Lorsch & Walt Wilkins)
Texas-based songwriter Ryan James flies under the radar with this fine set of half-alt/half-pop twang. It's an indie release, but your ears will perk up when you hear tunes like "Everything That Glitters Is Not Gold" (a Dan Seals oldie) contrasted with a cover of Waylon Jennings old hit, "Ramblin' Man." Although the album opens with a couple of tunes that seem tailormade for Nashville bigwigs like Tim McGraw, et. al., to cover -- "Goodbye Carolina" and "Home On The Range" -- James is equally comfortable with chunkier, more outlaw-ish material, and sympathetic backing from Walt Wilkins and his crew make this a pretty solid set. James is a perfect example of the current intersection between roots music and chart hits -- he could go either way, and he certainly should make some headway as a Music Row songwriter... Worth checking out, no matter which side of the fence you're on!
Mountain Heart "Road That Never Ends: The Live Album" (Rural Route, 2007)



(Produced by Jim Van Cleve)
This dynamic modern bluegrass band has a new lineup and, to a degree, a new direction. Recorded live at The Ark, in Ann Arbor, this concert album captures the band going full-tilt boogie with some of their new -- or at least more pronounced -- crossover influences. The biggest change, really is with the new lead vocalist, Josh Shilling, who also plays piano and guitar, and who favors a rather showy, blues-and-soul-inflected style. I can't say I'm really wild about him. Shilling's over-emotive, white-boy Southern soul approach edges uncomfortably towards Michael Bolton territory, or actually more like old Joe Stampley records, or -- better yet -- good ole Travis Tritt. There will doubtless be many 'grass fans who will welcome the shift in tone -- some folks are eager for change and innovation in the genre, while others will see it as an intrusion. I guess I tilt more towards the latter, although I think it's the specific mix in question that bugs me, rather than the idea of fusion itself: I don't like that kind of singing in Pop music, so why should I want it in my twang? Still, if you're open-minded, and looking for something new in the bluegrass world, you might wanna check this out -- Mountain Heart are still one of the most energetic and immediate bands working in modern bluegrass, and their musicianship is still top-flight. That alone will put this on the radar for 'grass fans around the globe.
Billy Joe Shaver "Storyteller: Live At The Bluebird, 1992" (Sugar Hill, 2007)



(Produced by Billy Joe Shaver & Gerd Mueller)
A fine, funky, informal acoustic set, recorded in 1992 at the Bluebird Cafe, Nashville's famous venue for singer-songwriter types. Shaver was backed by his son, the late Eddie Shaver, and bassist Keith Christopher -- a quiet, compact threesome that play in such an understated style that the lyrics become even that much more poignant and penetrating. It's a fairly unadorned, unvarnished performance -- the sound quality is modest, the musicianship is unflashy, the pace is unhurried and the tone is laconic and utterly heartfelt. The set itself is packed with "hits" -- songs such as "Honky Tonk Heroes," "Old Chunk Of Coal," "Georgia On A Fast Train" and the then-new "Live Forever"... All great stuff, but also few surprises. What makes this record a treat are Shaver's asides, his unselfconscious, self-effacing recollections of days gone by, the wild times when he ran with the wind, burned bridges, and lost his loves, and almost his lost his life. Like his songwriting, this onstage patter is direct and down-to-earth, and shows the same fragility and strengths he explores in his music -- fans and newcomers alike will be drawn to him like moths to a flame.

George Strait "22 More Hits" (MCA Nashville, 2007)



(Various producers)
For most musicians, country or otherwise, the big dream is to get a single song in the Top Ten, and landing a real-live #1 record is the ultimate fantasy... Others, those who live up in the show biz stratosphere, just nail one hit after another, so for the biggest artists (like George Strait, for example) the problem isn't so much getting people to hear that one magic hit, but rather having all the other great songs that didn't top the charts fall out sight forever. In Strait's case, there is definitely an abundance of great music to choose from -- his last retrospective was a 2-CD set entitled 50 Number Ones, and when you top the charts that often, it's pretty much a done deal that when the label puts together a best-of collection, all the puny songs that only hit the Top 5, or the Top Ten, or the Top 40, are going to be left in the vaults. So let's hear it for MCA, which had the good sense and the class to correct this imbalance: this album is a wonderful, very welcome collection of songs that longtime fans may remember from the radio, but haven't heard for a while. There are hidden gems like the irresistible singalong novelty song, "Gone As A Girl Can Get" and hard-country weepers like "When Did You Stop Loving Me," as well as more conventional commercial offerings like "Marina Del Rey" and "The Fireman," as well as truly innovative singles such as "The Cowboy Rides Away" and the slinky, serpentine "Desperately" (which may be my favorite George Strait song...) There's some great stuff on here, including a lot of tunes you just won't hear otherwise... George Strait is one of those great singers who help keep modern country music honest, and a selection of his second-string singles is sure to be better than most big hits by other newcomers in Nashville. Recommended!

Porter Wagoner "The Wagonmaster" (Anti/Epitaph, 2007)



(Produced by Marty Stuart)
I was greatly saddened to hear of the passing away of Porter Wagoner, one of the last, great true hillbilly musicians in country music history. His passing was made more poignant by his having recorded such a fine record before he went up to join that heavenly choir he kept singing about when he was in a gospel mood. Porter was in fine form here, as corny and as heartfelt as ever, and with a strong, sympathetic backing from Marty Stuart and his band. There are beautiful ballads, goofball novelty songs, over-the-top gloom'n'doom epics (like "The Agony Of Waiting"), lively instrumentals and between-song patter that recall the stage show that he'd performed for decades, on TV, at the Opry and on the road. There's even a lost gem written by Johnny Cash, "Committed To Parkview," a song about being in an asylum that fits in handily next to Porter's wacky classic, "The Rubber Room." In short, this album is archetypal Porter Wagoner, a delicious mix of the heartfelt and the maudlin, the serious and the silly. Porter's voice was expressive and strong -- he made another great record, just like the others he'd made over the years, and although he didn't cater to the rock'n'roll crowd the same way as Johnny Cash and Loretta Lynn, there's still plenty here for the young'uns to latch onto, if they've got a hankering to hear real some country music. Rest in peace, Porter: we'll all be down here listening to your stuff for a long time to come.
---
Holiday Albums
---
Johnny Cash/Various Artists "The Johnny Cash Christmas Special: 1976" (Shout Factory/CMHF Archive Series, 2007)


By the mid-1970s, Johnny Cash was a veteran TV performer, and new how to keep a show humming. This seasonal special recalls the roasts and variety shows that were so popular at the time, packed with guests, gags and corny, prepackaged humor... But there's also the obvious sincerity that Johnny and June Carter Cash brought to their holiday cheer... Filmed in their spacious ranch home, the show is conceived of as a big Christmas party, with their friends coming over for dinner and for a round-robin "guitar pull," where each guest taking a turn pickin', singing or telling a story. The performers include Hee Haw star Roy Clark and pop crooner Tony Orlando, who harmonize with Cash on a long medley of Stephen Foster classics, as well as Johnny's brother Tommy, superpicker Merle Travis (who picks a mean version of "The Cannonball Rag") and Johnny's pastor, Billy Graham, who tells a grim little Christmas parable about a rough-and-tumble mining camp that gets civilized through Jesus, but only after all kinds of violent, bloody behavior. The biggest surprise, though, comes from countrypolitan queen Barbara Mandrell, then at the height of her fame, who Cash remembers as a little girl who played steel guitar when he first met her... And sure enough, she sits down at the pedal steel and plays an impressive version of "Steel Guitar Rag." Who knew?? Although the pacing of the show is clunky, it was in keeping with the standards of live TV at the time, and it's a marvelous time capsule in many ways (especially the fashion: dig those cowboy duds on Tony Orlando!) Cash fans will definitely want to check this one out... students of the 'Seventies as well!
Johnny Cash/Various Artists "The Johnny Cash Christmas Special: 1977" (Shout Factory/CMHF Archive Series, 2007)


The following year, Cash had a much glitzier, punchier production, trading his funky ranch home vibe for a big, shiny soundstage, decked out with a gigantic golden holly wreath and twenty-foot tall panels of frosted-glass snowflakes. This show, which broadcast on November 30, 1977, was also a tighter show, mainly featuring the seasoned cast of Cash's long-running road show: June Carter Cash, the reconstituted Carter Family, Carl Perkins and the ever-jovial Statler Brothers, and another appearance by Roy Clark, who helped anchor the previous year's Christmas show. Although there's plenty of holiday music and seasonal cheer, there's also a wealth of secular music -- Johnny and June sing a duet of "Darling Companion," and the second half of the show is devoted to a tribute to Elvis Presley, who had passed away a few months earlier. Along with Carl Perkins, Cash hosts other buddies from his Sun Records rockabilly years -- Roy Orbison is in fine form on "Oh, Pretty Woman," while Jerry Lee Lewis tears it up on a modernized "Whole Lotta Shakin' Going On," then slows things down for a sentimental reading of "White Christmas." Surprisingly, the Carter Family is kept mostly in the background -- Mother Maybelle wasn't in the show at all -- while Anita and the sisters only sang as part of a larger chorus. All in all, this is a lively, well-paced TV show, with a very sincere religious emotional core, sure to be a delight for Cash fans and country Christmas enthusiasts everywhere. Recommended!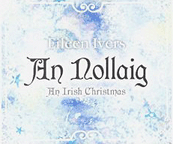 Eileen Ivers "An Nollaig: An Irish Christmas" (Compass, 2007)



A solid, if slick, holiday offering from this Celtic trad-fusion star. A veteran of Cherish The Ladies and the Riverdance troupe, Irish-American fiddler Eileen Ivers has been pushing the envelope for years now, but still has her roots intact... This album has plenty of chestnuts and standards -- "Hark The Herald Angels Sing," "Do You Hear What I Hear?," Vince Guaraldi's "Christmas Time Is Here," etc. -- and several tunes closer to the British/Celtic sensibilities, notably "The Wexford Carol" and the pagan-tinged "Holly Tree" (known to many trad fans through the early work of the Waterson family...) Christmas music tends, in general, to be a bit florid, and this disc is no exception, but for those who don't mind ornately-produced holiday fare, but are looking for a new twist or a slightly different flavor, this Irish-based excursion could be a real treat.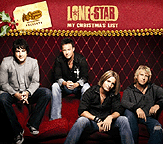 Lonestar "My Christmas List" (Cracker Barrel, 2007)
The fellas in Lonestar go through their Christmas catalog for a mix seasonal tunes, both old and new... If you didn't get their This Christmas Time album a few years back, this disc will give you a fine dose of harmony-led holiday vocals. Lead Singer Richie McDonald has moved on -- being replaced by Cody Collins -- but he has a new Christmas record out as well. (Exclusively available on the road or at Cracker Barrel.com)


<! 08/10, 10/11: still no ASIN >

Brad Paisley "A Brad Paisley Christmas" (Sony-BMG/Arista, 2006)



I didn't get this one in my stocking last year, but I might track it down on my own sometime soon... If it's from Brad Paisley, it's gotta be good!
Mindy Smith "My Holiday" (Vanguard, 2007)



(Produced by Steve Buckingham & Mindy Smith)
Wow... what a nice album. I normally don't have high expectations of Christmas records, but pop-folkster Mindy Smith really outdoes herself on this one. It's heartfelt, engaging, original and quite lovely to listen to... Smith sings a few standards, and she sings them with unusually rich sincerity -- her lingering, lounge-y rendition of Frank Loesser's "What Are You Doing New Year's Eve" is a gem, while the sugary cooing on "Away In A Manger" (a duet with Alison Krauss) will make fans of holiday pop happy as clams. It's her original material that stands out here, though: the opening song, "My Holiday," is a gentle meditation on the season (and the value of artificial trees); "Santa Will Find You" is an inspirational classic in five-and-dime drag, and "I Know The Reason" is simply a beautiful song about perseverance and quiet hope, closing with the stanza, "It's been a long, long year/it's coming to an end/Looking by my side/you still have my hand", a lyric that jumps out of the lulling, melodic mix. There are only a couple of clunkers on here, a drum-heavy version of "I'll Be Home For Christmas," and the folk-rock "Come Around" which is okay in a Byrds-y kinda way, but jarring when set next to the rest of these dreamy acoustic songs... Other than that, though, this is an disc I could roast chestnuts to for several seasons to come -- and for a Grinch like me, that's pretty high praise. Check it out.
3 Fox Drive/Various Artists "Christmas Grass, v.3" (Koch, 2007)



One of the hottest groups on the contemporary bluegrass scene hosts some high-powered guests on this strong, soulful holiday album. Charlie Daniels, Sonya Isaacs and Larry Sparks are among the eminent guests -- John Cowan of the New Grass Revival dips into his soul roots for a syrupy rendition of "Please Come Home For Christmas", while Daniels gets gritty and in-yer-face with the patriotic "Watching Over The Soldiers At Christmas." The best bits, really come with the tracks that feature 3 Fox Drive alone - the Fox siblings are more than capable of carrying a Christmas album by themselves. Then again, it doesn't hurt to have friends like Aubrey Haynie, Rob Ickes and Bryan Sutton along for the ride... This is a sleek, sentimental seasonal offering... Bluegrass fans who also can go for a little holiday cheer will find this a pretty durable disc. Worth checking out!
---



Hick Music Index
Shop Amazon, Support Slipcue



---