<! MP3 00/00/00 > <! pix 00/00/00 > <! archived 08/11/10 > <! * >

---



Howdy, neighbors!

Howdy, folks! Here are some reviews of the new country, bluegrass and Americana records that I had the good fortune to listen to in September, 2009 This month I've been checking out a bunch of amazing collections issued by British Archive Of Country Music, an amazing consortium of uber-collectors with a deep archive of classic cowboy songs, honky-tonk, western swing and folk. I'll be peppering this column with BACM reviews, as well as adding them into the main country section, so keep an eye peeled. It's all great stuff!




This month:
Rex Allen "Cowboy Under the Western Sky" (Jasmine)
The Cowlicks "Hey, Hey We're The Cowlicks" (Tres Payasos)
Catie Curtis "Hello, Stranger" (Compass)
Ethyl And The Regulars "Fill 'Er Up With..." (Sweet Crude)
Grasstowne "The Other Side Of Towne" (Pinecastle)
Wayne Hancock "Viper Of Melody" (Bloodshot)
Dick Hartman "Dick Hartman's Washboard Wonders & Tennessee Ramblers" (BACM)
Johnny Horton "Take Me Like I Am" (Shake This Shack Tonight series) (Bear Family)
Rob Ickes "Road Song" (ResoRevolution)
Kieran Kane "Somewhere Beyond The Roses" (Compass)
Janet McBride "Still Loving The Ride" (Brookhurst)
Willie Nelson/Various Artists "American Classic" (Blue Note)
Marty Raybon "...And Full Circle" (Synchord)
Adam Steffey "One More For The Road" (Sugar Hill)
Sugarland "Live On The Inside" (Mercury-Nashville)
Donna Ulisse "Walk This Mountain Down" (Hadley Music Group)
Rhonda Vincent "Destination Life" (Rounder)
Loudon Wainwright III "High Wide & Handsome: The Charlie Poole Project" (2nd Story)
Tabby West "Chat Chat Chatanooga" (BACM)
Various Artists "CLASSIC COUNTRY MUSIC ON MGM" (BACM)
Various Artists "THE MAN OF SOMEBODY'S DREAMS: A TRIBUTE TO CHRIS GAFFNEY" (Yep Roc)


<! Band Of Heathens Guy Clark Mac MacMcAnally, "Down By The River" Delbert McClinton >

---
New Stuff: September, 2009
---
Rex Allen "Cowboy Under the Western Sky" (Jasmine, 2009)


This disc gathers songs from two albums, Under Western Skies, an orchestral outing recorded with pop-classical bandleader Victor Young, and Mister Cowboy, which offers a more stripped-down, acoustic version of Allen's style. There are earthier offerings from Allen's catalog, but this is a nice collection for singing cowboy completists.


<! 2009 collection. The First twelve tracks are taken from the classic Under Western Skies album, a small anthology of western melodies with enriched orchestration by the late Victor Young and his Orchestra. The remaining fourteen tracks are from Mister Cowboy, an album of Americas greatest western songs without which no musical library is complete. >

The Cowlicks "Hey, Hey We're The Cowlicks" (Tres Payasos, 2009)



Fun, funny, electrified hippie-novelty twang, with a great goofy sense of humor. These Northern California nutballs obviously have a strong grasp on the country and classic rock repertoires, and remind me a bit of Commander Cody Or Bill Kirchen, that sort of vibe. There's a little too much guitar-hero electric leads for my tastes, but I bet it's fun to hear live... Highlights include a hippie-era tall-tale ("Jimi Hendrix Owes Me $10") and the go-off-the-grid anthem, "Store No More," which is a hoot. Rock fans might also get a kick out of their bluegrassy cover of Aerosmith's "Sweet Emotion": I love that song, but I gotta admit this is the first time I actually heard all the lyrics!

Catie Curtis "Hello, Stranger" (Compass, 2009)



(Produced by Garry West)
A nice folkie outing, with bluegrass-flavored backing courtesy of Alison Brown and her crew... Todd Phillips, Darrell Scott, Stuart Duncan and others trade licks while Curtis sings in her warm, crystaline voice. The set list is full of cover tunes, friendly readings of songs by Richard Thompson, John Martyn, Cat Stevens, and others. One highlight is Don White's "Let's Be Sixteen Again," where a pair of parents plan to steal their kid's car and go for a joyride -- and let their teens be the ones to worry for once! There's also a nice duet with Mary Gauthier, on the Carter Family oldie, "Hello Stranger. The mix of earnest folkie topical songs and bluegrass twang is pretty nice, a welcome change from the acoustic guitar-meets-light pop arrangements that have dominated the scene for the last few decades. Give it a spin!

Ethyl And The Regulars "Fill 'Er Up With..." (Sweet Crude, 2009)



(Produced by Hank Hays & Ethyl And The Regulars)
Nice scrappy independent Colorado twang with an undeniable DIY appeal. The vocals are kinda rough but enthusiastic, and there's plenty of nice picking (especially the pedal steel!) and a great song selection. Fans of, oh say, The Dave And Deke Combo, oughta dig these guys too. Includes several fun cover tunes, such as Don Gibson's "Don't Tell Me Your Troubles (Tell It To A Friend)", "Cash On The Barrelhead" and Melvin Endsley's "Knee Deep In The Blues" as well as a slew of good originals, may of which sound like classic country oldies. Probably my favorite song on here is Eric Kinsey's "(Drinking) Canada Dry" (which is better than the original) but there are plenty of other great tunes to pick from on here. Worth checking out!
Grasstowne "The Other Side Of Towne" (Pinecastle, 2009)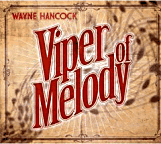 Wayne Hancock "Viper Of Melody" (Bloodshot, 2009)



(Produced by Lloyd Maines)
Once a honkytonk hero, scrappy singer Wayne Hancock has been digging deeper and deeper into a love of kooky, old-fashioned wester swing... Not the sort of we're-alt-rockers-who-are-now-going-retro swing of recent years, but more the I'm-a-yahoo-from-Texas western swing of years gone by: I bet Wayne and Hank Penny would have had a lot of fun hanging out together. Anyway, you'll have a lot of fun putting this on and cranking up the volume -- it's scrappy, boisterous, rough'n'tumble small-ensemble swing-twang with a bunch of original songs and lively performances all around. PS - catch this guy live, if you can. He's a gas.
Dick Hartman "Dick Hartman's Washboard Wonders & Tennessee Ramblers" (BACM, 2009)


This disc's a doozy! Giddy, exuberant, irresistible string band music recorded between 1935-36, as the western swing scene was really starting to heat up... Bandleader Dick Hartman recorded a wide variety of material, but this disc concentrates on his more uptempo material, and man, is it great! Harry Blair's joyful, lively vocals are matched by a bouncy band with banjo, fiddle, washboard and kazoo, and a driving, rhythmic guitar. Hartman is probably best known for his fabulously raunchy recordings with Hartman's Heartbreakers, some of the best sex-drenched "hokum" novelty songs of the Great Depression era -- some of that naughty abandon is echoed here, although these tracks aren't quite as "blue" as those infamous recordings... The playfulness of Hartman and his band comes through loud and clear on every track, and you will find this disc is packed with tunes that'll stick in your head and have you humming along for weeks to come. Highly recommended! (Available through the British Archive of Country Music website.)


<! CD D 259 -- old-timey? >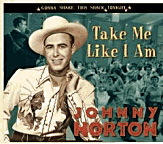 Johnny Horton "Take Me Like I Am" (Shake This Shack Tonight series) (Bear Family, 2009)


Bear Family has recently been whittling its magnificent multi-disc box sets down to a more manageable size, and this single-CD collection is a pretty tasty look at Johnny Horton's early years. It concentrates on his pre-rockabilly country stuff, with some fine hillbilly recordings that'll get your toes tapping and your mouth thirsty for a couple of beers. Great stuff!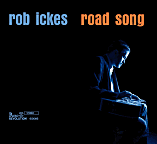 Rob Ickes "Road Song" (ResoRevolution, 2009)



Some more introspective offerings from this newgrass dobro whiz, including several explorations of jazz standards such as Duke Ellington's "Caravan," with Ickes playing in tandem with pianist Michael Alvey, who just happens to be his daughter's elementary school music teacher!) The coffeehouse Americana chanteuse Robinella also sings on several songs, which should be a treat for her fans.
Kieran Kane "Somewhere Beyond The Roses" (Compass, 2009)



An avowed Americana auteur, songwriter Kieran Kane continues to refine his own mixture of country twang, folk, bluegrass and blues, melding the styles into a dense, formidable sound that buoys his lyrics, giving his songs both a seductive allure and a steely strength. The first half of this album has some really appealing arrangements and intriguing, complex melodies, and while none of the songs have the kind of pop-oriented simplicity that would make them singalong songs, they are pretty catchy. In the second half, Kane zeroes in on more of a Woody Guthrie-esque talking blues style, with plenty of emphatic, almost ferocious lyrics. I have to confess that I don't really understand what he's talking about, in either mode, but there seems to be an undercurrent of recrimination and redemption, urgency and a need to impart wisdom, but there's also a sense of this as a personal, internal dialogue, the end product of a long period of intense philosophical examination, and an awareness and acceptance that this isn't a record that will appeal to everyone. Perhaps a more perceptive listener could more easily pierce the veil, but either way, this is a musically rich, creatively adventurous outing, showing some of the unique strengths of the Americana genre.
Janet McBride "Still Loving The Ride" (Brookhurst, 2009)

(Various Producers)
A yodeling cowgal who's been around for decades, Ms. McBride may be a bit elderly now but is still more full of life than a squad of college linebackers... On this new release she mixes classic ballads, country gospel and cowboy tunes... And she still can yodel up a storm! Those of us used to more youthful (or shall we say, less experienced?) performers might need to readjust our ears a little to appreciate this record. But country fans who have followed the careers of Wanda Jackson, Rose Maddox -- or heck, even Ernest Tubb -- will have learned the pleasures of letting an old-timer stretch out and work their way around a song. Speaking of songs, although this disc includes a bunch of golden oldies, some of the strongest numbers are originals penned by Ms. McBride, such as "I Hate To See A Grown Man Lie," "What's Missing" and "Mama (I Got Here As Fast As I Could)," a nice throwback to the sentimental songs of yore. There are several older recordings on here as well, including two bonus tracks from her first recordings session in 1959, where she was backed by none other than Bakersfield legend Wynn Stewart and his band, with steel player Jim Mooney adding some super-sweet licks. This is a nice introduction to a fascinating artist... I'm gonna have to try and track down some of her 'Sixties stuff as well! (Also check out Janet McBride's website for more information.)

Willie Nelson "American Classic" (Blue Note, 2009)



(Produced by Tommy LiPuma)
I'm still waiting for Willie Nelson and Norah Jones to do a whole album of duets together, but in the meantime, this set of standards with Jones and Diana Krall guesting on one track apiece might do the trick. Willie's over thirty years older than he was when he started singing standards on the Stardust album, but he's still got his pop vocals mojo. Hooray for Willie!

Marty Raybon "...And Full Circle" (Synchord, 2009)



(Produced by Marty Raybon)
Shenandoah's old lead singer is one of many Nashville ex-chart-toppers who have gone indie in the 21st Century... Here he's still mixing bluegrass with acoustified country ballads and heartfelt gospel -- and it sounds pretty good! A strong song selection with solid picking behind him. Raybon's voice ain't what it used to be, but it sounds fine on the uptempo numbers, and his old-man grit'n'growl sounds pretty authentic. Fans'll be happy, and skeptics might be surprised.


<! listed as "This That & the Other" on Amazon (???) >
Ricky Skaggs "Ricky Skaggs Solo: Songs My Dad Loved" (Skaggs Family, 2009)



(Produced by Ricky Skaggs)
Through the miracles of modern recording technology, Newgrass elder Ricky Skaggs pays tribute to his father and the music of his youth on a Skaggs-a-centric outing in which he plays all the instruments -- fiddle, mandolin, banjo, guitar, piano, bass, and percussion -- and even sings harmony with himself on a track or two. The album is packed with twangy old tunes -- a few are well-known, like "Little Maggie," but Skaggs also digs deep into the mountain music repertoire for tunes that are more off the beaten track, and sound sweeter for their "newness." There are, of course, several gospel songs infused with Skaggs' gentle apocalyptic fervor, including an innovative, Indian raga-inspired arrangement of "City That Lies Foursquare," where a table-like rhythm kicks in at the start. Although it's nice to hear that spark between Skaggs and his band, this mega-solo outing is pretty nice, too... It certainly has a very personal feel, which is really the point, right? Fans will dig this one... I know I do!

Adam Steffey "One More For The Road" (Sugar Hill, 2009)



(Produced by Barry Bales & Gary Paczosa)
A nice blend of bluegrass, country and singer-songwriter folk, featuring the mandolin work and gruff, old-timer vocals of Adam Steffey, a former member of Alison Krauss's formidable Union Station band. Krauss puts in an appearance (on "Warm Kentucky Sunshine") and Steffey is joined by several other Union Stationeers, including Ron Block, Barry Bales and Dan Tyminski, along with a slew of other top-flight, high-power bluegrass superpickers. Steffey is a gracious host, showing dazzling strengths as a soloist, but completely willing to give his pals the spotlight for much of the record. He also contributes three original songs, which perfectly compliment the mix of oldies (covers of Red Allen and Kris Kristofferson) with a bunch of fine contemporary tunes. A very solid album showcasing diverse styles, but rooted in straightahead traditional bluegrass -- rock solid and recommended!


<! "What Gives You The Right" "Warm Kentucky Sunshine" >
Sugarland "Live On The Inside" (Mercury-Nashville, 2009)


(Produced by Kristian Bush & Jennifer Nettles)
A few years ago, Sugarland started out with a big bang, topping the charts, filling the airwaves, becoming stars. As this live album, a combination CD and concert DVD shows, though, since then they've gone to another level. You can hear it in the reverent murmur of the audience, and in the self-aware superstar purr of lead singer Jennifer Nettles: Sugarland has become the kind of "you changed my life, I worship you" band that gets a special kind of super-fan. Their songs have become more poetical and profound, as well (although with dips into poppy raunch that are meant to keep them in the just-plain-folks category...) Wynonna Judd comes to mind right away, with the modern pop-meets-tailored twang style, seasoned with constant bluesy soul-mama intonations. I suspect that there's some overlap in the fan base as well; it's a formula that works. I still think Nettles is overdoing it with the exaggerated twang, but hey -- who am I to argue with success? The big attraction for many fans will be the high-definition live footage from a concert in Lexington, where you can not only hear, but see the connection between Sugarland and their fans. One thing that's really cool: there's no overlap between the songs on the audio and video discs, a nice bonus for consumers in these troubled times.

Donna Ulisse "Walk This Mountain Down" (Hadley Music Group, 2009)



(Produced by Keith Sewell)
A one-time would-be Top Forty star of the 1990s resurfaces as a soulful bluegrass balladeer, with sweet accompaniment from 'grassy stalwarts such as Rob Ickes, Andy Leftwich, Scott Vestal... and Claire Lynch singing harmony on one song as well! Ulisse's voice is rich and soulful, with poetical lyrics and several dips into heartfelt, Jesus-drenched gospel and inspirational songs of a more secular tilt. There's also plenty of hot, sweet bluegrass picking and robust twangy numbers that'll set your toes a-tapping. One highlight is the contemplative "Child Of The Great Depression," about the wisdom that older generations have to offer us. A very strong album from a true bluegrass independent. Definitely worth checking out!
Rhonda Vincent "Destination Life" (Rounder, 2009)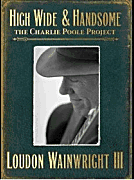 Loudon Wainwright III "High Wide And Handsome: The Charlie Poole Project" (Second Story Sounds, 2009)



(Produced by Dick Connette & Loudon Wainwright III)
A bold, brilliant tribute to Charlie Poole, one of the early country music superstars of the Great Depression. Poole was a notorious rascal and ne'er-do-well from a small town in North Carolina who became a star in the 1920s, but like many artists of the era, he was poorly paid for his work, and while his records sold well, he found it hard to make ends meet. He was also an accomplished musician, one of the best clawhammer banjo players of his time, and a sly, humorous singer. Eventually, the hard-living performer drank himself to death in 1931, as the economy collapsed and record sales fell flat -- Wainwright explores this legacy, both the glory and the pathos, crafting a remarkable portrait that pierces the veil of time to present Poole as a three-dimensional character, playful, boisterous, flawed and charismatic. Wainwright bookends cover versions of old classics with new compositions that illuminate Poole's life. The first is the title track, "High Wide & Handsome," a masterpiece of bragadoccio that paints the singer as a lusty, vibrant scoundrel, a charming, charismatic braggart and lover of the good life -- in short, a rock star. Other Wainwright originals include "Way Up In New York City," which tells the tale of Poole going to the big city to record his first big hit, "Don't Let Your Deal Go Down Blues," a single on Columbia that sold over a 100,000 copies in 1925 -- Poole and his trio got paid seventy-five bucks, a pat on the back and a train ride home. Nonetheless, he went on to be an immensely popular performer with the wide palette of a classic vaudeville entertainer. Here, Wainwright moves deftly through Poole's repertoire of ribald comedy songs (such as "Moving Day," "If I Lose" and "I'm The Man Who Rode The Mule Around The World") as well as sweet, lachrymose, shamelessly sentimental weepers such as "The Letter That Never Came," "Old And Only In The Way," "Mother's Last Farewell Kiss," and the gorgeous "My Mother And My Sweetheart." In a similar vein are several religious songs that Poole is reported to have performed regularly, but not recorded, and these are performed by Wainwright and his crew with stunning sincerity and emotional depth. Joining LW3 are co-producer Dick Connette, Wainwright's wife, Suzzy Roche, their daughter Lucy, and Lucy's immensely talented aunts (aka the Roches) as well as Loudon's own sibling, Sloane Wainwright and others in their orbit. Suzzy Roche delivers a grand slam on the weary waltz that opens Disc Two, "Man In The Moon," in which the character of Poole's wife laments married life with a irredeemable rambling man -- for me, this is the song which cements the biographical-literary elements of this album, with its haunting melody and a beautiful performance by Roche. And then there's Loudon: a wry, sarcastic performer, he taps directly into the humorous elements of Poole's work, and brings them into a modern framework... Leaving behind the raspy, antique sound of Poole's old recordings, Wainwright lets modern listeners tap directly into the humor of the songs, without hearing them as mere museum pieces. He also shows a not-too-surprising ability to connect with the sentimentality of the old-style weepers, and the passionate, otherworldly yearnings of the gospel tunes. In short, this collection in a real knockout: look for Loudon up on the platform when they're announcing the Grammys this year.


<! A phenomenal undertaking from the venerable folkie singer-songwriter Loudon Wainwright III, who apparently has long been a fan of Charlie Poole, an old-timey music star of the Great Depression who recorded many songs that have been country and folk standards for decades. >
Tabby West "Chat Chat Chatanooga" (BACM, 2009)


Super cool. West was a former big-band/pop vocals singer of the 1940s who made the switch to country music when her husband, a regional bandleader named Red Wortham, successfully pitched a hit song to Kitty Wells. He asked his wife, Phyllis Spain, to demo a few more tunes for him, and when these demos caught the ear of a Nashville producer, she changed her stage name and launched a new career. This disc collects all of West's material on several major labels -- Capitol, Coral and Decca -- recorded between 1952-58. At first she recorded solid, earthy honkytonk material (with a hefty dose of Kitty Wells-style heartsongs and intonation) including weepers like "Our Love Isn't Legal," "I Was The Bridesmaid," and "My Daddy Left My Mommy Again." Later she let a little more pop into her sound, pioneering the pop-country crossover style that Patsy Cline, Brenda Lee, Skeeter Davis and others would later perfect... These rare old, largely forgotten recordings by West will come as a revelation for fans of female country singers, particularly of old faves such as Jean Shepard. West was both a solid hard-country singer and a pioneer of pop-country crossover, as these great old recordings show. The BACM presentation -- low-budget graphics and simple, bootleggy presentation -- may throw a few folks off the trail, but if you're a fan of classic 'Fifties country, this is definitely a must-have collection. Highly recommended. (Available through the British Archive of Country Music website.)


<! CD D 260 >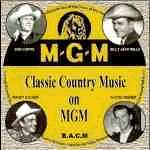 Various Artists "CLASSIC COUNTRY MUSIC ON MGM" (BACM, 2008)


I am a big fan of obscuro-country collections, compilation discs that are packed with artists that I am unfamiliar with... and this one's a doozy! Yeah, sure, often there's a reason that these folks are unknowns and also-rans, but this is where you'll hear artists, songs and sounds that you just won't hear anywhere else, and often their clunky, heartfelt singles say way more about the country scene of yesteryear than the big hits of the big stars. I snapped this one up because it only has a handful of artists I recognize (Cecil Campbell, Don Gibson, George McCormick, Red Sovine, Billy Jack Wills and Floyd Cramer...) and a ton of promising song titles: "You'll Live To Regret It," "Throwing My Life Away," "Ah Ha," "Look What Followed Me Home," etc. In short, it looked like exactly the kind of record I go for. Also, MGM is a vintage label that I'm not very familiar with -- I know they had Hank Williams signed to them, and later Hank, Jr. and some up-and-coming honkytonkers in the early 1960s... But for the most part, their catalogue is a blank slate. Well, let me tell you, if you like raw old-school country music, including the occasional kooky novelty tune, and that fun stuff where hillbilly boogie and rockabilly rubbed shoulders, then this disc is one you'll want to travel the far ends of the earth to track down. It's one of the most fun records I've heard in a long, long time, drawing on the deep knowledge base and impressive collections of the folks at the mystery-shrouded British Archive of Country Music... Trust me, you'll want to check this one out.


<! CD D 231 >

Various Artists "THE MAN OF SOMEBODY'S DREAMS: A TRIBUTE TO CHRIS GAFFNEY" (Yep Roc, 2009)






<! Dashing Through The Snow by Mark Howard, Richard Bailey, Mike Compton, Rob Ickes, Dennis Crouch MP3 only - B002G767PM >
---



Hick Music Index
Shop Amazon, Support Slipcue



---