<! MP3 08/20/09, 05/05/10 > <! update 08/20/09 - not thorough > <! outside 06/15/10 BB - list only; 06/20/10 added BB > <! pix 00/00/00 > <! icons 12/21/10 > <! BB: Kay Arnold - some singles on Chart Kaylee Adams '88 Peggy Jo Adams (w/ O.B. McClinton) Daniele Alexander Judy Allen '78-S Melody Allen Durelle Adams Amy Andi And The Brown Sisters Sheila Andrews Lisa Angelle Susan Anton (w/ Knoblock) Judy Argo '79 Darlene Austin '80s Kay Austin Ruth Ann - Canadian major label - only album Ruth Ann "Hello It's Me" (MCA, 1984) (LP) B004136OL6 >
---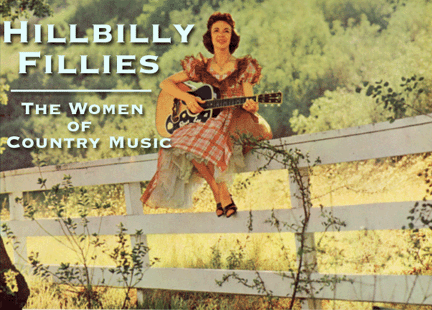 Welcome to my "Hillbilly Fillies" section, a quick look at the many women who've made all kinds of country music sound so great... Maybe back in the old days, there weren't many women country music stars, but a lot of water has gone under the bridge and there sure are a slew of them now... From the craggiest backwoods bluegrassers to the slickest gals in Nashville today... Here's a look at some of the finest gals in the hillbilly history...
---
A | B | C | D | E | F | G | H | I | J | K | L | M | N | O | P | Q | R | S | T | U | V | W | X, Y & Z | Comps
---

Tina Adair "Just You Wait And See" (Sugar Hill, 1997)



(Produced by Jerry Douglas)
A nice mix of solid bluegrass picking and the mellow, romantic crossover material favored by fans of Alison Krauss, et al. The comparison is both inevitable, and warranted, as the teen age Adair is produced on her debut by Jerry Douglas, and backed up by slick newgrass "usual suspects" such as Douglas, Alan O'Bryant, Aubrey Haynie and Chris Thile... Yet despite the tilt towards the predictable, Adair has a certain flair and distinctive, charismatic aura to her. PLus, she chooses some interesting material... Sure, there's a limp version of Poco's '70s soft-rock oldie, "Crazy Love," but there's also a Sandy Denny cover (!) and a sizzler or two such as "My Time To Go," originally by Molly O'Day. Sometimes her vocals and the arrangements drag a bit, but overall, this is pretty good. Wonder whatever happened to this gal...!
Kay Adams "Wheels And Tears" (Tower, 1966/Sundazed, 2004)


A great set of mid-1960s, West Coast-flavored trucker songs... Adams, a sassy singer who sounded a bit like Loretta Lynn, had a sizeable hit with the novelty song "Little Pink Mack," and they naturally tried to follow it up with similar material, like "Six Days Awaiting," an answer song to Dave Dudley's wildly popular "Six Days On The Road." That didn't work quite as well, but the rest of this album is still a lot of fun -- it's pure, glorious Bakersfield twang, and definitely worth checking out if you like the cool old stuff. Adams even pays homage to a West Coast foremother, Rose Maddox with a fine version of "Big, Big Day Tomorrow," a great old weeper that Rose recorded a few years earlier. Folks looking for lost gems in country's past would be well advised to snap this tasty reissue up now, while you still have the chance!
Kay Adams & Dick Curless "A Devil Like Me Needs An Angel Like You" (Tower, 1966) (LP)

Kay Adams "Make Mine Country" (Tower, 1967) (LP)

Kay Adams "Alcohol And Tears" (Tower, 1967) (LP)


Lauren Alaina "Wildflower" (Mercury Nashville, 2011)



(Produced by Byron Gallimore)
Absolutely dreadful, and completely phony. The debut album by (yet another) American Idol contestant... She's one of those dreadfully unsubtle Idol singers, wailing away inside some impenetrable fortress of studio-generated wall-of-sound production, a soulless mound of pop-hook cliches, with no margin of error or room for genuine feeling. Bleah. It's an approximation of better music -- Sheryl Crow, etc. -- but so perfectly crafted and unoriginal it's really rather disheartening. How many of these records can they make? And why?
Daniele Alexander "First Move" (Mercury, 1989)


Daniele Alexander "I Dream In Color" (Mercury, 1991)



(Produced by Harold Shedd)

Susie Allanson "Don't Say You're Mine" (ABC, 1976) (LP)


Yikes. I mean, I guess the music's okay, but she has kind of a scary, not-that-great and somewhat irritating voice... it's amazing she had as much success on the Country charts as she did in the late '70s. Halfway through this album, I realized she had a sort of Vegas-y showtunes vibe going on, and sure enough: Allanson's previous triumphs came as a cast member of "Hair" and "Jesus Christ Superstar." It's worth noting that none of the songs on this particular album (which is kind of a trainwreck) had any chart success; maybe when she switched labels (and presumably producers), the folks over at Curb had more success getting her to shed some of the brassy Broadway affectations and learn a style more appropriate to actual country music. I dunno: when I find out, though, I'll let you know.
Susie Allanson "A Little Love" (MCA, 1977) (LP)

Susie Allanson "We Belong Together" (Warner/Curb, 1978) (LP)

Susie Allanson "Heart To Heart" (Elektra/Curb, 1979) (LP)







Susie Allanson "Susie" (United Artists, 1980) (LP)



<! Susie Allanson "Susie Allanson" (ABC, 1976) (LP) B000N9WQX2 Susie Allanson "A Little Love" (MCA, 1977) (LP) Susie Allanson "We Belong Together" (Warner/Curb, 1978) (LP) B0012FONZA Susie Allanson "Heart To Heart" (Elektra/Curb, 1979) (LP) B000NNONI4 Susie Allanson "Susie" (United Artists, 1980) (LP) Susie Allanson "Sleepless Nights" (Liberty/Curb, 1981) unreleased album. >
Deborah Allen "Anthology" (Renaissance, 1998)


Her initial chart entries were "duets" with countrypolitan crooner Jim Reeves, whose death in 1964 didn't prevent the RCA label from releasing singles for decades to come. A trio of these tunes kicks off this disc, with Allen's Parton-esque vocals engulfed by a barrage of slightly piercing (and entirely egregious) string arrangements. She swiftly emerged as a solo singer, at her best fronting perky synthabilly hits like "I've Been Wrong Before" and a whole host of drippier Flashdance-y followups. This is a pretty comprehensive retrospective of her work on RCA, Capitol, and the Giant imprint... Maybe not the greatest hick music ever, but her fans will be thrilled to track this disc down...
Deborah Allen "Anthology" (Curb, 2000)


(Produced by Deborah Allen & Bobby Braddock)
Re-recorded versions of some of her old ballads... If you want the originals, you'll need to look elsewhere, but if you want to hear what Allen sounded like a little later on, then check this one out.
Deborah Allen "Delta Dreamland" (Giant, 1993)


Deborah Allen "All That I Am" (1994)


Deborah Allen "The Best Of Deborah Allen" (Curb, 2000)


Judy Allen "Especially For You" (Stop, 1972) (LP)


One of those lost, orphan albums of the early '70s... Ms. Allen actually had her chart hits a little later on, in 1978, with a brief mid-1970s stint on Polydor, but apparently those Back Forty singles weren't enough to persuade the label to put out a full album of her work... Perhaps someday she'll get a full retrospective set, combining these songs with the later stuff? Maybe... who knows?
Rosalie Allen "The Hillbilly Yodel Star Of The 1940s" (Cattle Compact)


A great reissue record that fills in a major blank in the history of women in country music. Allen was a powerful, appealing singer whose material split between novelty numbers ("Take It Back And Change It For A Boy" being a highlight...) and sentimental weepers. She's a bit like a softer version of Rose Maddox - rural but heartfelt, and a compelling performer. She hung out with Elton Britt and Zeke Manners (which may explain the upbeat nature of many of these tunes...) and while she was billed as a yodeller, this collection only has a couple of yodelling tunes. Apparently, Allen gave up recording around 1955, but this disc collects a fabulous sweep of material made from 1944-1949. Although her unvaried vocal style gets a little monotonous if you listen to the disc repeatedly, this is great in small doses, and highly recommended.
Rosalie Allen "Jealous Heart" (BACM, 2005)


A great set of classic country and yodeling/western material, drawing on two main sources. The first half of the disc is a reissue of a 1955 LP recorded with a fella named Shorty Warren, whose band, The Western Rangers, was largely a bit sluggish, but also featured amplified guitar work that show debts to Chet Atkins and Merle Travis. Allen rolls through a set of old country standards -- "Jealous Heart," "Tennessee Waltz," "Have I Told You Lately That I Love You," etc. -- and on the uptempo numbers shows the confidence and power to front a band with a big sound. Some of the arrangements get a bit trite, but others are quite robust... and of course Allen cuts loose with some fine yodeling, notably on a new version of "He Taught Me How To Yodel." The second half of the set gathers together about a dozen singles that Allen recorded for RCA between 1945-53, and also balances elements of pop vocals and straightahead country stuff, and even a stab at punchy big-band R&B, on "I Gotta Have You." One thing that came through on this set that I hadn't heard before: Allen's vocal similarities to '60s siren Skeeter Davis. Hmmmmm. Very interesting. Anyway, this is a cool collection -- for anyone looking into the history of women in country music, this is a clear must-have. (Available through the British Archive of Country Music website.)


<! 25 sides by this fine singer and top class yodeler who was known as "Queen Of the Yodelers" though only a couple of tracks here feature yodeling. The first 12 tracks are from a rare 1955 LP recorded with Shorty Warren's Western Rangers doing hits of the 40s and early 50s like he Taught Me How To Yodel/ Have You Ever Been Lonely/ When My Blue Moon Turns To Gold Again/ Your Cheatin' Heart/ I'll Keep On Loving You, etc. The remaining tracks are from singles recorded between 1945 and 1953 featuring fine vocals and varied arrangements ranging from Western to straight country to pop. Includes Castaway/ I Gotta Have You/ I'd rather Be A Cowgirl/ He Lived In Texas, She Lived In Arkansas (a duet with Billy Williams)/ I Wanna Sit, etc. Only one track duplicates Cattle 226 >
Rosalie Allen "The Queen Of The Yodellers" (Flare, 2009)

Rosalie Allen "The Versatile Rosalie Allen" (Jasmine, 2010)


One of the most dynamic country performers of the 1940s, Rosalie Allen has been the subject of several fine recent reissues. This 2-CD set is a fine collection of her work -- novelty songs, weepers, yodeling and polkas, all with the bouncy flair of the West Coast country scene. Drawn from a variety of sources, this is a great introduction to one of the pioneering female country musicians of the WWII era. Highly recommended!
Rosalie Allen & Elton Britt "Side By Side: The Duets" (Jasmine, 2010)


A whole album's worth of duets by these cowboy/girl western stars? Who knew? Allen worked with a wide variety of artists over her long career, but these two enjoyed a particularly long run together. Some of it's great, but unfortunately, a lot of it is really, really schmaltzy - spare arrangements built around a roller-rink organ, lingering, gooey melodies, etc. There are some fun songs, though, including one or two that have some actual twang to them, though mostly these are sentimental songs with a few attempts at novelty numbers... Oh! And a bunch of yodeling and polkas! Can't forget that. Anyway, I was surprised at how disappointing much of this was... This is a great archival set, but the disc itself was a bit of a chore to get through, although there are about dozen songs -- less than half the album -- that I'd say are worth listening to again. Worth checking out if you like either of these artists, but it might not really ring your bells.
Elizabeth Ames & The Countrypolitans "Anytime" (Ultrapolitan, 2007)


(Produced by Lloyd Maines & Elizabeth Ames)
This California-based artist brews up a mix of Neko Case-like twang, Bobbie Gentry-ish sunshine-countrypolitan and contemplative Rosanne Cash-y moping, anchored by some solid honkytonk picking. Didn't totally resonate for me -- a little too poetic for my tastes, and not enough clear melodic hooks. But it's solid stuff, certainly worth checking out.
Betty Amos "Yesterday's Sweetheart:" (BACM, 2009)





<! The songs selected for this compilation are all from Bettys Mercury days, with several relegating her to back-up with the Carlisles, and include a number of Amos originals. A study of studio log sheets from the Tulane Hotel, Fred Rose Studio and Owen Bradleys facility in Hillsboro Village, Nashville, indicate that whilst Betty was often featured as a vocalist on such Carlisle Brothers songs as Honey Love, Taint Nice To Talk Like That and Something Different, she was frequently called on to play guitar, such was her instrumental prowess. Track Listing: Im Just Drifting, Dont Drop It, Yesterdays Sweetheart, Jole John, Key Of Love, Why Do I Love You, Yes Mam Mamma, Cheater Cheater, Shyness, If I Were Smart, Just The Girl Next Door, My Baby Dont Love Me No More, Last Night, Gotta Have Some Lovin, The Girl That Went Wrong, I Will For You, What Would It Take, Hello To The Blues, Taint Nice To Talk Like That, Knothole, Is Dat You Myrtle, Shake A Leg, Female Hercules, If You Dont Want It (Salesman Song), Something Different, Honey Love, The Mainest Thing >

Alana Amram & The Rough Gems "Painted Lady" (Kingswood, 2010)





Alana Amram & The Rough Gems "Snow Shadows: Songs Of Vince Martin" (Kingswood, 2011)



(Produced by Mark Sebastian & Jesse Lauter)
A folkie/country set from the daughter of classical/jazz composer and Beat scenester David Amram... This album is a tribute to 1960s folkie Vince Martin, who was in the Tarriers band and also recorded with Fred Neil in the early '60s. Worth checking out if you're into introspective folk music and chamber folk/country crossovers. (For more info, here's a link to her website: alanaamram.com)


<! I don't really like her voice... >

Connie Kis Andersen "Connie Kis" (Kismana, 2011)


(Produced by Doug Wayne)
Independently released mainstream-ish country from an Australian songwriter, with a mix of uptempo singalong songs ("Turn It Up") and several slower, poppy ballads, as well as a touch of inspirational music ("Angels All Around Us," "Pearls For The World"). A solid set, though with the perceptible lack of studio-perfect bombast that you sometimes hear in records by regular folks who try to emulate the Nashville sound. I'm not wild about her vocals, but she seems like a solid, craftsmanlike songwriter...


<! She has several other albums >


Liz Anderson -- see artist discography





Lynn Anderson -- see artist discography




Jessica Andrews "Heart Shaped World" (Dreamworks, 1999)



(Produced by Byron Gallimore)

Jessica Andrews "Who I Am" (Dreamworks, 2000)



(Produced by Byron Gallimore)

Jessica Andrews "Now" (Dreamworks, 2003)



(Produced by Byron Gallimore, James Stroud & Billy Mann)

Sheila Andrews "Love Me Like A Woman" (Ovation, 1980) (LP)





<! also B003B6NS2M >

Sheila Andrews "Lovesick" (Ovation, 1980) (LP)





<! also B003B6V9PK >

Sheila Andrews "Crystal Tears" (Brylen, 1982) (LP)





Angel Band "With Roots And Wings" (Appleseed, 2008)



(Produced by Lloyd Maines)
A heartfelt, folkie effort from some gals who've recently been backing up the great acoustic bluesman, David Bromberg (who is also lead singer Nancy Josephson's happy hubby, and who plays in the backing band, along with producer Lloyd Maines.) These three-part, fine female harmonies are sung with gusto, and while I personally find the group too firmly anchored in the coffeehouse folk scene, people who are more tapped into that sound might really dig this.

Lisa Angelle "Lisa Angelle" (Dreamworks, 2000)



(Produced by Andrew Gold & Lisa Angelle)
Extremely pop-oriented material; Angelle's voice is the most interesting thing here, a husky, burnished rumble that reminds me of Rosanne Cash and Mary Chapin Carpenter. But the songs are dreadful, ranging from made-for-Oprah emotional handwringing tunes to dramatically flat, would-be "rowdy" material such as the "Daddy's Gun" and "Kiss This." The bouncy, uptempo single, "I Wear Your Love," is okay in a "Passionate Kisses" kinda way, but there's nothing else on the album that I found of equal interest.
Susan Anton "One Night" (Varese Sarabande, 2001)





<! performed with Mel Tillis, Fred Knoblock duet, 1980's "Killin' Time" hit #10 >

Any Old Time String Band "Any Old Time String Band" (Bay/Arhoolie, 1978, 1980)



This San Francisco Bay Area ensemble was one of the most charming -- and accomplished -- of the late -'70s string band revivalists. The 1996 CD reissue combines two LPs originally released in 1978 and 1980, and features their lovely version of the melodic oldie, "C-U-B-A," originally a hit for Billy Murray in 1920. The lineup changed between albums, but Kate Brislin and Sue Draheim were core members of the band, along with Genny Haley on guitar... and their sense of "old-time" music, including old-time jazz and Tin Pan Alley material, was right on the button. Very sweet and highly recommended.

Any Old Time "Ladies' Choice" (Bay Records, 1983) (LP)

Katie Armiger "Katie Armiger" (Cold River, 2007)


Susan Anton "One Night" (Varese Sarabande, 2001)


A late-career live album for singer-actress Susan Anton, who is perhaps best remembered for her 1980 pop/country hit. "Killin' Time," a duet with Fred Knoblock. Oh, and for being on Baywatch for a couple of years... and for dating Dudley Moore. (Wikipedia, I love you...!)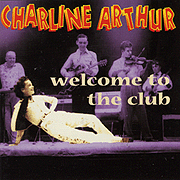 Charline Arthur "Welcome To The Party" (Bear Family, 1998)


A stellar collection of ultra-rare oldies by one of hard country's most elusive figures. Brassy, loudmouthed and a snarly, dynamic singer, Arthur demolished the traditional role of the passive, ladylike country "girl" singer. Back in the early '50s, when all the other gals were demurely performing in Kitty Wells-style gingham dresses, Arthur was wearing slacks, smoking cigarettes, and cussing Chet Atkins out in the RCA recording booth. It was probably the last habit that had the most to do with her swift fall from grace -- Arthur was dumped from the label in 1956, after having plugged away for several years without much commercial success. Admittedly, Arthur's bluesy, occasionally raunchy style was at odds with the expectations of the times, but it's a tragedy she wasn't allowed to grow as an artist -- her vocals and approach certainly prefigured the work of bluesy country/pop stylists like Patsy Cline and Brenda Lee, and (of course...) the rockabilly bop of Wanda Jackson. Notably, the singer whose voice most resembles Arthur is Skeeter Davis, who Atkins did succeed in taming -- you can hear similar attempts to soften and Nashville-ize Arthur's vocals throughout this disc. But uptempo or slowed down, Charline Arthur was a force to be reckoned with, and this CD should send a quiver through the hard country community -- check it out!
Charline Arthur "Burn That Candle" (Bear Family, 2009) (LP)

Charline Arthur/Various Artists "THE GALS OF THE BIG "D" JAMBOREE" (Dragon Street, 2001)


Fans of Charline Arthur will be psyched to hear these lives tracks, recorded onstage at the legendary Big "D" Jamboree, one of the Grand Ole Opry's old competitors... Also included are songs by Sherry Davis, Doreen Freeman, Helen Hall, The Lovett Sisters (...any relation to Lyle...?), Abbie Neal, Pat Smith and rockabilly legends Janis Martin and Wanda Jackson. Whew!!

Susan Ashton "Closer" (Capitol, 1999)


Hmmm. A contemporary Christian singer's big bid for commerical country success, after a decade-long career as a star at the top of her original niche market. Her bright, poppy sound, courtesy of veteran producer Emory Gordy, Jr., has a pleasantly dated sound, but her evangelical Christian reputation may have held her back in the charts. Most of these songs are romantically themed and secular, although the single, "Faith Of The Heart," was a bit preachy. Not bad, but not strong enough to break away from her old scene, and not religious enough to please her old fans.


<! Bill & Audry Bill Chambers & Audry Auld (Mezera) "Looking Back To See" (Reckless, 1999) B00000JB5C B000QR3QDA date(??) She has a ton of records >
Darlene Austin "Holding On" (South West, 2000)


Blech. I'm not sure but I think this is a collection of her mid-1980s singles (all minor ripples in the Back Forty...) but I suppose some of these songs could be re-recordings. Either way... bleh. Austin's more of a husky-voiced white soul sister than a true-blue country gal, a kindred spirit to Wynonna Judd and Anita Baker, with lots of bland keyboards and drum machines and very little twang. You're not missing much with this one.


<! B003K4HJ5C - old LP? >

Kay Austin "The Hit Kit" (Corral Records) (LP)





<! original single was from 1980... is this LP? > <! 06/20/10: no trace of her on Google >
Sherrie Austin "Words" (Arista, 1997)



At first glance, the chirpy, vivacious Austin seems like a breath of fresh air, but the thrill doesn't last. Her debut album opens with a twisting, Tanya Tucker-ish rebel-rock snarl ("Lucky In Love"), a mood that's somewhat sustained on the next track... And then it all goes to pot when the overly-obvious, issue-y, femme-oriented ballads kick in. Too many of those, and too many useless, distracting production touches slathered atop the uptempo tunes, which is where Austin may be at her best. Of her albums, this is probably the best, but still there's nothing on here that I'd need to come back to.
Sherrie Austin "Love In The Real World" (Arista, 1999)



Austin has a reedy, thin voice, which I guess could pass for a young Tanya Tucker or Rachel Sweet, if it weren't for her lack of ooompf in the clinch, and the generic sexy/come-on quality of the lyrics. The phony virginal lure of "Never Been Kissed" is kinda icky (and the song is really just teenieboppish bubblegum pop, worthy of Debbie Gibson, Pebbles and their ilk... ) Even a song like "Little Bird," which starts off with a promising Texas shuffle backbeat, devolves into hackneyed, blaring rock guitar riffs. And then those damn power ballads kick in! (Including one recycled from the last album... yeesh.) Austin's marginally cute, but definitely a second stringer.
Sherrie Austin "Followin' A Feelin' " (Madacy, 2001)


This disc opens with a bland cover of Dolly Parton's classic, "Jolene," then slides sideways from there. When Austin just sings, it's okay, but as soon as the songs get high-concept or take on an overly-obvious "common touch" (playing up to the harried, late-for-the-bus, working class hero inside us all...) things get kinda yawnsville. For the most part, this album just seems overly intellectualized, overly calculated and tres formulaic. Songs like "In Our Own Sweet Time" and "Back Where I Belong" function okay as glitzy '80s-ish pop, but as country...? Nope. I can't think of a single song on here, really, that caught my sincere interest.
Sherrie Austin "Streets Of Heaven" (Broken Bow, 2003)



The title track -- a shameless weeper about a little girl dying and going to heaven -- is the album's highlight. The rest of this album is pretty vapid... Embarassingly so, actually. It's like hearing the daily diary of some would-be poet in junior high put to music, with appallingly blunt, simplistic lyrics and lame turns of phrase that I'm sure she thought were the bee's knees when she first wrote 'em. And, yes, Austin (co)wrote all but one of the songs on here. So she's prolific... good for her. Too bad she's not also a little more skillful. Poppy, formulaic rock-drenched Nashville nothingness.

Axton Kincaid "Axton Kincaid" (EP) (Luster Music, 2006)
Nice, down-to-earth, twangy alt-country with a bluegrassy feel, sort of like Jim & Jennie or Freakwater -- a little more settled-down and conventional, but no less enthusiastic or lively. Nice set of original tunes, mostly written by San Francisco-based singer-guitarist Kate Howser, kicking off with a catchy honkytonk/old-timey ditty, "Who's Gonna Pour My Whiskey When You're Gone?" that sets a great pace for the rest of the record. Good, solid band with a nice grasp of country music's soulful, non-novelty side... I'm always in favor of folks who take it seriously and get things right. Lookin' forward to more from these folks! (For more info, check out the band's website at www.lustermusic.com )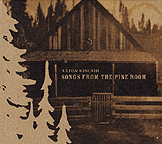 Axton Kincaid "Songs From The Pine Room" (Free Dirt, 2006)



The first full-length release from this gritty San Francisco alt-grass outfit reprises some of the songs from their earlier EP, notably "Who's Gonna Pour My Whiskey When You're Gone?", a catchy mix of honkytonk and old-timey stringband stomp, and the evocative drinkin'-and-thinkin' tune, "Red Light." The group handily fits into the contemporary altbilly scene, with a particular affinity for all those folks from the Midwest who know what it's like to drink too much, too often and really not give a damn. Freakwater and Scrawl come to mind right off the bat, but maybe that's just because the main vocalists are gals, but also because the lyrics are very downer-iffic and express a distinctly female perspective, albeit one that's rather grungey, raw, urban and hip. The remnants of the band's rock'n'roll past are readily evident, both thematically and musically -- mandolin picker Jennifer Daunt takes several searching, improvvy solos that have that choppy, rockin' feel to 'em, but while she lacks the technical rigor and formalism of mainstream bluegrassers, she makes up for it by sounding like a real, live human being, rather than just another hotshot superpicker. Flaws are one of the things that help define this band -- songwriter Kate Howser paints portraits that are often desolate and unfulfilled, but also joyful and unrepentant, a mixture of moods that is reflected in the music. In true DIY spirit, the imperfections are there, but they help you notice the sparkle of the gem underneath. (For more info, see axtonkincaid.com )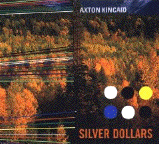 Axton Kincaid "Silver Dollars" (Free Dirt, 2008)



(Produced by Axton Kincaid & Bart Thurber)
Scrappy alt-country from the San Francisco Bay Area... Led by singer-guitarist Kate Howser, this scruffy band gallops through lively original material, rollicking songs with a wry confessional edge and a sincere appreciation for old-school honkytonk country. Just how sincere is seen in the album's closer, "I Don't Need To Wear A Hat (To Prove I'm Country)," an ardent anthem for the urban indiebilly scene... On "The Saddest Story," the band lets its rock roots show, not in loud guitar solos, but in the confident embrace of a melodic power-pop undercurrent, and, as ever, there are some finely-observed verses about drinking and flirting, big city style, sung here with perhaps a slightly lighter heart tan on their earlier album. Pretty twangy.
---
Hillbilly Fillies - Letter "B"
---