<! MP3 05/06/10 > <! outside 00/00/00 > <! pix 00/00/00 > <! icons 12/21/10 > <! updates: 00/00/00 - expand B. Fairchild 12/01/10 - Fairchild page added > <! BB: Ruby Falls The Family Brown Dawnett Faucett Donna Fargo Vicki Fletcher Joy Ford Shelley Ford Peggy Forman Sylvia Forrest Sally Foster - (fem?) w/ Hoosier Hot Shots Dolly Fox Kelly Foxton - w/ Hank Snow Brenda Frazier Micki Fuhrman Glenda Faye - bluegrass > <! FUTURE ADDS? Chelsea Field Boots Faye - female? Rita Faye "Rita Faye's Autoharp" (Capitol, 1961) (just solo autoharp?) >
---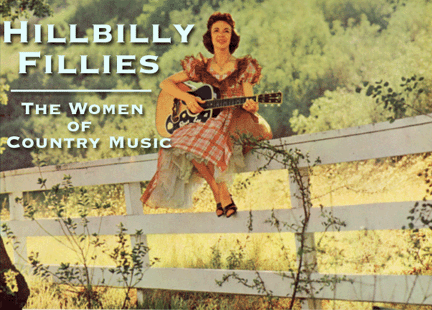 Welcome to my overview of women in country music, with reviews ranging from folk and bluegrass to honkytonk, rockabilly and Nashville pop. This is the first page covering the letter "F."
---
A | B | C | D | E | F / F-2 | G | H | I | J | K | L | M | N | O | P | Q | R | S | T | U | V | W | X, Y & Z | Comps
---
Barbara Fairchild - see artist discography
Shelly Fairchild "Ride" (Sony-Columbia, 2005)



(Produced by Buddy Cannon & Kenny Greenberg)
Blechh. In the wake of Gretchen Wilson's redneckin' breakthrough debut, Ms. Fairchild was hailed as another back-to-basics bad girl, part of a "new generation" of kickass country gals... Yeah, right. She just sounds like another warbling, overwrought wannabee soul singer to me, with bad, loud, clunky, overly-obvious, power chord-heavy musical backup. This is just bad music, and her vocals are really mannered and really irritating. Sorry, folks, but listening to this record is like having my teeth pulled by a blind tree sloth. I'm sure she'll be fabulously successful, but for an old-school country fan like me, this disc doesn't offer much that's worth revisiting.
Donna Fargo - see artist discography

Amy Farris "Anyway" (Yep Roc, 2004)



(Produced by Dave Alvin)
Fair-to-middlin' indiebilly/indie rock... There are several swell, catchy songs that start this album off, with Austin scenester Amy Farris riding a fine line between rock and twang tendencies. The country-ish stuff is the best, and while some of the more rock-oriented songs reveal some of her vocal limitations, on the whole this is a nice little record, with a cute DIY feel built around her off-kilter, mousy vocals, which bring Victoria Williams to mind, albeit with a more focussed musical vision. I've enjoyed hearing Farris in the background of many Kelly Willis records; it's a treat to hear her taking center stage at last. Sometimes producer Dave Alvin's guitar-heavy approach threatens to leave her high and dry, but for the most part this is quite nice. Definitely worth checking out.
Dawnett Faucett "Taking My Time" (Step One, 1988) <! (w/ GIF) >





<! (LP) = B000000P9S >
Boots Faye & Idaho Call "You Tried To Ruin My Name" (Binge Disc/Cattle Records)



<! 18 tracks from late 40s and early 50s by California based husband and wife duo including sides by Speedy West on steel guitar and Harold Hensley on fiddle. they also had a self-released LP on the Callfaye label: The Krawl Family (Boots Faye & Idaho Call) "Family Album" (Callfaye, 1964) (LP) >

---
Hillbilly Fillies - More Letter "F"
---