<! MP3 05/12/10 > <! outside 07/07/10 - BB with some exceptions - Stella Parton, others need to be added > <! pix 00/00/00 > <! icons 12/14/10 > <! UPDATES: 05/12/10 - need to add a Colleen Peterson disco 11/20/13 - reviewed Cheryl Poole, fixed some pix - need to finish Joyce Paul review! > <! Sandra Piller? BOB GALLION & PATTI POWELL-TOGETHER AND ALONE-B&P 4052 PRIVATE/INDIE COUNTRY LP - 1970s? Pine River Boys "With Maybelle" (Heritage Records, 1978) - Maybelle who--? Betty Price & Bill Price "Bill & Betty Price" (Rural Rhythm, 197--?) (LP) Porch Party Mamas http://www.porchpartymamas.com Sharon Kay Peabody "...And The Tibor Brothers" (Tomar Records, 1978) - from North Dakota - Kelly Pedersen and The Mesa Band - Rodeo Queen" (Maske Records, 1986) (Produced by San Guererri) from Fort Myers, Florida - year? Brenda Kay Perry "Deeper Water" (xxxxxxxxx, xxxxxx) -wild cover photo! - Diane Pfeifer "Diane Pfeifer" (xxxxxxxxx, xxxxxx) >
---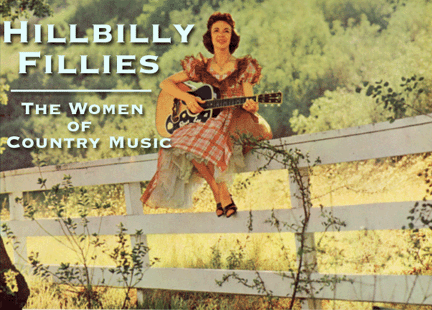 Welcome to my overview of women in country music, with reviews ranging from folk and bluegrass to honkytonk, rockabilly and Nashville pop. This is the first page covering the letter "P"
---
A | B | C | D | E | F | G | H | I | J | K | L | M | N | O | P | Q | R | S | T | U | V | W | X, Y & Z | Comps
---
Allison Paige "Send A Message" <! (xxxxxxxxxx, xxxxxxx) >

Allison Paige "Allison Paige" (Lofton Creek, 2003)

Allison Paige "End Of The World" (Lofton Creek, 2004)

Rissi Palmer "Rissi Palmer" (Mighty Loud, 2008)



A nice set of pop-country, 2000's-style, with traces of soul and perky pop woven into prefab Nashville themes. Pretty cool for an indie release, and pretty surprising that Ms. Palmer didn't go a lot further on the strength of this record. She has a very nice voice and a feel for the style -- fits right in with stuff by other gals like Martina McBride and Sara Evans... Definitely worth checking out if you enjoy that style.


<! Pamela Jean >

Caryl Mack (Parker) "Caryl Mack" (EP) (Parkworth, 1988)


A rock-oriented demo EP...
Caryl Mack (Parker) "Smoke And Mirrors" (Cascot/Rancho Divine, 1993)


Caryl Mack Parker "Caryl Mack Parker" (Magnatone, 1996)


Caryl Mack Parker "Rancho Divine" (Rancho Divine, 2008)


Lori Parker "Just Stepping Out" (GMV, 2007) <! (MP3 only) >


A nice digital-only reissue of some classic 1970s (and maybe '80s?) sunshine country. Parker was a true minor-leaguer, with a couple of singles 'way back in the back of the Back Forty, around 1977, but they were fun songs. This include all the tracks from her three singles on the short-lived Con Brio label, as well as material from other sources (anybody know where?) If you like the simpler, more innocent side of the '70s sunshine sound, this might be a real find!


<! Lori Parker '77 single(?) on Coral: B003UIV878 >
Terry Parker "Canada's Yodelling Sweetheart: Miss Terry Parker" (Banff/Rodeo Records, 196--?) (LP)


A throwback to the yodeling cowgirls of the 1930s, Canada's Terry Parker started her career in the mid-1950s and released at least two albums on the Banff label... Though perhaps not as dynamic or fluid a vocalist as Patsy Montana, she was very much in that same mold, covering Montana's "Cowboy's Sweetheart," as well as othre classics such as "If I Could Only Learn To Yodel" and "He Taught Me How To Yodel." The musicianship is strong, brisk, and twangy, though the tonal quality changes from track to track, leading me to suspect these songs might have been drawn from singles which were issued over a span of several years. At any rate, it's good stuff, particularly for fans of the good, old yodel-ay-ti-hoo.


<! - #RBS-1093 >
Terry Parker "The Yodeling Sweetheart" (Rodeo Records, 196--?) (LP)
This reissue on a US label -- an imprint of the Conversa-Phone Institute, in New York City -- is the same album as above, curiously repackaged so to omit any reference to Parker's Canadian background. The back cover includes listings for about a dozen Rodeo albums, with several other artists from up North.
Terry Parker "The Yodeling Sweetheart" (Banff/Rodeo Records, 196--?) (LP)


Just to make things even more confusing, this disc has the same title as the American edition of the album above, but totally different tracks... Go figure.


<! - #RBS-1216 >


Dolly Parton - see artist discography





Stella Parton - see artist discography





Brenda Patterson -- see artist profile



Joyce Paul "Heartaches, Laughter & Tears" (United Artists, 1968) (LP)


(Produced by Bob Montgomery & Kelson Herston)
Looks generic, but I like it!


<! 144 x 144 >

Danielle Peck "Danielle Peck" (Big Machine, 2007)






<! Produced by James Stroud? >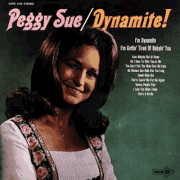 Peggy Sue "Dynamite!" (Decca, 1969) (LP)


With a strong vocal likeness to her well-known older sister, Loretta Lynn, 22-year old Peggy Sue Wells had both a leg up and a mark against her when it came to making it big in Music City. Comparisons were inevitable, and Loretta sure is a hard act to follow... Nevertheless, this is a fine album, and Peggy Sue should hardly be seen as having ridden in on her sister's coattails -- she had plenty of talent on her own. She wrote many of the songs on here, including winners such as "You Can't Pull The Wool Over My Eyes," along with several others co-written with Big Sister. One way they tried to make he sound distinctive was with the liberal use of fuzzed-out electric guitar and other mildly psychedelic instrumentation... Works for me! Of course, who could have suspected that it would be their other sister, Crystal Gayle, who would be the other big star in the family? Anyway, track this disc down if you can; if you're a fan of Loretta, then this spunky set will make your toes tap as well!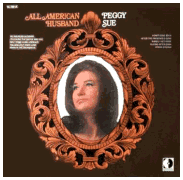 Peggy Sue "All-American Husband" (Decca, 1970) (LP)


Another cool album by this now-neglected hick music heroine... This disc has a feisty feminist bent to it, and includes Peggy Sue's version of "Don't Come Home A-Drinkin'," which she co-wrote with Loretta, along with plenty of other top-notch tunes, by brand-name songsmiths such as Hank Cochran and Joe South, as well as lesser known writers like Maxine Kelton ("Apron Strings") and Julie Ann Beisbier, who wrote the catchy, sassy title tune. Recommended -- and overdue for a digital era re-release!
Peggy Sue "I Just Came In Here" (Doorknob, 1977)

Peggy Sue & Sonny Wright "Gently Hold Me" (Big R, 1981) (LP)







Peggy Sue & Sonny Wright "One Side Of Peggy Sue" (Circle, 1982) <! '74? >



<! Peggy Sue & Sonny Wright "One Side" (CR, 1974) Peggy Sue "I Just Came In Here" (Doorknob, 1977) Peggy Sue & Sonny Wright "Gently Hold Me" (Big R, 1981) > <! audio interview >

Nancy Peppers "Life's A Bitch" (Aspirion, 2008)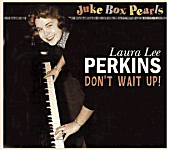 Laura Lee Perkins "Don't Wait Up" (Juke Box Pearls series) (Bear Family, 2012)


One of the shortest Bear Family CDs ever, this collects rare '50s singles from piano-plunkin' rockabilly siren Laura Lee Perkins, who was billed as a "female Jerry Lee Lewis." Her professional output totaled a mere two fiery 45s for the Imperial label, accompanied here by demo sessions and some live recordings -- 14 tracks in all. Of special note is the guitar playing of the great Joe Maphis on her studio sessions.


<! Billed at the time as the female Jerry Lee Lewis, Laura Lee Perkins was from hardbitten coal mining country, West Virginia. A neighbor gave her a piano, and she taught herself how to play. When her family moved up north, she had her big chance. A deejay near Cleveland, Ohio recognized her talent, recorded some demos, introduced her to Cleveland's legendary dee-jay, Bill Randle, who landed her a contract with IMPERIAL RECORDS. IMPERIAL flew her to Los Angeles, where she worked with Ricky Nelson's arranger, Jimmie Haskell. Nelson's drummer played on her records, as did legendary guitarist Joe Maphis. After the IMPERIAL records didn't sell, Laura Lee played clubs in Michigan, Ohio, and southern Ontario for years. Only now, in exclusive new interviews, do we get the full story of one of the original and greatest female rock 'n' roll singers. Her two IMPERIAL singles are the best and rarest female rockabilly...ever! Produced by Ricky Nelson's arranger. This set includes all the IMPERIAL recordings, rare demo discs, and some live recordings, all from the golden era of rock 'n' roll. >

Andrea Peterman "Miles To Go" (Highway W, 2007)



(Produced by John Abella)
A self-released Americana outing, from a songwriter living in LA... I'd say her voice might be better suited to introspective folkie stuff, but the uptempo country-rock arrangements she prefers are pretty solid. I'm not familiar with the guys backing her up, but they seem like good representatives of the indie-billy pickers in LA at the time...
Gretchen Peters "The Secret Of Life" (Imprint, 1996)






<! songwriter for Martina McBride >

Gretchen Peters "Gretchen Peters" (Scarlet Letter, 2001)


Gretchen Peters "Halcyon" (Scarlet Letter, 2004)


Gretchen Peters "Trio: Recorded Live" (Scarlet Letter, 2006)


Gretchen Peters "Burnt Toast And Offerings" (Thirty Tigers, 2007)


Gretchen Peters "Northern Lights" (Scarlet Letter, 2008)


Gretchen Peters & Tom Russell "One To The Heart, One To The Head" (Scarlet Letter, 2009)


Gretchen Peters "Circus Girl" (101 Distribution, 2009)

Colleen Peterson - see artist discography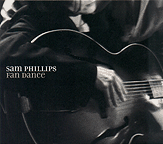 Sam Phillips "Fan Dance" (Nonesuch, 2001)



Not alt.country, per se, but still such a great album it'd be a shame to pass it by. For many a month, this was one of my favorite albums, full of captivating tunes and odd, evocative lyrics. Phillips has long been something of and indie inbetweener, too rootsy for a mainstream breakthrough, and too mainstream to be fully embraced by the indie hipoisie... The production on this mainly-acoustic album -- steered, as ever, by her hubby, T-Bone Burnett -- is slick and mellow, but inviting. Orchestral pop pioneer Van Dyke Parks pitches in, as well as Tom Waits' erstwhile guitarist, Marc Ribot, who lends a recognizably Kurt Weill-ish twist to several tunes. This is Phillips' first album in five years, and while she seems to have missed the "Alice" style of femme-centric Top 40 programming, she certainly has my attention. This is an album packed with songs you could fall in love with. Mature, mysterious, enchanting rootsy modern music.
Kellie Pickler "Small Town Girl" (BNA, 2006)



Kellie Pickler "Kellie Pickler" (BNA, 2008)



The second album by former American Idol contestant Kellie Pickler. The opening tracks, including the hit, "Don't You Know You're Beautiful" are pure, '90s-style pop -- calling them "country" seems kind of silly, but hey, nobody asked me. Pickler puts some twang in her voice and brings in a bit of fiddle'n'steel for the next few tunes, and projects an amiable presence. Not a lot here that I'd go wild over -- mostly prefab country-pop, with laboratory-tested melodic hooks, grandiose key changes galore and goofy, synthy filligrees that make it all seem so sterile. Still, Pickler is comfortable with the setting, much more so than on bluesy, thumpy "bad girl" anthems like "Lucky Girl," territory that's better left to folks like Gretchen Wilson or Carlene Carter. If you're a Pickler fan, you won't be disappointed; if you prefer Waylon, Loretta or Hank, you might wanna give this a pass.
Kellie Pickler "100 Proof" (BNA/19 Recordings, 2012)


Celinda Pink "Victimized" (Step One, 1993)

Celinda Pink "Unchained" (Step One, 1995)


Pistol Annies "Hell On Heels" (Columbia, 2011)



(Produced by Frank Liddell, Mike Wrucke & Glenn Worf)
A twangy, bouncy, boisterous set from country superstar Miranda Lambert and a couple of her pals, Ashley Monroe and Angaleena Presley, two singers who have been kicking around in the Nashville studios for the past few years. The trio has a nice sound, with plenty of sweet harmonies woven into their sassy, bad-girl vibe... I imagine this side-project is a big relief for Ms. Lambert, who's always peppered her albums with rowdy songs, but must be under a lot of pressure to make her own records more salable and formula-driven: you'd never hear this much cussing on a Top 40 station, but here she can cut loose and have a little fun. We can, too, singing along to songs like "Takin' Pills," "Lemon Drop" and "Trailer For Rent." Pretty fun stuff! A nice surprise from Nashville, for sure.
Pistol Annies "Annie Up" (Sony Nashville, 2013)

Hell, yeah! Bad girls make good country... I have to admit, Miranda Lambert kind of lost me on her most recent, rock-tinged album, but her Pistol Annies bandmate Ashley Monroe just came out with one of the sweetest, traditional-sounding (Dolly Parton-esque) country albums of the years, so I am all on board with Annies album #2. Bring it on!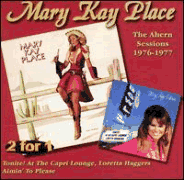 Mary Kay Place "The Ahern Sessions: 1976-1977" (Raven, 2001)


A welcome twofer reissue combining two albums recorded by actress Mary Kay Place during her tenure as the TV character Loretta Haggers, on the fabled Mary Hartman, Mary Hartman soap comedy, 1976's Tonite! At the Capri Lounge Loretta Haggers and Aimin' to Please from 1977. Ms. Place -- or should I say Ms. Haggers? -- had an A-list studio crew backing her up, including members of Emmylou Harris's Hot Band and numerous Nashville heavyweights, with sonic sculpting by Emmylou's best producer, Brian Ahern. The overall sound will be pretty familiar to Emmylou's fans: spacious, round-toned harmonies, rock-friendly twang, traditional honkytonk instruments in a well-defined soundscape, and plenty of sweet picking from the likes of James Burton, Albert Lee and Rodney Crowell, and guest singers that include Emmylou Harris, Dolly Parton and Willie Nelson. Some of the songs are better than others: I think they really hit their rhythm on the second album, taking things a little more seriously in some ways than on the first... Highlights include "Vitamin L" (a staple on the Mary Hartman show), a funky cover of Bobby Braddock's "Something To Brag About" and a sublime version of "You Can't Go to Heaven (If You Don't Have a Good Time)," which is probably the best and most sincere song of the set. If you like that whole Hot Band/Happy Sack production style, you'll want to check this one out!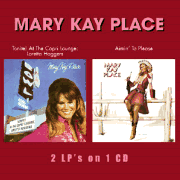 Mary Kay Place "Tonite! At The Capri Lounge/Aimin' To Please" (Wounded Bird, 2011)


An equally welcome re-re-reissue of the same two albums... Ride 'em cowgirl!
Mary Kay Place "Almost Grown" (Wounded Bird, 2011)


There's also an unreleased third album... Haven't heard this one, but I'm eager to check it out! I'll letcha know when I track it down.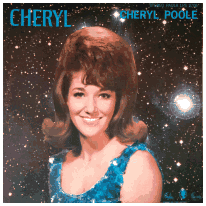 Cheryl Poole "Cheryl" (Paula, 1969)


(Produced by Buddy Killen & Don Logan)
I hadn't really thought of the pop-oriented Paula label as being a haven for country music, but it turns out they had quite a nifty roster in the late '60s, including artists such as Mickey Gilley, Nat Stuckey, and this gal from Tyler, Texas. This proved to be her only album, but it sure was a doozy! Fllowing a stint as a teen singer on the Louisiana Hayride, Ms. Poole released a handful of singles dating back to 1966, and with the success of "Three Playing Love," a minor hit that eked its way into the Top 40, she was given the chance to record this groovy, upbeat little album. Musically, it's a nice mix of punchy, Loretta Lynn-style honkytonk and slightly more gogo-delic pop-country, along the same lines as some of Jeannie C. Riley's more rock-oriented material; there's even a mild foreshadowing of Tanya Tucker's sassy-soulful sound in her vocals... all in all, a pretty alluring combination for folks digging into hillbilly fillies history. Poole wrote about half the songs on here (with several of her tunes being selected as singles) and also covers a few classics, tunes like "Kansas City" and Hank Williams' "I'm So Lonesome I Could Cry." Also worth noting is "The Skin's Getting Closer To The Bone," a rare composition credited to steel guitarist Weldon Myrick, one of Nashville's most prolific session players -- there aren't any musician credits on here, but I'm guessing that also meant he was on this album. I dunno if Cheryl Poole's career really merits a best-of collection, although I sure would love to hear one, especially if it included all her non-album singles... Anyway, if you get a chance to check this one out, you should definitely go for it.


<! Cheryl Poole was a country singer from Tyler, Texas. Her first single, "Every Chance You Get"/"Throwing in the Crying Towel" [Paula 251], released in 1966, was not particularly successful, but she pressed on. After three more non-charting singles, she finally scored with the first of four country chart hits, "Three Playing Love" [Paula 309], which reached #39 in 1968. It was about this time that Stan Lewis decided to start a country music series, so he switched the country artists to the Paula 1200 series. Poole's three other hits were "The Skin's Gettin' Closer to the Bone" [Paula 1207, #70, 1969], "Walk Among the People" [Paula 1214, #57, 1969], and Everybody's Gotta Hurt" [Paula 1219, #70, 1970]. Paula also issued an album by Cheryl Poole, called Cheryl [Paula LPS 2205] in 1969. >

Porter Hall, Tennessee "Welcome To..." (Slewfoot, 2002)



Although these fellow traffic in the sort of white trash stereotypes that normally drive me buggy (songs about one drinkin,' druggin,' drawlin' foul-up after another...) I have to admit they have the instrumental ooompf to pull it off... mostly, that is. Singer Molly Conley has a major Lucinda Williams jones, which isn't necessarily a bad thing, but it is a bit overplayed... She trades off and occasionally duets with the band's other singer-songwriter, Gary Roadarmel, and overall, this is pretty darn good, at least for the Bloodshot-ish "insurgent country" style. Worth checking out if you like them sassy, rockers-go-urban hick types.


<! 130 x 130 >
Porter Hall, Tennessee "All Sinners Welcome Here" (Big Bender, 2007)


Prescott-Brown "Already Restless" (Sony, 1994)


A country trio singer Tracey Brown and her brother Barry Brown (both originally from the popular Canadian family band, The Family Brown, whose popularity peaked in the 1970s and '80s) and Tracey Brown's husband Randall Prescott. Tracey Brown also recorded a couple of solo albums after this group broke up.
Maryann Price "Etched In Swing" (Watermelon, 1993)


A former vocalist with the Dan Hicks backup band, The Hot Licks, in a solo album with Hicks sitting in on one song.
Maryann Price "Hot 'N' Cole" (BAM, 1997)


A live show, recorded at the Cactus Cafe, in Austin, TX.
Maryann Price "Jazzland" (Catfish Jazz, 2000)





<! some others, including a Christmas EP: B000034DC1 Texas Redemptors "Milagros" (Catfish Jazz, 2000) B000JI7FYM Led by folklorist, record producer, musician, and substance abuse counselor Tary Owens, Texas Redemptors is a band the longtime local musician helped start after he was hit with a perfect storm of infirmity: Hepatitis C, Parkinson's disease, and diabetes. The band's moniker comes from the support the Austin musical community -- to whom Owens has contributed so much -- has continually shown Owens during his medical troubles. Like Owens' previous work, Milagros features a wealth of guests: Angela Strehli, Paul Ray, W.C. Clark, Derek O'Brien, Mike Mordecai, and Papa Mali. The 14 easy-tempo-ed tunes are self-described as "greasy down-home all-original Texas roots music." Original, if you don't count covers like opener "How Do You Mend a Broken Heart?" The key of "I Wanna C U Dance" stretches the vocalists' range a bit too far, and there are a few bent notes in "Lonesome Railroad." Yet for each of these missteps, there are select cuts like "Ragged but Right" and a tune that should be a new Texas anthem, "Double Cross Shuffle." Owens and Maryann Price's husband-wife take on Hoagy Carmichael's "Old Rockin' Chair" is another sure highlight, while Orange Jefferson's vox and harp join Owens' acoustic guitar in a fine rendition of Lightin' Hopkins' "Mista Charlie." Milagros isn't only a testament to the miracle of Austin's close knit musical community, but also the power of music to heal. Or as "Redemption," the closing track preaches, "let the music sooth your aching soul." BY DAVID LYNCH -austinchronicle >

Princess Ramona "On The Wings Of A Dove" (Award Records, 19--?) (LP)


(Produced by Biff Collie)
This is the first LP from singer Ramona Kemp, the daughter of a Cherokee tribal leader from Oklahoma, and a darn good yodeler. Flambuoyantly decked out in buckskin, feathers and beads, she played up her Native American heritage and was best known by her stage name, Princess Ramona, and made her recording debut in the early 1960s, releasing a couple of singles produced by her husband, Buddy Kemp. While she started out singing straight country and pop vocals, she shifted decisively into an all-gospel mode later in her career. Although this is considered her secular album, there's gospel material on here as well -- the secular tracks include Elton Britt's "Chime Bells" and (of course) "Indian Love Call." There are a couple of songs written by Buddy Kemp, "Let's Go Back" and "The Mountain" -- he also claims arranger credits on several other tracks. Unfortunately, Princess Ramona's career is often viewed through the irony-tinted lens of hipster record collectors to whom the catnippy combination of gospel music, yodeling and her exaggerated Native American image prove too great to resist. But she was a pretty good singer, and fans of yodeling music, in particular, might want to check her out.


<! - #AW-2312 - The album's producer was country deejay Hiram "Biff" Collie >

Princess Ramona "Wait A Little Longer Please, Jesus" (Award Records, 19--?) (LP)



<! - #AW-5003 >

Princess Ramona & Buddy Kemp "Talk About Jesus" (Award Records, 197--?) (LP)
The liner notes on this early-Seventies album describe how Mrs. Kemp had a born-again religious conversion while working gigs in Southern California, and how Buddy Kemp sold his camping supply business, customized the large mobile home pictured on the cover, and how the couple set out to proselytize across the country and abroad. The album has a mailing address in Trail, Oregon, but apparently during this period, the Kemps were living out of their RV so they could engage in a musical ministry. Sure sounds hard!



<! - #AW-5005 >

Princess Ramona "Yodeling Praises Unto the Lord" (Award Records, 197--?) (LP)
Speaking of their mobile home, the Gospel Express, the Kemp's literally sing its praises in "This Motor Home Is In God's Hands," which is the album's closing number... Also featured are "God Put A Yodel In My Heart," "Jesus Put A Yodel In My Soul," and "Then I Started To Yodel," as well as "My Lord, My God, My King," which features a backing chorus by the Jordanaires... Also appearing on this album is harmony vocalist Laverna Moore, one of Nashville's more notable professional backup singers.


<! - #AL-5011 - arranged by – Jack Eubanks >

Rachel Proctor "Where I Belong" (BMG-BNA, 2004)



(Produced by Chris Lindsey)
Her first album was a long time in coming -- a couple of poorly-performing singles were floated the year before, and then she finally struck gold with "Me And Emily," a divorced-mommy tableau that I found a little depressing, but which pulled Proctor up into the Top 20. So, the record finally came out, and the good news is that there are some pretty nice songs on here, sandwiched in between the glossy would-be Martina McBride type numbers. I liked the more traditional-sounding, upbeat tunes, songs like "Shame On Me" and "I'm Gonna Get You Back," which have a Tanya Tucker-ish sassiness. The ballads, packed with tinkly pianos and smothering schmaltziness, are pretty insufferable... I mean, really, a song like "If That Chair Could Talk" is just so absurdly belabored and contrived... But y'know... no one asks me about stuff like that before they put it on their album... Anyway, this is a mixed bag -- Proctor's not a great singer, by any measure, but she does have an appealing quality that may do her in good stead over the years to come. Nice, too, that she wrote about half the songs on here... I wish her all the best!

Rachel Proctor "Where I Belong" (Self-Released, 2007)


Rachel Proctor "What Didn't Kill Me" (Self-Released, 2009)


Jeanne Pruett - see artist discography
---
Hillbilly Fillies - Letter "Q"
---