<! cd=10-01-03> <! MP3 05/05/14 - added/updated LP and MP3 ASINs > <! outside 00/00/00 > <! pix 00/00/00 > <! 208-pix: 00/00/00 > <! icons 03/14/11 > <! UPDATES: 04/23/09 05/05/14 - changed URLs to last-first-numeral, updated links on Dolly pages >
---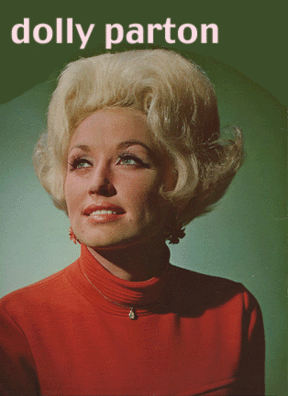 Dolly Parton is that rare bird, a commercial country superstar who never lost her hillbilly cred. Dolly started out her career in the late '60s, emerging as the "girl" singer in the Porter Wagoner show, after taking the role over when Norma Jean and Porter parted ways. Although she countinued to record prolifically with Porter up until the mid-1970s, Dolly quickly launched a parallel solo career that eventually landed her in the stratosphere. Although she was seen as a hallmark of rural authenticity, Parton was quite comfortable experimenting with countrypolitan and country-pop, perhaps the difference between her and many of her more leaden Nashville contemporaries was that Dolly was just better at it -- more heartfelt, a stronger performer -- and even when she tackled lofty material, she made it sound like good old-fashioned roots music. A prolific songwriter, Parton also moved into movie acting in the late 1970s, cementing her status as one of the world's best-known celebrities. In recent years, Dolly has gone back to a rootsier style, exploring bluegrass, and winning over a new generation of "Americana" fans.
Here's a quick look at Dolly's discography... This will actually take a while for me to flesh out, as I go through my old LPs and pick some new ones up... So bear with me!
---
Dolly Parton Discography: 1960s-1979 | 1980-Now | Best-Ofs & Links
---
Dolly Parton "Hello, I'm Dolly" (Monument, 1967) (LP)

Dolly Parton "The Monument Sessions" (Lost Gold, 2005)


Dolly's earliest solo work in Nashville... in a handy download-only package. Yeah, I'd prefer a CD version, too, but it's still nice to see this stuff in print again, in some version. Includes her song "Leave Me Tomorrow," which she'd earlier recorded with Bill Phillips, and of course, the classic "Dumb Blonde." Lots of country twang and slow, mopey pedal steel, a dash of girl-groupish pop ("Busy Signal," and others...) and even some R&B-ish rock (on "What Do You Think About Loving?") Nice stuff!
Dolly Parton & Porter Wagoner "Just Between You And Me" (RCA, 1968) (LP)


(Produced by Bob Ferguson)
Wow. What a killer album. Dolly's debut as Porter's protege is a real slam-bang, slam-dunk country gem. Everything that made these guys such a great duo is here, and is about as good as it ever got -- moralistic songs about swingers and cheaters, love-drunk young couples and broken-down drunks whose children have to avoid them in the streets... God, it's great! Both singers share a passion for cornball and sentimental material, but they enjoy it so much they make it come alive... These performances are committed and sincere, and the songs are all great. Really, it's silly to pick out favorite tracks -- this is an album that screams out to be reissued in its entirety -- but a few tracks that might reach out and pluck your heartstrings include "Sorrow's Tearing Down The House (That Happiness Once Built)," "This Time Has Gotta Be Our Last Time," and the harrowing title track, which is as fine a heartsong as you'll ever hear. Then there are the novelty songs, such as "Home Is where The Hurt Is," "Four O Thirty Three," and the delicious dual recitation on "Mommie, Ain't That Daddy." Capping the album off with a sorrowful stunner like "Put It Off Until Tomorrow" is just icing on the cake: if you see this album, snap it up. It's Porter and Dolly at their very best.
Dolly Parton "Just Because I'm A Woman" (RCA, 1968)



Dolly's delicious solo debut on the RCA label is a swell slice of Wagoner-style country, with the studio slickers backing her up (Hargus Robbins, Junior Huskey, Lloyd Green, et al.) playing in a style pretty similar to what you'd hear on a Porter album. The title track is a Parton original, as are the perkier "You're Gonna Be Sorry" and "I'll Oilwells Love You"; her uncle Bill Owens contributes a few nice tunes as well, and on cheatin' weepers like Harlan Howard's "I Wish I Felt This Way At Home," Dolly oozes erotic power. She shows a penchant for the boss man's warped sense of humor, on tunes like her own Gothic weeper, "The Bridge," which is sort of the "Ode To Billie Joe" in reverse, and "The Only Way Out (Is To Walk Over Me)," which takes the idea of the so-called emotional doormat song and makes it quite literal. Dolly was clearly a force to be reckoned with: she could play it straight, silly, or totally over the top, yet still bring every song home with complete conviction and believability. If you get the chance to pick this disc up, go for it: it's totally worth it to hear the non-hit album tracks, and the new CD reissue also adds a couple of live performances from 1970, just for good measure. Recommended!
Dolly Parton & Porter Wagoner "Just The Two Of Us" (RCA, 1968) (LP)

Dolly Parton "In The Good Old Days" (RCA, 1969) (LP)

Dolly Parton & Porter Wagoner "Always, Always" (RCA, 1969)


(Produced by Bob Ferguson)
Standard-issue Porter'n'Dolly material... A bit sleepy, but admirably hicked-out, and undeniably rooted in for-real hillbilly past. They kick things off with a milky cover of "Milwaukee, Here I Come" and cover oldies like Wayne Raney's "Haul Off And Love Me" and the Louvin Brothers gem, "I Don't Believe You've Met My Baby," as well as several sentimental heartsongs and religious tunes, including a bunch of songs from rather obscure composers. It's also worth noting that one of the members of Porter's band at the time was George McCormack, once a fine hillbilly star in his own right. Overall, the production on this set is kind of sleepy, but it's still great material... If you can get on their wavelength, these two were tops. Highlights include "Good As Gold" and "My Hands Are Tied," both from Side Two.
Dolly Parton "My Blue Ridge Mountain Boy" (RCA, 1969) (MP3)

Dolly Parton "The Fairest Of Them All" (RCA, 1970) (MP3)

Dolly Parton & Porter Wagoner "Porter Wayne And Dolly Rebecca" (RCA, 1970) (LP)

Dolly Parton "As Long As I Love" (Monument, 1970) (LP)

Dolly Parton "A Real Live Dolly" (RCA, 1970)


Dolly Parton & Porter Wagoner "Once More" (RCA, 1970) (LP)

Dolly Parton "Golden Streets Of Glory" (RCA, 1971)


A country gospel offering -- her first full gospel record... and another great early album!
Dolly Parton & Porter Wagoner "Two Of A Kind" (RCA, 1971)*



(Produced by Bob Ferguson)

Dolly Parton "Joshua" (RCA, 1971)*

Dolly Parton "Coat Of Many Colors" (RCA, 1971)



(Produced by Bob Ferguson)
A career breakthrough which brought Dolly wide renown as a serious songwriter, this didn't have many big hits, but it did have some big surprises. The autobiographical title tune is a classic Partonesque tearjerker about growing up in poverty; the rest of Side One continues on in a vigorous country vein, including a few sexually salty tunes such as "She Never Met A Man (She Didn't Like) and the more forceful "If I Lose My Mind," which deals with sexual and psychological abuse within a marriage ( "He forced me to watch/While he made love/To another woman/And tried to force me/to make love to another man..." And to think, how people got all shocked by Loretta Lynn just singing about the pill!) Side Two gets into more expansive, soul- and gospel-tinged sunshine country; more innovative perhaps, and an interesting document of its time, but less satisfying to hum along to. The album closes with the peace'n'love anthem, "A Better Place To Live," which doesn't quite hit the "Put You Hand In The Hand" heights that Dolly was aiming for, but is still a cute hippie-era relic. An interesting album with several forgotten tunes that are real doozies! (Note: Sony-BMG's 2007 CD reissue includes a quartet of outstanding bonus tracks, including the smoky country ballads, "My Heart Started Breaking" and "The Tender Touch Of Love." Great stuff!)
Dolly Parton & Porter Wagoner "The Right Combination/Burning The Midnight Oil" (RCA, 1972) (LP)

Dolly Parton "Touch Your Woman" (RCA, 1972) (LP)

Dolly Parton & Porter Wagoner "Together Always" (RCA, 1972) (LP)

Dolly Parton "My Favorite Songwriter: Porter Wagoner" (RCA, 1972)*

Dolly Parton & Porter Wagoner "We Found It" (RCA, 1973) (LP)

Dolly Parton "My Tennessee Mountain Home" (RCA, 1973)



(Produced by Bob Ferguson)
A shamelessly sentimental nostalgia trip, a Dolly-riffic concept album that cements her bona fides as a backwoods icon... She kicks things off with "Letter," a recitation of a letter she says she sent to the folks back home when she headed off for Nashville. From there on out, it's one wistful ode after another, sung in praise of the simple rural ways and half-forgotten days of yore: "Old Black Kettle," about cooking on a woodburning stove, "I Remember" about growing up a country kid, along with some songs about Daddy, country doctors, field work and waking up before dawn... and about a half dozen songs about "home." A couple of songs are a little overdone ("Wrong Direction Home," for example), but the album is still surprisingly effective, even with the corny premise... (Or, more likely, because of it!) No big hits here -- the title track has endured as one of Dolly's best-beloved songs -- but plenty of fine tunes, and swell Dolly vocals. Recommended! (Note: the 2007 CD reissue includes a bonus track, the gospel tune, "Sacred Memories," which was originally recorded in the same sessions as the rest of the record. Yummy.)
Dolly Parton & Porter Wagoner "Love And Music" (RCA, 1973) (LP)


(Produced by Bob Ferguson)
Honestly, this isn't one of their greatest collaborations... It starts out a little peppy, but quickly tilts towards slurpy sentimentalism, which is fine, except they seem mostly to just be going through the motions, and the performances are fairly lackluster. There's a big cornball recitation towards the end ("I Get Loensome By Myself," where a dispossesed daddy reunites with his long-lost daughter, who in turn laments how her mother's heavy drinking has made life a little less than perfect. It's over the top, but again, the performance lacks real conviction.
Dolly Parton "Bubbling Over" (RCA, 1973) (LP)


(Produced by Bob Ferguson)
For twangfans, this one's a gem... It opens with the title track, a super-bouncy twang tune with brash, bold Jerry Reed-style guitars, and Dolly crashing through the lyrics with great gusto. The next song, "Travelling Man," follows in the same vein, as does much of Side One. Side Two slows down a bit and peters out by the end, but overall this disc is packed with goodies that never make it onto the best-of collections. There was only one minor hit on here -- the rest of it is all stuff that the label seems to have forgotten all about. Oh well. I'm sure they'll rediscover it eventually... in the meantime, I'll enjoy my old vinyl copy!
Dolly Parton "Mine" (RCA-Camden, 1973) (LP)

Dolly Parton "Jolene" (RCA, 1974)



(Produced by Bob Ferguson)
Man, she's good. This album had two #1 hits -- "Jolene" and "I Will Always Love You" -- and apparently the folks at the label thought that was plenty; no other singles were released. But, as with all of Dolly's albums, that just means there's a bunch of other stuff on there that'll knock your socks off, if you're willing to dig a little. This is a great record, from start to finish, with strong, rich arrangements and plenty of fine original compositions. The singles were the best picks for radio hits, but the whole album is a true country treasure. Favorite songs include the heartwrenching weepers, "When Someone Wants To Leave" and "Lonely Coming Down," country shuffles like "Living Memories Of You" and more esoteric material, like the mystical, deistic "Early Morning Breeze." Plus, jeez: "Jolene." Greatest song ever written. This is a super-solid record, with Dolly at the peak of her power, confidently riding astride some of the best, most tastefully produced studio work coming out of Nashville at the time. Highly recommended! (Note: the 2007 CD reissue includes four bonus tracks, including stunners such as "Barbara On Your Mind" and "Another Woman's Son," as well as the puppy-love nostalgia trip, "Crackerjack" and the ribald "Last Night's Lovin'," where Dolly lets us all know why she has that big, old grin on her face all day long... Whew! Is it just me, or is it a little warm in here?)
Dolly Parton & Porter Wagoner "Porter 'N' Dolly" (RCA, 1974) (LP)


(Produced by Bob Ferguson)
A lovely album, although it's not necessarily packed with memorable tunes... Side One is rhythmic and uptempo and, as was often the case on Dolly's old albums, Side Two is mellower and more sedate. The songwriting credits are evenly split between Porter and Dolly, though she writes some of the best material on here. Highlights include the sweetly sentimental "Together You And I" and "We'd Have To Be Crazy," a Dolly song with a catchy chorus but little else -- the charm of the track is that the duet partners crack each other up in extended studio chatter, and let their affable personalities -- and their shared personal chemistry -- come through in a wonderfully direct way. The album's opener, "Please Don't Stop Loving Me," was a #1 hit, but other than that, these are all songs that have long been forgotten by the powers that be... So if you're looking for lost treasure, this is yet another fine record for you to track down.
Dolly Parton "Love Is Like A Butterfly" (RCA, 1974) (MP3)

Dolly Parton "The Bargain Store" (RCA, 1975) (MP3)


(Produced by Bob Ferguson & Porter Wagoner)
Side One of this album has a poppy, sometimes funky bounce, but on Side Two, she slows things to a sedate, syrupy crawl. Certainly one of her sappiest albums, packed with songs like "I Want To Be What You Need," "You'll Always Be Special To Me," and the title track, all of which seem solely designed to appeal to male sexual vanity. Then again, there's also "Kentucky Gambler" and "He Would Know," one of her best cheatin' songs ever -- she doesn't cheat, actually, but only because her puppydog hubby waiting at home knows her moods so well, that he would know. This isn't Dolly's best album, but obviously it's gonna have some great stuff on it anyway.
Dolly Parton & Porter Wagoner "Say Forever You'll Be Mine" (RCA, 1975) (LP)

Dolly Parton "The Seeker & We Used To" (RCA, 1975) (LP)


(Produced by Porter Wagoner)
Most of these tunes are a bit lackluster; Porter Wagoner's slow, sentimental production style makes them sound a lot alike, and Dolly seems to be sleepwalking her way through most of the vocals... it's not her most inspired album. Still, there are some nice songs -- the dual title tracks are both pretty good, with "We Used To" standing out as one of her most resonant emotional ballads. Worth checking out for the tunes that never make it onto any of Dolly's best-of collections.
Dolly Parton "All I Can Do" (RCA, 1976)



(Produced by Dolly Parton & Porter Wagoner)
A fairly experimental album, opening with the title track, which has an overt gospel feel and a more subtle disco influence under the surface... Funky rhythm and guitar (Nashville style) suffuse several other tracks, and in general there seems to be a move to widen her sound up a bit and accomodate a more modern pop style (which, sure enough, she would do later on...) Dolly makes a nod towards her budding friendship with up-and-comer Emmylou Harris by covering Emmylou's tribute to Gram Parsons, "Boulder To Birmingham." (Dolly's overwrought version suffers by comparison, but, hey... it's the thought that counts...) Other than a lone Merle Haggard cover, the rest of the songs on the album are all Dolly originals. Nice!
Dolly Parton "New Harvest - First Gathering" (RCA, 1977)


Dolly Parton "Here You Come Again" (RCA, 1978)

Dolly Parton "Heartbreaker" (RCA, 1979)



Man, when Dolly goes pop, she really goes pop... Following her success with the perky, brainless 1977 single "Here You Come Again," Dolly let her producers go hog-wild and delve deep into the disco sound of the times... and delve deep they do! On first listen you may recoil in abject horror -- omigod! what was she thinking? -- but Dolly may surprise you by drawing you into her web, even despite your best objections... She does have that way about her. Still, this is a pretty scary album, the beginning of the end, some would say...
Dolly Parton "Great Balls Of Fire" (RCA, 1979)


---
Dolly Parton Discography: 1960s-1979 | 1980-Now | Best-Ofs & Links
---
---