<! MP3 04/23/09 > <! outside 00/00/00 > <! pix 00/00/00 > <! 208-pix: 00/00/00 > <! icons 03/14/11 > <! UPDATES: 04/23/09 05/05/14 - changed URLs to last-first-numeral, updated links on Dolly pages >
---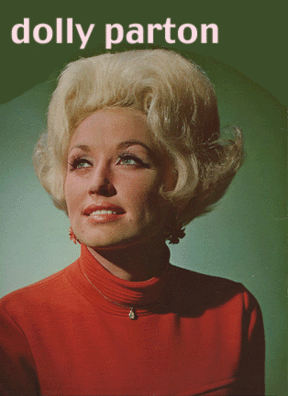 This is the second page of a Dolly Parton discography... This page reviews her records from 1980 'til now... It may take me a while to flesh this section out and to track down some of the records I don't already have... But bear with me; I hope to fill in the blanks soon!
---
Dolly Parton Discography: 1960s-1979 | 1980-Now | Best-Ofs, Tributes & Links
---
Dolly Parton "Dolly, Dolly, Dolly" (RCA, 1980)


Dolly Parton & Porter Wagoner "Porter & Dolly" (RCA, 1980)

Dolly Parton "9 To 5 (And Odd Jobs)" (RCA, 1980)


Dolly Parton "9 To 5 And Odd Jobs (Expanded Edition)" (Sony-BMG Legacy, 1980/2009)



(Produced by Gregg Perry & Mike Post)
Re-released in time to coincide with the opening of the Broadway adaptation of the "9 To 5" film, this expanded album is one of Parton's most resolutely "pop" records, a product of the transition between the lingering power of the disco era and the up-and-coming 1980s synth sound. Dolly was always open to modern pop production and crossover arrangements, as seen in a slew of mid-'70s countrypolitan recordings. This disc was a beast of a different nature, though, where the pop-rock vibe was given free reign. A cover song, "But You Know I Love You" hit #1 on the charts, and the title track was, of course, one of the biggest hits of the 'Eighties, and remains one of those great Pavlovian pop songs, like "Brick House," that just makes people burst into pure nostalgic joy. This expanded edition has a few modest bonus tracks, including a club remix of "9 To 5" and (even better yet!) a karaoke version that has the original backing tracks, stripped down and ready for your next party. There's also an intriguing cover version of Sly & The Family Stone's "Everyday People" that apparently has been shelved for the last couple of decades. Also of interest is her cover of Woodie Guthrie's "Deportees," an interesting diversion into socially conscious material (along with the feminist-populist "9 To 5") that stands out amid the glossy bombast of the rest of the album.
Dolly Parton "Heartbreak Express" (RCA, 1982)

Dolly Parton/Various Artists "Best Little Whorehouse In Texas" (Soundtrack) (MCA, 1982)


Dolly Parton "Burlap And Satin" (RCA, 1983)


Dolly Parton "The Great Pretender" (RCA, 1984)

Dolly Parton/Various Artists "Rhinestone" (Soundtrack) (RCA, 1984)


With co-star Sylvester Stallone... yikes!!
Dolly Parton & Kenny Rogers "Once Upon A Christmas" (RCA, 1984)


Double yikes! It's Dolly and Kenny, back in the days when they were singing hit duets like "Islands In The Sun," spreading the yuletide joy on a CBS-TV special called "A Christmas To Remember," in which Kenny wears suspenders, Dolly puts on granny glasses, and presents are shared. The music is surprisingly strong up until the end of the album, where a pair of horrible, slushy, over-arranged pop numbers, but at the start of the album, there's some sleek pop-country with a thumping beat that's as good as any of their chart singles... The opening numbers, like "I Believe In Santa Claus," are actually pretty fun. Definitely worth checking out, although it is kind of a mixed bag.
Dolly Parton "Real Love" (RCA, 1985)


Dolly Parton "Think About Love" (RCA, 1986)


Dolly Parton/Linda Ronstadt/Emmylou Harris "Trio" (Warner, 1987)



Dolly, Linda and Emmylou had been palling around with each other for years before they made this album, singing backup for one another on various albums throughout the '70s, and horsing around in the studio for a while. Here they set out to formalize the arrangement, and the result sure was nice. Yeah, in the aggregate I guess it is a bit syrupy, but in a sense that's kind of the point. When they hit their mark, though, it's pretty darn nice.
Dolly Parton "Rainbow" (CBS, 1987)


Dolly Parton "White Limozeen" (CBS, 1989)



(Produced by Ricky Skaggs)
One of Dolly's most vigorous later albums... Ricky Skaggs produced the album, and unless my ears are mistaken, it sounds like they may have used several of his cohorts (notably the lead guitar, which sounds like Albert Lee, and the pedal steel, which sounds a lot like the guy in Ricky's country band of the time...) Anyway, the material is pretty strong, easily appealing to fans of both her earthier, rootsy side, and of her slicker country-pop side. The title track is kind of tacky, and a song or three are kinda goopy, but other than that, this is pretty good. Her jaunty duet with Mac Davis ("Wait'll I Get You Home") is surprisingly good... All in all, this one's well worth checking out...
Dolly Parton "Home For Christmas" (CBS, 1990)



Definitely a cut or two above your average Xmas album... Dolly really pours herself into these tunes... She's a believer, and it shows. Plus, she's got a great set of pipes, and the arrangements are relatively restrained and tasteful. A pretty straightforward holiday set, with a nice mix of down-home and over-the-top, with a kiddie chorus or two thrown in for good measure. Ya can't beat Dolly when it comes to stuff like this! (By the way, if you're into holiday music, you might also want to check out my Hillbilly Holiday pages as well...)
Dolly Parton "Eagle When She Flies" (CBS, 1991)



(Produced by Steve Buckingham & Gary Smith)
Typical of her later efforts, this one's a mixed bag. Starts off with several surprisingly good songs, notably her duet with Ricky Van Shelton, "Rockin' Years," which hit #1 and still sounds good today... Then there's "Country Road," which also has a nice rootsy feel, and the subtle gospel spirituality of "Silver And Gold," which is also a pretty little tune. Then things start to slide a little downhill, with the icky title tune, and "Best Woman Wins," a drippy duet with Lorrie Morgan. She briefly regains her footing on "What A Heartache" and "Runaway Feelin'," but it's a pretty slippery slope from there on out, and overall this disc's a bit iffy.
Dolly Parton "Straight Talk" (Soundtrack) (Hollywood Records, 1992)

Dolly Parton "Slow Dancing With The Moon" (Columbia, 1993)

Dolly Parton/Loretta Lynn/Tammy Wynette "Honky Tonk Angels" (Columbia, 1993)



Three grand dames of the '60s country scene unite for a sweetly produced set of cover tunes and oldies, with a musical formula much like the Dolly-Emmylou-Linda "Trio" albums. Producer Steve Buckingham does a workmanlike job on this one -- it's relatively understated (which I guess is good), though also not that adventurous. This never really catches fire, but there are some nice moments, such as Loretta's "Wouldn't It Be Great" and Dolly's gospel-tinged "Let Her Fly," as well as the disc's sole single, a rollicking, irresistible version of "Silver Threads And Golden Needles" that has an admittedly county-fair quality to it, but still is pretty durn catchy.
Dolly Parton "Heartsongs: Live From Home" (Columbia, 1994)


(Produced by Steve Buckingham & Dolly Parton)
Her career at a commercial nadir, Dolly hosted this concert album, recorded over a couple of nights in her own theme park, Dollywood. It's a pleasant, if perfunctory, set of sentimental oldies, mixing her old hits like "Apple Jack," "Coat Of Many Colors" and "To Daddy," along with standards such as "Wayfaring Stranger" and "What A Friend We Have In Jesus." Lotsa swell guest stars, such as Alison Krauss, Rhonda Vincent, Carl Jackson, Jerry Douglas, Ronnie & Robbie McCoury (and others in the orbit of the professional bluegrass scene), as well as twangmeister David Lindley and the Irish trad band Altan, who provide the backing on a superlative version of "Barbara Allen." It's not an electrifying (or overly surprising) album, but it's quite nice, and reasonably down-home, considering how "pop" Parton had once been. Worth checking out.
Dolly Parton "Something Special" (Columbia, 1995)



A fairly drippy album, really, with Dolly revisiting old hits such as "The Seeker," "Jolene," and "I Will Always Love You," amid sleeker, softer arrangements... That bouncing acoustic guitar that buoyed so many of her songs back in the '70s is almost entirely absent here. But while the glossy, somewhat torpid production may seem like a bit of a dead end, her vocals are still quite lovely and a couple of songs, notably the rhythm-heavy remake of "Jolene," and the still-soulful "No Good Way Of Saying Goodbye." I can't say I'd recommend this album, but it's still okay.
Dolly Parton "Treasures" (Rising Tide, 1996)


Dolly dips into a set of favorite old cover tunes, most from the country classics catalog, but also several from the pop-rock side of the street, including versions of Katrina & The Waves's "Walking On Sunshine," Neil Young's "After The Goldrush" and Cat Stevens's "Peace Train," which was one of only two Top Ten hits in the 1990s. Dolly also had a slew of guest performers, including the South African vocal chorus, Ladysmith Black Mambazo (on "Peace Train"), Raul Malo of the Mavericks, David Hildago of Los Lobos, John (Blues Traveler) (ugh.) Popper, and a couple of tracks with Alison Krauss that foreshadow Parton's coming alignment with the bluegrass wing of the Americana movement. Back here, though, she's still pretty mired in slick production, and most songs fall flat... A couple of nice ballads close out the album -- "Satin Sheets" and "Behind Closed Doors" -- but otherwise this album lacks spark.
Dolly Parton "Hungry Again" (Decca/Blue Eye, 1998)


One of her last "commercial" albums before she went down the indie-affiliated Bluegrass/Americana route... Dolly's a gal who certainly knows her way around the studio, and her voice is remarkably undiminished, after three decades in the limelight. Still, as far as the folks in the radio biz were concerned, she'd kind of had her day, and this disc barely dented the charts when it came out. (Of course, it might have helped if they'd picked a better track to highlight as the single: "Honky Tonk Songs" is the only song on here that doesn't hold up well -- in fact, it's one of Parton's least impressive vocal performances that I can think of, even though the song itself is kind of interesting...) Anyway, this is a pretty good record, overall, and her bluegrass leanings are already apparent on several tracks, with plenty of banjo plunking, and some sweet harmony vocals by Rhonda Vincent. Worth checking out!
Dolly Parton/Emmylou Harris/Linda Ronstadt "Trio II" (Asylum, 1999)



The rootsy feel of the first Trio album is subsumed to the sugary side of their musicmaking... Even though the formula is basically the same -- down-to-midtempo ballds with an acoustic backing and fine, three-part harmonies -- the magic doesn't seem the same. I wouldn't say they're coasting, exactly -- everyone seems to have their heart in it -- but they do seem lost n the technical craftsmanlike aspects of the project, neglecting that subtle roughness that makes good country music sound so great. It's an easy trap to fall into, considering how sweet these gals sound together, but it still makes for an overly bland album... Kind of a snoozer, really.
Dolly Parton "Precious Memories" (Blue Eye, 1999)


An all-gospel offering, mostly with standards such as "Farther Along," "Precious Memories" and "Power In The Blood."
Dolly Parton "The Grass Is Blue" (Sugar Hill, 1999)



Gosh, I think the last the time Dolly recorded for an independent record company must have been back when she was twelve, cutting those iffy old demos for the Goldband label. So what's the special occasion? Nothing less than Dolly's full embrace of her country roots, with an all-bluegrass album that features hotshot pickers and plunkers such as Jerry Douglas and Sam Bush, and a nice set of songs coming from folks as diverse as Lester Flatt, the Louvin Brothers, Johnny Cash and Billy Joel. The best part is hearing Dolly's voice, plain as day, unfettered by the dense countrypolitan production of the last few decades. Trust me, the gal has still got it. Occasionally she dips into modern chord progressions that don't exactly hold true to the old-timey spirit of the album (especially on her version of the traditional murder ballad, "Silver Dagger," which is way more complex than it ought to be...) But for the most part, this album holds up. It's nice to see that -- if she wants to -- Dolly can still let that country girl inside her come out and play on the back porch.
Dolly Parton "Little Sparrow" (Sugar Hill, 2001)



As a follow-up to Grass Is Blue, Dolly's impressive 1999 back-to-basics bluegrass album, this disc sounds disappointingly overwrought and florid. I guess when you've spent all those years in big old, cavernous Nashville studios, where any amount of musical layering is possible, then old habits become hard to break. But taken as just a plain-old Dolly Parton album, this is pretty spiffy, hearkening back to her great old folk-countrypolitan albums of the early '70s, back when she was writing sentimental tunes like "Coat Of Many Colors" and "To Daddy." Certainly the overwrought lyrical content on several songs falls well within the traditions of old-time and bluegrass music -- preoccupations with poverty and tragic circumstances, for example -- although coupled with the elaborately crafted music, it does get to be a bit much. Some songs, such as the normally-irresistable Louvin Brothers classic, "I Don't Believe You've Met My Baby" lose direction amid the ornate instrumental stylings and overly-trilled vocals. The big surprise guest appearance is Irish supergroup, Altan, which contributes backing on the Celtic-flavored "In The Sweet By And By", as well as throughout the album. Probably a perfect album to open the gates for listeners who are coming at bluegrass from a commercial-Nashville vantage point, but a little iffy for old-school country traditionalists.
Dolly Parton "Halos And Horns" (Sugar Hill, 2003)



Although I get that this album is an extension of her previous pair of indie-grassy outings, I have to confess, I never found it that compelling... There are some tracks that stand out, but for the most part this seems rather overwrought and precious, even like she's trying a little too hard. And honestly -- a banjo-y cover version of David Gates' "If"? And "Stairway To Heaven?" Oh, please. I mean, I've got as much affection and respect for Dolly as anyone else, but this disc is a little too cute and stagey. It was not a keeper, as far as I was concerned.
Dolly Parton "For God And Country" (Welk Group, 2003)



(Produced by Dolly Parton & Kent Wells & Tony Smith)
Y'know, when Dolly decides to get cornball, she really can go all-out like nobody else... With an occasional super-perky, barbershoppish "River Boat"-style chorus bounding up behind her, Dolly sings some swell religious tunes, reprises a few WWII-era military oldies, and pays homage to all that is apple pie-licious about America, yet with a definite nudge and a wink. There are plenty of Parton originals as well, some of older vintage, others that comment on the current day. The most direct (and most dicey) of these is her version "Gee Ma, I Wanna Go Home," where Dolly updates the Eddie Cantor-style stage patter with a bunch of one-liners about Saddam Hussein and Iraq... Of course, it's all redeemed when she cracks a joke about the generals rushing to pin a medal on her ample bosom, referring to her own super-famous boobs as "Shock & Awe." (Only Dolly could pull that joke off... or, maybe Jay Leno...) Admittedly, if you're not on her wavelength on this one, your jaw will drop in disbelief at the over-the-top patriotic, jingoistic presentation... But even if you don't quite agree with her political slant, taken as camp, this is an amazing album. Likewise, if you take it at face value.
Dolly Parton "Live And Well" (Sugar Hill, 2004)



(Produced by Dolly Parton & Gary Davis)
A nice 2-CD live set with Dolly trotting through some old hits and newer bluegrassish stuff... It's slick and businesslike, but also Dollylicious and charming... And she even gives a shout-out to her gay fans! How many other Nashvillers do you know who'll do that nowadays? Anyway, she's still adorable and her heart's still in it... Good for her!
Dolly Parton "Those Were The Days" (Sugar Hill, 2005)



(Produced by Dolly Parton)
Here, Dolly covers pop tunes dating back to the hippie era of the late 'Sixties and early 'Seventies, stuff like Cat Stevens' "Where Do The Children Play," Joni Mitchell's "Both Sides Now," a couple of Dylan tunes, "Crimson And Clover," "Me And Bobby McGee," John Lennon's "Imagine," and the like... A few of the original artists are on board for this nostalgia trip, including Judy Collins, Mary Hopkin, Roger McGuinn, Kris Kristofferson... even Tommy James(!), as well as a slew of new kids, such as Norah Jones, Joe Nichols, Mindy Smith and some other Nashvillers and bluegrass regulars... Her heart is clearly in it, but you have to be in the right frame of mind to get into this album... It's not entirely cloying -- and some songs are surprisingly effective -- but it's not exactly the grittiest country record ever made... Ifyaknowwhatimean. Probably for diehard Dolly fans only.
Dolly Parton "Backwoods Barbie" (Dolly Records, 2008)


Dolly Parton "Better Day" (Warner/Dolly Records, 2011)


Dolly Parton "Blue Smoke" (Sony Masterworks, 2014)


---
Dolly Parton Discography: 1960s-1979 | 1980-Now | Best-Ofs & Links
---
---



Hick Music Index

---

<! cd=10-01-03>