w

<! MP3 04/23/09 > <! outside 00/00/00 > <! pix 00/00/00 > <! 208-pix: 00/00/00 > <! icons 03/14/11 > <! UPDATES: 04/23/09 05/05/14 - changed URLs to last-first-numeral, updated links on Dolly pages >
---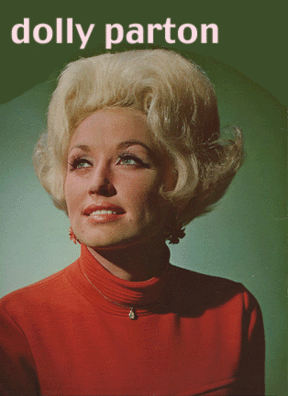 This is the third page of a Dolly Parton discography, looking at her best-of collections, tribute albums, film appearances and Dolly-related webpages...
---
Dolly Parton Discography: 1960s-1979 | 1980-Now | Best-Ofs & Links
---
Dolly Parton "The Best Of Dolly Parton" (RCA, 1970)

Dolly Parton/Porter Wagoner "The Best Of Porter Wagoner And Dolly Parton" (RCA, 1971)

Dolly Parton "Just The Way I Am" (RCA-Camden, 1972)


Lesser-well known album tracks from early in Dolly's career (1967-70). Folks might not automatically hum these songs if they came up on the radio, but they're still dern fine tunes.
Dolly Parton "The World Of Dolly Parton" (Monument, 1972)

Dolly Parton "The Best Of Dolly Parton" (RCA, 1975)

Dolly Parton "Dolly Parton's Greatest Hits" (RCA, 1982)


Dolly Parton "Collector's Series" (RCA, 1985)

Dolly Parton "I Will Always Love You And Other Greatest Hits" (Columbia, 1996)



Dolly's hits from 1989-95, when she was signed with Sony's Columbia label... Includes some duets with stars of the day, such as Billy Ray Cyrus ("Romeo"), Ricky Van Shelton ("The Rockin' Years") and Vince Gill (the title track, a rerecording of "I Will Always Love You") as well as later hits such as "White Limozeen."
Dolly Parton "The Essential, Volume One" (RCA Nashville, 1996)



Dolly Parton "The Essential, Volume Two" (RCA Nashville, 1997)



Ah, Dolly. The first volume is really godawful, heavy on the 1980s, which were not her best years. There's only one great song one here ("I Will Always Love You"), and it doesn't outweight the drek. But Volume Two is tasty, with all kinds of stuff from the '60s and '70s which is much more representative of Dolly as we'd like to remember her. The updated, single-volume RCA Country Legends collection is a big, big improvement.
Dolly Parton & Porter Wagoner "The Essential" (RCA Nashville, 1997)



AWESOME. Dolly started off her career as the "girl singer" on the Porter Wagoner show, replacing the equally hickalicious Norma Jean. Porter certainly helped Dolly find her voice as a traditonally-oriented artist in a countrypolitan town. The duets they recorded when they were still musical partners are mostly pretty good, a lot better than you might think... and the song selection on this collection (culled from the zillions of duet albums they put out together) is great. Well worth checking out, especially since it isn't likely to stay in print forever.
Dolly Parton "The Legendary Dolly Parton" (BMG-Australia, 2000)


A budget-priced 3-CD set that covers a wide swath of Dolly's best material. When I actually pick up a copy, I'll give y'all a more full report.
Dolly Parton "Mission Chapel Memories: 1971-1975" (Raven, 2001)


This is a totally delicious collection focussing exclusively on Dolly's early '70s work on RCA, when, quite frankly, the gal was on fire! Starting off with "Coat Of Many Colors," this disc gathers two dozen of Parton's gems, including, yes, "Jolene" and "The Bargain Store," but more importantly mining the rich, deep reservoir of her other, less well-known material. The pacing of this album is perfect, and the songs are well selected, showing Dolly at her most relaxed, and at the peak of her creativity. Of all the Parton best-ofs out there today, this one may actually be the most fresh-sounding and rewarding. Highly recommended!
Dolly Parton "RCA Country Legends" (Buddah, 2002)



This disc is a huge improvement over the lackluster Parton best-ofs in the Essential (reviewed above). Here, at last, we have a retrospective that's as sexy and cool as Dolly herself, dishing out one great song after another. This set dispences with the pop crap and zooms in on the country tunes, It's really all killer, no filler, and is the kind of best-of that an uber-hick like Dolly Parton really deserves. Highly recommended. If they come out with a second volume that is equally as good as this one, I'll pick it up, too!
Dolly Parton "The Ultimate Dolly Parton" (BMG/RCA, 2003)



Nice! This collection is noteworthy in that while it has the big, classic tracks ("Jolene," etc...) it also includes a lot of Dolly's '80s pop crossover material, ranging from irresistible "9 To 5" to other, less fondly-recalled hits. Pretty much every song on here pegged out at #1 on the charts... Which, of course, begs the question of all the other, great songs that must have fallen by the wayside. The Mission Chapel Memories compilation reviewed above would make a perfect companion to this disc.
Dolly Parton "The Acoustic Collection: 1999-2002" (Sugar Hill, 2006)



A four-disc set, including her three albums on Sugar Hill -- The Grass Is Blue, Little Sparrow and Halos & Horns, along with a fourth disc of bonus materials.
Dolly Parton "Dolly" (Box Set) (Sony-BMG Legacy, 2009)


There is certainly no shortage of Dolly Parton best-of collections in the world, but this one is definitely a cut above. It not only includes the big hits of her 1970s glory years, including a hefty dose of duets with her mentor Porter Wagoner, there are also a bunch of much-welcomed rarities, including recordings she did as a pre-teen singer on the Goldband label, as well as some fascinating (and very good!) "girl-group" recordings frm her pre-Nashville days. Another nice inclusion is "Put It Off Until Tomorrow," a track off an 1966 album by Bill Phillips where Dolly sang harmony (just before Dolly emerged set her up as a solo artist); it would have been swell if they'd also included the other Dolly track from that same album, but this gem is nice, too, even by it's little lonesome. This is the absolute best of Parton's career, with generous excursions into the depths of her catalog... Her first album, on Monument Records, and her later indie albums from the 1990s are not represented here, but that's okay: these four CDs will give you plenty of great material to enjoy.
Dolly Parton "Letter To Heaven: Songs Of Faith And Inspiration" (Sony-BMG Legacy, 2010)



A groovy gospel set, gathering gems off of various albums recorded in Parton's early 1970's RCA glory years. It's nice stuff: nobody could sing a gospel song like Dolly did, or write one, either, as heard on gems such as "The Master's Hand," which she composed for her 1971 LP, Golden Streets Of Glory, where most of these tracks come from. Also included is one duet with her heartsong-singing mentor, Porter Wagoner, a man who showed Dolly a thing or two about keeping things simple -- that ethos applies here as well, where the arrangements are generally more stripped down than on other Nashville records of the time, giving center stage to the spiritual message, and to Parton's gloriously down-home vocals. Recommended!


<! The bulk of the CD's songs are from her first gospel album called "The Golden Streets of Glory", released in 1971. All songs from that collection are found here including her self-penned "The Master's Hand" and the title track, two songs that are standouts. Other greats are her renditions of "I Believe", "Wings of a Dove", and "How Great Thou Art". Also included are tracks from different RCA albums including "Sacred Memories" from "Love Is Like A Butterfly" (1974); "Letter To Heaven" pulled from "Joshua" (1971); "Daddy Was An Old-Time Preacher Man, released as a duet with Porter Wagoner from 1970's "Once More"; "The Seeker" from "Dolly" (1975); "Comin' For To Carry Me Home" released as a single but never put on any Dolly album in 1971; and the original recording of "God's Coloring Book" that was dropped from the "Coat of Many Colors" (1971) album but released with the "Dolly" boxset in 2009. The crowning jewel here, however, is the lost recording of "Would You Know HIm?", a track recorded during "The Golden Streets of Glory" sessions, but remained unreleased until now. >
Dolly Parton "The Fairest Of Them All/My Favorite Songwriter, Porter Wagoner" (Omni, 2011)


A delicious set of over-the-top country novelty songs written by Dolly Parton (on her 1969 album, Fairest Of The All) and by her patron and showbiz mentor Porter Wagoner (in a fab 1972 tribute album, My Favorite Songwriter) who shared his love of unabashed hillbilly corn and extreme melodrama with Parton, who was one of his best interpreters. It's not all gimmicks and high drama here -- there are a few regular old love songs, but Dolly's opening salvo, "Daddy Come And Get Me," sets the tone: it's an amazing number about a small-town girl who loses her mind after a failed romance and a lost pregnancy, calls her father and pleads with him to rescue her from an insane asylum. It's an exaggerated version of conservative morals in the '60s, but it's also a hilarious, outrageous novelty song, one of many wacked-out, have-to-hear-it-to-believe-it lyrical jawdroppers. Also notable are "When Possession Gets Too Strong," about being really horny in a pre-sexual revolution world, and "Mammie," an ode to an idealized black housemaid who's been more of a friend to the singer than her own family. Really, Dolly? You sure about that one? Anyway, there's a time to take country music seriously, and a time to give into its silly side, and when you're listening to Porter-era Dolly, well, you just gotta kick back and get comfortable, and let the silliness take you away. Highly recommended.
---
Related Records
---
Various Artists "Pickin' On Dolly Parton: A Bluegrass Tribute" (CMH, 2003)


Various Artists "JUST BECAUSE I'M A WOMAN: SONGS OF DOLLY PARTON" (Vanguard, 2003)


A slick tribute album featuring an all-star cast with a few questionable entries... I mean, who am I to begrudge Me'Shell N'Degeocello, Melissa Etheridge or Joan Osborne their chance to pay homage to the great Dolly P.? Still, it doesn't mean I have to get into what they record. There are some more down-to-earth artists on here, such as, well -- Alison Krauss, I guess, and Norah Jones, who displays a growing flair for countrified material. Emmylou's version of "To Daddy" is included as well, but that's actually a bit of a disappointment, since it's over 25 years old (you'd think she could contribute something new to her old buddy's tribute album...) The most adventuresome track may be from Sinead O'Connor; the best is certainly from Dolly herself, singing the lively title track (and the title of her first solo album on RCA), reminding us again why she's such a roots music goddess. Shelby Lynne, Shania Twain, Kasey Chambers and Allison Moorer are also all on here, in case anybody asks...
---
Related Media
---
Dolly also has an extensive film career... When I get the free time, I'll add info about her Hollywood career as well. Stay tuned! (In the meantime, Dollyon-line.com has a succinct set of capsule reviews for everything from 9 To 5 on down...
---
Links
---
---
Dolly Parton Discography: 1960s-1979 | 1980-Now | Best-Ofs & Links
---
---



Hick Music Index



---

<! cd=10-01-03>