<! MP3 00/00/00 > <! pix 00/00/00 > <! archived 08/15/10 > <! * >

---



Howdy, neighbors!

Howdy, folks! Here are some reviews of the new country, bluegrass and Americana records that I had the good fortune to listen to in March-April, 2010. This page gets updated throughout the month, so check back if you can... Also, check out my full Guide To Hick Music for a bazillion more record reviews and artist profiles.

<! Dailey & Vincent John Haitt "The Open Road" Blake Shelton "Hillbilly Bone" >

Featured Records:
Black Prairie "Feast Of The Hunter's Moon" (Sugar Hill)
Carolina Chocolate Drops "Genuine Negro Jig" (Nonesuch)
Johnny Cash "American VI: Ain't No Grave" (Lost Highway)
Leonard Cohen "Live At The Isle Of Wight: 1970" (Sony Legacy)
Easton Corbin "Easton Corbin" (Mercury Nashville)
Dailey & Vincent "Sing The Statler Brothers" (Crackerbarrel)
The Grascals "The Famous Lefty Flynn's" (Rounder)
Derek Hoke "Goodbye Rock 'N' Roll" (Electric Western)
The Hot Club Of Cowtown "Wishful Thinking" (Gold Strike)
George Jones "The Great Lost Hits" (Time-Life)
Jill King "Rain On Fire" (Foundher Records)
Dayna Kurtz & Mamie Minch "For The Love Of Hazel" (EP) (Kismet)
Lathan Moore "Love In Your Life" (Blue Steel)
Allison Moorer "Crows" (Rykodisc)
Dolly Parton "Dolly" (Box Set) (Sony-BMG Legacy)
Steel Magnolia "Steel Magnolia" (EP) (Big Machine) Donna Ulisse "Holy Waters" (Hadley Music Group)
Various Artists "CRAZY HEART" (Soundtrack) (New West)
Various Artists "DARK AS A DUNGEON: SONGS OF THE MINES" (Rebel)
Various Artists "ROUNDER RECORDS 40th ANNIVERSARY CONCERT" (Rounder)




---
New Stuff: Spring, 2010
---
Black Prairie "Feast Of The Hunter's Moon" (Sugar Hill, 2010)



(Produced by Tucker Martine)
A fascinating, challenging set of acoustic music from some indie-rocksters, including three members of the ever-eclectic Decemberists... There are some doleful, brooding dirges, some surprisingly bright and accomplished, pure-sounding bluegrass, as well as a whole slew of tunes that sound influenced by Balkan and Nordic folk music. It's a solid record, although the tilt towards a darker, more European vibe may chase off a few of the more innocent Americana fans among us. Cool stuff, though!
Carolina Chocolate Drops "Genuine Negro Jig" (Nonesuch, 2010)


Johnny Cash "American VI: Ain't No Grave" (Lost Highway, 2010)



(Produced by Rick Rubin)
Yet another dip into the wellspring of Cash's unreleased recordings -- more stark, haunting, soulful demos and such. Admittedly, this might only be for true believers... But, hey: this is Johnny Cash we're talking about... Who isn't a true believer when it comes to him? In addition to the spooky, ragged renditions of various country oldies, his sincere reading of "Aloha Oe" will be a treat for fans of classic Hawaiian music, destined to be collected with other country-goes-Hawaiian recordings for many years to come. R.I.P., Mr. Cash.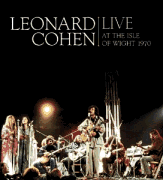 Leonard Cohen "Live At The Isle Of Wight: 1970" (Sony Legacy, 2009)



A remarkable document of Cohen's fabled appearance at the Isle Of Wight music festival, in which he was asked to perform for a fractious, grouchy, muddy audience, following a Jimi Hendrix blow-out that left the groggy festivalgoers in a dark mood. Facing a crowd that teetered on the verge of riot, Cohen, a little grouchy, exhausted and apprehensive himself, worked his way through his set, stopping to "rap" with the audience in the hippie lingo of the time. You can feel him working his magic, literally weaving a spell with his songs, half incantation, half lullaby. This deluxe edition also comes with a documentary film that provides a frame for the music, telling this little-known story of a moment where Great Britain avoided having an Altamont of its own -- instead, we got a great snapshot of Cohen in his prime, as a king of counterculture poets. Both the film and the audio have technical flaws, but the whole package is mysterious and sublime. A nice slice of hippie-era folk music history, and a fine set of music for Cohen fans to pour over and relish. Highly recommended!

Easton Corbin "Easton Corbin" (Mercury Nashville, 2010)



(Produced by Carson Chamberlain)
A very pleasant surprise. Nashville newcomer Easton Corbin is a good-natured, easygoing drawler, straight out of the Alan Jackson playbook. Now, personally, I like Jackson's work a lot, and hearing anyone who follows his lead so closely is just fine by me. Corbin sails his way through an album's worth of first-rate material, including several songs he wrote or co-wrote, as well as several by album producer Carson Chamberlain. Its a fine set, with highlights that include the mournful "This Far From Memphis," the rollicking "Roll With It," and the ultra-Jacksonesque "A Little More Country Than That." The vocals are nice, the picking is good, the album is solid. If you like roots-oriented Nashville Top 40, you'll wanna check this guy out.
Dailey & Vincent "Sing The Statler Brothers" (Rounder/Crackerbarrel, 2010)


(Produced by Jamie Dailey & Darrin Vincent)
Now wait a minute... Was is really me, a couple of years back, who pegged Dailey and Vincent as having a Statler Brothers vibe to their work? Why, yes it was...! Not that I'm bragging or anything, but I do know a nice harmony when I hear one... Anyway, here it is in 2010, and they've gone whole-hog with a tribute to one of the most successful country vocal acts, and boy, does this sound good. The music is flawless, the harmonies are sweet, and the lyrics stand out in ways they didn't in the Statler Brothers originals... Despite their obvious talent and chart success, the Statlers had a bit of a novelty-act sheen to their work, but here, played straight by Dailey & Vincent, the songs emerge more clearly as sentimental, evocative, nostalgic gems. No matter which band you're a bigger fan of, this record ought to knock your socks off. Highly recommended!


<! Dailey & Vincent "Singing From The Heart" (Rounder, 2010) B002WQP3O8 >

The Grascals "The Famous Lefty Flynn's" (Rounder, 2010)



(Produced by The Grascals)
Digging deeper into the wellspring of traditionally-oriented "high lonesome"-style truegrass, the Grascals now sound quite a bit like Del McCoury and his crew, with some of the most plangent, keening lead vocals around. Nice repertoire; a lot of well-chosen cover tunes, including several with a country-ish bent such as "Last Train To Clarksville," Steve Earle's "My Old Friend The Blues," and some tunes from the Osborne Brothers catalog, as well as a couple of good gospel tunes. The picking matches the singing -- a bit brisk and piercing, and full of energy and intensity; new to the band are fiddler Jeremy Abshire and banjo queen Kristin Scott Benson. Altogether, another nice one from this compact, dynamic modern band.

Derek Hoke "Goodbye Rock 'N' Roll" (Electric Western, 2010)



(Produced by Dexter Green)
On the title track Derek Hoke, smitten by the twangy charms of country music, sings to rock'n'roll as though it were an abandoned lover, being thrown over for the slinky sensuality of a pedal steel guitar. Now, of course, rock-vs-country is a false dichotomy, but it's a clever premise for a novelty song, and it sounds sweet when Hoke and his band twang it out. He follows up with the equally rewarding, equally countrified "Finer Things In Life," which extols the virtues of longneck beers and rusty old trucks. But rock is a hard lover to dump: sneaking in behind Hoke's Hank Williams-y honkytonk comes the gentle power-pop of "Hot On The Heels Of Love," striking a delicate balance that is sustained through rest of the album. I'm reminded of the eclectic approach of '70s-era country-folksters such as Jonathan Edwards and J. D. Souther, which is to say that this guy has deep roots in both styles and he makes the most of mixing them together. A nice record with many hummable, toe-tappable melodies... Worth checking out!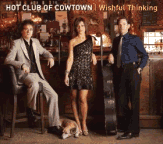 The Hot Club Of Cowtown "Wishful Thinking" (Gold Strike, 2009)



After totally calling it quits and foreversville a few years back, the Hot Club of Cowtown are back together... And thank goodness! One of the all-time great bands of the contemporary Americana scene... and pretty dazzling live, if you get the chance. Welcome back!

George Jones "The Great Lost Hits" (Time-Life, 2010)


A nice, budget-priced 2-CD collection of George Jones' recordings for the Musicor label, middle-period material than some devotees say is his finest work, and which has been in reissue limbo for many, many years. For folks who are Possum-curious but unable to spring for last year's massive Bear Family box sets, this provides a good glimpse into a classic era from the man who may possibly be the greatest country singer to have ever lived. Of course the liner notes aren't as lavish or the source recordings as pristine as the import version, but the music is what matters most, and if you want to hear oldies but goodies such as "I'll Share My World With You," "A Good Year For The Roses," and "Walk Through This World With Me," this is a pretty good consumer option. The album title makes it sound like this is a treasure trove of lost demos and such, and while that is not the case -- these were all commercially available recordings from 1965-72 -- there are nonetheless a lot of less-well known songs included here, which I personally find to be a plus. I think this is the first US domestic release to feature this material since the (fab) Razor & Tie collection from over a decade ago, so longtime Jones fans and newcomers alike will find cause to celebrate this release.
Jill King "Rain On Fire" (Foundher Records, 2010)


(Produced by Michael Flanders) <! prod. for Garrison Star >
Setting aside the indiebilly persona of her previous records, Jill King delves deep into the more pop-oriented sounds of "adult-alternative" music and the modern-day Nashville scene, with a set of songs that might be suited for Patti Griffin or some of the more introspective chart-topping divas such as Martina McBride, Sara Evans et. al. If you cherished the twang-tunes of her debut album, Jillbilly, the resolutely pop sound of this record may come as a little bit of a shock. But Ms. King has been plugging away in the underbelly of Nashville for a while now, and it seems she's ready to identify more opening with the Top 40 scene. I prefer the twang, myself, but certainly wish this gal all the luck in the world with the poppy stuff, too... She's plenty talented and deserves a break as much as anybody working in Music City these days. If you like the more elegaic, lovelorn pop-ballad side of Nashville, you might wanna check this out.
Dayna Kurtz & Mamie Minch "For The Love Of Hazel: Songs For Hazel Dickens" (Kismet, 2010)



A 7" set from a Brooylyn-based acoustic duo, recorded in honor of folk-bluegrass legend Hazel Dickens. It's a curious tribute: these songs weren't all recorded by Dickens (although a couple of her own compositions are included) and the bluesy vibe seems to have more in common with Tracy Nelson or Odetta than with Hazel & Alice... But, hey, maybe I'm just being nitpicky... Kurtz and Minch seem to be having fun, and namechecking Ms. Dickens is pretty cool, whichever way you slice it. (For more info check out www.myspace.com/kismetrecords)
Lathan Moore "Love In Your Life" (Blue Steel, 2010)



(Produced by Rick Holt & Norro Wilson)
Independently produced would-be Top Forty twang... Moore has a robust, good-ole-boy type voice, reminiscent of any number of country dudes in recent years... He sings rompy-stompy thumpers and ballads, too, touches on some of the usual topics -- drinkin' and losin', small-town America, honoring the military, etc. -- and although he's not totally distinctive, he's likable. One thing in his favor is that this is an indie album, so there isn't that whole mega-budget, ginormous Tim McGraw-style production sound; for all the obvious Top 40 aspirations, this album has kind of a back-to-basics, retro feel, more 1990 than 2010, and depending on your point of view, that could be a pretty good thing. Could he be the next Dierks Bentley? Who knows? Stay tuned!
Allison Moorer "Crows" (Rykodisc, 2010)



(Produced by R. S. Field)
Moorer delves deeper into the world-weary, introspective world of adult-alternative pop, without much trace of her already-vestigal twang-folk roots. Mostly this doesn't speak to me, although I think it's probably pretty good for the style. Perhaps, I am just too simple a man with too simple of tastes to really "get" this stuff -- if asked, I doubt I could tell you what most of these songs were about, mostly 'cause there aren't any big melodic hooks or easily grasped themes, but rather a wash of doleful emotions amid a finely-textured pop palette. Moorer seems to be exploring similar territory to, say, Aimee Mann, a face-in-the-mirror look at middle age and lowered expectations, but with less of a sense of humor. Some songs stand out, like "When You Wake Up Feeling Bad," which explores depression and disappointment in a way that crystalizes her concerns, but a lot of this album just seems like more of a generalized malaise, and it's hard to differentiate the songs from each other... Mostly, this set just seems like a big downer, with some sort of spiritual yearning in the mix. I guess I'm still a kid at heart, though: I want something I can sing along to, and there's not a lot of that here.
Dolly Parton "Dolly" (Box Set) (Sony-BMG Legacy, 2009)


There is certainly no shortage of Dolly Parton best-of collections in the world, but this one is definitely a cut above. It not only includes the big hits of her 1970s glory years, including a hefty dose of duets with her mentor Porter Wagoner, there are also a bunch of much-welcomed rarities, including recordings she did as a pre-teen singer on the Goldband label, as well as some fascinating (and very good!) "girl-group" recordings frm her pre-Nashville days. Another nice inclusion is "Put It Off Until Tomorrow," a track off an 1966 album by Bill Phillips where Dolly sang harmony (just before Dolly emerged set her up as a solo artist); it would have been swell if they'd also included the other Dolly track from that same album, but this gem is nice, too, even by it's little lonesome. This is the absolute best of Parton's career, with generous excursions into the depths of her catalog... Her first album, on Monument Records, and her later indie albums from the 1990s are not represented here, but that's okay: these four CDs will give you plenty of great material to enjoy.


<! 149 x 144 loaded 04/07 align right >
Dolly Parton "Letter To Heaven: Songs Of Faith And Inspiration" (Sony-BMG Legacy, 2010)



A groovy gospel set, due out in May...
Steel Magnolia "Steel Magnolia" (EP) (Big Machine, 2010)



Slightly twangy soul duets from Meghan Linsey and Joshua Scott Jones, aka Steel Magnolia, the winners of a CMT cable talent show... The band's perky single, "Keep On Lovin' You," hit the Top 10 before a physical (CD) version was available for sale. Their soul-infused pop sound isn't quite my style (reminds me of Hall and Oates...) but they must have struck a chord with contemporary country fans, 'cuz these kids have hit the big time. The introductory EP also includes a couple of live tracks, including a rollicking, twangy version of Dwight Yoakam's "Fast As You."

Donna Ulisse "Holy Waters" (Hadley Music Group, 2010)



(Produced by Keith Sewell)
A top-flight set of bluegrass gospel, all the more impressive because, other than a nice Stanley Brothers cover, these are all original songs written or co-written by Ms. Ulisse herself. There's a hint of slower, more Southern Gospel-style songwriting, but for the most part this is strong, upbeat bluegrass material, with tight backing from elite pickers such as Rob Ickes, Andy Leftwich, Scott Vestal and guitarist-producer Keith Sewell. Once apon a time, Ulisse was a Nashville country singer reaching for the Top 40 brass ring; after a decade or so out of the music business, she's come back to it from an indie angle, born again in more ways than one. If you like country gospel and bluegrass, you'll definitely want to check this out.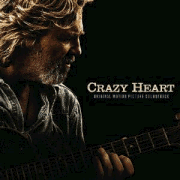 Various Artists "CRAZY HEART" (Soundtrack) (New West, 2010)



(Produced by T Bone Burnett)
I haven't seen the movie yet, but I love the soundtrack. Jeff Bridges, in character as Otis Blake, as a grizzled old, Willie-esque country rebel, perfectly taps into the low-key vibe of the indie-oriented Texas scene -- if you've told me his tracks had been recorded by someone like Tommy Alverson or Gary P. Nunn, I would have totally believed it. "Fallin' & Flyin'," his character's theme song, is a great tune: co-written by Gary Nicholson and the late Steve Bruton, it practically sings itself, it's the kind of country song that you'll be singing along with by the end of the first time you hear it (which is my personal standard for what makes a country song great...) There are also some oldies in the mix -- Buck Owens, Lightning Hopkins, The Louvin Brothers -- and when I first heard 'em I thought, uh-oh, is this going to be just another mish-mashy oldies-laden soundtrack? But the classic tracks help set up and perfectly compliment the new, original material... After a while, I just decided this was the mix-tape that Otis might have punched up on his tour bus, singing and drinking along as the power lines whiz by... Which brings me to my last point: I can personally attest that this is a great record to play while driving... So roll down the windows and crank 'er up... This is the real stuff.

Various Artists "DARK AS A DUNGEON: SONGS OF THE MINES" (Rebel, 2010)



A great collection of bluegrass tunes about coal mining and the miner's life... The tragic timeliness of this album's release -- coinciding with the deadly April, 2010 Massey Energy mine explosion in West Virginia -- doesn't diminish the beauty of the music or the power of the songs. The album opens with Bill Harrell's plaintive version of "Green Rolling Hills," a lovely, nostalgic song that may be familiar to old Emmylou Harris fans. There are several songs about cave-ins and explosions, environmental damage, and one particularly harrowing song by the Wildwood Valley Boys, "Black Lung Fever," about the misery of black lung disease. True, it sounds like a big bummer, but the grit and determination of the miners is honored as well: the coal companies might be hard and heartless, but the workers and their families are equally tough-- it's an ancient struggle. The music is solid and soulful, underscoring the deep connections between bluegrass music and the coal mining communities, and I'm sure this collection will resonate with modern listeners in some surprising ways. Recommended!
Various Artists "ROUNDER RECORDS 40th ANNIVERSARY CONCERT" (Rounder, 2010)



A concert celebration of one of the all-time indie labels of all time, spanning several different styles of rootsy music -- bluegrass from Steve Martin, Bela Fleck and Alison Krauss, swamp stomp by Nathan & The Zydeco Cha-Cha, old-school R&B from Irma Thomas, some jazz vocals from Madeleine Peyroux and confessional country by Mary Chapin Carpenter... This set seems to celebrate the label's diversity more than it's history, but 'taint nothing wrong either way...
---



Hick Music Index
Shop Amazon, Support Slipcue



---