<! MP3 00/00/00 > <! pix 00/00/00 > <! archived 08/15/10 > <! * >

---



Howdy, neighbors!

Howdy, folks! Here are some reviews of the new country, bluegrass and Americana records that I had the good fortune to listen to in May-June, 2010. This page gets updated throughout the month, so check back if you can... Also, check out my full Guide To Hick Music for a bazillion more record reviews and artist profiles.

<! Gary Allan Achin' And Shakin' by Laura Bell Bundy Mary Chapin Carpenter Dailey & Vincent John Haitt "The Open Road" Blake Shelton "Hillbilly Bone" Whitney Duncan Gretchen Wilson Jo Dee Messina >

This month:
Elizabeth Cook "Welder" (Thirty-One Tigers, 2010) Court Yard Hounds "Court Yard Hounds" (Columbia)
Dailey & Vincent "Singing From The Heart" (Rounder)
Merle Haggard "I Am What I Am" (Vanguard)
The John Hartford String Band "Memories Of John" (Compass)
Matt Kennon "Matt Kennon" (Bamajam)
Mike Marshall & Caterina Lichtenberg "Caterina Lichtenberg & Mike Marshall" (Adventure Music)
Mindy McCready "I'm Still Here" (Iconic Records)
Tift Merritt "See You On The Moon" (Concord/Fantasy)
Joe Mullins & The Radio Ramblers "Rambler's Call" (Rebel)
Dolly Parton "Letter To Heaven: Songs Of Faith And Inspiration" (Sony-BMG Legacy)
Marty Raybon "At His Best" (Hi Five)
Don Rigsby & Midnight Call "The Voice Of God" (Rebel)
Junior Sisk & Rambler's Choice "Heartaches And Dreams" (Rebel)
Chely Wright "Lifted Off The Ground" (Vanguard)




---
New Stuff: May-June, 2010
---
Laura Bell Bundy "Achin' And Shakin' " (Mercury Nashville, 2010)


Elizabeth Cook "Welder" (Thirty-One Tigers, 2010)


Court Yard Hounds "Court Yard Hounds" (Columbia, 2010)



(Produced by Martie Maguire, Emily Robison & Jim Scott)
A "solo" release from Dixie Chicks fiddler and guitarist, sisters Martie Maguire and Emily Robison (both nee Erwin...) This kind of picks up where their gentle, evocative acoustic tunes on recent Dixie Chicks albums left off, although if the truth be told, there seems to be something missing in this set, some sort of spark or artistic balance... This album seems kind of self-indulgent and unfocussed; deeply personal perhaps but not deeply engaging (at least not for me...) One thing that's missing are the pop-twang hooks that haul you in on the Chicks albums -- these songs seem more gooey and meandering, more in Sarah MacLachlan territory, if you know what I mean. I'm sure some fans will happy with this new incarnatio; but hopefully something new with Natalie is also in the works.
Dailey & Vincent "Singing From The Heart" (Rounder, 2010)


Whitney Duncan "Right Road Now" (Warner Nashville, 2010)


Merle Haggard "I Am What I Am" (Vanguard, 2010)



(Produced by Lou Bradley & Merle Haggard)
Although many years ago he took up the mantle of a redneck political traditionalist, Merle Haggard has always had the heart of a poet, and he's avoided being a caricature by establishing himself as one of the most emotionally open, honestly reflective writers in the country music pantheon. As an older man, he's retained both his poetry and his potency, as well as the willingness to delve deep, speak truthfully, and admit it when he doesn't have all the answers. His vulnerabilities are many and multi-layered and they are a welcome change in a society that values self-love, brashness and bluster; in recent years they've included a brush with cancer, and other health troubles that come along with age and a life that's been lived pretty hard. Yet Merle is still here, and like other old-timers such as Willie Nelson and Ray Price (who he has recorded with in recent years) he sings with the quiet confidence and grace of a wise, seasoned performer, aided on several songs by the harmony and duet vocals of his wife and touring partner, Theresa Haggard. Merle's acres-deep furrows of hardcore country music are seeded with subtle touches of blues, jazz, swing and standards, and lyrics that live up the high songwriting standards that he set for himself, all those decades ago. This is a rock-solid record that will appeal to fans old, new, and future. Keep 'em coming, Merle!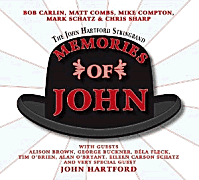 The John Hartford String Band "Memories Of John" (Compass, 2010)



(Produced by Chris Sharp)
A great, goofy, glorious homage to the late bluegrass/old-timey renaissance man John Hartford, who sang songs, played fiddle, plunked banjo and made space in the music for everyone involved to have fun: his listeners, his musical partners, and himself. Hartford has always struck me as one of the most amiable and generous musicians around, and it's nice to hear such as sweet tribute from the folks who knew him best. The core group on this album includes the musicians who backed Hartford in his final years: banjoist Bob Carlin, fiddler Matt Combs, Mike Compton on mandolin, Mark Schatz on bass and Chris Sharp on guitar, along with a slew of guest performers, including Alison Brown, Alan O'Bryant, Bela Fleck and Tim O'Brien, who sings lead on a couple of songs. Hartford himself can be heard in snippets of studio dialogue ("...it's gonna be straight ahead, with allegiance to the music and NOT TRICKY," he intones on one tune...) and in the spirit of the songs themselves. There's also one "new" song, "You Don't Notice Me Ignoring You," which comes from a trove of informal demos that Hartford cut in the 1960s, a funny song with a carefree vibe that longtime hartford fans will recognize right away... (And I sure hope the rest of those recordings will see the light of day soon...!) This record hits just the right tone, on song after song -- you don't have to be a Hartford fan to love it, but after you give it a spin, you're bound to jump on the bandwagon. Highly recommended!
Matt Kennon "Matt Kennon" (Bamajam, 2010)



(Produced by James Stroud, et. al)
Growly, tough-guy top country, with a strong rock'n'roll influence. Sounds a lot like old Charlie Daniels Band stuff, both musically and thematically, with maybe a bit of John Mellencamp in there as well. Kennon strikes me as a decidedly underwhelming singer, but he does make some of these songs work -- the real issue is really whether or not you're into overwrought redneck-y novelty songs, particularly ones that have marginally redeeming social massages built into them, like "Some People Piss Me Off," where it's not the guy who cuts Kennon off in traffic that ticked him off, but rather deadbeat dads and urban muggers (who he'd like to lynch, if he had a chance...) Another song, "The Call," is even more provocative -- in one verse, a woman is moments away from getting an abortion when her boyfriend phones her to propose (which I guess redeems him for not coming to the clinic in the first place...) This album is full of forced-sounding materal, songs that seem corny or overworked. But lots of people like corny stuff, so who knows? Not my cup of tea, though.
Mike Marshall & Caterina Lichtenberg "Caterina Lichtenberg And Mike Marshall" (Adventure Music, 2010)



(Produced by Mike Marshall & Dave Luke)
A lively classical-oriented collaboration with newgrass superpicker Mike Marshall and Bulgarian mandolinist Caterina Lichtenberg, who has worked with the Duetto Giocondo and the Dresden Symphony Orchestra. The two are in perfect synch, performing with obvious delight on an ambitious set which includes classical composers such as Bach and Leclair, as well as a suite by Jose Antonio Zambrano, a couple of lively choro tunes by Brazil's Jacob Do Bandolim and a pair of Marshall's own compositions.

Mindy McCready "I'm Still Here" (Iconic Records, 2010)



(Produced by Trey Bruce, Christopher Jak & Jimmy Nichols)
I have to confess, of the new crop of Top Forty-oriented country albums, this indie release was the one that I was most curious to hear... Not because I've been a huge, lifelong Mindy McCready fan or anything, but just because the poor gal has had such a tough time living her life in recent years, I was... well... a little worried about her. McCready made a run for the brass ring around the turn of the century, scoring a #1 hit in 1996 and had a few modest follow-ups at respectable positions after that... But she fell off the radar -- fast -- and the next thing we knew there was a flurry of sad little news stories about her winding up in court, in the hospital, in jail, in rehab and generally in trouble. It was the kind of depressingly petty, ugly, stupid stuff that made you anxious about this person who once had her sights on becoming the next Faith Hill, and then her she was being beaten by her boyfriend, getting thrown in the drunk tank and trying to kill herself in very public ways... A lot of people in show biz try to play the "survivor" card, but I think it's safe to say that McCready has almost all of them beat by a mile, and the fact that she's gathered herself up and recorded such a solid new album says a lot about the gal's tenacity and inner strength. The music is familiar, basically the same pop-and-soul-tinged Nashville stuff she recorded from 1996-2002, when this style was most in vogue -- it's her home turf, and she is comfortable and confident in the role. Some of the lyrics allude to her struggle to recover her balance, although I was surprised that so few of the songs were her own compositions... And the ones that are, like " I Want A Man" and "The Way You Make Me Melt," are some of the most frankly carnal and yearningly erotic songs I've heard in this genre... A little bit TMI, for me, but I'm sure there's an audience for them as well. Honestly, I won't be cranking these tunes up on any cross-country drives, but I am, really, sincerely glad to see that McCready is back on her feet.
Tift Merritt "See You On The Moon" (Concord/Fantasy, 2010)



(Produced by Tucker Martine)
Nice stuff. Yes, there is some twang in there, but on pop-soul songs like the album's opener, "Mixtape," it's pretty clear that Ms. Merritt has come a long way since her early days in the twangcore scene. Here we have a denser, arguably richer artistry, more of a confessional/impressionistic pop-folk vibe in line with the "adult alternative" brand, a record which should appeal to fans of Cowboy Junkies and other rock-Americana crossovers. Along for the ride are guest musicians including Bill Frisell's frequent collaborator Eyvind Kang, pedal steel player Greg Leisz and Yim Yanes, of the band My Morning Jacket, who sings harmony on the haunting "Feel Of The World." All in all, a rich, mature work that many will find compelling. (Due out: June 1, 2010)


<! out June 1st >
Joe Mullins & The Radio Ramblers "Rambler's Call" (Rebel, 2010)



(Produced by Joe Mullins & Evan McGregor)
Crisp, sharp-edged, traditionally oriented bluegrass from a band fronted by banjoist Joe Mullins, formerly of the band Longview. This has a similar feel to the classic Rice-Skaggs duo and those great old Bluegrass Album Band albums...Driving melodies, a propulsive rhythm section and plenty of keening harmonies, along with a rock-solid song selection. If you like old-fashioned, no frills truegrass, you'll definitely want to check this one out!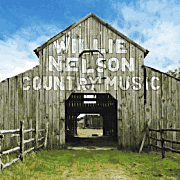 Willie Nelson "Country Music" (Rounder, 2010)


Dolly Parton "Letter To Heaven: Songs Of Faith And Inspiration" (Sony-BMG Legacy, 2010)



A groovy gospel set, gathering gems off of various albums recorded in Parton's early 1970's RCA glory years. It's nice stuff: nobody could sing a gospel song like Dolly did, or write one, either, as heard on gems such as "The Master's Hand," which she composed for her 1971 LP, Golden Streets Of Glory, where most of these tracks come from. Also included is one duet with her heartsong-singing mentor, Porter Wagoner, a man who showed Dolly a thing or two about keeping things simple -- that ethos applies here as well, where the arrangements are generally more stripped down than on other Nashville records of the time, giving center stage to the spiritual message, and to Parton's gloriously down-home vocals. Recommended!


<! The bulk of the CD's songs are from her first gospel album called "The Golden Streets of Glory", released in 1971. All songs from that collection are found here including her self-penned "The Master's Hand" and the title track, two songs that are standouts. Other greats are her renditions of "I Believe", "Wings of a Dove", and "How Great Thou Art". Also included are tracks from different RCA albums including "Sacred Memories" from "Love Is Like A Butterfly" (1974); "Letter To Heaven" pulled from "Joshua" (1971); "Daddy Was An Old-Time Preacher Man, released as a duet with Porter Wagoner from 1970's "Once More"; "The Seeker" from "Dolly" (1975); "Comin' For To Carry Me Home" released as a single but never put on any Dolly album in 1971; and the original recording of "God's Coloring Book" that was dropped from the "Coat of Many Colors" (1971) album but released with the "Dolly" boxset in 2009. The crowning jewel here, however, is the lost recording of "Would You Know HIm?", a track recorded during "The Golden Streets of Glory" sessions, but remained unreleased until now. >
Elliot Randall & The Deadmen "Caffeine & Gasoline" (Self-released, 2009)
(Produced by David Simon-Baker & Elliot Randall)






<! "Too Lucky, Too Long" - a dreamy tune, worthy of Ryan Adams >

Marty Raybon "At His Best" (Hi Five, 2010)



(Produced by Marty Raybon & Paul Carroll Binkley)
For a few years now Marty Raybon, former lead singer of the top country band Shenandoah and a huge star in the late 1980s and early '90s, has been an indie artist, recording country ballads on his own dime since the Nashville majors won't let him do it on theirs anymore. Their loss, really. Although Nashville no longer lets artists grow old for their fans anymore, the artists themselves have figured out how to get their music out in the digital age, and with Raybon, like many others, the results are kinda interesting. His voice sounds old, not quite ragged, but definitely with a little rasp and a load of wisdom that wasn't there twenty years ago... and it sounds nice. The songs are all good, the same sort of stuff he sang in his heyday - robust, romantic but not overly sentimental, and with a core of sweet, soulful vocals that will still thrill old fans.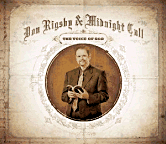 Don Rigsby & Midnight Call "The Voice Of God" (Rebel, 2010)



(Produced by Don Rigsby)
A top-flight bluegrass gospel set, with solid picking, sweet high harmonies, and a tremendous song selection. Rigsby hits all the right notes, both literally and figuratively, with a hefty dose of traditional material and standards by the likes of Albert Brumley, but better still he spotlights powerful new material from a troop of great contemporary songwriters, with fine songs such as "Charged With Being A Christian" by Paul Craft, Skip Ewing's modern-themed "The Gospel According To Luke," Phil Wiggins' "Forgiveness" and a few tunes he wrote himself, including "I Am An Orphan Child," which he co-wrote with Gillian Welch. One highlight is Tom T. Hall's "Then Y'ain't," a pithy, pointed calling-out of anyone who uses religion to say they're better, or smarter, or more holy than anyone else: if you do that, then you ain't got it right. A much-welcome message in these times when religious intolerance seems to divide the world, rather than spirituality unite it; balanced by Rigsby's abiding and undeniable faith, it comes through loud and clear. If you like sanctified twang, this is a really strong record.
Les Sampou "Lonesomeville" (Self-Released, 2010)



(Produced by Les Sampou, David Ogden & Andy Plaisted)
A sweet, twangy set with deep blues roots... There are echoes of Delbert McClinton, Lucinda Williams, Bonnie Raitt and various other roots-music heroes, amid a strong set of original material. Ms. Sampou might be living in Lonesomeville, but she originally hails from Connecticut... and for a Yankee, she does a nice job getting greasy and gritty... Best on the uptempo numbers, with some nice David Lindley-esque slide guitar. Worth a spin!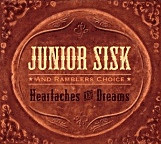 Junior Sisk & Rambler's Choice "Heartaches And Dreams" (Rebel, 2010)



(Produced by Wes Easter & Rambler's Choice)
Another fine set of modern "high lonesome" traditionalist bluegrass, with some fine uptempo tunes in the country-tinged Jimmy Martin style. Highlights include a bouncy recession-era anthem, "Working Hard Ain't Hardly Working Anymore" and some of the heart-songs like "The Laugh's On Me" and "Don't You Cry," as well as several fine gospel numbers, particularly a haunting number called "The Lowest Valley." A couple of more novelty-oriented songs didn't work for me -- "Bullets Always Win" and "Guns, Coins And Jewelry" have a tough-guy crime element that seems too forced and disconnected from the vibe of the rest of the record. But overall, this is another strong effort from this powerhouse crew -- solid picking and soulful singing throughout.
Chely Wright "Lifted Off The Ground" (Vanguard, 2010)



(Produced by Rodney Crowell)
Five years ago, Chely Wright left the confines of the Top 40 country scene for a more stripped-down sound on an indie label; she goes further on that journey here, a moody, soulful, deeply personal album in which Wright comes out of the closet and, doubtless, burns her last bridge with the socially conservative Nashville establishment. But while she closes one door, she opens others, courting a folkier, more diverse audience and delivering a powerful album that should attract and satisfy these new fans. Certainly, with the anguish and honesty of this emotionally raw batch of songs, she's a million miles away from the calculated, prefab "earthiness" of today's commercial country scene, entering into the confessional folk-pop terrain pioneered by Mary Chapin Carpenter, Rosanne Cash and others. The first sign that this album takes a new direction if the half-giddy, half-morbid suicide novelty song, "Notes To The Coroner," catchy and clever, but a bit disturbing as well. It's soon followed by the album's masterpiece, the mournful, acoustic "Like Me," which is a brilliantly written, utterly aching ballad addressed to a woman that Wright has fallen in love with, but can never attain, because while she wants to come out of the closet, her lover cannot. The rest of the album is mostly an echo of that searing, painful blast -- more regret, anger, recriminations, sorrow. She swears on a couple of tunes (which will probably help this album gain some notoriety) but the words sound natural, an affirmation of her intensity, not a mere gimmick. This album is clearly a work of self-therapy, but not entirely one of self-indulgence... Indeed, it's rare to hear a record that is so palpably relevant and real, so emotionally direct and meaningful. Wright isn't dabbling in style or obscuring her thoughts in wordplay or irony -- all the current conventions of pop and twang are thrown out the window as we hear an artist simply expressing herself, and exploring her own thoughts as she makes one of the biggest decisions of her life. It's a compelling record, and many of us will wish her all the best in days and years to come.
---



Hick Music Index
Shop Amazon, Support Slipcue



---