<! * > <! MP3 00/00/00 > <! pix 00/00/00 > <! archived 10/17/11 * >

---



Howdy, neighbors!

Howdy, folks! Here are some reviews of the new country, bluegrass and Americana records that I had the good fortune to listen to in October, 2010. This page gets updated throughout the month, so check back if you can... Also, check out my full Guide To Hick Music for a bazillion more record reviews and artist profiles.

<! Glenna Bell "Perfectly Legal: Songs Of Sex Love And Murder" (Honey Island, 2010) B0043ISGYW Oct. 19 MACK, Bill Play My Boogie Various Artists Hillbilly Bop, Boogie & The Honky Tonk Blues Vol 4 - 1956-57 > <! Marshall Chapman "Big Lonesome" (xxxxxxxxxxxxxxxxxxxxxx, 2010) October 26 >

This month:
Rosalie Allen "The Versatile Rosalie Allen" (Jasmine)
Rosalie Allen & Elton Britt "Side By Side: The Duets" (Jasmine)
Big Jeff Bess "Tennessee Home Brew" (Bear Family)
Zac Brown "You Get What You Give" (Atlantic/Home Grown)
Shawn Camp "1994" (Reprise)
Kenny Chesney "Hemingway's Whiskey" (BNA)
Justin Townes Earle "Harlem River Blues" (Bloodshot)
Jimmy Edwards "Love Bug Crawl" (Bear Family)
Chris Hillman & Herb Pedersen "At Edward's Barn" (Rounder)
Randy Houser "They Call Me Cadillac" (Show Dog)
Jamey Johnson "The Guitar Song" (Mercury Nashville)
Toby Keith "Bullets In The Gun" (Show Dog Nashville)
Jerry Lee Lewis "Mean Old Man" (Verve)
Raul Malo "Sinners And Saints" (Concord-Fantasy)
Randy Rogers Band "Burning The Day" (MCA Nashville)
The Texas Sapphires "As He Wanders" (Ike Records)
Rhonda Vincent "Taken" (Ingrooves)
Hank Williams "The Complete Mother's Best Recordings... Plus" (Time-Life)



---
New Stuff: October, 2010
---
Rosalie Allen "The Versatile Rosalie Allen" (Jasmine, 2010)


One of the most dynamic country performers of the 1940s, Rosalie Allen has been the subject of several fine recent reissues. This 2-CD set is a fine collection of her work -- novelty songs, weepers, yodeling and polkas, all with the bouncy flair of the West Coast country scene. Drawn from a variety of sources, this is a great introduction to one of the pioneering female country musicians of the WWII era. Highly recommended!
Rosalie Allen & Elton Britt "Side By Side: The Duets" (Jasmine, 2010)


A whole album's worth of duets by these cowboy/girl western stars? Who knew? Allen worked with a wide variety of artists over her long career, but these two enjoyed a particularly long run together. Some of it's great, but unfortunately, a lot of it is really, really schmaltzy - spare arrangements built around a roller-rink organ, lingering, gooey melodies, etc. There are some fun songs, though, including one or two that have some actual twang to them, though mostly these are sentimental songs with a few attempts at novelty numbers... Oh! And a bunch of yodeling and polkas! Can't forget that. Anyway, I was surprised at how disappointing much of this was... This is a great archival set, but the disc itself was a bit of a chore to get through, although there are about dozen songs -- less than half the album -- that I'd say are worth listening to again. Worth checking out if you like either of these artists, but it might not really ring your bells.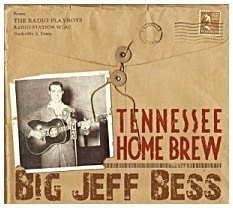 Big Jeff Bess "Tennessee Home Brew" (Bear Family, 2010)


Scrappy, obscure hillbilly oldies from the era before Nashville became a slick show biz town... In the 1940s, singer Jeff Bess was a local radio personality and businessman, notably as the owner of several bars (one of which, Tootsie's, is still around...) He also sang country music and recorded several singles in the late '40s and early '50s... It's fun stuff, lively and raw, with obvious debts to Hank Williams, but also a gangly individuality where Bess's personality comes through clear as a bell. One of his songs, "Tennessee Home Brew," is a real drinking-song gem, but there are a bunch of great goofball novelty songs. Another fine bit of roots music archeology from the fine folks at Bear Family!
Zac Brown "You Get What You Give" (Atlantic/Home Grown, 2010)






<! sept 28 >
Shawn Camp "1994" (Reprise, 2010)



(Produced by Emory Gordy, Jr.)
I had heard that Nashville songwriter Shawn Camp had a legendary lost album that got shelved by his label after his first record only did so-so on the charts... Since then, Camp has continued a successful career as a songsmith, but his own records have come out on indie labels. Miraculously, Warner Nashville has gone back to the vaults and put together this lively, remarkable set which is (mostly) the record that Camp would have put out in 1994, if he'd had the chance. I say "mostly" because these tracks do have a roughness to them that makes me think the record wasn't properly finished before it got shelved, and many tracks still have a roughed-out, demo-y feel, although it's still definitely big-sound Nashville stuff with plenty of crackerjack studio players backing him up -- Richard Bennett, James Burton, etc.. There are also some nice guest artists: Patty Loveless sings harmony on a couple of tracks, and the grand old man of bluegrass, Bill Monroe himself(!) sings on "Worn Through Stone." The record opens with a clever, catchy novelty number, "Near Mrs.," which has a coulda-been-a-hit feel to it; also included is "In Harm's Way," an early Jim Lauderdale number and a whole slew of Camp's compositions, including one co-written with Guy Clark. As I mentioned, much of the record has a still-rough feel to it, but also a lot of the amped-up vitality of the early 1990's "young country" scene... If you're into commercial country that still has some snap to it -- and particularly if you like Camp's 1993 debut -- you'll probably wanna check this one out.
Kenny Chesney "Hemingway's Whiskey" (Sony-Nashville/BNA, 2010)






<! sept 28 >

Justin Townes Earle "Harlem River Blues" (Bloodshot, 2010)



A pretty groovy set where JTE stays in touch with his country roots, but moves into a wider range of styles, including a robust blues/roots/rock style that may bring to mind any number of '70s roots-rock artists -- Delbert McClinton, perhaps, with a more singer-songwriterly tone? Jesse Winchester with a rougher side to drag? Woody Guthrie grinding out some Memphis soul? Although there's less overt twang on here, I really like this record a lot -- the songs are quite catchy and compelling and Earle seems like an unusually confident, relaxed performer for someone of his tender age. With each record, he steadily gets stronger -- I'm looking forward to the next one, but definitely enjoying this disc!
Jimmy Edwards "Love Bug Crawl" (Bear Family, 2010)


Rare, obscuro-rockabilly from a little-known rocker who hailed from Michigan... His 1957 hit, "Love Bug Crawl," has a Jerry Lee Lewis-ish feel to it, but he dabbled in twang and soft-pop as well, often singing in a sort of in a Charlie Rich pop-blues ballad mode. It's not the most ripsnorting material, and he's not the greatest or most original singer, but it's a definite blast from the past, with a nice nostalgic feel. Worth checking out, though not mindblowing.

Chris Hillman & Herb Pedersen "At Edward's Barn" (Rounder, 2010)



A nice, unpretentious live set, with two old country-rock/bluegrass/Americana veterans playing straightforward acoustic versions of classics from the Southern California roots-music scene of the 1960s and '70s. The repertoire includes familiar faves by the Byrds, The Flying Burrito Brothers, Hillman's old Desert Rose Band, and an old Louvin Brothers tune or two. There's something gratifying about hearing these guys introducing a song like "Wheels" and matter-of-factly remembering when and why it was written. It's particularly nice to see Pedersen in the spotlight again: if they'd included a version of "The Hey Boys," that woulda been fun, too. If you're a fan, you'll get a kick out of this album.
Randy Houser "They Call Me Cadillac" (Show Dog, 2010)



(Produced by Cliff Audretch III & Mark Wright)
A nice, unpretentious set of rough-edged, high-tech honky-tonk, with stylistic debts to folks like Hank Williams, Jr., Travis Tritt and John Anderson. Houser's music is miraculously clear of the current overproduction plaguing Nashville today... I mean, yeah, it's modern and has hints of what 21st Century neo-trad sounds like, but as far as the arrangements go, there's plenty of twang and steel, big thumping drums that sound like a real, live person in hitting the skins, a dash of roadhouse piano, but none of the grandiose orchestrations you'd hear on, say, a Tim McGraw album. It's a nice, believable, back-to-basics set that you might like if you're one of those folks who every now and then pulls out those old George Jones albums; like Jamey Johnson, Houser seems to be one of the few young guys in Nashville these days who's figured out how to do "old-school" and make it sound real. Worth checking out!
Jamey Johnson "The Guitar Song" (Mercury Nashville, 2010) <! Sept 14 >


Toby Keith "Bullets In The Gun" (Show Dog Nashville, 2010)



(Produced by Toby Keith)
Y'know, I'm really not sure what to make of this record... In some ways its very ambitious, but in other ways it's really kind of disappointing and odd. The album opens with the title track, "Bullets In The Gun," a gun-violence fantasy about outlaw-lovers-on-the-run with a big, brash rock sound (those echoey U2-ish guitars, etc.) that will be familiar to fans of Keith's work from a decade ago. Likewise, he seems to have regressed to the overly-macho tough-guy swagger of his old days, a tendency that hits a low point on "Get Out Of My Car," in which Toby tells some chick to either take off all her clothes or hike all the way back home... (Yeah, I know, I'm giving him exactly the prudish reaction he's looking for, but I can't help it: it's a really lame, obnoxious, juvenile song... I'm sure Toby knows his audience, and if he wants to sit around telling dick jokes to his buddies, I guess that's his right... But I can't see many listeners coming back to listen to stuff like that a few years later...) Meanwhile, the music and his vocals have an almost aggressively un-country feel, at least compared to the sublime hard-country stylings of his masterful Honky Tonk University album -- the pedal steel is mostly gone, and Toby doesn't croon as much, but rather goes for a kind of half-spoken redneck Sprechgesang, over some unconventional, rock-oriented arrangements. Which is all very well and fine, I guess, but as a country fan I'm a little disappointed. A couple of songs deliver on the twang, notably "Think About You All Of The Time" and, on the Deluxe Edition, the four live tracks which are covers of various country oldies. Speaking of which: if he can hit a home run on a song like Gordon Lightfoot's "Sundown," why not keep swinging? Like on his last album, it feels as if Toby Keith is just coasting, when he could be doing so much more. I still think he's got talent, I just wish he'd use more of it, rather than fart around doing the same good-old-boy routine he already outgrew five years ago.
Jerry Lee Lewis "Mean Old Man" (Verve, 2010)



The Killer, Jerry Lee Lewis is back... Here's another guest-star filled album from this once-primal rock'n'roll old-timer, with pretty much the same cast as his Last Man Standing album of a few years ago. Keep in mind that Lewis is now 75 years old... and he isn't getting any younger. Guests this time around include James Burton, Eric Clapton, Sheryl Crow, Merle Haggard, Mick Jagger, Kid Rock, John Mayer, Keith Richards, Ringo Starr, Ronnie Wood... It's an A-list extravaganza, but clearly the producers expect the guests to do a lot of the heavy lifting, with Jerry Lee sounding pretty muted this tme around. Also... if all the individual member appeared on all those various tracks, why couldn't they just get the Rolling Stones to appear as a band? Was Charlie Watts getting his nails done that day, or something? Nice to see the Killer still kicking around, although I have to confess this isn't exactly a desert-island disc for me... I'll mostly stick to that old anthology on Rhino if I need to get a little jolt of Jerry Lee.

Raul Malo "Sinners And Saints" (Concord-Fantasy, 2010)



(Produced by Raul Malo)
Another solid set from the former lead singer of The Mavericks, with Malo's trademark mix of country, rock, Tex-Mex and other Latin styles, with a dash of rockabilly and old-school pop ballads. This is a vigorous, lively album, with some catchy tunes ("San Antonio Baby," "Superstar") and a bit of soul-searching as well. Other than a couple of cover tunes, most of the songs were written by Malo, and reflect his sometimes-cheery, sometimes rueful perspective. The record's only real bummer moment comes with "Living For Today," a politically-themed song which is an anthem for apathy and surrender, cloaked as a weary condemnation of politicians and schemers of all stripes, but really it's just an invitation to check out and get what you can out of life while you can. Malo's entitled to his own opinion -- and lord knows he's not alone in this one -- but I gotta say I don't think giving up and letting the chips fall where they may is the answer to the problems that confront us today. There are a lot of powerful interests that would like nothing better than for regular folks to check out and give up on political participation: taking part in the world and caring what happens may be a pain in the ass sometimes, but it beats the alternatives. Anyway, it's just one song on an otherwise groovy album... The rest of the record is tuneful and sweet, and will satisfy Malo's fans; it's probably his strongest record in years.
Randy Rogers Band "Burning The Day" (MCA Nashville, 2010)


The Steel Drivers "Reckless" (Rounder, 2010)



Well, hot diggety! Here, at last, is something new under the sun. Bluegrass crossovers have taken a few, very well-defined forms over the last few years: the poetic "progressive" folk-fusions of the early 1970s, the spacegrass jazz of David Grisman and his followers, the flowery adult pop of Alison Krauss, and most recently the occasional banjo twinkle on a Nashville single or two. But these guys have come up with something new, a real mix of hardcore bluegrass and greasy, Southern roots music. Backed by a powerful but subtle band, lead singer Chris Stapleton pushes the boundary with gritty, impassioned vocals that bring Travis Tritt to mind, just without the swagger, or Danny Barnes without the hipster irony. The band runs a gamut of styles: there's the rompy-stompy rowdy side with "Guitars, Whiskey, Guns And Knives," and "Good Corn Liquor," as well as some straightforward high lonesome truegrass, as well as the yearning, rueful old-geezer ballad, "Where Rainbows Never Die." The album's brightest gem, though -- and a real surprise given what seems like a redneck-y tilt to the record -- is the stunning "Can You Run," an evocative historical ballad sung in the first person from the point of view of a Southern slave planning his escape during the chaos of the Civil War. Not just his escape, but his return to the South, coming back as a Union soldier to reclaim his freedom and his pride. The song is perfectly crafted and completely haunting: I had it ringing 'round in my head for several weeks. Unfortunately, Mr. Stapleton is said to have left the band after this album was completed, but if this record is a indication of what he (and they) are capable of, I'm sure there's more good stuff to come. Anyway, if you're looking for something that really puts a new twist on a traditional sound, you'll definitely want to check this one out.
The Texas Sapphires "As He Wanders" (Ike Records, 2010)



(Produced by Billy Brent Malkus & Tommy Detamore)
Top-notch independently-produced twang tunes... The band splits their songwriting and vocal chores between lead singers Billy Brent Malkus and Rebecca Lucille Cannon; he sticks closely to the white trash/bad boy narrative of the twangcore scene, and she delves deeper into ballads and more introspective lyrics. While I find her songs more resonant, it's a good mix of styles and feels. The drinking/fighting/getting thrown in jail themes are kind of old-hat, but handled well, and songs like "How Did I Get So Sloppy Drunk (When I Was Drinking Neat)?" and "Stunt Double" will sound nice in an uptempo mix, while the album's opener, "Nashville Moon," has a great lyrical twist: "I'm one man with two makers/the Lord above and a bottle of 80 proof..." that harkens back to the classic days of novelty country... Still, I prefer Cannon's numbers, with her Tanya Tucker-ish voice buoyed by some sweet pedal steel and a bit more originality and depth to the lyrics. Still, if you're looking for rowdy tunes, or a mix of styles, this is a rock solid set... Definitely worth checking out!
Rhonda Vincent "Taken" (Ingrooves, 2010) <! label? >






<! out Sept. 21 >
Hank Williams "The Complete Mother's Best Recordings... Plus" (Time-Life, 2010)



Just when you think you've heard it all, the vaults of time peel open to reveal more fabulous gems than we ever thought we'd find. This massive box set expands on an earlier 3-CD collection of live performances by the great Hank Williams, recordings originally made for the Mother's Best Flour Company back in 1951. Legend has it that the master tapes for these performances was saved from the dumpster (!) where they promptly wound up at the center of the long-running legal battles between Hank's various heirs. I guess Jett Williams' victory is a victory for us as well, 'cause these old recordings sure do sound sweet. The repertoire includes a lot of stuff that Williams never recorded on disc, and draws heavily on folk and gospel repertoires, as well as cowboy tunes (like "Cool Water") as well as Hank Williams classics such as "Hey Good Lookin'," and "I'm So Lonesome I Could Cry." Country gospel fans, in particular, will be wowed by this collection, as it is heavy on hymns and religious ballads, all of it delivered in that soulful, haunting style that Williams did so well. Best of all, there's the ambiance of an old-fashioned live radio show, with Hank Williams joshing around with bandmembers and the emcee, with Williams sounding slick at times, or sometimes soused or bleary-eyed from a long night of hard living... And yet, the man was always soulful and surprisingly sincere, considering what a ne'er-do-well he was. Perhaps the biggest surprise for me was the many performances by Hank's wife, Audrey Williams, who appears only fleetingly in the official studio recordings, and has long been reviled as an off-key warbler, sort of the Yoko Ono of classic country. But here, with prolonged exposure on one broadcast after another, it's easier to hear her as a credible country artist, a rough-edged, rural gal singer very much in the same style as the then up-and-coming Kitty Wells. All in all, this collection really is a great archival find, one that Hank Williams fans will be all too happy to delve into. Highly recommended! (Available through Time-Life's www.hankwilliamsmothersbest.com website.)
---



Hick Music Index
Shop Amazon, Support Slipcue



---