<! * > <! MP3 00/00/00 > <! pix 00/00/00 > <! archived 10/12/11 * >

---



Howdy, neighbors!

Howdy, folks! Here are some reviews of the new country, bluegrass and Americana records that I had the good fortune to listen to in January, 2011. This page gets updated throughout the month, so check back if you can... Also, check out my full Guide To Hick Music for a bazillion more record reviews and artist profiles.

<! Scatter Records and the Big Machine Label Group (BMLG) are pleased to announce the February 8th release of a star-studded tribute compilation honoring one of the greatest Country music icons of our time – Waylon Jennings. Distribution and promotion of the Scatter Records release will be handled by The Valory Music Co., of the Big Machine Label Group. The three volume celebration, THE MUSIC INSIDE: A COLLABORATION DEDICATED TO WAYLON JENNINGS, features some of the biggest stars of Country music –from legends Kris Kristofferson and Alabama to hit makers Jamey Johnson and Trace Adkins to critically-acclaimed Patty Griffin and Sunny Sweeney – performing and paying tribute to Jennings' most-celebrated songs. (The official Vol. I track listing is below.) Every artist on the project possesses either a personal or professional connection to the Texas-born Jennings, and no one more so than Country star and Jennings' widow Jessi Colter, who performs a heartfelt duet of "Good Hearted Woman" with Sunny Sweeney. Their son Shooter Jennings also pays tribute with "Belle of the Ball," appearing on Vol. I. In addition, every performance on the compilation earned Jessi and Shooter's blessing. MACK, Bill "Play My Boogie" Various Artists "Hillbilly Bop, Boogie & The Honky Tonk Blues Vol 4 - 1956-57" > <! Jacob Lyda The Derailers: Live! From Texas Roy Clark: The Last Word in Jesus is Us Ed Bruce: In Jesus' Eyes (Varese Sarabande) Randy Rogers Band "Burning The Day" (MCA Nashville, 2010) B003QNK3LE MACK, Bill Play My Boogie Various Artists Hillbilly Bop, Boogie & The Honky Tonk Blues Vol 4 - 1956-57 >

This month:
Jason Aldean "My Kinda Party" (Broken Bow)
Gregg Allman "Low Country Blues" (Rounder)
The Derailers "Live! From Texas" (Varese Fontana)
The Grascals "Country Classics With A Bluegrass Spin" (Crackerbarrel)
The Jayhawks "Hollywood Town Hall (Expanded Edition)" (Sony Legacy)
The Jayhawks "Tomorrow The Green Grass (Legacy Edition)" (Sony Legacy)
The Modern Eldorados "The Rockmart Demos" (EP) (Self-released)
Darrell Scott "A Crooked Road" (Full Lights)
Abigail Washburn "City Of Refuge" (Rounder)


<! Rebel downloads >

---
A Sad Day: January 26, 2011
---
I just heard that the great Charlie Louvin has passed away, after a yearlong battle with cancer. He will surely be missed, although his influence and music will be here for ages to come. The Louvin Brothers have been faves of mine for many, many years, and I know that lots of other fans wish the best for Charlie and his kin... Rest in peace, Mr. Louvin... Your music enriched us all.
---
New Stuff: January, 2011
---

Jason Aldean "My Kinda Party" (Broken Bow, 2010)



(Produced by Michael Knox)
Is it even possible for a mainstream Nashville country dude to start an album anymore without stuffing in one of those super-fake nostalgia songs about their good old, small-town childhood home? Apparently not. Aldean has about fifty of them on this album, starting off with "Tattoos On This Town," a poppy tune filled with ringing guitars and prefab sentiment; far worse is his geefy attempt at rapping on "Dirt Road Anthem." Oh, well. We all make mistakes, right? It's how we learn and grow. Later on, though, things pick up: on "Church Pew Or Bar Stool," he feels stifled by the small-town vibe (although he immediately defends the folks back home from snobby city folk on "Fly Over States..." By the way dude: could you make up your mind? Small towns, love 'em... or leave 'em?) Top 40 fans might also enjoy his bombastic power ballad duet with Kelly Clarkson, "Don't You Wanna Stay." Overall, I'd say this ain't my cup of tea, but I guess Aldean is doing okay on the charts... I guess it's just one of those times I can honestly say I just don't get it.

Gregg Allman "Low Country Blues" (Rounder, 2011)



(Produced by T Bone Burnett)
A rock-solid, pleasantly mellow roots-blues set from Southern Rock granddaddy Gregg Allman, who has seen his fair share of funky jam sessions in his time, often with a solid wall of rock-god guitars around him. This time, he's in a stripped-down, mostly acoustic mode, playing classic blues from the likes of B.B. King, Amos Milburn, Otis Rush and Muddy Waters, with a few more obscure songs in the mix and some original tunes for good measure. Underpinning Allman's B3 organ are the funky piano trills of Dr. John, and a host of tasteful pickers, including producer T Bone Burnett strumming on a tune or two. A very tasteful, tasty album, Allman's first solo set in thirteen years(!) and sure to satisfy his fans and old-school blues lovers everywhere. Definitely recommended.

The Derailers "Live! From Texas" (Varese Fontana, 2010)


One of the stalwart bands of the Austin indie scene chugs along with a good-timin' live set... Bandleader Brian Hofeldt has been the doing most of the heavy lifting since lead singer Tony Villanueva left (almost a decade ago! how time flies...) and this disc leans heavily on Hofeldt originals, which of course have plenty of twang. Nice to see these guys keeping the faith.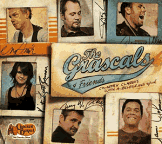 The Grascals/Various Artists "Country Classics With A Bluegrass Spin" (Crackerbarrel, 2010)


(Produced by The Grascals)
Giving some country oldies a bluegrass twist, Terry Eldredge and The Grascals invite in a whole slew of high-powered pals to pitch in on the vocals... Modern top country Nashvillers such as Dierks Bentley, Joe Nichols and Brad Paisley form one end of the spectrum, while old-timers like Charlie Daniels, Tom T. Hall and Dolly Parton bring in a historical perspective, for instance when the Oak Ridge Boys reprise their hit version of Rodney Crowell's "Leaving Louisiana In The Broad Daylight." Dolly sings on several songs, including the all-star singalong that closes the album, "I Am Strong," and an earlier version at the album's start. There're songs from Buck Owens, Johnny Cash, Hank Jr. and others... This may come online sometime in the future, but for now it's available through the Cracker Barrel restaurant chain... for folks who want a little twang along with their chicken-fried steak.


<! 13 country music songs on it that you have probably heard before, but most likely not like this. The Grascals bring their own bluegrass style to the tunes and bring the different tracks to life with eight of their friends, including Brad Paisley, Dierks Bentley, Charlie Daniels and Dolly Parton. >

The Jayhawks "Hollywood Town Hall (Expanded Edition)" (Sony Legacy, 1992/2011)


Another upgrade of the Jayhawks' major-label debut, a folk-country crazy-quilt showcasing the stonerdelic explorations of Gary Louris and Mark Olson, back when they were still in synch and ready to take on the world. I've always found this particular album a little hard to focus on, but I bet fans will be psyched to hear the five bonus tracks that have been added to this edition, including an obscure B-side and some other obscure material. Creative, spacy twang and twirl from one of the more oddball outfits of the 1990s "Americana" scene.

The Jayhawks "Tomorrow The Green Grass (Legacy Edition)" (Sony Legacy, 1995/2011)



(Produced by George Drakoulias)
One of my faves from these indie-twang icons... Although this album was quite recently remastered and reissued (in 2008), this expanded 2-CD set is worth aiming for if you're a fan... There are nearly two dozen "new," previously unreleased tracks on here, including one B-side from a single and a ton of outtakes and other rarities. Best of all, though is their ebullient, George Harrison-y cover of Grand Funk Railroad's "Bad Time," although the rest of this album is really quite solid and quite captivating as well... This album is probably the highest realization of the Mark Olson-era band's ideals. Definitely worth a spin!

The Modern Eldorados "The Rockmart Demos" (EP) (Self-released, 2007)



A fun, swingin' 4-song set mixing retro-billy and loping, twangy honky-tonk... Includes three original songs and a cover of an old David Houston song, "One If For Him, Two If For Me," which is a good showcase for lead singer Tyron Lyle's croony, Orbison-esque vocals. A strong debut from an indie band out of Mobile, Alabama... (PS - yeah, I know this is a few years old, but they just sent me a copy, and I got nothing against old stuff!) Definitely worth a spin!
Elvis Presley "The Complete Elvis Presley Masters" (RCA Legacy, 2010)
It'll cost you a pretty penny, but this limited-run, 30-CD box set (apparently) includes every studio master Elvis Presley recorded or released during his lifetime, plus a bunch of studio outtakes and unreleased material... Looking for "Clambake" or a demo session of "His Latest Flame"? Or just wanna crank "Jailhouse Rock" up real loud? Well... here ya go! And, yep, there's plenty of twangy country stuff in there, too. I'm sure that the most ardent Elvis bootleggers will moan about some rare recording or another being missing from this, but for most normal mortals, this is a pretty impressive set. Uhh-uh-huhh!! (Available online.)


<! out October 19th. > <! no ASINs as of 09/28 >

Darrell Scott "A Crooked Road" (Full Lights, 2010)



A 2-CD set...

Abigail Washburn "City Of Refuge" (Rounder, 2011)



(Produced by Tucker Martine)
It's kind of hard to get a handle on this one... Banjoist Abgail Washburn, formerly a member of the innovative old-timey band Uncle Earl, has made an abrupt departure from her twangy roots, with this densely-layered folk-fusion outing. The tone is more what I might characterize as Lilith Fair-ish introspective fare, rather than the "indie" pop that others have mentioned. Teh songs are sort of free-flowing and (to my ears) amorphous - as I say, I couldn't quite get a handle on it, and other than the traditional gospel numbers that close the album out, I would be hard-pressed to tell you what most of the songs were about. Although this didn't really grab me, I'm sure it will be like catnip for some folks - and Washburn is certainly to be applauded for trying something new and breaking out of her old patterns (even if those old patterns had resulted in several very fine records leading up to this one...) Certainly a change of pace... try it for yourself and see what you think.
---



Hick Music Index
Shop Amazon, Support Slipcue


---