<! * > <! MP3 00/00/00 > <! pix 00/00/00 > <! archived 10/12/11 * > <! May 2011: >

---



Howdy, neighbors!

Howdy, folks! Here are some reviews of the new country, bluegrass and Americana records that I had the good fortune to listen to in May, 2011. This page gets updated throughout the month, so check back if you can... Also, check out my full Guide To Hick Music for a bazillion more record reviews and artist profiles.

<! MACK, Bill "Play My Boogie" Various Artists "Hillbilly Bop, Boogie & The Honky Tonk Blues Vol 4 - 1956-57" > <! The Derailers: Live! From Texas Roy Clark: The Last Word in Jesus is Us Ed Bruce: In JesusŐ Eyes (Varese Sarabande) Randy Rogers Band "Burning The Day" (MCA Nashville, 2010) B003QNK3LE MACK, Bill Play My Boogie Other Rebel downloads >

This month:
Blind Boys Of Alabama "Take The High Road" (Saguaro Road)
Burns & Poe "Burns & Poe" (Blue Steel)
Dead Rock West "Bright Morning Star" (Red River)
Steve Earle "I'll Never Get Out Of This World Alive" (New West)
Foster & Lloyd "It's Already Tomorrow" (Effin Ell)
Emmylou Harris "Hard Bargain" (Nonesuch)
Russell Hitchcock "Tennessee: The Nashville Sessions" (Better Angels)
Sarah Jarosz "Follow Me Down" (Sugar Hill)
Matuto "Matuto" (Self-released)
Rick Nelson "In Concert - The Troubadour, 1969" (Ace)
Tara Nevins "Wood And Stone" (Sugar Hill)
Charlie Phillips "Sugartime" (Bear Family)
Glenn Reeves "Johnny On The Spot" (Bear Family)
Kimmie Rhodes "Dreams Of Flying" (Sunbird)
Josh Sloane "...And Coaltown" (Rural Rhythm)
Jimmy Spellman "Doggonit" (Bear Family)
Under Water "Vestibule" (Under Water Sounds)


<! Jim Quick "Down South" (iSuwannee, 2010) B004TL81TS - MP3 only Robert Johnson "The Complete Recordings" (Sony Legacy, 2011) - which edition????? >

---
New Stuff: May, 2011
---

Blind Boys Of Alabama "Take The High Road" (Saguaro Road, 2011)



(Produced by Jamey Johnson, Chris Goldsmith, Kevin Grantt & Chad Cromwell)
A really nice set from one of the longest-lived African-American gospel groups, joined here by several country/Americana luminaries such as Vince Gill, Willie Nelson, Hank Williams Jr., Lee Ann Womack and album co-producer Jamey Johnson, all of whom add their talents while respecting the integrity of the Blind Boys' classic sound. The Oak Ridge Boys are on the album's opener, chiming in with the deep, robust harmonies that are their trademark, creating a surprising synergy with their black counterparts in a related but divergent gospel tradition. The songs that the Blind Boys "solo" on are similarly rich and energetic -- the production is a little slick, but not too much, and there's a soulfulness and organic feel that keeps the music true to its roots. If you like traditional gospel music -- white or black -- this disc is highly recommended.
Burns & Poe "Burns & Poe" (Blue Steel Records, 2011)



(Produced by Mark Oliverius)
A 2-CD set from Top-40 hopefuls Keith Burns and Michelle Poe, a duo emerging from the ashes of the recently disbanded Trick Pony. You can hear the Pony influence in their work: before I'd even read their bio, I was already planning on comparing her to Heidi Newfield... and lo and behold, this gal had been hired as Newfield's replacement before the band broke up. This ambitious debut travels well-defined territory -- rollicking uptempo tunes, faux-hick soul, some weepers and some pop, and even a twang tune or two. A more tightly focussed single CD might have had more punch, but I guess starting on an indie label, they can indulge themselves a bit. Will they hit it big? No reason why not... they know all the same Nashville formulas that make big hits, and she can sing. So, we'll see. In the meantime, if you like top country but also get a kick from knowing about off-the-radar bands, you might wanna check these two out.


<! http://www.burnsandpoe.com/about.html May 10 >

Dead Rock West "Bright Morning Star" (Red River, 2011)



(Produced by Peter Case)
A fascinating blend of deep gospel and weirdo jam-band rock, with a modern California crew covering several old gospel standards -- the eerie, soulful stuff that makes goosebumps rise on your arms -- songs like "This May Be The Last Time," "God Don't Never Change" and "God Moves On The Water" with lyrics that confront the crushing qualities of life and present an eternal latticework above that contrasts a bright, holy heaven with the dust and sorrow on Earth. Singer Cindy Wasserman, along with her partner Frank Lee Drennen, taps into this bleak, old-school vibe and reappropriates it into an indie-rock context without seeming trite or coy. The first couple of tracks were a little too crunchy and abrasive for me, but the rest of the record added texture and ambience, including reverb-y guitars reminiscent of the oldest Staples Singers albums, and Wasserman in particular connects with the lyrics to bring out the spooky side of the music. Lots of high-powered guests on here as well, including D.J. Bonebreak, Exene Cervenka and John Doe (of X), producer Peter Case on guitar, and folk-freakster Mark Olson, whose old albums with Victoria Williams share a lot in common with this disc. It might be a very particular subset of listeners who will really be attuned to this one, but if you're into it, this is pretty cool.


<! April 19 >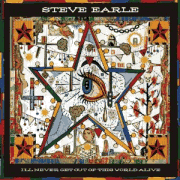 Steve Earle "I'll Never Get Out Of This World Alive" (New West, 2011)



(Produced by T Bone Burnett)
Well, it looks as if Steve Earle done got himself some religion, which, for his more secular-minded fans might ring a few alarms, but not to worry... Earle's spirituality is prickly and multifaceted, uncompromising, iconoclastic and searching, as heard in this album's centerpiece, "God Is God," in which he sets out his personal view of the divine which is --as far as I can tell -- that "God" exists, but is unknowable and definitely not a human-directed power. It's a great song -- a quiet, acoustic, substantive, honest inquisition into Earle's own beliefs. Spirituality pervades other songs on the album as well, and it seems that Earle is perhaps making his peace with the world, if not with those figures of hypocrisy and bigotry that are still in his sights: George W. still gets a shout-out ("Little Emperor") and the Gulf oil spill is transformed into a Celtic-flavored work ballad worthy of Great Big Sea or Ewan Maccoll. (Indeed, in addition to getting in touch with his spiritual roots, Earle has tapped pretty deep into the wellspring of British/Celtic folk, with some great results...) The collaboration with T Bone Burnett is delicious... Each song has a distinctive, ear-catching quality, with unusual textures and densities, spanning delicate folk plucking and gritty roots rock. There's only one track on here that I don't like, the grungy, overly Waits-ian "Meet Me In The Alleyway," which bears far too close a resemblance to the theme song from The Wire -- other than that, though, this is a practically perfect record, possibly my favorite Steve Earle record, other than his recent tribute to Townes Van Zandt. You'll definitely want to check this one out.


<! April 26, 2011 > <! deluxe edition with DVD: B004N5DHGM > <! no MP3 listing yet >

Foster & Lloyd "It's Already Tomorrow" (Effin Ell, 2011)



(Produced by Radney Foster & Bill Lloyd)
Fans will be psyched by this reunion of the country duo, fabled for their wry, uptempo country hits of the 1990s and for launching the career of alt-country icon Radney Foster... It's full of bouncy, rollicking, rock-tinged numbers, and quite a few catchy tunes. Bill Lloyd certainly brings out Foster's less-complicated, more melody-oriented side, and fans of their old stuff are sure to enjoy this one, too... Check it out!

Grasstowne "Kickin' Up Dust" (Rural Rhythm, 2011)



(Produced by Alan Bibey, Steve Gulley & Wes Easter)
A really sweet, multi-textured truegrass set from Alan Bibey, Steve Gulley and their cohorts... Flawless picking and gorgeous harmony vocals underscore one great song after another. A strong mix of country and 'grass, with hints of the Jimmy Martin crossover style, as well as several top-notch gospel tunes. Bibey and Gulley's tenures in bands such as Quicksilver and IIIrd Tyme Out hold them in good stead, particularly on the religious numbers. Some swell instrumentals and solos, as well... An extraordinarily well-rounded modern bluegrass record, with a firm traditional foundation and a fresh, youthful vibe from the band. Highly recommended!
Emmylou Harris "Hard Bargain" (Nonesuch, 2011)






<! deluxe edition with DVD: B004NPZYBI >
Russell Hitchcock "Tennessee: The Nashville Sessions" (Sony/Better Angels, 2011)



(Produced by Rob Rappaport)
If you want to see just how much common ground there really is between modern country ballads and 1970's AOR, check out these weepy, countrified sessions by the former lead singer of Air Supply: without changing too much of his tinkly, synthy keyboard-backed sound, Russell Hitchcock fits in perfectly with the more mellow, saccharine side of the current Nashville Top Forty. Another thing that hasn't changed that much is Hitchcock's voice, which is still robust and anguished, although his gray hair and a few crows feet around his eyes betray his age, the guy can still sing. This 2-CD set allows him to fully indulge his country side: if you like the style, no reason not to love this record.


<! May 10 >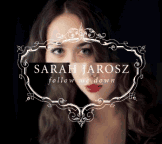 Sarah Jarosz "Follow Me Down" (Sugar Hill, 2011)



(Produced by Gary Paczosa & Sarah Jarosz)
I am a big fan of Sarah Jarosz -- she has a penetrating, timeless voice; her debut album of a couple of years ago had a revelatory feel, and I do believe that she is a major talent on the bluegrass(y) acoustic music scene. That being said, I had a hard time getting into this album, where the delicate balance between exploration and tradition has been pretty thoroughly upended in favor of the singer-songwriter pop-folk crossovers pioneered by Nickel Creek, Alison Krauss and company. That's okay, I guess, but I really feel Jarosz's sublime side shows better in more traditional, old-timey flavored songs, and that is borne out on this album in her adaptation of Edgar Allan Poe's ghost story ballad, "Annabelle Lee," a mix of folk and electric that sounds, for all the world, like an old Steeleye Span song. The rest of the record is largely taken up with her own compositions, which lean heavily on what I would call spiral-bound notebook lyrics, the kind of teenager poetry that Taylor Swift, Fiona Apple and others have taken to the top of the charts and which thousands of budding bedroom poets pen every day... But heartfelt and talented though Jarosz may be, these songs -- particularly self-involved, emotionally baroque anthems such as "My Muse" and "Floating In The Balance" -- needed more self-editing and paring down, and seem too complicated and thematically on-the-nose to resonate as much as the musicianship that accompanies them. Maybe it's just that I'm too old or too square or too into traditional music to hear this as anything but juvenilia, and I'm sure there is an enthusiastic audience to be found, but still I found myself disappointed, especially in comparison to her first record, which knocked me flat. The good news is that Jarosz is young, immensely talented, and working in an indie environment that can foster niche music-making and stylistic experimentation... Her future looks bright, no matter what grumpy old farts like me have to say. If you're looking for forward-thinking folk/grass, you might wanna check this one out -- but if you haven't heard her first album, it is an absolute must-have.


<! May 17 >

Matuto "Matuto" (Self-released, 2011)
(Produced by Scott Kettner & Rob Curto)
One of the boldest, most exuberant world music crossover albums in recent years... Clay Ross is a jazz guitarist originally from South Carolina, who in his youth rejected the bluegrass and mountain music that he saw as redneck-y and reactionary but came back to it after years of musical exploration in other genres. Here he seamlessly melds modern jazz (including some '70s-style fusion) with regional Brazilian music, mainly choro, forro and baiao, with a touch of twang swirled into the margins. This is an updated version of an album Ross first released in 2009, with several new tracks that place heavier emphasis on the Brazilian vibe, giving a lot of the spotlight to accordionist Rob Curto, who plays some absolutely blistering riffs that will thrill fans of Braz-jazz old-timers such as Sivuca, Hermeto Pascoal and forro legend Luiz Gonzaga. On the country side of things, there's also a nice version of Norman Blake's "Church Street Blues," underscoring the relationship that Ross discovered between Brazilian and Appalachian melodies... A catchy, dynamic and very adventurous album... (For more info, check out Clay Ross' MySpace page and this profile on public radio)


<! old ed. B002JOV0DQ >

Rick Nelson "In Concert - The Troubadour, 1969" (Ace, 2011)


Live recordings from the country-rock prime of former teen star Ricky Nelson, with backing by the first lineup of his fabled Stone Canyon Band... This is a greatly expanded, 2-CD version of Nelson's 1970 live album, with nearly four times as much material. The Troubadour concert was something of a creative comeback for Nelson, who had "gone country" without much success a few years earlier, and whose career was in freefall as he explored the new, psychedelic-tinged vistas of the nascent Southern California country-rock scene. In his new band were bassist Randy Meisner (soon to become a founding member of The Eagles and Buck Owens' longtime steel guitar player Tom Brumley... Some real heavy-hitters for a highly-regarded performance!


<! In 1970, Decca released a 12-track album of Rick Nelson, recorded live at Los Angeles' Troubadour. In 1990, Mac released a CD version, but this is long deleted. Ace is proud to bring you a deluxe, 42-track version. Fans will love to hear the original album, with 10 superbly re-mastered alternate tracks, as well as a complete further live show of yet 20 more alternate performances from the same set of concerts held at the Troubadour between 29 October and 2 November 1969. All recorded with a terrific band sounding a lot more intimate straight off the original 8-track masters, beautifully remixed and newly mastered. The second disc contains Rick's spoken introductions and between-song commentaries, providing an intimate and historical portrait of a great performer. This concert marked the debut of the Stone Canyon Band - ex-Poco and future Eagle Randy Meisner on bass and backing vocals, Allen Kemp on lead guitar, Patrick Shanahan at the drums, and Tom Brumley on steel guitar. >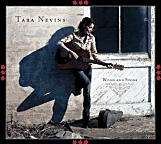 Tara Nevins "Wood And Stone" (Sugar Hill, 2011)



(Produced by Larry Campbell)
An exceptionally bouncy, really fun Americana set featuring singer Tara Nevins of the jam-band, Donna The Buffalo. These songs are more focussed and solidly twangy than the more loose-limbed music of the Buffalo band... and man, are they catchy! The album opens strong with the rollicking title track, "Wood And Stone," and gets more intricate and mysterious as it goes along... But consistently, this disc is a real earbender, the kind of record that stays in rotation at my place for a long time. Recommended!


<! May 3 >

Charlie Phillips "Sugartime" (Bear Family, 2011)

Glenn Reeves "Johnny On The Spot" (Bear Family, 2011)

Kimmie Rhodes "Dreams Of Flying" (Sunbird, 2011)


Josh Sloane "Josh Sloane & Coaltown" (Rural Rhythm, 2011)



(Produced by Josh Sloane)
A rugged, mid-tempo mix of bluegrass and gruff country ballads... Kentuckian Josh Sloane has a heavy, honky-tonkish voice and the picking isn't full of the usual drag-racing bluegrass breakdowns... Instead, Sloane keeps a mellow, mournful vibe throughout, with a country-tinged sound that might appeal to fans of Jamey Johnson. Other than fiddler Gerald Evans, I didn't recognize any of the musicians backing him up... No complaints from me, though: I'm always happy to see new talent come up, and while this disc isn't packed with blistering solos, it's certainly solid and worth a spin. If you're on the lookout for new bluegrass talent, you might wanna check this guy out.
Jimmy Spellman "Doggonit" (Bear Family, 2011)

Under Water "Vestibule" (Under Water Sounds, 2010)
(Produced by Under Water)
The "band" called Under Water is primarily ukulele-strumming modern gal Erin Hickman, with a couple of pals pitching in on a tune or two... It's more indie than twang, with an uber-lo fi vibe reminiscent of Lois Maffeo, Rose Melberg, and the like. But I am a total sucker for a ukulele, and these songs sound pretty sweet... Worth a spin if you go for that old four-track sound. (Available at: UnderWaterUnderWater.com)
---



Hick Music Index
Shop Amazon, Support Slipcue


---