<! * > <! MP3 00/00/00 > <! pix 00/00/00 > <! archived 03/29/13 > <! Tender Mercies Kip Moore - album due out when? MCA Nashville - only a single as of 02/02 >

---
Howdy, neighbors!
Howdy, folks! Here are some reviews of the new country, bluegrass and Americana records that I had the good fortune to listen to in March, 2012. This page gets updated throughout the month, so check back if you can... Also, check out my full Guide To Hick Music for a bazillion more record reviews and artist profiles.
This month:
Carolina Chocolate Drops "Leaving Eden" (Nonesuch)
Ann Claire "Honkytonk Princess" (Prosody)
Elephant Revival "Break In The Clouds" (Ruff Shod)
Katie Glassman "Snapshot" (Self-Released)
Kevin Gordon "Gloryland" (Crowville Media)
Casey James "Casey James" (Sony)
Shooter Jennings "Family Man" (Entertainment One)
Chris Jones "Lost Souls And Free Spirits" (Rebel)
Lonesome River Band "Chronology, Volume One" (Rural Rhythm) John D. Loudermilk "Sittin' In The Balcony" (Jasmine)
Lyle Lovett "Release Me" (Lost Highway)
Jeremy McComb "Leap" (EP) (McComb Over)
Beth McKee "Next To Nowhere" (Swampgirl)
Montgomery Gentry "Rebels On The Run" (Average Joe's)
New Country Rehab "New Country Rehab" (NCR)
ORBO And The Longshots "Prairie Sun" (Blue Mood)
Gene Watson "Best Of The Best" (Fourteen Carat)
Various Artists "THE BRISTOL SESSIONS: THE BIG BANG OF COUNTRY MUSIC" (Bear Family)
---
New Stuff: March, 2012
---

Carolina Chocolate Drops "Leaving Eden" (Nonesuch, 2012)



(Produced by Buddy Miller)
A wily mix of old-timey music and backwoods blues from a contemporary band that mines the more obscure corners of the African-American musical heritage, hearkening back to the minstrel show days and jug bands of yesteryear. Their fourth album pushes the group into more self-consciously modern terrain, with songs such as "Country Girl" and "Leaving Eden" that stray from their more traditional roots, and bring them closer to the style of Americana groups such as the Be-Good Tanyas, et.al.. You gotta love their unruly sound, though, with the squeaky fiddle and super-plunky, thrashed-out banjo, particularly when paired up with now-arcane, old-school instruments such as the hambones, as heard on their version of "Ruby, Are You Mad At Your Man." I have to confess, sometimes Rhiannon Giddens' vocals get on my nerves, though it depends on the material: "Boodle-De-Bum-Bum" is a great jugband tune, but the funky, overwritten "Country Girl" is kind of a drag by comparison. Still, I suppose you gotta mix things up... not everyone's going to want to hear a whole album's worth of uptempo, Grandpa Jones-ish tunes like "Run Mountain" and keeping it eclectic will keep modern listeners tuned in. A richly diverse, challenging record from a vigorous, intelligent band... Definitely worth checking out!


<! feb 28 >
Ann Claire "Honkytonk Princess" (Prosody, 2012)



(Produced by Travis Howard & Maxwell Abrams)
Wait -- what?? Seriously? The story here is that this gal is a real-life princess (of deposed Iranian royalty, a niece of the Shah, actually) and also a Los Angeles "princess" aka a Paris Hilton-style socialite who signed up to do a reality show about how she wants to become a Top 40 country singer, and how her richie-rich parents supposedly are all disapproving of her lowbrow aspirations. Okay... I'll bite. There're two ways you can go about this: you can cruise her website, where she tweets about pedicures, or you can just listen to the record and see what you think about her musical prospects. It's okay... kinda bland, but that's the point, right? Her voice is alright, though the material is only so-so (no songwriter credits on the CD, though I suspect much of it was written by producer Travis Howard, who also sings on a tune or two...) This was recorded in Nashville, but other than Biff Watson, I didn't recognize any of the session players, so it's not totally an A-list hit-factory production. The mix could be stronger, maybe put the snare drums less up front and add more of that crazily over-layered, bombastic pop production I'm always complaining about... Claire isn't a Shania-style wailer, so I'd guess they thought big production would drown her out, but they could have gone bigger. Anyway, for a vanity project, this is fine... I bet her parents are proud, though I dunno if the network is gonna sign her up for a second season.

Elephant Revival "Break In The Clouds" (Nettwerk/Ruff Shod, 2010)



(Produced by David Tiller)
A moody, mystical, playful mix of bluegrassy acoustic folk with classical touches, ideal for fans of Sarah Jarosz, Uncle Earl or Mumford & Sons. The performances are uniformly mellow and reserved, with a gentle blend of banjo, mandolin, washboard, cello and violin, one of those pleasantfully undefinable freak-folk records that are reshaping the folk/Americana/indiepop landscape... I particularly enjoyed the title track, a buoyant tune suggesting old-school, washed-in-the-blood revivalist gospel, but the more modern-sounding songs are pretty sweet too. Definitely worth a spin, particularly if you're looking for something that breaks out of the standard-issue model of hot-pickin' bluegrass, and are open to a groovy-cosmic hippie vibe.

Katie Glassman "Snapshot" (2012)



(Produced by Katie Glassman & Yaniv Salzberg)
An ambitious, jazz-oriented acoustic album that draws on Ms. Glassman's history as an old-timey fiddler, as well as her obvious love of swing music, and in particular the jazz violin of iconic musicians such as Sven Asmussen, Stephane Grappelli and Joe Venuti, along with a hint of westernswing/country cohorts like Bob Wills and Benny Martin. As a vocalist, Glassman often bears a striking resemblance to the tweety-bird voiced cabaret star Rose Murphey, and like Ms. Murphey, she's willing to push the envelope musically, letting befuddled listeners fend for themselves. I'd have to say, several of the songs on here go a bit overboard, and -- depending on your tastes and tolerance for challenging material -- might get irritating. The level of musicianship is quite high, though, so from a jazzy, technical perspective, there's a lot to chew on, and the more cerebral songs are balanced by plenty of pure, sweet swing. Fans of fiddler Elana Fremerman/James (and her old band, the Hot Club Of Cowtown) might wanna check this out as well. Bluegrassers Sam Bush and Sally Van Meter chime in on a couple of songs, though most of the musicians are basically unknowns, which is a very good thing in my book.
Kevin Gordon "Gloryland" (Crowville Media, 2011)






<! 162 x 144 >
Casey James "Casey James" (BNA/19 Recordings, 2012)






<! He came third in American Idol season 9 contest (Jan - May 2010), >
Shooter Jennings "Family Man" (Entertainment One, 2012)


Chris Jones & The Night Drivers "Lost Souls And Free Spirits" (Rebel, 2012)



Great best-of set (with a few new tunes!) from one of bluegrass music's finest modern craftsmen... Jones is particularly strong as a vocalist, with a great tone and a supple, conversational style that's sort of a cross between Randy Travis and James King... Some of his stylizations veer into more modern, crossover-y territory, but while I prefer his more traditional material, the progressive-bluegrass stuff is nice as well. Another rock- solid retrospective set from the folks at Rebel!

Lonesome River Band "Chronology, Volume One" (Rural Rhythm, 2012)



An exceptionally sweet set from these stellar bluegrass traditionalists, although a slightly misleading repackaging of their classic material... The Lonesome River Band celebrates its thirtieth anniversary and looks back at an admirable legacy, and like many long-lived bluegrass acts, their lineup has changed constantly through the years: this edition of the band features singer-guitarist Brandon Rickman and banjo whiz Sammy Shelor, although no original members have been in the group for several years. This eight-song album (the first of three discs celebrating their anniversary) reprises fans favorites from the '80s, although it's actually a set of re-recordings by the current lineup of the band. So, even though it's not quite what you might expect, it's still really, really nice music, with elegant high harmonies and one great tune after another. Keep 'em coming, fellas: we'll look forward to more great stuff in years to come.

John D. Loudermilk "Sittin' In The Balcony: The Songs Of John D. Loudermilk" (Jasmine, 2012)


Songwriter John D. Loudermilk excelled at both pop and country tunesmithing, penning many of the most charming hits of the pre-Beatles pop era. This 2-CD set features one disc of Loudermilk's own recordings from 1957-61, paired with a second CD of his songs recorded by stars of the era such as Johnny Cash, Eddie Cochran, the Everly Brothers, Brenda Lee, Ricky Nelson and others. Pretty tasty!


<! March 6 >
Lyle Lovett "Release Me" (Lost Highway, 2012)


Jeremy McComb "Leap... And The Net Will Appear" (McComb Over, 2011)


(Produced by Jeremy McComb, Tim Lawtner & Rusty Milner)
Independently released but very plausibly commercial, this six-song set should serve as a good demo disc for McComb's budding Nashville career... It's got the right formulaic mix of relentless rhythmic buildups, bright, rock-tinged power chords and intertwined tinkly piano and twangy guitar... I mean, really, this sounds like stuff you'd hear on the radio day in and day out, perfectly crafted and hitting all the marks. Of course, McComb's been around the block and had the brass ring dangled in front of him before (his previous album, My Side of Town, was semi-major label, but didn't go anywhere, hence the self-released EP...) so it may be a while before his name becomes a household word. But you never know -- it could be soon. He's certainly got the chops and he knows how to craft a tune that any Nashville star could take to the top of the charts. Keep your eyes on this kid.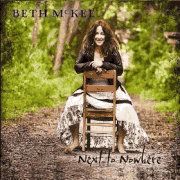 Beth McKee "Next To Nowhere" (Swampgirl, 2011)



(Produced by Mark Mason & Tony Battalgia)
Excellent! Exactly the sort of beautifully eclectic blues-Americana blend you'd expect from modern-day New Orleans... Singer-pianist Beth McKee hints at a rich variety of inspirations, with wisps of Bonnie Raitt, Tracy Nelson, Lou Ann Barton, Doug Sahm and Delbert McClinton, a loose, funky, sweetly soulful mix on an album packed with strong original material. If you're looking for the young blood that's reinvigorating American roots music, check out this album: this gal's the real deal!
Montgomery Gentry "Rebels On The Run" (Average Joe's, 2011)


New Country Rehab "New Country Rehab" (NCR, 2010)



(Produced by Chris Stringer)
Low-key Canadiacana from this talented Toronto quartet... Songwriters John Showman and James Robertson take their own distinctive slant on the rugged folk-country style, bringing to mind idiosyncratic auteurs such as Joe Ely, Buddy Miller and Tom Russell, yet still with a strong stamp of his own singular personality. There are nods towards tradition, including a trio of Hank Williams tunes and a cover of Bruce Springsteen's "State Trooper," though I found the group's original songs more compelling and more straightforward -- they seemed too self-conscious of walking in the shadows of their idols, and tweaked the oldies in ways that didn't always work as well as their own, more straightforward material. Songs such as "Angel Of Death" and "Cameo" have a compelling intensity, while other tracks are little too loosey-goosey for me. Worth checking out, though!
ORBO And The Longshots "Prairie Sun" (Blue Mood, 2011)



Rootsy country/rock/bar-band music from Texas, emotive and full of sincerity and drive... It's not quite my style (I go for a little more twang, and a little less krrangg) but if you like bluesy stuff like old Tom Petty or Delaney & Bonnie, you might wanna check these folks out. Nice mix of male and female vocals, with plenty of power and drive -- and doubtless a killer live show!


<! no listing as of 02/27 > <! several earlier albums - add to Americana >
Gene Watson "Best Of The Best: 25 Greatest Hits" (Fourteen Carat, 2012)



Re-recorded versions of classics by honkytonk legend Gene Watson, one of the finest country stylists of the 1970s and '80s... Hell, he's still one of country's best singers, a soulful, subtle vocalist who combines the wisdom of years with a remarkably robust vocal tone. This is a guy who know how it's done. You can track down the originals down as well, but you might like to check out how Watson sounds today... It's mighty sweet.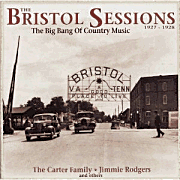 Various Artists "THE BRISTOL SESSIONS: THE BIG BANG OF COUNTRY MUSIC" (Bear Family, 2011)


In 1927, an enterprising Victor Records A&R representative named Ralph Peer set up a shoestring recording studio in a rural Tennessee hotel, and brought to the world the first recordings of the legendary Carter Family, as well as future superstar, blues yodeller Jimmie Rodgers. Other dimly remembered old-timey artists were also recorded, such as gospel singers Alfred G. Karnes and Ernest Phipps, old-timey singer Ernest V. Stoneman, and various stringbands, as well as a slew of local performers who never enjoyed the commercial success of the more luminous stars mentioned above. The best document of this amazing event was a 2-disc set put out twenty-five years ago by the Country Music Foundation -- now that collection has been blown out of the water by this 5-CD box set which gathers together all of the Bristol Sessions recordings, including numerous tracks that haven't seen the light of day in ages. There's also the amazing archival work that Bear Family is known for: great sound quality and a booklet filled with scholarly essays and fab photos. The old-timey sound might be a little hard to get into at first, but if you go for squeaky, plunky, super-twangy proto-country, then this is the real-deal motherlode, an absolutely essential collection.
---



Hick Music Index
Shop Amazon, Support Slipcue


---