<! MP3 04/17/09 > <! outside 00/00/00 > <! pix 00/00/00 > <! 208-pix: 00/00/00 > <! icons 03/26/11 > <! UPDATES: 04/17/09 03/29/13 >
---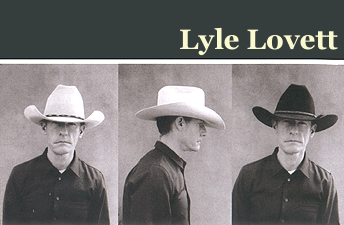 In the mid-1980s, Texas singer-songwriter Lyle Lovett took good old-fashioned hard country honkytonk and gave it a swift, youthful kick in the rear, bringing a world-weary, hipster slant to the old drinkin', mopin' and truck drivin' confines of the genre. One of the core members of the San Antonio/Austin alt.country axis, Lovett came up through the ranks along with Nanci Griffith and Robert Earl Keen, Jr., younger artists who wanted to expand on the literary-poetic pretensions of the "outlaw" artists of the 1970s (Willie and Waylon, primarily). Of his contemporaries, Lovett was one of the most caustic and arresting performers, as well as one of the most striking musical innovators. He mixed hard country and old-school R&B better than anyone since Delbert McClinton, and began touring with a "large band" that mixed gritty hillbilly roots with a sleek swing sensibility worthy of Cab Calloway.
The craggy-faced Lovett became nationally known following his marriage to gangly Hollywood glamour girl Julia Roberts, an unlikely pairing that made him a regular fixture in the supermarket tabloids for the next few years. His music seemed unaffected, though -- by this or anything else. In one sense you could say that Lovett hit a plateau in the late '80s, perfecting his style and has stayed there ever since. Here's a quick, opinionated look at his work...
---
Discography
---

Lyle Lovett "Lyle Lovett" (Curb/MCA, 1986)



One of the early must-have touchstones of the resurgent '80s Texas alt.country scene. This isn't actually one of my favorite Lyle LPs... Most of the songs are spacy and rambling, relying on bluesy grooves that are pleasant enough on their own, but don't do enough to indefinitely bolster Lovett's lyrics throughout repeated auditions... Nothing on here actually sucks, but a lot of these overly-clever compositions may outstay their welcome. Still, the bitter simplicity of "God Will" and the heartbreakingly powerful sentiment on "If I Were The Man You Wanted" helped launch Lovett up into the stratosphere of my hillbilly heavens. Recommended, although I have to admit, I did kind of tired of this album after so many years of having it on the turntable.
Lyle Lovett "Pontiac" (Curb/MCA, 1987)



This is the disc that still floats my boat, full of the wonderfully compact little ditties that made Lyle so great. Yeah, it's also got a lot of his hep-cat jump-blues grooves, which wear thin after a while, but I love the acoustic tunes like "If I Had A Boat" and "L.A. County," where Lyle's more quiet side shines through. I dunno why, exactly, but these seem to hold up better for me. The old-fashioned R&B work-ups are nice, too, and overall this is some of Lovett's best material. Highly recommended.

Lyle Lovett "...And His Large Band" (Curb/MCA, 1989)



Here's the (then) high point of Lovett's career, where he fully worked out his swanky blues/country crossover style, perfecting his horn-section and soul vocals and the whole hillbilly Tom Waits schtick. This is perhaps his most inspired and groovydelic record: it sounds like his heart was in it, and the songwriting is pretty sharp. This big band/R&B mix was also very unique for the time, coming out a full decade before the Gap-ad hipster swing revival, and showing a fair amount of bravery on the part of Lovett (and his label) to promote such an expansive concept with so little else like it to be heard anywhere else. Lyle's live shows were also incredible - featuring him fronting the Large Band and performing quieter acoustic numbers by himself. In some ways, though, the success of the formula was Lovett's undoing: things got a little too smooth, and after a while his duets with Francine Reed start to sound a little same-y. Plus, he kept doing the same old fabulous tunes every single show, along with all the same old stage patter and musical routines for years and years and years... Great stuff if you haven't heard it already, but it didn't offer much to long-term fans engaged. But if you're wondering which Lyle Lovett album to start out with, well, here ya go.

Lyle Lovett "Joshua Judges Ruth" (Curb/MCA, 1992)



I suppose this is where Lyle really started to lose me... The exaggerated down-hominess of the gospel-tinged of "Church" (and other similarly broad material) seems a bit strained, and overly calculated. Again, it's not a bad album by any measure, but it paves the way for Lyle's style to wear out its welcome. Still, if you love his other albums, there's no reason not to check this out -- other Lyle fans really dig this disc. Highlights include the mournful "She's Already Made Up Her Mind."

Lyle Lovett "I Love Everybody" (Curb/MCA, 1994)



Light string arrangements and goofy choruses decorate a fairly ephemeral album. Overly-whimsical, with some songs like "Fat Babies," "Penguins" and "Record Lady" that verge on mere nonsense. I hate to be blunt, but this record seems like a tossoff -- Lyle has a sassy way of singing and he can project enough 'tude to seem like he's got everything all figured out, but there doesn't seem to be any "there" there. The dude is running on autopilot, with song after song that seems more like an ill-formed half-thought, or a stick-figure novelty tune... You definitely get the sense that Lovett's heart wasn't in it for this one, moreso than on any of his other albums. It sounds pleasant enough, but nothing sticks.

Lyle Lovett "Road To Ensenada" (Curb/MCA, 1996)



Flawlessly executed and easy on the ears, but also somewhat uninspiring. In contrast to his earlier work, few of these songs seem that compelling. The ones that do stand out are gimmicky -- the Texas-isms that run throughout are kind of commonplace ("Don't Touch My Hat," "That's Right (You're Not From Texas)," etc.) and cartoonish. Although Lovett had hit a peak as a craftsman, as a songwriter he seems to be on autopilot. The single, "Private Conversation," is pretty catchy, though what puts it a couple of notches above the other tracks is hard to pin down. The album seems overly mournful and mopey and, once again, maybe Lyle's heart just wasn't in it...(?)
Lyle Lovett "Step Inside This House" (Curb/MCA, 1998)



Lyle Lovett "Live In Texas" (Curb/MCA, 1999)



If you've seen his stage show live, or on Austin City Limits, this album really doesn't add much. On the other hand, if this is your introduction to Lovett's work, it ain't bad. Includes a lot of his signature tunes, along with familiar concert routines.
Lyle Lovett "Dr. T And The Women (Soundtrack)" (Curb/MCA, 2000)

Lyle Lovett "My Baby Don't Tolerate" (Lost Highway, 2003)



Hands down, Lyle's best album in years -- the music packs a punch, and a strong momentum is maintained from start to finish. He dips into familiar territory -- rambling, jazzy blues; detail-oriented country story-songs; a bit of gospel on the two closing tracks, and a hefty dose of his now-familiar cynical whimsy. What'll probably come as the biggest surprise is the Pete Anderson-y Nashville twang on the opening track, "Cute As A Bug" and on "Wallisville Road" in the middle of the disc -- Lovett's consistently skirted around this sort of mainstream production in the past, but to be honest, it sounds great here, and helps add a little ooompf that's been lacking in his recent work. Finally, Lyle doesn't just sound like he's going through the motions, and has weighed in with a record that projects the same spark and vitality of his early work in the '80s. This one will hold up for years to come. Recommended!
Lyle Lovett "It's Not Big, It's Large" (Lost Highway, 2007)


Lyle Lovett "Natural Forces" (Lost Highway, 2007)


Lyle Lovett "Release Me" (Lost Highway, 2012)


---
Best-Ofs
---

Lyle Lovett "Anthology I: Cowboy Man" (Curb/MCA, 2001)



A pretty decent retrospective, with a couple of "new" songs ("Truck Song" and "San Antonio Girl") to round things out. There are other songs I would have picked, but what's here is pretty darn good. Besides, the "Volume One" part in the title is a hopeful sign. Totally worth the dough.

Lyle Lovett "Smile: Songs From The Movies" (Curb/MCA, 2003)



This disc gathers tunes Lyle has sung in various films from 1992-2002, mainly of the pop standards variety ("Straighten Up And Fly Right," "Gee Baby, Ain't I Good To You," and the like). Fans who dig Lovett's love of jazz and non-country formats will appreciate this collection, which only gets twangy on a couple of tunes. Mostly it's a ballad collection, although his version of Ray Charles' "What'd I Say" is a perky number for sure!
Lyle Lovett "Best Of Lyle Lovett -- Live" (DVD) (2007)

---
Related Records
---
Francine Reed "I Want You To Love Me" (Ichiban, 1995)


Francine Reed "Can't Make It On My Own" (Ichiban, 1996)


Francine Reed "I Got a Right!...To Some Of My Best" (Platinum CD, 2001)


A best-of drawn from various solo albums by Lyle's bluesy backup singer... I haven't heard this yet, but when I do, I'll let you know how it sounds...
---
Links
---
---



Hick Music Index



---
And some folks talk about marrying Julia Roberts like it was a good thing...
---