<! * > <! MP3 00/00/00 > <! pix 00/00/00 > <! archived 08/11/14 >

---
Howdy, neighbors!
Howdy, folks! Here are some reviews of the new country, bluegrass and Americana records that I had the good fortune to listen to in February, 2013. This page gets updated throughout the month, so check back if you can... Also, check out my full Guide To Hick Music for a bazillion more record reviews and artist profiles.
New Stuff: February, 2013
Gary Allan "Set You Free" (MCA Nashville)
American Drive "American Drive" (Rural Rhythm)
Blue Sky Riders "Finally Home" (3Dream Records)
Chastity Brown "Back-Road Highways" (Creative And Dreams)
Kevin Deal "There Goes The Neighborhood" (Blindfellow)
Deep Fried Squirrel "Southwest Missouri Home" (Self-Released)
The Dixon Brother "A Blessing To People" (Bear Family)
Roberta Donnay & The Prohibition Mob Band "A Little Sugar" (Motema)
Tim Easton "Before The Revolution: The Best Of 1998-2011" (New West)
Randy Houser "How Country Feels" (Stoney Creek)
Roger Knox & The Pine Valley Cosmonauts "Stranger In My Land" (Bloodshot)
Kris Kristofferson "Feeling Mortal" (KK Records)
Tim McGraw "Two Lanes Of Freedom" (Big Machine)
Buck Owens "Tall Dark Stranger" (box set) (Bear Family)
Buck Owens "Songs Of Inspiration" (Varese Sarabande)
Bruce Robison & Kelly Willis "Cheater's Game" (Premium Records)
The Steeldrivers "Hammer Down" (Rounder)
Richard Thompson "Electric" (New West)
Dale Watson & His Lonestars "El Rancho Azul" (Red House)
Holly Williams "The Highway" (Georgiana)
Bill Wilson "Ever Changing Minstrel" (Tompkins Square)
Various Artists "COUNTRY FUNK: 1965-1972" (Light In The Attic)
Various Artists "WORK HARD, PLAY HARD, PRAY HARD" (Tompkins Square)

---
New Stuff: January, 2013
---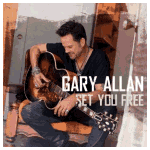 Gary Allan "Set You Free" (MCA Nashville, 2013)



(Produced by Gary Allan, Greg Droman, Jay Joyce & Mark Wright)
He was so much cooler fifteen years ago. The subtle allegiance to hard-country twang that drew me towards Allan's work in the 1990s seems to be pretty much gone: this is a glossy, overly-controlled, soulless pure-pop set. Technically "country," in the modern Nashville sense, but about as far away from true twang as you can get, full of shimmering, multi-textured electronics and lyrics that are a little too lofty and formulaic for me. Oh, well. Of course, the album hit #1 right away: I am not the target audience for this one.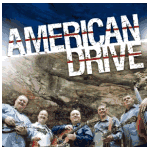 American Drive "American Drive" (Rural Rhythm, 2013)



(Produced by American Drive)
Following the retirement of bluegrass bandleader J.D. Crowe, his New South band has decided to carry on, just under a new name. Like many long-running bluegrass outfits, the band has always had a fluid membership, so the current crew -- Matt DeSpain, Dwight McCall, Kyle Perkins, and Rickey Wasson -- are relatively new faces to begin with, but talented, for sure. Banjo plunker Josh Hymer was brought in to fill the gaps left by Crowe's departure, and longtime fans will be pleased by the continued allegiance to good old, tradition-oriented truegrass. J. D. certainly had a good run, and though be won't personally be shepherding new talent into the ranks, his legacy can clearly be heard in this bright new band. Nice stuff!
Blue Sky Riders "Finally Home" (3Dream Records, 2013)



(Produced by Peter Asher & Blue Sky Riders)
A country-oriented outing from none other than '70s AOR superstar Kenny Loggins, working with Nashville songwriter Gary Burr, in a trio rounded out by singer Georgia Middleman, who's sung backup for several old (1980s) country stars. It's basically soft-pop comfort food: if you're a fan of classic '70s pop (and Loggins in particular) this album is a real treat. Loggins still has a supple voice and pretty much sounds like he did back in the day, and with Middleman in the mix there's also a strong echo of Fleetwood Mac (or, for a more modern reference, of Sugarland and/or Lady Antebellum...) I'd peg this as more of an adult-pop album than as a "country" record, although Loggins did have a lot of success as a crossover songwriter in the '70s countrypolitan scene, and when he adds some twang, it sounds good. This band might not light the Country charts on fire, but I think they'll definitely find a lot of fans.


<! The creative spark that eventually evolved into Blue Sky Riders was struck when two veteran singer/songwriters worked on their first song together. When Kenny Loggins, one of the premiere voices in modern popular music, joined forces with Gary Burr, one of Nashville's most accomplished writers, on the well-received 2008 release "How About Now," they felt they sounded like brothers when they sang together. Loggins, looking for a creative step forward in his musical career, decided on the-spot to form a band but wanted to add a third, female voice. Burr, who has been named Songwriter of the Year by ASCAP, Billboard and NSAI and has worked with artists such as Juice Newton, Conway Twitty and Wynonna Judd, suggested singer/songwriter Georgia Middleman, who has worked with Keith Urban, Faith Hill and Martina McBride among others. Blue Sky Riders was born. All three veterans sing lead amid three-part harmonies, which makes Blue Sky Riders unique. >
Chastity Brown "Back-Road Highways" (Creative And Dreams, 2012)



(Produced by Paul Buono)
Bluesy Americana with a mix of roots, twang and gospel-soul that sounds like a mix of Bobbie Gentry, Tony Joe White and Joan Osborne. This is a little too much of a contemporary folk sound for me, but I think a lot of folks will enjoy it, just not old-fashioned crabby cakes like me.
Kevin Deal "There Goes The Neighborhood" (Blindfellow Records, 2013)



(Produced by Lloyd Maines)
Looks like Kevin Deal's done got religion... This is a quirky but thoughtful and sincere alt-country gospel album, filled with all-original material (and one rugged, unruly cover of "Amazing Grace") as this indie-twang veteran joins company with folks such as Steve Earle and Eliza Gilkyson among the ranks of indie-Americana folkies who, in their middle age, have chosen to take a closer look at their mortality and their place in the presence of the eternal... whatever that may be. In the often-irreverent, rowdy world of twangcore, religious themes are usually played for laughs, as part of the whole white-trash stereotype thing that still plagues the genre (along with locusts, frogs and songs about stripper girlfriends...) It's much to Deal's credit that he takes it seriously, and is bold enough to put himself out there and express his inner spiritual yearnings, despite the likelihood that not many fans will want to hear about it... Nonetheless, he summons himself to stand humbly before his maker, and to ponder the meaning of existence and the small (and large) roles that humans play in the universe. Deal is more overtly Jesus-y and biblical than other Americana old-timers exploring these themes, but he comes at it from a modern, non-traditional perspective. One of the best songs on the album is "Just Another Poet," which starts with him remembering how once when he was a kid, he wrote a fan letter to Neil Young, and even though he never got a reply he "never stopped believing," succinctly connecting his faith with his art, serenely examining the romantic self-mytholizations of rock'n'roll dreamers. It's a mature look back at life -- and ahead as well -- and not the sort of stuff we often hear on records these days. This album won't be for everyone, but is does have meaning and real spiritual heft, and will probably resonate with listeners who have come to a similar point in their lives. Recommended, if you're in the mood.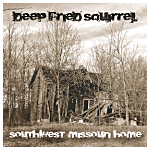 Deep Fried Squirrel "Southwest Missouri Home" (2012)



These Ozarkers tap into the old-timey vibe of the 1920s, but add a rock music insouciance, producing clattersome, bluegrass-tinged twangcore, roughly in the Split Lip Rayfield/Bad Livers/Gourds range... Nice, rough-edged picking and fiddling, and rather difficult vocals. Personally, I'd like to hear more of the traditional stuff, but maybe that's just me.
The Dixon Brothers "A Blessing To People -- Complete Recordings: 1936-1938" (Bear Family, 2012)


A 4-CD set collecting the Depression-era recordings of Dorsey and Howard Dixon, a brother-act duo who recorded nearly a hundred songs in the late 1930s. I haven't head this one yet, but I bet it's a doozy.
The Dixon Brothers/Various Artists "The Dixon Brothers With The Callahan Brothers" (JSP, 2011)



If the Bear Family box is too pricey, there's also this 4-CD set which features a hefty chunk of Dixon Brothers material (with various changes of lineup) along with another brother act, the Callahans. Less lavish packaging, but a lot of the same kinda music.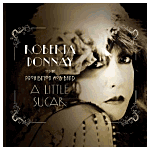 Roberta Donnay & The Prohibition Mob Band "A Little Sugar" (Motema, 2012)



(Produced by Roberta Donnay & Sam Bevan)
Sleek, sly, sexy torch songs from jazz-blues revivalist Roberta Donnay, who worked with Dick Oxtot's trad-jazz band in the early 1980s and, more recently, with roots-kook Dan Hicks in a revamped lineup of his Lickettes backup singers. Her compact, six-person band on this record has a big sound, ranging from robust New Orleans-style blues to more winsome arrangements that showcase pianist John R. Burr, a subtle accompanist who gives a sophisticated, lounge-y tone to much of the album. Nice song selection, with tasty classics from Ida Cox, Fats Waller, Irving Berlin, Hoagy Carmichael and -- a nice surprise -- a couple of tunes from pioneering African-American bandleader Clarence Williams. The album closes with one of her own songs, "Empty Bed Blues," a languid, steamy number that would make Ethel Waters or Maria Muldaur proud.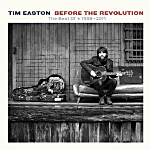 Tim Easton "Before The Revolution: The Best Of 1998-2011" (New West, 2013)



Rootsy, folky indie rock with a lot of touchstones and likenesses to artists such as Steve Earle, Todd Snider, and a dead-on latter-day Dylan (on "Burgundy Red") and some other, softer folkie types. Easton carves out his own private sphere, not as aggressive as Earle, not as flippant as Snider or as self-conscious and self-important as Mr. Zimmerman. This is a little more rock'n'roll than the stuff I go for, but has a nice, consistent tone that will grow on you, and an admirable range of styles... His contemplative, searching side strikes me best: if you enjoy modern-day twang-folk troubadours, this best-of collection is a good introduction to Easton's work. (And if you like the mellower stuff on here, you might also want to check out his work with the Easton Stagger Phillips trio, an album that I really enjoy.)
Randy Houser "How Country Feels" (Stoney Creek, 2013)



Geez. I was willing to give this guy the benefit of the doubt on his last record -- not a great voice, but an amiable presence, and he sounded okay on twangy tunes. He's another victim of the Nashville Syndrome, though: after any initial success, it's mandatory to "go pop" and sing a bunch of ballads with big, lavish pop production, which really doesn't work for a guy like this. Houser's vulnerabilities as a singer are brought out in extreme focus, and it's kind of embarrassing, to be honest. I think if they'd stuck with the more simple honky-tonk stuff, he would have been fine. But this is kind of disastrous. Oh, well.
Roger Knox & The Pine Valley Cosmonauts "Stranger In My Land" (Bloodshot, 2013)


Kris Kristofferson "Feeling Mortal" (KK Records, 2012)



(Produced by Don Was)
A stripped-down, moody, mournful set from an Americana elder... Kristofferson has always been one of those roots music dudes who had a weary, geezerly, old-man vibe: now he really means it. At age 76, he's also still the master crafter of crisp, concise couplets, including the verses that open this album, matter-of-fact ruminations on aging and mortality. He can also sculpt a perfect old-school country song, like on "Stairway To The Bottom," a rueful weeper that does not miss its mark. If you're a fan, you'll want to check out this self-released, rough-hewn nugget.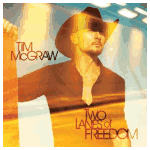 Tim McGraw "Two Lanes Of Freedom" (Big Machine, 2013)



(Produced by Byron Gallimore & Tim McGraw)
After an acrimonious split with and tooth-and-nail lawsuit against Curb Records, '90s superstar Tim McGraw moves on to a new label. His music sounds pretty much the same: formulaic, contrived, maybe a little mellower and more reflective, slightly more Bolton-esque. But he is what he is -- a pop-friendly Nashville icon heading into his golden years, yet still one of the few modern country stars to have staying power beyond the first few years. Most of the stuff on this disc didn't capture my imagination -- it just seems like another parade of faux-white collar paint-by-numbers cliches about God and highways, chicks and trucks, and one of those obligatory tropical vacation songs ("Mexicoma") and a lot of wispy, aching romantic ballads. I guess this is notable for its lack of overtly "good ol' boy" material: no songs about guns or fighting in honky-tonks or ogling some chick at a bar... McGraw is resolutely gal-friendly and sticks to the sensitive-guy side of the street. Nothing unexpected or out of the blue here, which is probably just what his fans will be looking for. Still, I wonder whether his heart is really in it anymore. I just don't feel much genuine emotion in any of these songs.


<! Feb. 5 >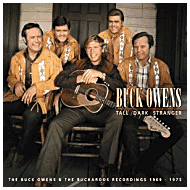 Buck Owens "Tall Dark Stranger -- The Buck Owens & The Buckaroos Recordings: 1969-1975" (Bear Family, 2012)


A long-overdue and much-welcome, 8-CD mega-box set gathering all of Buck Owens' remaining sides, recorded for Capitol Records between 1969-75. This has Bear Family's trademark sound quality and archival material, and includes all his duets with the underrated Susan Raye, some instrumental recordings by the Buckaroos band, an album's worth of material with Buck's son, Buddy Alan. True, Buck was on a creative decline and a lot of these songs represent his caving in to the forces of countrypolitan pop. In some cases, this meant doing country-folk material like his version of "Bridge Over Troubled Water," but there was also plenty of twang in there as well. After this, Owens went over to Warner Records, recording some fine material before he retired. Maybe someday Bear Family will gather that stuff together too (make a nice new box, along with his comeback records from '88-'91...) but there's already a swell collection of the Warner years that Rhino put together a while back, so basically hardcore fans can now get all the Buck they want.


<! (8-CD LP-sized Box Set + 108 page hardcover book) This 8-CD set chronicles every existing recording from Buck Owens' last years with CAPITOL RECORDS. Every week he was on the hugely popular 'Hee-Haw' TV show, his concerts were sell-outs, and he was building a business empire in his adopted hometown, Bakersfield, California. He recorded at his own studio and fans across the country had an insatiable appetite for his raw voice, his clever, snappy songs and the band's minimalist twang. It was success on a scale that every singer dreamed of, but few ever got and fewer still could handle. During his last years on CAPITOL, Buck tried to bring more variety to his sound. Acutely aware of changes in pop music, Buck admired rock bands' freedom to create and experiment with new and unorthodox sounds. This set includes a wider mix of styles than Buck had ever tried on record before. There are over 20 charted hits, beginning with Tall Dark Stranger and ending with Buck's exciting new version of The Battle Of New Orleans. In between are Buck Owens classics like I Wouldn't Live In New York City (If They Gave Me The Whole Dang Town), Bridge Over Troubled Water, Ruby, Rollin' In My Sweet Baby's Arms, Made In Japan, Ain't It Amazing Gracie, On The Cover Of Music City News, Monsters' Holiday, and the original version of Streets Of Bakersfield (later a #1 hit duet with Dwight Yoakam). This set also includes all the LPs, his bluegrass sessions, all the duets with Susan Raye, Buck's son, Buddy Alan, and an amazing unreleased duet with R&B singer Bettye Swann. Plus all the Buckaroos' albums! Alongside the hits, there are many previously unreleased songs. >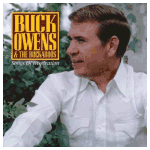 Buck Owens "Songs Of Inspiration" (Varese Sarabande, 2011)


Speaking of Buck, I guess I missed this one a while back, but if you like country gospel music, this is a nice collection of stuff from two of his old albums, Dust On Mother's Bible (1966) and Your Mother's Prayer, from 1970. Thank God they reissued this stuff!
Bruce Robison & Kelly Willis "Cheater's Game" (Premium Records, 2013)



(Produced by Bruce Robison)

The Steeldrivers "Hammer Down" (Rounder, 2013)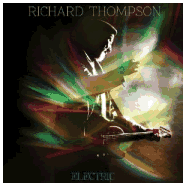 Richard Thompson "Electric" (New West, 2013)



(Produced by Buddy Miller)
A real winner from British folk-rock elder Richard Thompson. He finds an eager collaborator in roots/Americana insider Buddy Miller, who produces this album and adds some tasty guitar licks that compliment Thompson's own idiosyncratic style. This album boasts a strong selection of songs, each one moody, clever and compelling, defined by aching, deliberate melodies and subtle yet memorable hooks. As the album title implies, this is a rock-oriented set, but it's slyly punctuated with country/bluegrass touches, particularly fiddle riffs from bluegrasser Stuart Duncan and occasionally by Thompson's own mandolin. The performances are tightly focussed with each musician concisely adding to the songs, and Thompson himself in fine form. Particularly noteworthy are the harmony vocals, with English-born Nashviller Siobhan Maher Kennedy adding supple harmonies on several songs, reminiscent in turns of Kate Bush and even Richard's ex, Linda Thompson. Like many folk/roots artists, as a young man, Thompson affected a worldliness and cynicism that belied his years, though now well into his '60s, he has clearly the life experience under his belt to work comfortably in "old geezer" mode, and he wears it well. Though rueful, his songs have heart and hope, perhaps best heard on the album's closing track, a sweet acoustic ballad called "Saving The Good Stuff For You," in which the singer looks back at a long, sometimes rocky lifetime, and sees only better days ahead. With an album like this, it's a dream that's easy for us to believe as well.


<! Feb. 5 >
Dale Watson & His Lonestars "El Rancho Azul" (Red House, 2013)



One of the great true-country troubadours, Dale Watson is back in peak condition with plenty of twang and robust, rootsy vocals... On his last album, Watson made a pilgrimage to the old Sun Records studios to tap into the spirit of hillbilly rock; this time he's kicking it at Willie Nelson's Pedernales studio and going for a pure honky-tonk vibe. The album opens at a gallop, with the killer "I Lie When I Drink," which is as good a barroom singalong as Watson's ever made... The playlist is packed with other booze tunes, but also with a strikingly sentimental song about parents with kids growing old ("Daughter's Wedding Song") and young people in love ("We're Gonna Get Married") (There are also a couple of odd novelty tunes that divide the record: "Quick Quick Slow Slow" and "Slow Quick Quick" which seem to be instructional songs about learning to dance and learning to, um, er... ahem... Well, you know. And if you don't, then give the song a listen...!) The boozing tunes predominate, and he sounds a lot like Merle Haggard these days, and I mean Merle at his best, so if you're a twangfan, you'll want to pick this one up!
Holly Williams "The Highway" (Georgiana, 2013)



(Produced by Charlie Peacock & Holly Williams)
The third album from Holly Williams, granddaughter of Hank Williams, Sr., a soulful artist who is comfortable with country touches, but has set out on her own creative path, separate from the honkytonk and top-country legacies of her dad and granddad. This album anchors Williams firmly in the confessional, post-folk "adult-alt" pop landscape, with contributions by Jackson Browne, Jakob Dylan and others (including producer Charlie Peacock of the band, The Civil Wars...) but there's enough twang floating around that it's not hard to imagine some success with Nashville radio as well. Several very powerful songs on here, particularly the heartbroken weeper, "Happy." If you like Shelby Lynne, Rosanne Cash or Aimee Mann, you might wanna check this out as well.


<! her self-released third studio album due February 5 on her own imprint, Produced by Charlie Peacock (The Civil 11 original compositions written or co-written by Williams, the album includes guest vocals from Jackson Browne ("Gone Away From Me"), Jakob Dylan ("Without You"), Dierks Bentley ("'Til It Runs Dry") and Gwyneth Paltrow ("Waiting On June") >
Bill Wilson "Ever Changing Minstrel" (Columbia/Tompkins Square, 1973)


(Produced by Bob Johnston)
This is an Americana/folk-freak "lost gem" that really lives up to the hype... Bill Wilson, an Indiana unknown who recorded one lone album for Columbia Records in 1973, was a distinctive artist whose legacy was lost for four decades, since the distribution on the original album was so poor that it practically became a mirage. He's backed on this set of driving, hypnotic originals by a top studio crew under the direction of veteran producer Bob Johnston, a set punctuated by funky bass lines, soaring vocal choruses and slippery Southern rock guitars, but most of all by his own insistent acoustic guitar and half-chanted vocals. There's a definite "hippie" vibe to this album -- cosmic, spaced-out, prophetic lyrics and a searing, solipsistic urgency -- with a richly textured, eclectic early '70s sound. Perched halfway between Tony Joe White's swampy blues raps and the outlaw folk of Townes Van Zandt, Wilson had a knack for crafting sinuous, alluring refrains, choruslike verses which he would repeat over and over like liturgical chants. Indeed, several songs on here have religious themes, notably "Father Let Your Light Shine Down," a perky, soulful song that could have made it into the country gospel canon, had Wilson gotten a little more exposure. Other gems include the wind-blown folk tune "Rebecca," and "Black Cat Blues," a chain-gang ballad worthy of Robert Pete Williams. Wilson is an artist who's difficult to pin down stylistically, evoking Jerry Reed, Tom Rush and James Talley among others, and he definitely embodies the spirit of early '70s experimentation. If any of this piques your curiosity, by all means pick this up -- it's albums like this that reissue labels were made for.
Various Artists "COUNTRY FUNK: 1965-1972" (Light In The Attic, 2012)



Funky music with twang, or redneck music with a groove? Either way, this well-curated collection has a lot of surprises (Mac Davis with a beat? A country cover of Dr. John's "Gilded Splinters"?) as well as some stuff you'd expect, like gritty stuff from Tony Joe White, Bobbie Gentry and Larry Jon Wilson, as well as a few missed opportunities (no Elvin Bishop? Well, darn.) See? The Black Crowes didn't invent this stuff, after all.
Various Artists "WORK HARD, PLAY HARD, PRAY HARD" (Tompkins Square, 2012)


"...Hard Time, Good Time, And End Time Music: 1923-1936." A fascinating 3-CD set of old-timey records culled from a nearly-discarded, massive 78 collection that included a large number of previously unknown recordings. The discs are grouped into categories of work songs, gospel tunes and hillbilly party music. A nice addition to the wealth of vintage old-timey music available to modern listeners!
---



Hick Music Index
Support Slipcue


---