<! * > <! MP3 00/00/00 > <! pix 00/00/00 > <! archived 08/10/14 >

---
Howdy, neighbors!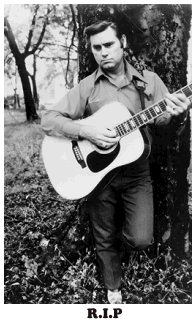 Well, I'm still in mourning for George Jones, as are lots of folks. I wanted to let you know about a new page devoted to the many George Jones tribute songs, at least as many of them as I can track down. Enjoy!
Now back to business: here are some reviews of the new country, bluegrass and Americana records that I had the good fortune to listen to in June, 2013. This page gets updated throughout the month, so check back if you can... Also, check out my full Guide To Hick Music for a bazillion more record reviews and artist profiles.
New Stuff: June, 2013
Lisa Biales "Singing In My Soul" (Big Song Music)
Randall Bramblett "The Bright Spots" (New West)
Clinton Gregory "Roots Of My Raising" (Melody Roundup)
Patty Griffin "American Kid" (New West)
Hal Harris "Gold Star Guitar" (El Toro)
Hot Club Of Cowtown "Rendezvous In Rhythm" (Proper)
Beth Lee "One More Time Again" (Self-Released)
Natalie Maines "Mother" (Columbia)
Madison McKenzie "A Part Of Me" (MadiMMusic)
Shannon McNally "The Songs Of Bobby Charles" (Sacred Sumac)
Rosehill "White Lines And Stars" (Cypress Creek)
Rosehill "Crooked Thoughts" (Tenacity)
Mike Scott "Home Sweet Home: Civil War Era Songs" (Rural Rhythm)
The Smoking Flowers "2 Guns" (Bandaloop)
The Statesboro Revue "Ramble On Privelge Creek" (Thirty Tigers)
Various Artists "ARHOOLIE RECORDS 50th ANNIVERSARY CELEBRATION" (Arhoolie)
Various Artists "THE FOLK YEARS" (Time-Life)
Various Artists "WOODY GUTHRIE AT 100! LIVE AT THE KENNEDY CENTER" (Sony Legacy)

---
New Stuff: June, 2013
---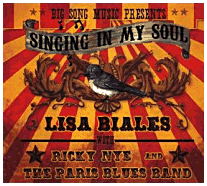 Lisa Biales "Singing In My Soul" (Big Song Music, 2013)



(Produced by Ricky Nye)
A really nice retro-blues record, with Ohio's Lisa Biales moving further back in time from her pervious Bonnie Raitt-ish album back to the sounds of the 1920s and '30s, covering classics by Blu Lu Barker, Mississippi John Hurt, Sister Rosetta Tharpe and Sippie Wallace. Her vocals are cool and confident, with strong string-swing accompaniment from pianist Ricky Nye and his Paris Blues Band. She includes several familiar tunes, such as "Careless Love" and "You Got To Know How," so listeners get to adjust themselves to this being a set of standards, and pay attention to her interpretations, which -- I gotta say -- are uniformly pleasant. She also contributes one original composition, the playful, eccentric "Magic Garden," which has a saucy take on the Garden of Eden scenario. Nice record... highly recommended!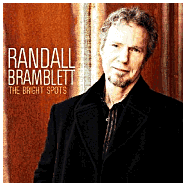 Randall Bramblett "The Bright Spots" (New West, 2013)



(Produced by Gerry Hansen & Randall Bramblett)
Savvy, soulful roots-rock which brings to mind artists as diverse as Buddy Miller, Dave Matthews and Mark Knopfler, along with more than a hint of latter-day Bob Dylan. This is an an elegantly produced album, firmly in pop-rock territory but with undercurrents of blues, soul and twang that reflect Bramblett's many years as a sideman for folks like Elvin Bishop and Bonnie Raitt. This album has a strong prophetic streak, which may suit some listeners more than others -- personally, I'm not a big fan of poetic profundity in pop songs or twang, but I can see the attraction. There's a wide range of songs dealing with existential issues: the self-questioning, philosophizing of a track like "Whatever That Is" may have more appeal than the overt religiosity of "John The Baptist" or the cosmic meandering of "All Is Well," but folks who are searching for meaning in a tough and confounding world may be drawn to it all. Standout tracks include the scathing "Til The Party's Gone," a radio-friendly, uptempo tune in which Bramblett -- who has doubtless seen his fair share of hard-partiers over the years -- ironically urges his listeners to indulge their every hedonistic impulse, sarcastically informing them that nothing bad will every come of it. Also alluring is the album's closing track, "Rumbling Bridge," which sounds quite pleasantly like an old Roxy Music song... This album is the product of years of masterful musicianship and hard-won life lessons; it's masterfully produced and full of passion, a potent entry in the adult-alt landscape.
Clinton Gregory "Roots Of My Raising" (Melody Roundup, 2013)



(Produced by Jamey Creasy & Scott Vestal)
Some artists and some albums take old songs and make them vibrant and new. That's the deal with this lively record where Clinton Gregory, a moderately successful 1990s country star, returns to his bluegrass roots and delivers this sizzling set of tunes drawn from the work of truegrass elders such as Flatt & Scruggs, Bill Monroe and the Stanley Brothers, along with some grassed-up versions of country oldies by folks like Tommy Collins and Lefty Frizzell. Gregory is totally committed to this album, to the lyrics and his vocals, as well as to his fiddling, so even if you've heard "Little Cabin On The Hill" or "Dark Hallow" a bazillion times before, this time around you'll hear it with new ears. Gregory leads a compact quartet with Doug Flowers on mandolin, Scott Terry on bass, and either Harold Roper or Scott Vestal playing banjo. They dig down into the livewire core of the old bluegrass sound, but with a subtle bit of country drawl in the mix... You can feel that this is music from Gregory's heart, and the fun he has playing what he wants how he wants comes through loud and clear. Highly recommended!
Patty Griffin "American Kid" (New West, 2013)



(Produced by Patty Griffin and Craig Ross)
A lovely record: stately, relaxed, elegant, mournful yet sweet. This is an album Griffin has been working on for several years, since 2009 when she learned that her father was near death, letting the music gestate and grow slowly, and her own emotions roil and come to rest, so that there's a deep, rich maturity and calm that fills each song. Griffin explores the complex emotions and relationships we have with family members, both living and dead -- some songs are sung to her father, others are framed from his point of view, telling stories from his younger days. Although this is clearly a deeply personal album, there is a universality to the feelings she explores, and pieces of this song or that will resonate with many listeners, especially those of us who have lost parents or other loved ones. Although Griffin has been identified with "folk" music, she's also always had a poppish bent, and has most recently been working with rock elder Robert Plant as part of his Band Of Joy touring group... Plant sings soft, subtle harmonies on a few of these tunes, but perhaps more than any other of her albums, this is an acoustic-based, decidedly non-rock album. Vocally, she still inhabits a comfortable space between Nanci Griffith and Emmylou Harris, perhaps tilting a little more towards Emmylou both vocally and in her Americana-meets-moody-pop approach... At any rate, this is a haunting and beautiful record, one that sheds new meanings and nuances every time you put it on. Definitely recommended.
Hal Harris/Various Artists "Gold Star Guitar" (El Toro, 2010)


I've been listening to this guy for years and years, but never knew it! Hal Harris was a hotshot hillbilly guitar player in the 1950s who crossed over from honkytonk to early rockabilly, backing artists as diverse as Curley Williams and Benny Barnes on the country side, while laying down some sizzling licks on rockabilly classics by Joe Clay and on the legendary "Thumper Jones" singles that George Jones did when testing the rock'nroll market. Harris has a rough-and-ready, chunky guitar style, with lots of great technique but an uncompromised hillbilly feel. This generously-programmed, 34-song selection includes a lot of rare singles spread out over several years and numerous labels -- the sound quality isn't quite on a par with Bear Family or Ace, but these guys still have cooler records than I do, and this album's a lot of fun. Definitely worth checking out if you like the old stuff.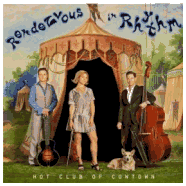 Hot Club Of Cowtown "Rendezvous In Rhythm" (Proper, 2012)



(Produced by Lloyd Maines)
Reunited and still swinging, the three-member Hot Club Of Cowtown stick strictly to jazz oldies on this one, setting the country stuff aside. Oh, sure, there's still some twang in their delivery, but the repertoire is all gypsy jazz and old swing standards -- "Crazy Rhythm," "Avalon," "Melancholy Baby" -- in a style that fans of Django Rinehardt or Joe Venuti can enjoy. Violinist Elana James (nee Fremerman) takes center stage with her melodic leads, though guitarist Whit Smith and bassist Jake Irwin are solid throughout, providing the kind of subtle-yet-dazzling accompaniment heard with old-time artists such as Hugh and Karl Farr, and get in plenty of hot licks themselves. A few fans may miss the country roots, but they'll still have fun with this scintillating set.
Beth Lee & The Breakups "One More Time Again" (Self-Released, 2013)



(Produced by Ron Flynt)
A nice uber-indie twang-tune set from a Texas gal from Houston and currently living in Austin (of course!) She's got a strong set of original tunes here, exploring country-coated themes of love, loss and regret, sung with feeling in a raggedy DIY style. Her band, the marvelously-named Breakups, have the distinct feel of indie rockers-doing-honkytonk-twang, but in a good way. They're true to the music, but also embrace their rock'n'roll roots, and their unfussy, unmannered performances feel authentic and sincere. More than anything, it's the repertoire that stands out: Beth Lee writes good songs, and when you give yourself over to the indie vibe, tunes like "Thirteen Roses" and "One More Time Again" will resonate and win you over. Fans of folks like Dee Lannon, Lil' Mo And The Monicats or Rosie Flores might want to check this out.
Natalie Maines "Mother" (Columbia, 2013)



(Produced by Ben Harper & Natalie Maines)
I don't begrudge Natalie Maines wanting to do a rock record, though this isn't really my kind of music, I do wish she and the other Dixie Chicks had gone on to make a couple more records as good as the band's post-Nashville swan song, Taking The Long Way. Still, she's the artist, and she should do what she wants. However, I was a little irritated by an interview I heard her give on NPR where she went off on this riff about how she was never that into the whole Dixie Chicks sound, and how country was never really her thing, and she never really knew that much about the style. Seriously? Your dad is steel player Lloyd Maines, your Texas uncles were all in a popular regional band together, one they took over from their dad who started it decades earlier... and you were never really that aware of country music or what it was all about? Yeah, right. I dunno... maybe she was just pulling a fast one on the fawning interviewer, or maybe she really was being incredibly disingenuous... But it seems to me that you could walk away from country music and still not completely disown it, no matter how rude all the Nashville folks were to you over the whole George W. Bush thing. Why let those people chase you away from your own roots? Anyway, here's doing a whole slick rock/pop thing, including covers of Pink Floyd and whatnot. Doesn't really work for me, but I guess a gal's gotta do what a gal's gotta do. It's way better than that Court Yard Hounds album, at any rate.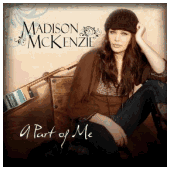 Madison McKenzie "A Part Of Me" (MadiMMusic, 2013)



(Produced by Bob Bullock)
It was inevitable that an artist as singular and as successful as Taylor Swift would breed a few imitators, and newcomer Madison McKenzie, a sweet-voiced gal from Illinois, is surely one of the top contenders in this new wave of country confessionalists. Like Swift, she pens songs that sound like a young girl's diary entries, full of half-spoken lyrics and ramblings about love, infatuation and mild recriminations, a distillation of teenage solipsism, buoyed by insistent pop-country arrangements. She also has a nice, naifish voice, the picture of plain-spoken sincerity and youthful self-assurance, sounding like Swift did on her first album, though perhaps with more of a conventional verse-chorus-verse feel. She's paired up with veteran producer Bob Bullock, an industry pro who's worked with stars such as Reba McEntire and Shania Twain, who provides McKenzie with a slick modern Nashville sound, not terribly original, but it fits in nicely with the times. I'm not sure if there's room in the charts for two Taylors, but this gal has a good voice and may find success as she finds her own individual voice. Still, if you're into the style, this could be worth checking out.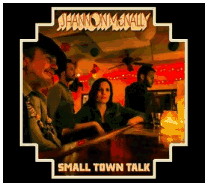 Shannon McNally "Small Town Talk: The Songs Of Bobby Charles" (Sacred Sumac, 2013)



(Produced by Shannon McNally & Mac Rebennack)
A funky, soulful tribute to Louisiana pop legend Bobby Charles, who penned classics of the early rock'n'roll era such as "See You Later, Alligator" and "Walking To New Orleans," and went on to mine the depths of various styles of roots music. Ms. McNally skips past the rock-oldies hits and taps deep into the Bobby Charles songbook, drawing particularly on his laid-back self-titled 1972 masterpiece. She has a strong patron with the album's co-producer, New Orleans luminary Mac (Dr. John) Rebennack, who was one of Charles' contemporaries and frequent collaborator. The Dr. John touch immediately roots this album in the world of New Orleans funk and soul, and McNally's raw, bluesy vocal style, reminiscent of young Bonnie Raitt, makes for an interesting counterpoint. Charles, who passed away in 2010, was also paid tribute on Beth McKee's I'm That Way, which covers more of the rock stuff, and makes a nice compliment to this album.
Rosehill "White Lines And Stars" (Cypress Creek, 2010)



(Produced by Jay Clementi & Radney Foster)
A re-release of an records that's a couple of years old... but still sounds fine. These rock-friendly Texans are proteges of Americana icon Radney Foster, who produced two of their albums, and plays acoustic guitar with the band. They're probably properly considered part of the "red dirt" scene, but the opening tracks on this album certainly have a strong commercial feel - the core duo of Blake Myers and Mitch McBain combine a bar-band grit with pop-country savvy; you could definitely see these guys going big.
Rosehill "Crooked Thoughts" (Tenacity, 2012)



(Produced by Jay Clementi & Radney Foster)

Mike Scott "Home Sweet Home: Civil War Era Songs" (Rural Rhythm, 2013)



(Produced by Mike Scott)
A tasteful all-instrumental set of songs popular in early 1860's America... Many remain well-known, either as the ind of folk tunes children learn (or used to learn) in school ("Camptown Races," "Turkey In The Straw," "Battle Hymn Of The Republic") or as standards in bluegrass music ("Bonaparte's Retreat," "Soldier's Joy," "Banks Of The Ohio"), along with similar tunes of more recent vintage, such as Jay Ungar's "Ashokan Farewell," which was used in Ken Burns' Civil War documentary a few years back. Mike Scott, who plays banjo in Ronnie Reno's band, enlists an all-star cast of Nashville 'grass musicians, including Mike Compton, Aubrie Haynie, Ben Isaacs, Adam Steffey, Bryan Sutton and others -- their performances are understated and sweet, and the repertoire is largely devoid of explicit references to the war, just to the popular culture of the time.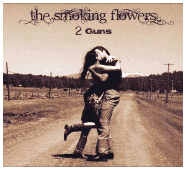 The Smoking Flowers "2 Guns" (Bandaloop, 2013)


(Produced by Adam Landry)
Scrappy alt-country from Nashville... The husband-wife duo of Scott and Kim Collins are veterans of the Nashville rock scene but here they take on some twang, in a latter-day Emmylou-Gram style, getting less rock and more country as the album progresses. Maybe Victoria Williams and Mark Olson are a better comparison: these songs are dense and odd, not easy to get a handle on at first, but they grow on you with sneaky, unexpectedly potent melodic hooks. Interesting stuff that's worth checking out.


<! previous album: B001OFLZGI >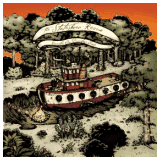 The Statesboro Revue "Ramble On Privilege Creek" (Thirty Tigers, 2013)



(Produced by The Statesboro Revue)
Twangy jam-band country soul from this Texas-based band... Lead singer Stewart Mann has kind of a Rod Stewart/Faces thing going on, buoyed by soulful organ and plenty of guitar... Early on there's a heavy Allman Brothers southern rock vibe, but they get looser and more soul-oriented as the album goes on. It's not quite my cup of tea, but it's done well, and I imagine fans of the Black Crowes could really get into this. And of course, I'll bet they're fun live.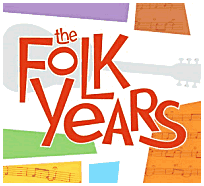 Various Artists "THE FOLK YEARS" (Time-Life, 2013)


This is a straight reissue of an earlier 8-CD, 120-song box set drawn from several major labels, broken down into four 2-CD sets (each available on its own as well) that are roughly (but not strictly) reflections of the different catalogs of each label or conglomerate -- two from Warner, and one each from EMI and Sony. Although reasonably comprehensive, the emphasis of this collection is on hit songs and artists who crossed over into the Pop charts, to the exclusion of less commercial but more authentic folkies such as Tom Paxton, Dave Van Ronk and other stalwarts of the Greenwich Village, Boston, and West Coast folk scenes. Breakthrough stars like Joan Baez, Judy Collins and Bob Dylan are amply represented, as are the more overtly pop-oriented performers such as Trini Lopez, the Mamas & Papas and the Springfields, as well as a slew of pop and country artists covering Dylan songs or otherwise cashing in on the folk fad of the late 1950s and early '60s. Though purists will lament the absence of various artists or songs (what? ...no Joni Mitchell? ...no Tom Rush??) the emphasis on commercial success has its own appeal... For one thing, it's amazing to see how many folk-oriented songs rose to the upper levels of the American charts, particularly during the Kennedy era, showing both the appeal of the genre and the now long-lost fluidity of the pop charts. Moving past the early 'Sixties, the editorial choices in this collection become more and more questionable -- the Band or Cat Stevens, sure -- but "Brown Eyed Girl" by Van Morrison? "Red Rubber Ball," by the Cyrkle? Cher?? Bread?? Really?? If you're looking for a solid dose of earnest '60s crewcut folk, you might be better off getting collections of The Kingston Trio, The Brothers Four and The Chad Mitchell Trio (who are all represented here) but if you want a pop-oriented overview of how the folk revival intersected with and influenced American pop music all the way through the early '70s, this greatest-hits has a lot of golden oldies to offer. The original discs from 2002 are still available in regular stores, though the current edition can be found on the Time-Life website What a day for a daydream, indeed.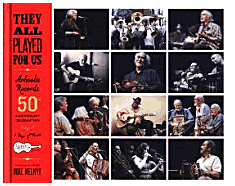 Various Artists "THEY ALL PLAYED FOR US: ARHOOLIE RECORDS 50th ANNIVERSARY CELEBRATION" (Arhoolie, 2013)



A couple of years ago, the venerable Arhoolie label, one of the finest folkloric/roots-music labels next to Smithsonian-Folkways, celebrated its 50th anniversary with a series of in-store concerts held at its sister-company, Down Home Music. Now, two years later, they've put out a groovy 4-CD box set that includes vive hours of music from artist such as Ry Cooder, Taj Mahal, Peter Rowan, Santiago Jimenez, Jr., Country Joe McDonald and the Savoy-Doucet Cajun Band, as well as reformed editions of long-lost legendary bands such as the Any Old-Time String Band and the Goodtime Washboard Band. It's a lively, diverse selection that reflects the breadth of Arhoolie's mission and the roster of artists who owe a debt to a label and a record store that for decades have spread the roots music gospel to the San Francisco Bay Area and beyond. This collection is a benefit for the Arhoolie Foundation, a nonprofit that was set up to continue the legacy of Arhoolie's founder, folklorist Chris Strachwitz... And if you want, you could buy it through the Down Home Music website and throw some action their way as well.


<! Santiago Jimenez, Jr. y La Familia PeĖa-Govea, Peter Rowan, Ry Cooder, Laurie Lewis & the Right Hands, The Savoy Family Band, Savoy-Doucet Cajun Band, David Doucet, Los Cenzontles, Suzy and Eric Thompson, The Goodtime Washboard 3, Toni Brown and Terri Garthwaite, The Campbell Brothers, Coutry Joe McDonald, Barbara Dane and Bob Mielke's Jazz All Stars, Treme Brass Band, The Creole Belles, Any Old-Time String Band, Maria Muldaur, and Taj Mahal. >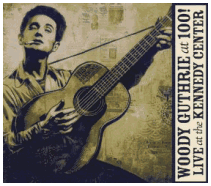 Various Artists "WOODY GUTHRIE AT 100! LIVE AT THE KENNEDY CENTER" (Sony Legacy, 2013)



A concert CD/DVD set that coincides with a PBS special in honor of folk icon Woody Guthrie... The DVD includes over a half-dozen performances not included in the TV special with Americana newcomers such as Old Crow Medicine Show joining a slew of esteemed elders, including folks like Jackson Browne, Ry Cooder, Judy Collins and Donovan, bluegrassers Tim O'Brien and Tony Trischka backed by the Del McCoury band and roots-rocker John Mellencamp singing the good old "Do Re Mi." Highlights include Rosanne Cash with two soulful ballads, "I Ain't Got No Home" and "Pretty Boy Floyd" and a touching performance from Guthrie's longtime compatriot, Ramblin' Jack Elliot, an old-timer who's still hanging on and singing the great old songs as best he can. Elliot's impassioned rendition of the labor anthem, "1913 Massacre" forms a palpable link back to Guthrie's heyday and the historical context these early folk troubadours came from. A fitting tribute to one of the great American musical trailblazers.


<! CD: 1. Howdi Do – Old Crow Medicine Show 2. Union Maid – Old Crow Medicine Show 3. Ramblin' Reckless Hobo – Joel Rafael 4. Hard Travelin' - Jimmy LaFave 5. Riding In My Car – Donovan 6. I Ain't Got No Home – Rosanne Cash with John Leventhal 7. Pretty Boy Floyd – Rosanne Cash with John Leventhal 8. I've Got To Know – Sweet Honey In The Rock 9. House Of Earth – Lucinda Williams 10. Pastures Of Plenty – Judy Collins 11. Ease My Revolutionary Mind – Tom Morello 12. Deportee – Ani DiFranco with Ry Cooder and Dan Gellert 13. You Know The Night – Jackson Browne 14. So Long, It's Been Good To Know Yuh – Del McCoury Band with Tim O'Brien 15. Woody's Rag – Del McCoury Band with Tim O'Brien and Tony Trischka 16. Do Re Mi – John Mellencamp 17. 1913 Massacre – Ramblin' Jack Elliott 18. This Train Is Bound For Glory – All Performers 19. This Land Is Your Land – All Performers DVD: 1. Howdi Do – Old Crow Medicine Show * 2. Union Maid – Old Crow Medicine Show 3. This Is Our Country Here – Jeff Daniels * 4. Ramblin' Reckless Hobo – Joel Rafael 5. Hard Travelin' - Jimmy LaFave * 6. Riding In My Car – Donovan 7. I Ain't Got No Home – Rosanne Cash with John Leventhal * 8. Pretty Boy Floyd – Rosanne Cash with John Leventhal 9. I've Got To Know – Sweet Honey In The Rock 10. House Of Earth – Lucinda Williams 11. Pastures Of Plenty – Judy Collins * 12. Ease My Revolutionary Mind – Tom Morello 13. Deportee – Ani DiFranco with Ry Cooder and Dan Gellert 14. I Hate A Song (spoken word) – Jeff Daniels * 15. You Know The Night – Jackson Browne 16. So Long, It's Been Good To Know Yuh – Del McCoury Band with Tim O'Brien 17. Woody's Rag – Del McCoury Band with Tim O'Brien and Tony Trischka * 18. Do Re Mi – John Mellencamp 19. 1913 Massacre – Ramblin' Jack Elliott * 20. Nora Guthrie (spoken word) 21. This Train Is Bound For Glory – All Performers 22. This Land Is Your Land – All Performers >
---



Hick Music Index
Support Slipcue


---