<! MP3 04/30/09 > <! outside 00/00/00 > <! pix 02/11/13 > <! icons 02/11/13 > <! UPDATES: 04/30/09 - a lot of LP listings I did not pursue. Not much in the way of straight reissues. 02/11/13 - added LP scans, though some look crappy - a few more are needed >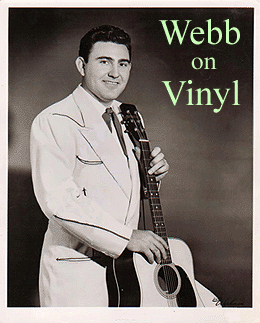 ---
There are lots of great old Webb Pierce LPs out there & there's really no better way to check out the full-on Webb aesthetic than handling the original vinyl with their great Decca artwork... Also, most of his work from the '60s is still unavailable on CD, so if you want to hear it, vinyl is the way to go. Here's a quick look at his many, many records. This discography does not include EPs or non-LP tracks on singles (someday, maybe, but hey... I gotta have a life too!)
Anyway, I hope this list is useful and fun... Enjoy!

---
Webb Pierce Discography - Albums
---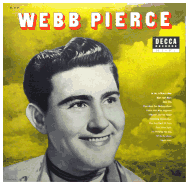 Webb Pierce "Webb Pierce Singing With Instrumental Accompaniment" (Decca, 1955) (DL 8129)
His first LP, compiling several earlier EPs. This is Webb at his most plaintive and in some ways, at his best. All the elements are in place: melody, rhythm and maudlin sentimentality -- from his rollicking cover of Jimmie Rodgers' "In The Jailhouse Now" to weepers such as "You're Not Mine Anymore" and "More And More," this is all winning material. And of course, let's not forget the stellar original version of "I'm Walking The Dog," which was his first really big hit. Highly recommended -- a top candidate for getting reissued!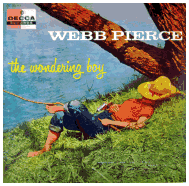 Webb Pierce "The Wondering Boy" (Decca, 1956) (DL 8295)
Classic. More stellar early material, including the original version of "There Stands The Glass," Webb's first big hit and best known song. Many of these songs were rerecorded for stereo in the early 1960s, and those more robust versions may be better known to many, but these early mono versions are pretty awesome. At this point in his career, Webb is clearly still a "hillbilly" singer, super nasal and somewhat blunt. When he moralizes on tracks such as "Backstreet Affair," "If You Were Me," and "Don't Throw Your Life Away," you believe him completely -- these are some of the best written songs he ever recorded. Highly recommended!
Webb Pierce "Country Church" (Decca, 1956)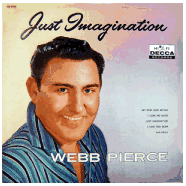 Webb Pierce "Just Imagination" (Decca, 1957) (DL 8728)
Wowiee! Webb totally kicks ass on this one -- not a bad song to be found on the disc, which is full of weepy ballads, and loping, whiny heartsongs. Webb borrows doo-wop and 50s teen-pop licks for several tracks, and knocks out a great cover of the corny old Dick Jurgens big band tune, "Who Wouldn't Love You." This is one that should be reissued, or at least mined more fully (the Bear Family box includes several tracks on the last two discs, but there's plenty of good stuff left!)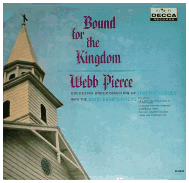 Webb Pierce "Bound For The Kingdom" (Decca, 1959) (DL 8889)


A hip gospel album, simultaneously bluesy and whitebread, this features vocal arrangements by Anita Kerr, and Webb's standard-issue swingin' beat behind half the tunes. It's silly but fun. The songs range from feelgood Public Domain material such as "He's Got The Whole World In His Hand" to a slew of chestnuts by Albert E. Brumley. If you're looking for classy, accessible country gospel, give this one a whirl!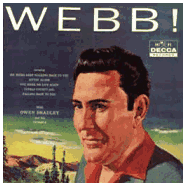 Webb Pierce "Webb!" (Decca, 1959) (DL 8899)
Webb at his absolute peak. Peppy arrangements, and several great songs by Wayne Walker, including the sublime "After The Boy Gets The Girl." Similar teenpop territory is covered in "Sittin' Alone," but mostly it's the hard country heartsongs and the heavy, loping backbeats which make this such a killer album. George Jones, Charlie Walker and Ray Price all get a run for their money when Webb covers their hits -- sometimes even better than the originals! And of course, there's Webb's original version of "Tupelo County Jail," the opening salvo of songwriter/honkytonker Mel Tillis' assault on Nashville. Great stuff.
Webb Pierce & Kitty Wells "Kitty Wells And Webb Pierce" (Decca, 1959)

Webb Pierce "I Ain't Never" (Decca, 1959)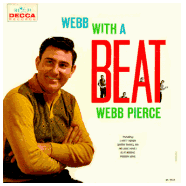 Webb Pierce "Webb With A Beat!" (Decca, 1960) (DL 4015)
An awesome album. About half the tracks on here wound up (correctly) on the "Webb Pierce Story" best of that came out in '64. Tracks like "I Ain't Never," "I'm Tired" and "No Love Have I" stand the test of time and deserve all the reissuing they can get. (All three were written by Mel Tillis, by the way...) Several forgotten tracks on here are great, too -- especially the corny but compelling (Mel Tillis) tune, "I'll Never Have To Be Alone," wherein Webb pines that if only he could meet a girl, he'd be just like everybody else...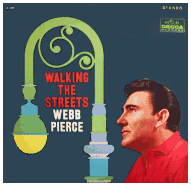 Webb Pierce "Walking The Streets" (Decca, 1960) (DL 4079)
The perfect crystallization of Webb's winning formula -- crisp, dynamic production frames some of Webb's most precise vocals, on a slew of upbeat, rock-tinged tunes. Here you find a great craftsman at work -- true, he is a little too measured for the full emotional oomph of the lyrics to come through, but while other country stars took their duties as capital-V "Vocalists" so seriously (Hank Locklin, Eddy Arnold, Ray Price, et al...) that they rarely sounded like they were having fun, Webb clearly got a kick out of nailing it just right. To top it off, the music is flawless. The pedal steel in particular should remind folks of Buck Owens "Bakersfield Sound." And check out the slinky bass and sexy electric guitars on "Texas Sand," which could easily have just been a toss-off tune -- wham bam, what a great record!
Webb Pierce "Webb Pierce's Golden Favorites" (Decca, 1961) (DL 4110)
A mix of old and new material, including several Mel Tillis foot-tappers.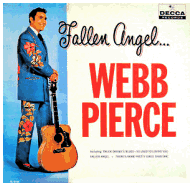 Webb Pierce "Fallen Angel" (Decca, 1961) (DL 4144)


Webb in absolute peak form, with the loping, modern style that is heard on the Webb Pierce Story double LP of a couple of years later... His vocals, the arrangements, the song selection, are all polished to perfection. Includes three songs by Wayne P. Walker, one by Warner Mack, and covers of the Delmore Brothers, Ted Daffan and Jimmie Rodgers... Who could ask for more?


<! Webb Pierce "Is It Wrong?" (Decca, 1961) 02/13: not really an album? No pix online >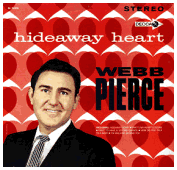 Webb Pierce "Hideaway Heart" (Decca, 1962) (DL 4218)
Webb's drifting a bit on this one... The bouncing backbeat is used as a simple studio frill... similarly, the pedal steel is used as an ornament rather than an instrument, and his songwriting mainstay, Wayne Walker, turns in several sappy ballads, instead of stuff that rocks. These are still Webb's good years, though, and the album has its moments.
Webb Pierce "Cross Country" (Decca, 1962) (DL 4294)


Great album art! Along with his famous guitar-shaped swimming pool, Webb flaunted his success by covering the chassis of his Pontiac convertable with silver dollar coins, and retrofitting its interior with Western paraphernalia. This is swinging pop-country, with Webb rocking out on songs by Mel Tillis and Wayne Walker, and includes some of my all-time favorite Webb tunes, such as "I'm Letting You Go," "Take Time" and "Crazy Wild Desire." Awesome!


<! (Note: Unfortunately, the 1980's Stetson LP reissue has problems with mastering speeds, giving an Alvin and the Chipmunks quality to some songs on Side B. Still well worth picking up, though). > <! 02/13: no online pix!!!! > <! Webb Pierce "Crazy Wild Desire" (Decca, 1962) not an album? ooops >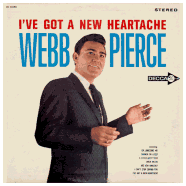 Webb Pierce "I've Got A New Heartache" (Decca, 1963) (DL 4358)
The swinging beat is a little subdued, and the vocals are super-soulful. A great album; the only misfire is his cover of Don Gibson's "Oh, Lonesome Me": hard to compete with the original! On the other hand, his versions of "I Can't Stop Loving You" and "Walk On By (Wait On The Corner)" are outstanding. An then, there's the new material: five whole songs from Mel Tillis and they're all doozies, as well as the awesome title track, written by Wayne P. Walker.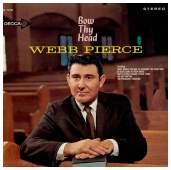 Webb Pierce "Bow Thy Head" (Decca, 1963) (DL 4384)
No bones about it, this is Christian country. But like the best gospel performers, Webb infuses the material with enough feeling to make it tolerable even to the most agnostic earlobes. The arrangements are wimpy, and the backing chorale rather bland, but Webb's voice is perfect for the material: irksome enough to get your attention, and soulful enough to draw you in.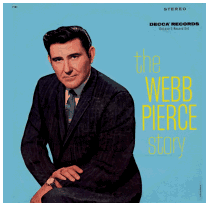 Webb Pierce "The Webb Pierce Story" (Decca, 1964) (DXB-181)
Keep your eyes open for the fabulous double LP set, which isn't really a best-of set, but rather a collection of stereo re-recordings of old '50s hits, with some newer material of early-'60s vintage... This was a great time for Webb's sound, when he was at his bounciest and most lively. (This was also the first Webb Pierce record I ever owned, so I have an extra-soft spot for it, as well...) Anyway, it's great stuff. The original Decca edition has a baby blue border; the MCA reissue has a weird brown cover, which is meant to look like wood paneling. Whichever version you find, this is a groovy collection, recorded during the full flush of his relationship with songwriters Wayne Walker and Mel Tillis and the band is bouncy and rockin'... Gloriously corny, and hella fun.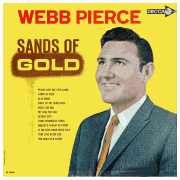 Webb Pierce "Sands Of Gold" (Decca, 1964) (DL 4486)


Smoothly produced, but heartfelt. This has its share of sappy tunes, but they are beautifully rendered. The title track is South Sea exotica schmaltz, though it works just fine. Ditto for the rest of the record: you can tell Webb's heart is in it by his teary rendition of the Jimmie Davis chestnut, "Nobody's Darlin But Mine." Loretta Lynn's brother-in-law, Warner Mack, weighs in with two songs which are the highlights of Side One. Reissued on an Audio Fidelity CD, and worth checking out.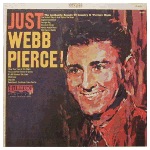 Webb Pierce "Just Webb Pierce" (Hilltop/Pickwick, 1965)
This is a cheapie cutout version of the green-covered Starday LP ("The One And Only...") which was reissued in the 1980s... Great music from the early '50s, when Webb still sounded raw and "hillbilly." This particular edition is my favorite, though, because it has hilarious liner notes which allude to Webb's flambouyant lifestyle.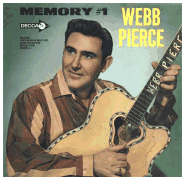 Webb Pierce "Memory #1" (Decca, 1965) (DL 4604)
Not a stellar album, but there are several nice tracks, particularly the upbeat Webb compositions, such as "Waiting A Lifetime," and the Wayne Walker weeper, "With You By My Side." The adulatory liner notes by Webb's secretary, Mazie, are particularly humorous.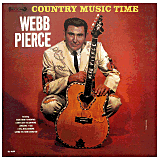 Webb Pierce "Country Music Time" (Decca, 1965) (DL 4659)
Webb puts up a mild struggle against sleepy, formulaic Nashville production. But the Floyd Cramer-style piano and sluggish folk-country arrangements make this tough going... Highlights include the obsesso-love song, "I'm Gonna Change Everything" (wherein the protagonist burns all the possessions left over from his broken marriage), and a bouncy, early-vintage Charlie McCoy tune.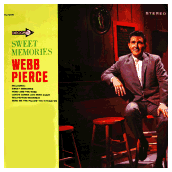 Webb Pierce "Sweet Memories" (Decca, 1966) (DL 4739)


Sleepy pacing, corny songs, tinkly piano and plinky Marty Robbins-style Spanish guitars make for an iffy album. Also, it doesn't seem like Webb's heart is really in it on this one -- he even hands off the recitation duties to someone else on the corny boxing ballad, "The Champ." Several cover versions miss the mark, particularly on Buck Owens' "Love's Gonna Live Here," though as ever there are a couple of nice performances, including the title track.
Webb Pierce "Webb's Choice" (Decca, 1966) (DL 4782)
Bouncy pop production makes for a decent album, though hardly a great one... The cover versions of "Time Changes Everything" and "San Antonio Rose" make you wonder if a Bob Wills tribute album was originally in the offing, but since the new material on here is far better, it's just as well it didn't happen. Strange but true: Webb's rendition of "Danny Boy" is actually really great. Better than Ray Price's, anyway. On other songs, his pipes sound a bit creaky, though -- maybe he, um, had a cold.
Webb Pierce "Where'd Ya Stay Last Night" (Decca, 1967) (DL 4844)
One of his better albums from this period. The band seems to be paying attention, and Webb is more in the groove than on the last few albums. Mostly cover tunes, including versions of the Eddie Arnold hit, "Make The World Go Away," "A White Sports Coat" by Marty Robbins, "Your Cheatin' Heart" and "Singin The Blues." There's nothing that drags the record down, and plenty that's fun. Definitely worth checking out.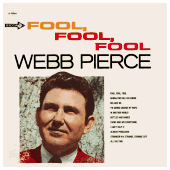 Webb Pierce "Fool, Fool, Fool" (Decca, 1968) (DL 4964)
A flatly produced, monochromatic album with mild countrypolitan aspirations. Unfortunately, Webb is seldom heard without a blandly angelic back-up chorus which guides him through every line of every song. Pity. Lots of cover tunes, including a pleasantly believable version of Billy Sherrill's "Almost Persuaded," which is the highlight of the album, along with the faux trials-of-parenting drinking song, "Bottles And Babies." Webb, incidentally, looks terrible on the album cover -- a bit puffy and overweight... not that it's any of my business, mind you.
Webb Pierce "Greatest Hits" (Decca, 1968) (DL 74999)
Pretty much what it says, but again, these are mainly re-recordings.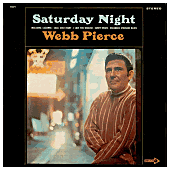 Webb Pierce "Saturday Night" (Decca, 1969) (DL 5071)
Uninspired, as well as heavy on cover versions and public domain tunes such as "Columbus Stockade Blues," done in a folk-revival style. It's hard to trash Webb, even when he's treading water, but it's equally hard to find much to get excited about here, other than two or three tunes.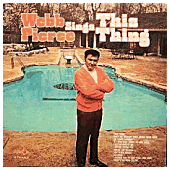 Webb Pierce "Webb Pierce Sings That Thing" (Decca, 1969) (DL 75132)
Webb gets a little croony, the closest he gets to actual countrypolitan-style crooning... and wouldn't you know? He kicks ass at it. Simpler and more direct than many of his schmaltzy fellow-Music City balladeers, and more heartfelt. A nice record. (And, yes, that is Webb's fabled guitar-shaped swimming pool... One of them at least. I totally want to get one, too!)
Webb Pierce "Love Ain't Never Gonna Be No Better" (Decca, 1970) (DL 75168)
He's barely going through the motions on this one... From the "Jinglebell Rock" ripoff of the title tune to the limp cover of Bob Wills' "Faded Love," and the sub-countrypolitan drek of "Remembering," this album has Webb more at the mercy of Music City than we'd care to see. When you hear the fiddles and steel chime in on just about any song, you can instantly tell the musicians are work-for-hire Nashville journeymen -- the kind of guys who can never remember whether they played on a certain session or not. Webb musters up a couple of worthy performances, and several of these songs would have made great weepers, if he'd recorded them a decade earlier. The arrangements are so dreadful, though, that it's hardly worth wondering about.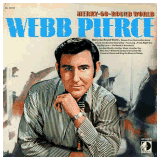 Webb Pierce "Merry-Go-Round World" (Decca, 1970) (DL 75210)
Possibly the weakest album Webb ever made, with vapid, plinky plinky Nashville arrangements, including an obtrusively bland back-up chorus, ocassional blips of Herb Alpert-styled horns, and just plain unexciting musicianship, not the least of which includes Webb's tired old man vocals. And, sadly, Webb seemed no longer able to cherry-pick the best songwriters Nashville had to offer -- even when he did latch onto a catchy tune, like Charlie McCoy's "Too Long," he doesn't make much of it. Daughter Debbie kicks in with some Loretta Lynn-ish vocals on one track, but it's really not anything to write home about.
Webb Pierce "Country Favorites" (Decca, 1970) (VL 73911)
A best-of drawn from various late '50s, early '60s albums. Some weepers, some uptempo Mel Tillis/Wayne Walker material. Like other MCA "Vocalion" reissues, this is fairly high calibre, with good song selection.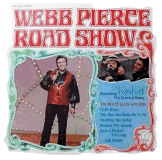 Webb Pierce "Webb Pierce Road Show" (MCA/Decca, 1971) (DL 75280)
The scariest thing about this album are the cover photos -- Webb traded in his Nudie suits for some wacky polyester Seventies swinger-wear... then there's the sight of sidekick Rusty Adams as "KoKo The Country Clown," apparently a hangover from the days of blackface minstrel shows. KoKo's two recitation numbers are a bit frightening, too... one is-a done-a inna bad-a Italian accent-a... Nonetheless, Webb still knocks off several sweet honkytonk shuffles, and the good stuff on here is well worth it.


<! 02/2013 - no good GIFs >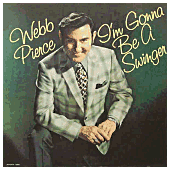 Webb Pierce "I'm Gonna Be A Swinger" (Decca, 1973) (DL 75393)
Musically, not his greatest album. Very much in the early-'70s, sleepypolitan style, though not without its charms. There's a really heavy-handed, mysogynistic recitation tune by Rusty Adams (aka "KoKo the Clown") wherein an estranged father writes his child to tell him that Mommy has been lying when she says that Daddy is dead... But I think the best part is that this song was written by the same DJ who Webb got to write the liner notes... Rather cozy arrangement, don't ya think? This one's okay. I guess it was also his last album for MCA, before they unceremoniously dumped him in their big early '70s corporate reboot.




Webb Pierce "Without You" (MCA Coral, 1973)
Awesome. Looks like a regular old album, but it's really a killer collection of some of his best songs from the '50s, in full glorious Monophonic sound... Includes both catchy hits and soulful weepers. Highly recommended.


<! 02/2013 - no good GIFs >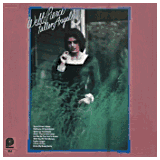 Webb Pierce "Fallen Angel" (MCA/Pickwick, 1975) (JS-6168)
An excellent album, which seems to be a mix of newer and older material (with a couple of tracks pulled from the 1961 album of the same title...). It's the newer stuff that's most fascinating... Webb's last efforts on MCA were notably more catchy and up-tempo than what he'd been up to for the last umpteen albums. One suspects that MCA's buyout of Decca put the handwriting on the wall: the label's country division was headed for a sleeker, post-countrypolitan sound (check out Conway Twitty's early '70s records, for example) and sluggish, by-the-numbers, contractual obligation records just weren't going to cut it anymore. Webb rallied to the occasion, and these singles-oriented cuts are a fine example of his eleventh-hour reinvigoration. Similar in tone to the rock-flavored stereo re-recordings on the "Webb Pierce Story" double LP, but with hints of the sleek MCA studio sound of the '70s. Still turns up used from time to time... worth checking out.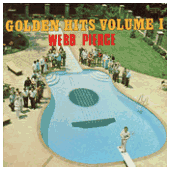 Webb Pierce "Golden Hits, Volume I" (Plantation, 1976)
Re-recordings of old hits, with dabs of mid-'70s glossiness thrown into the mix. He can't quite wail away the way he used to, but Webb's thin, Grampa-like voice still has a charm of its own. Plus, it's fun hearing these tunes with new arrangements -- sort of like when you hear a Beatles bootleg -- it's familiar, yet new. I actually enjoy these Plantation albums a lot.
Webb Pierce "Golden Hits, Volume II" (Plantation, 1976) (PLP-26)
More of the same. The swingin' remake of "There Stands The Glass" is one of the more distinctive tracks on here, though on the whole this album is pretty darn good.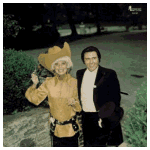 Webb Pierce & Carol Channing "C&W" (Plantation, 1977)


Get it? C&W... like "Carol & Webb"? Clever, eh? Anyway, this is a really, really weird collaboration, and it's no coincidence that one of these tracks made it onto a volume of Rhino Records' Golden Throats compilations (which collect horrific vocal performances...) Channing sounds like a psychotic understudy for Eartha Kitt's Catwoman role on the Batman TV series. She really sounds bizarre, in typical Channing fashion. What inspired this collaboration may remain a mystery for generations to come, but this LP will doubtless keep its novelty status for an equally long period. Doesn't hold up musically, but it is an interesting footnote to Webb's legacy.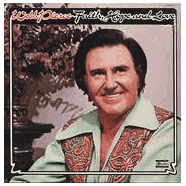 Webb Pierce "Faith, Hope And Love" (Skylite, 1979) (SLP 6210)
This gospel LP is a sad coda to Webb's career as a solo artist, with backup by doe-eyed Carpenteresque young-uns... The material is mostly old chestnuts, gussied up with dated, third-string indie country arrangements, the worst of which is a manic rendition of Hank Williams' "I Saw The Light." The title track is a kitschy, longwinded recitation track which is probably the highpoint of the album. Honestly, this album isn't anything to lose sleep trying to track down.
Webb Pierce & Debbie Pierce "Happy Birthday, Jesus" (7" single) (Plantation)
Does anyone have a copy of either of these singles Webb cut with his daughter? I'd love to hear them!
Webb Pierce & Debbie Pierce "On My Way Out"/"I'm Coming Home Again" (7" single) (Plantation, 1980)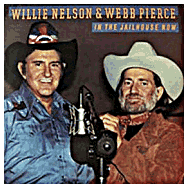 Webb Pierce & Willie Nelson "In The Jailhouse Now" (Columbia, 1982)


The grand finale of Webb's musical career, this is one in a series of affectionate these-are-my-idols duet albums that Willie made in the early 1980s. An unintentional classic in the country queercore genre, things get pretty campy pretty fast, as Webb and Willie swap sweet-nothing romantic verses on Webb's old weepers. All snickering aside, though, this is also a very solid country album, a noble end to Webb Pierce's recorded legacy. Many thanks to Willie Nelson for making this record happen... it's a goodie!
---
Links
---
Hey! Webb finally made it into The Country Music Hall Of Fame! Rumor had it that for several decades, certain powerful forces in Music City had blocked Pierce's entry into the hallowed ranks of honorees; that situation has at last been corrected in the year 2001 -- a decade after Webb passed away, and nearly fifty years after his first big hit. Rest easy, big fella.
---
CD Discography | Webb Pierce Fashion Fotos | Webb Page Intro
---




Hick Music Index


---

Where stands the glass...?