<! MP3 04/30/09, 02/10/13 > <! outside 00/00/00 > <! pix 02/10/13 > <! icons 02/10/13 > <! UPDATES: 04/30/09 - some new CDs, but nothing added, just updated 02/10/13 - reviewed DVD, enlarged all GIFs, fixed icons, several typos 09/15/21 - DA, edits >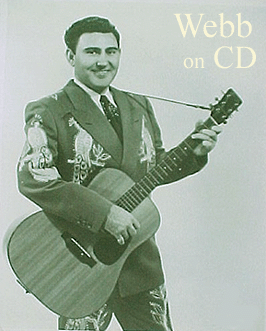 ---
"WEBB PIERCE IS GOD."
I first heard these words uttered about twenty years ago on the legendary hippie-country station, KFAT in Gilroy, California. Over the years, these fateful words have echoed 'round and'round in my head. Never were truer words spoken! Here's hoping you join the cult of Webb sometime soon... And here are some suggested CDs to help you get started!
Also, here's a link to a full discography of his original LPs.













---
Webb Pierce on CD
---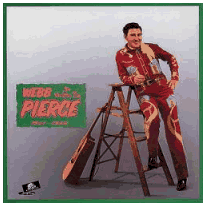 Webb Pierce "The Wondering Boy: Webb Pierce 1951-1958" (Bear Family Records, 1990)
A big, fat, honkin' four-CD box set representing the holy grail of Webb's work that's actually in print. The LP-sized package includes 113 tracks and a lavish booklet with great liner notes by Webb-ologist Otto Kitsinger, as well as a complete discography of Webb's Decca sessions, giving info on side musicians, writers, producers, etc. Plus, there's over an album's worth of this material which had never been released before! ... So why do I so seldom actually listen to these discs? Well, slowly I find myself coming to the conclusion that Bear Family might do better off if they made single CD "economy" versions of some of their fabuloso box sets... The multi-disc boxes are great fetish items, but somewhat pricey and a bit daunting to delve into once you actually shell out the cash and drag one home. Don't get me wrong, though -- this collection is ace bunny killer. Not a bad track on it. Worth every pfennig. And the second that Bear Family puts out a follow-up collection of stuff from the late-'50s and early-'60s, I'll be standing in line to pick up my copy.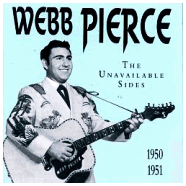 Webb Pierce "The Unavailable Sides: 1950-1951" (Krazy Kat, 1991)
Highly recommended!! A super-spiffy set of early recordings Webb made before he signed to Decca Records. Slightly rawer, boisterously fun hillbilly music from his days on the Louisiana Hayride radio show. A must-have for any serious Webb fan, and a perfect compliment to any of the best-ofs listed here... this is material not available on those albums, and it's quite good.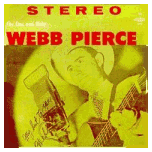 Webb Pierce "The One And Only Webb Pierce" (King/Starday Records, 1988)
More early 'Fifties recordings, made before Webb signed to Decca Records. This disc is instantly recognizable from its garish green cover. But even with the echo-y fake stereo remastering, this is killer material. A little rawer and rowdier than his major label work, and hella fun. Anyone who felt burned by the thin, echo-y sound quality of the old LP versions will be heartened to hear that the mix on this CD copy is much better, and closer to the original mono mixes.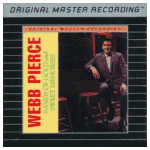 Webb Pierce "Sands Of Gold"/"Sweet Memories" (Mobile Fidelity, 1964/1966)
You sometimes see this one around, a little twofer reissue of a pair of albums from the mid-'Sixties: 1964's Sands Of Gold and Sweet Memories, from 1966. In historical terms, this is material from the start of Webb's downhill slouch, but wonderfully remastered for the audiophile crowd. Schmaltzy and formulaic, but still groovy. See my LP reviews for info on the original albums.

Webb Pierce "The King Of The Honky Tonk" (Country Music Foundation, 1994)
Want a new label to worship? Try the Country Music Foundation in Nashville... Either on their own or in conjunction with various major labels, the CMF has done fabulous missionary work to bring the greatest classic country music back into print. They definitely picked up the slack for MCA when they compiled this incredible Webb Pierce disc: you couldn't ask for a better single CD introduction. A couple of my favorite weepers are absent, but all of the hits are here, and they sound awesome. HIGHLY recommended. A must-have. Very good. Yes. Yummy.
Webb Pierce "The Wondering Boy: The King Of 50's Country" (Edsel Records, 2000)
This UK collection is also pretty tasty... The reissue pros at Edsel have a great track record, and they certainly don't fail us here... Comparable to the American best-ofs listed here.

Webb Pierce "Honky-Tonk Hero: Collector's Edition" (Fuel Records/Varese Sarabande, 2003)
In 1973, after two decades as one of Decca Record's top country hitmakers, Pierce was unceremoniously dumped by the label (which had reorganized as MCA, and had also dropped other old-timers such as Ernest Tubb, who were deemed too old-fashioned to make it in the countrypolitan era.) Webb then signed up with the independent Plantation label, owned by producer Shelby Singleton. This CD collects over a dozen tracks chery-picked from Webb's two Golden Hits LPs, from 1976 and '77, albums that were filled with peppy stereo remakes of honkytonk hits Pierce originally recorded in the '50s and early '60s. Many country fans reflexively dismiss these re-recordings as inferior to the originals, but they definitely have their charms, and show that Webb still had remarkable vitality, and an ability to work with modern studio backings. Certainly, for Webb fans, it's a treat to have some of these songs out on CD at last, even if it's a little deceptive of the folks at Fuel to note the Top Ten chart positions of the original recordings next to the track listings on the back: despite a strong push by Plantation, Pierce's '70s recordings never approached anything close to the hitmaking heights of his glory days. Still, it's nice stuff! Speaking of hits, an added bonus on this disc is the inclusion of Webb's last significant chart entry, "The Good Lord Giveth (And Uncle Sam Taketh Away)," a vibrant, fuzzed-out, poppy shuffle that, inexplicably, the folks at Plantation never included on a proper album. All in all, this disc is a nice find... it might not be Pierce in his true prime, but Webb's still kickin' some hillbilly butt!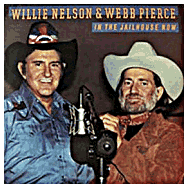 Webb Pierce & Willie Nelson "In The Jailhouse Now" (Columbia Records, 1982)
The grand finale of Webb's musical career, this album is one in a series of affectionate these-are-my-idols duet albums that Willie Nelson made in the early 1980s. An unintentional classic of country homoeroticism, things get pretty campy pretty fast, as Webb and Willie swap sweet-nothing romantic verses on Webb's old weepers. All snickering aside, though, this is also a very solid country album, a noble end to Webb Pierce's recorded legacy... in fact, it's one of my favorite Webb records! Many thanks to Willie for making this record happen... it's a goodie! (NOTE: The CD reissue also includes Nelson's duet album with Hank Snow... more bang for your buck!)


<! 02/2013: crappy GIF, bad source >

Webb Pierce "Honky Tonk Song: 22 Country Hits" (1998)
A Belgian import that apparently includes most of the fab 1957 album, Just Imagination, as well as a slew of other big hits from the '50s. Nothing to complain about here, although if you have the other best-ofs, this may be superfluous.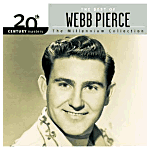 Webb Pierce "The Millennium Collection: The Best Of Webb Pierce" (MCA Records, 2001)
The stinginess of MCA's reissue department never ceases to amaze me. Certainly there's nothing wrong with the music on here -- it's all great stuff -- but could it really be that much more expensive for them to put 14 or even 16 tracks on one of these things, as opposed to a measly ten??? But hey... if you've never heard Webb before, and this is the only disc of his you can find, by all means, give it a spin. It may change your life. But if you have other options, they'd have to be more worthwhile. As it is, the most interesting thing about this CD is the concise, informative liner notes by country-ologist Rich Kienzle. Otherwise -- get real, folks: ten tracks just ain't enough material to motivate people in this, the golden age of reissues.

Webb Pierce "High Geared Daddy" (Bear Family Records, 2008)
Bear Family Records has long held a cherished position as an acme of roots music reissues, a highwater mark to measure other reissue labels by... They are also known for their massive, masterful, dauntingly expensive (and at times impenetrable) box sets... The first Bear Family box set that I knew I had to have was their 1951-1958 Webb Pierce collection -- I snapped it up years ago (and am eagerly awaiting the next one, with all those great early '60s recordings...) and have never looked back since. But I'm a Webb Pierce fanatic, as evidenced by this discography, which was the first thing I posted on the Slipcue site, back in 1998. For the more casual country fan, this single-CD collection may be a better good option to discover Webb's charms. There are, of course, quibbles to be made about the song selection, but the quality of the music is all top-notch. Check this out and hear why Pierce is one of the greatest country singers ever, on a par with Hank Williams and George Jones... it's great stuff!

Webb Pierce "Tupelo County Jail" (BACM, 2005)
(Also available through the British Archive of Country Music website.)


<! CD D 267 >

Webb Pierce "More And More: The Wondering Boy" (ASV Living Era, 2007)





Webb Pierce "Fallen Angel/Cross Country" (Hux Records, 2011)
A spiffy CD reissue of two classic 1960s albums by honkytonk legend Webb Pierce, 1961's Fallen Angel, and Cross Country, from 1962, when Pierce was truly at his peak. These are actually two of my favorites, and since I'm still waiting for Bear Family to pick up from where their last Webb box set left off (1958), I think I'm gonna snag a copy of this disc while I can. Great, old-school Nashville county: Fallen Angel has the bright, big bouncy sound of his best early '60s work, with a heavier backbeat and a more rock-friendly feel than other Nashville albums of the era. Where the big-star country crooners at RCA took country into slushy pop-vocals territory, Webb and the folks at Decca adapted honkytonk twang to the teenpop sound of the Everly Brothers, with delightful results. Cross Country is a classic that's well-known to many collectors who picked up the 1980s vinyl reissue -- the cover shows Pierce posing with his ridonklulously flashy bling-mobile, a shiny convertible studded with silver dollars and a horse saddle and pommel by the gear shift. The music's even cooler: fiddle and pedal steel take front stage, with the loping beat from songwriters Wayne Walker and Mel Tillis that made Pierce's early '60s albums sound so awesome. In addition to the up-tempo numbers, there are also some sweet heartsongs, including faves such as "I'm Letting You Go" and "Crazy Wild Desire." Great stuff... highly recommended!!

---
Tribute Albums
---

Various Artists "CAUGHT IN THE WEBB: A TRIBUTE TO THE LEGENDARY WEBB PIERCE" (Audium Records, 2002)
Many thanks to Gail Davies for organizing this all-star tribute to my personal honkytonk hero, Webb Pierce. The level of talent assembled for this project is staggering, ranging from grizzled old-timers such as George Jones and Charley Pride to contemporary Top 40 stars Trent Summar, Dwight Yoakam and Pam Tillis. The twangcore crowd and '70s mavericks also get in their licks: Emmylou Harris delivers a plaintive reading of "Wondering," while Rosie Flores and Robbie Fulks cheerfully plow their way through a pair of Pierce's rock-era hits. It's difficult for anyone to match the charm and immediacy of Webb's original recordings, but high marks go to Dale Watson for his explosive version of "In The Jailhouse Now" and to Guy Clark, who hits the goofy mood of "Honk Tonk Song" right on the head. Willie Nelson is also in on the fun, which is appropriate since his 1982 duets LP was the last album Pierce recorded. Here, Nelson takes his time with a bittersweet, appropriately mournful version of "That's Me Without Out You," one of Pierce's weepiest and best ballads. With an all-star cast like this, and such great material to work from, this disc should open a few new ears to the Webb Pierce legend. Check this out, and be sure to pick up one of the great Webb reissues out there as well.

---
Webb On Video
---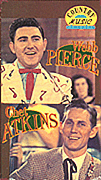 Webb Pierce/Chet Atkins "Country Music Classics" (Shanachie Records, 1991)
Charming mid-'50s TV performances by these two country giants. Webb grows increasingly comfortable on camera as time goes by -- he starts out in '54 looking stiff as a board; within a couple of years he's learned how to smile and even sway a bit while he twinkles at the camera. Chet Atkins has a slightly sinister appearance -- as though perhaps he'd made a pact with the devil to be able to play the guitar like that. Their performances are taken from an Opry-related show that was hokey as could be, and pretty adorable... filmed in 33mm, with vivid, garish techni-colors that were perfect for Webb's nudie suits and the gingham outfits of all the gals.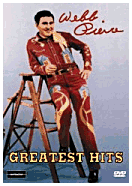 Various Artists "Greatest Hits" (White Star Video, 2003)
Although the cover art led me to think that this would be a set of vintage, 1950s/'60s performances, this is actually a video collection of what I like to call Scary Webb -- Webb well after the magic was gone, but still confident in his own stardom and his place in the country firmament. No dates are included, but there are some clues: the program is mostly built around a short-lived (1970's?) TV show that Pierce hosted, with a backing band of talented (but really bored) old pros backing him up, and a long-haired hippie dude on bass who looks more psyched to be there than anyone else, other than Webb. And Webb was really into it, singing with enthusiasm, if not entirely with grace: a few times he tries doing some Elvis Presley-style hip swiveling, and just looks awful -- a couple of times he almost falls over. I guess this was when he was drinking heavily? Anyway, the best part about these performances is getting to gape at the truly, astonishingly awful clothes he wore: his tailors must have loved working for Webb. Lots of bright colors, gigantic pterodactyl lapels and a few patterns that I doubt have ever been or will be repeated in all of fashion history. You have to see it to believe it. It's hard to say when these performances took place, but I'm guessing 1980-81 because he has his daughter Debbie duets and solo material on several shows, and she had cut a couple of singles on the Plantation label around that time. The footage looks "Seventies", but is probably actually early '80s. Framing the musical performances is footage of later, Really Scary Webb introducing the songs, and he looks really scary -- a cynical, anger-filled old-timer who tries to exude confidence and brio, but just seems kind of creepy out of touch, making weird asides about his career, including unfunny private jokes about songwriters he stiffed on royalties and stuff like that. Interviewed in what I'm guessing was his office or den, he has framed copies of the Carol Channing and Willie Nelson duets albums in the background, so these interview segments were at least from 1982, if not later. Like the music footage, the video quality is poor, with distortions and solid, persistent video lines throughout the tapes. I'm guessing these were separate projects -- a TV show first, and then a later video compilation using that old footage -- that Webb hoped would become cash cows in his later years. As a nutty, overly-devoted Webb-a-holic, I found this video fascinating, but in a sort of watching-a-trainwreck, rubbernecking kind of way. I can't image that many casual country fans would get much out of it... To see Webb at his best, you should stick with the old stuff that's reviewed above. This later material is really just sad and depressing. I'm glad this material is available, but it's not much fun to watch.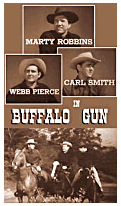 "Buffalo Gun" (1961)
I haven't seen this, but I believe it's a B&W cowboy-movie oater, featuring Webb, along with Marty Robbins and Carl Smith. The film is available on VHS... somewhere... Never seen it myself, though.
Various Artists "Road To Nashville" (Rhino)
A hokey B-movie made in 1967 that captures a whole slew of Nashville old-timers in their heyday. I also haven't seen this flick yet, but I hear Webb's appearances are pretty cute. This is stuff from the mid-1960s; Connie Smith, Lefty Frizzell and other big-name artists also appear.
---
Webb Pierce Discography - Best-Of LPs
---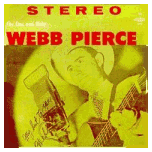 Webb Pierce "The One And Only Webb Pierce" (King/Starday Records)
Same as the CD listed above -- this disc is instantly recognizable from its garish green cover. Purist loathe the echo-y fake stereo remastering, which is indeed a distraction, but this is killer material. This includes a bunch of Webb's best recordings, including "Jinx In Love," "I'm Happy That You Hurt Me," and even some atypical cowboy-oriented "western" songs, such as "Lucy Lee." A little rawer and rowdier than his major label work, and hella fun... If you want the straight mono versions, you'll have to turn to European imports, although this has the advantage of gathering it all in one place. The LP looks cool, but I have to admit the '80s CD version has better sound quality.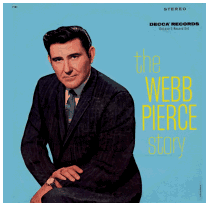 Webb Pierce "The Webb Pierce Story" (Decca Records, 1964)
Keep your eyes open for the fabulous double LP set, which pops up used from time to time. The original Decca edition has a baby blue border; the MCA reissue has a weird brown cover, which is meant to look like wood paneling. Whichever version you find, this is a groovy collection. Actually, these are mostly re-recorded stereo versions of many of Webb's '50s hits, long with some new stuff. But since this was recorded during the full flush of his relationship with songwriters Wayne Walker and Mel Tillis, the band is bouncy and rockin'... Sure, it's corny, but it's hella fun.


<! - (DXB-181) >

Webb Pierce "Without You" (MCA Coral, 1973)
Or, you could be lucky enough to find this puppy. Looks like a regular old album, but it's really a killer collection of some of his great early songs, in full glorious Monophonic sound... includes both catchy hits and soulful weepers. Highly, highly recommended.




Webb Pierce "The Unavailable Sides - Shreveport 1950-51" (Interstate - Krazy Kat, 1991)
An earlier version of the Krazy Kat CD. Fun, rowdy, occasionally sloppy stuff from his pre-major label days. This material doesn't appear on the Bear Family box set, or even on the Starday set, so it's definitely worth checking out.




---
Links
---
Hey! Webb finally made it into The Country Music Hall Of Fame! Rumor had it that for several decades, certain powerful forces in Music City had blocked Pierce's entry into the hallowed ranks of honorees; that situation has at last been corrected in the year 2001 -- a decade after Webb passed away, and nearly fifty years after his first big hit. Rest easy, big fella.
---