<! MP3 00/00/00 > <! update 00/00/00 > <! pix 00/00/00 > <! icons 02/18/11 >
---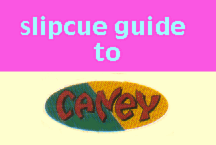 Caney Records is a superior reissue label based in Barcelona. Many of the Caney releases feature later recordings by Cuban artists who expatriated to Spain during the 1950s. Others feature prime material from the heydeys of the mambo and descarga scenes. The true hallmark of these discs, though, is their stellar sound quality -- the reissue engineering is absolutely top-notch. Okay, okay... I know how irritating it is to come across one of those "under construction" sites... but bear with me. When I get all the other cool stuff on the Slipcue site in order, I'll get back here and post some reviews... In the meantime, just take my word for it that this label has the goods, and that their stuff is well worth checking out!
---
(CCD 501)
Cachao y Su Ritmo Caliente "From Havana To New York" (Caney)

(CCD 502)
Tito Puente "Mamboscope" (Caney)

(CCD 503)
Various Artists "CHA-CHA-CHA EN LA HABANA" (Caney)

(CCD 504)
Charlie Palmieri & Peruchin "Cuban Rhythms" (Caney)

(CCD 505)
Orquesta Kubavana "A Toda Le Gusta Le Gusta" (Caney)

(CCD 506)
Beny More "Baile Mi Son" (Caney)

(CCD 507)
Conjunto Casino "Moliendo Cafe" (Caney)

(CCD 508)
Tito Puente "Pare Cochero" (Caney)

(CCD 509)
Bebo Valdes "Sabor De Cuba" (Caney)

(CCD 510)
Cachao y Su Ritmo Caliente "More Legendary Descarga Sessions" (Caney)

(CCD 511)
Machito "Ritmo Pa' Gozar" (Caney)

(CCD 512)
Bebo Valdes "Descarga Caliente" (Caney)

(CCD 515)
Frank Emilio & Quillermo Barreto "Algo Bueno" (Caney, 1999)
Descarga jam sessions and mellow jazz ballads from 1959-'60, led by pianist Frank Emilio... It's pretty good stuff, although it settles into static riffs from time to time. Again, a big Brubeck debt is evident -- maybe not the greatest jazz ever, but mostly pretty pleasant.
Juanito Marquez "Arrimate Pa'ca" (Caney, 2003)
A real mixed bag of sometimes-driving, sometimes-kitschy performances by Cuban guitarist-composer Juanito Marquez, who worked with Omara Portuondo and other stars of the '50s and early '60s, and who later became a session player in Miami, during the 1970s. His dance tune, "Arrimate Pa'ca," became a hit in 1964, on his first recording as a bandleader, and is featured among these early '60s recordings, made in '61 and '64. Marquez moves between straight-up son material and lighter arrangements more akin to the American easy listening/pop jazz popular at the time... The prominence of the amplified guitar in these recordings is unusual; mostly this is pretty fun stuff, though it does get pretty goofy at times.
(CCD 801)
Beny More "El Barbaro De La Melodia" (Caney)

(CCD 802)
Olga Guillot "La Mejor Cancionera De Cuba" (Caney)

(CCD 805)
Lolita Garrido "Con Sabor Tropical" (Caney)

(CCD 901)
Various Artists "NAVIDAD EN CUBA" (Caney)

(CCD 902)
Various Artists "INOLVIDABLES DUOS LATINOS" (Caney, 1995)

A fabulous set of lavishly corny, over-the-top romantic bolero duets. Features all of the biggest names from the olden days, such as Beny More, Libertad Lamarque and Jorge Negrete. The first time I listened to this, I though I could pass on it, but then I fell in love... A nice, highly recommended collection of pure Latin schmaltz, and a permanent part of my record collection!
---



Cuban Music Index
Other International Music


---