<! cd 01/02/11 > <! MP3 01/02/11 > <! update 01/02/11 > <! outside 01/02/11 - Bailey's site > <! links 00/00/00 > <! pix 01/02/11 > <! icons 01/02/11 >

---
The longtime musical partner of English leftie folk satirist Leon Rosselson, Roy Bailey is a British sociology professor (now emeritus) with a deep reserve of socialist political conviction, as well as a wonderfully resonant, robust voice, applied to great use on his many records. If you like your left-wing politics uncompromised and undiluted, then this is an artist you'll want to explore...
---
Discography
---



Roy Bailey "Roy Bailey" (Trailer, 1971)
(Produced by Bill Leader)



<! with Martyn Carthy, John Kirkpatrick, and Leon Rosselson >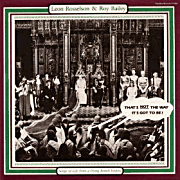 Roy Bailey & Leon Rosselson "That's Not The Way It's Got To Be: Songs Of Life From A Dying British Empire" (Fuse, 1975)



Even with Martin Carthy and John Fitzpatrick adding instrumental backing, most of this album is a bit dry and belaboured. However, it does have the original version of the Diggers Song ("World Turned Upside Down"), as well as two excellent short spoken word pieces, "School Taught Me" and "Time And Motion Study." Hard-hitting leftie politics, though not as savory as some of Rosselson and Bailey's other albums.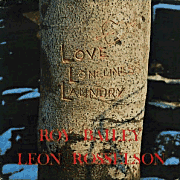 Roy Bailey & Leon Rosselson "Love, Loneliness And Laundry" (Fuse, 1977) (LP)


Rosselson and Bailey's masterpiece. A sardonic meditation on modern alienation, this audio equivlent of a Mike Leigh film features the classic atheist anthem, "Stand Up For Judas," and several other gems. From start to finish, this is a high-calibre album, in no small part due to excellent guitar work by Martin Carthy, who adds a sprightly bounce to big bummer songs such as "Let Your Hair Hang Down" and "Don't Get Married Girls." Other favorite tunes include the a capella version of Blake's poem, "The Garden Of Love" and "Invisible Married Breakfast Blues," a genuinely chilling look at a relationship gone flat. Highly recommended!
Roy Bailey "New Bell Wake" (Acorn/Fuse, 1976)

Roy Bailey & Leon Rosselson "If I Knew Who The Enemy Was" (Fuse, 1979) (LP)

Roy Bailey "Hard Times" (Fuse, 1982)
Of his solo albums, this is perhaps the best, with Bailey throwing himself wholeheartedly into such songs as Utah Phillips' famous defense of old folks, "All Used Up," and the related "When This Old Hat Was New." There's also the slightly histrionic antifascist paranoia ballad, "No Time For Love In The Morning," which, frankly, loses its appeal over the years. One the other hand, there is the chilling depth of "Roses Of Eyam," a genuinely haunting ballad which depicts a Renaissance village being ravaged by the plague; equally strong is the historical ballad, "Song Of The Leaders," which tells of the sad dismemberment of a 15th Century English peasant rebellion, led by Wat Tyler. On most of this album, John Kirkpatrick accompanies on accordion and concertina.

Roy Bailey "...Freedom Peacefully" (Fuse, 1985) (LP)


A typically nice sounding, traditionally-oriented, politically intense album, with songs critiquing unemployment, poverty, environmental disaster and militarism (in particular, the recently concluded British sortie over the Malvinas/Falkland Islands). Bailey draws heavily on the work of likeminded American folkies such as Charlie King, Charlie Murphy, and union organizer Si Kahn, who contributes a full three songs to this set. Lyrics that could be thematically dreary and grinding are made compelling by the sheerly musical elements -- Bailey's sonorous, heartfelt vocals, and in particular the meticulous traditionalism of Brit-folk stalwarts John Kirkpatrick and Sue Harris. Nice stuff!




Roy Bailey "Why Does It Have To Be Me?" (Fuse, 1989)



<! kids music >

Roy Bailey "New Directions In The Old" (Fuse, 1997)





Roy Bailey "Past Masters" (Fuse, 1998)







Roy Bailey "Coda" (Fuse, 2000)





Roy Bailey "Up The Wooden Hill" (Fuse, 2002)



<! children's music >

Roy Bailey & Tony Benin "The Writing On The Wall: Live At Cambridge, 2000" (Fuse, 2003)





Roy Bailey/John Kirkpatrick/Martin Simpson "Sit Down And Sing" (Fuse, 2005)





Roy Bailey "Below The Radar" (Fuse, 2009)

Roy Bailey "Tomorrow" (Fuse, 2010)

---
Best-Ofs
---
Roy Bailey "What You Do With What You've Got" (Fuse, 1992)
A best-of collection covering 1975-1991.
---
Links
---
---



Main Celt/Brit Index
International Music Index



---