<! MP3 01/02/09 > <! update 01/02/09 > <! outside 00/00/00 > <! links 00/00/00 > <! pix 01/02/11 > <! icons 00/00/00 >

---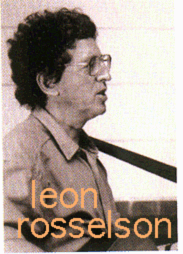 Equal parts Mike Leigh and Tom Lehrer, activist songwriter Leon Rosselson is one of the most accomplished leftie lyricists of the last few decades. He is probably best known as the author of "World Turned Upside Down," a historical ballad based on the writings and historical accounts of Gerrard Winstanley, leader of the Diggers, a pre-Marxist proto-socialist peasant movement which called for the abolition of private property. The song has been widely recorded, most famously by Billy Bragg, and by Dick Gaughan. Much of Rosselson's humor and subject matter is intensely English -- Thatcherism having provided fodder for the fury of his best albums for much of the 1980s. Despite his sardonic sense of humor, Rosselson's grave seriousness of purpose may wear thin after a while, but his best songs ably transcend the normal limits of the genre.
---
Discography
---



Robin Hall & Jimmie MacGregor With The Galliards "Scottish Choice" (Decca, 1961)
The Scottish folk duo Hall & MacGregor had a brief, burgeoning career playing folk music in the BBC in the early '60s. The material is staid, fairly authentic but unassuming, given a little extra ooompf from a young Leon Rosselson's guitar work and arrangements. All traditional, historical Scottish songs, with no original material, but still an interesting look at a radical folkie's earnest early roots.


<! Side One: Tramps and Hawkers; Brochan Lom, Tana Lom/Bodachan A' Mhirein; The Day We Went to Rothesay; The Craw Killed the Pussie; The Stoutest Man In the Forty Twa; Highland Fairy Lullaby; My Love She's But a Lassie Yet Side Two: Mingulay Boat Song; Nicky Tams; The Piper O' Dundee; The Bonnie Earl o' Moray; Mormond Braes; Coulters Candy; The Rovin Ploughboy >

Robin Hall & Jimmie MacGregor With The Galliards "A'Rovin' " (Decca, 1962)



<! Side One: Dig My Grave; Villancico; Go Tell Aunt Rhody; My Love Is Like a Red Red Rose; Asikatali; A Bold Young Farmer; When I First Came To This Land Side Two: Johnny, I Hardly Knew You; Lamidbar (Argov); Up Among the Heather; Ksekina Mia Psarapoula; A Bucketful of Mountain Dew; The Overgate; Lowlands; Time For Man Go Home >

Robin Hall & Jimmie MacGregor With The Galliards "Tonight and Every Night" (RCA-HMV, 1962)
(Re-released in the USA as Two Heids Are Better Than Yin on Monitor Records.)


< Side One: Johnnie Lad; Hares On the Mountain; Inverey; Scottish Medley (The 42nd/My Love She's But a Lassie Yet/Mormond Braes); Twa Heids Are Better Than Yin; Cuttie's Waddin'; Ye Banks and Braes; Glasgow Street Song Medley Side Two: Mick Maguire; Davey Faa; The Recruiting Sergeant; The Wild Mountain Thyme; Gin I Were Wgere the Gaudie Rins; The Old Triangle (Brendan Behan); Ca' the Yowes to the Knowes; Three Craws with The Gaillards (Leon Rosselson and John Jobson) > <! B001F3O778 LP >

Robin Hall & Jimmie MacGregor "The Next Tonight Will Be With..." (HMV, 1963)



<! The Next Tonight Will Be with... (His Master's Voice CLP 1715, 1963) with The Galliards (Shirley Bland & Leon Rosselson) Side One: Drill Ye tarriers Drill; New York Girls; Johnny Todd; Linstead Market; The Jug of Punch; A Sailor Courted a Farmer's Daughter (French); The Wild Colonial Boy (Crofts) Side Two: Hinei Matov; Lowlands of Holland; The Quality of Mersey; Derriere Chez Nous; The Barnyards o' Delgaty; North Country Lad; Birlinn Ghoraidh Chrobhain >

Leon Rosselson "Songs For City Squares" (7" EP) (Topic, 1962)



<! The Galliards "Black And White/Bahnuah" (single) (Topic, 1964) (Robin Hall; Jimmy MacGregor; Leon Rosselson; Shirley Bland) >

Leon Rosselson "Vote For Us" (Transatlantic, 1964)



<! 1. Tories All Out 2. Flagging 3. Battle Hymn of the Liberal Revival 4. Listen With Granny 5. Foot in Mouth Disease 6. Ballad of the Crutty Men 7. It's All Relative 8. Ever Been Ad! 9. To Deter or Not to Deter 10. Stand Firm 11. Party Poops 12. A Few Home Truths >

The Three City Four "The Three City Four" (Decca, 1965)



<!Marion MacKenzie, solo vocals [6, 10], lead vocals [1, 5], vocals; Ralph Trainer, solo vocals [4, 10], lead vocals [5], vocals; Leon Rosselson, lead vocals [3, 7], vocals, banjo, guitar, 12-string guitar; Martin Carthy, solo vocals [9], lead vocals [2, 13], vocals, guitar >

Leon Rosselson "Songs For Sceptical Circles" (Bounty, 1966)



<! 1. Tim McGuire 2. The Ugly Ones 3. Brass Band Music 4. Dead Men Never Die 5. The Saint 6. Le Deserteur 7. Away From It All 1. The Bachelor's Complaint 2. It's a Vile Violation 3. Do You Remember? 4. Single in Spring 5. Once When I Was Young 6. Procreation 7. Hangover >

The Three City Four "Smoke And Dust Where The Heart Should Have Been" (CBS, 1967)



<! Roy Bailey sings; Martin Carthy had left the group by this time, but still played guitar on this recording. >

Roy Bailey, Val Bailey & Leon Rosselson "Oats & Beans & Kangaroos" (Fontana, 1968)



<! 1. Upon Paul's Steeple / I Hear Thunder / Three Blind Mice / Oats and Beans and Barley / The Keys of Canterbury 2. Peri Meri Dixi / Hallali Dallaki 3. Old King Cole / I Saw Three Ships / London Bridge Is Broken Down / Wha's at the Windy Wa' 4. Why Does It Have to Be Me? 5. Dance to Your Daddy 6. Kangaroos Like to Hop 7. The Three Ravens 8. Nasty Spider 9. Carrion Crow 10. The Fox >

Leon Rosselson & Adrian Mitchell "A Laugh, A Song, And A Hand-Grenade" (Transatlantic, 1968)
Live performances -- Rosselson sings, Mitchell does spoken word.




Leon Rosselson "The Word Is Hugga Mugga Chugga Lugga Humbugga Boom Chit" (Trailer, 1971)
Roy Bailey & Martin Carthy are credited on the album as well... <! although they only play on one song? >


<! The Word Is: 1. Hugga Mugga Chugga Lugga Humbugga Boom Chit 2. Power: Garden of Stone 3. Freedom: Invisible Man 4. Charity: Never Mind the Slugs 5. Law and Order: Word Market The Word Is Love: 6. Do You Remember 7. William 8. a. I Don't Want to Die b. Remembrance Day 1969 9. Coming Home to You 10. Kangaroos Like to Hop 11. Topside Down Party >

Leon Rosselson "Palaces Of Gold" (Fuse, 1975)



<! Recorded and produced by Colin Bateman and Colin Sanders Leon Rosselson, vocal, guitar, mandolin, electric organ Side 1 Side 2 1. Why Does It Have to Be Me? 2. Tim McGuire 3. Dead Men Never Die 4. History Lesson 5. Rules of the Game 6. Jumbo the Elephant 7. Battle Hymn of the New Socialist Party 8. Palaces of Gold 9. The Ugly Ones 10. Down the Drain 11. She Was Crazy, He Was Mad 12. Brass Band Music All songs by Leon Rosselson These are re-recordings of songs from Track 1 from the Roy and Val Bailey children's record on Fontana, Oats & Beans & Kangaroos (1968); Tracks 2-3, 8, 12 from the Bounty LP, Songs for Sceptical Circles (1966); Tracks 4-6, 9, 11 from the Transatlantic LP, A Laugh, a Song, and a Hand-Grenade (with Adrian Mitchell) (1968); Tracks 7, 10 from the Topic EP, Songs for City Squares (1962) >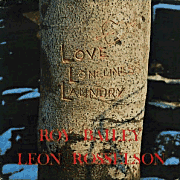 Leon Rosselson & Roy Bailey "Love, Loneliness And Laundry" (Fuse, 1977) (LP)


Rosselson and Bailey's masterpiece. A sardonic meditation on modern alienation, this audio equivlent of a Mike Leigh film features the classic atheist anthem, "Stand Up For Judas," and several other gems. From start to finish, this is a high-calibre album, in no small part due to excellent guitar work by Martin Carthy, who adds a sprightly bounce to big bummer songs such as "Let Your Hair Hang Down" and "Don't Get Married Girls." Other favorite tunes include the a capella version of Blake's poem, "The Garden Of Love" and "Invisible Married Breakfast Blues," a genuinely chilling look at a relationship gone flat. Highly recommended!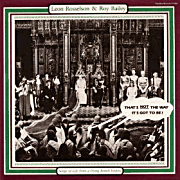 Leon Rosselson & Roy Bailey "That's Not The Way It's Got To Be: Songs Of Life From A Dying British Empire" (Fuse, 1975)



Even with Martin Carthy and John Fitzpatrick adding instrumental backing, most of this album is a bit dry and belaboured. However, it does have the original version of the Diggers Song ("World Turned Upside Down"), as well as two excellent short spoken word pieces, "School Taught Me" and "Time And Motion Study." Hard-hitting leftie politics, though not as savory as some of Rosselson and Bailey's other albums.
Leon Rosselson & Roy Bailey "If I Knew Who The Enemy Was" (Fuse, 1979) (LP)







Leon Rosselson "For The Good Of The Nation" (Fuse, 1981)
One of his most forceful expositions, this time centered almost entirely on worker's rights, and more specifically how their exploitation is sold to them as part of the glorious bounties of capitalism... Well, OK, so that does sound a bit dry and dated, but Rossleson makes the case so skillfully and sardonically that this wanders well into the realm of "art" rather than "rant". Highlights include the spoken word piece, "Why Workers Must," "Let's Give Thanks" ("...for the scraps that they throw us..." etc.), and the single-payer anthem, "As Long As You've Got Your Health". If you're up for a hard-left shot in the arm, this is a good album to try.




Leon Rosselson/Various Artists "Nuclear Power, No Thanks" (Plane, 1981)



<! Frankie Armstrong, vocals [3, 5, 6, 11], chorus [1, 9]; Roy Bailey, vocals [1, 3, 5, 6, 7], chorus [9]; Martin Carthy, chorus [1], guitar [3, 8]; Chris Foster, chorus [1, 9], guitar [3, 4, 9]; Sandra Kerr, vocals [10]; Alison McMorland, vocals[4, 5], chorus [1]; Brian Pearson, vocals [8], chorus [1, 9]; Leon Rosselson, vocals [2, 3, 5, 9], chorus [1], guitar [2, 9], piano [5]; Geoff Pearson, piano [7]; Ron Elliott, Northumbrian small pipes [10]; John Kirkpatrick, button accordion [1]; Howard Evans, trumpets [1, 8]; Roger Williams. tuba [8], trombones [1, 8] >

Roy Bailey "Hard Times" (Fuse, 1982)
Rosselson's longtime musical partner, Roy Bailey is a sociology professor with a deep reserve of leftie political conviction, as well as a wonderfully resonant voice, applied to great use on this record. Of his solo albums, this is the best, with Bailey throwing himself wholeheartedly into such songs as Utah Phillips' famous defense of old folks, "All Used Up," and the related "When This Old Hat Was New." There's also the slightly histrionic antifascist paranoia ballad, "No Time For Love In The Morning," which, frankly, loses its appeal over the years. One the other hand, there is the chilling depth of "Roses of Eyam", a genuinely haunting ballad which depicts a Renaissance village being ravaged by the plague; equally strong is the historical ballad, "Song of The Leaders," which tells of the sad dismemberment of a 15th Century English peasant rebellion, led by Wat Tyler. On most of this album, John Kirkpatrick accompanies on accordion and concertina.




Leon Rosselson "Temporary Loss Of Vision" (Fuse, 1983)





Roy Bailey "...Freedom Peacefully" (Fuse, 1985)
A typically nice sounding, traditionally-oriented, politically intense album, with songs critiquing unemployment, poverty, environmental disaster and militarism (in particular, the recently concluded British sortie over the Malvinas/Falkland Islands). Bailey draws heavily on the work of likeminded American folkies such as Charlie King, Charlie Murphy, and union organizer Si Kahn, who contributes a full three songs to this set. Lyrics that could be thematically dreary and grinding are made compelling by the sheerly musical elements -- Bailey's sonorous, heartfelt vocals, and in particular the meticulous traditionalism of Brit-folk stalwarts John Kirpatrick and Sue Harris. Nice stuff!




Leon Rosselson "Bringing The News From Nowhere" (Fuse, 1986)



<! Leon Rosselson "Ballad Of A Spycatcher/Song Of The Free Press" (Up!, 1987) single with Billy Bragg & The Oysterband >

Leon Rosselson "I Didn't Mean It" (Fuse, 1988)



<! Includes "Ballad Of A Spycatcher" w/ Billy Bragg >

Leon Rosselson "Wo Sind Die Elefanten? (Where Are The Elephants?)" (Fuse, 1991)
Here the ascerbic bard grapples with the collapse of the Soviet Union, and the implications of a (apparent) end to hostilities between the US and Russia. For example, the title track is an anti-totalitarian anthem, wherein Rosselson acknowledges that the Eastern Bloc sucked, yet manages to raise the thorny question: yeah, but what's so great about corporate capitalism? As a devout, lifelong hard-edger, Rosselson assumes a stance both skeptical and nostalgic; apparently right wing think-tanks weren't the only ones to lose their focus in the post- Cold War era. Some of the material is rather strained; the most emotionally persuasive song is "," an ode to the lost youth and idealism of old-line Stalinists living in the West (which is not exactly material designed to have many fans singing in the streets...) This is mirrored by "Where's The Enemy," a jaunty ditty that mocks the impulse to transfer antagonism from the defunct Red menace onto the war on drugs, etc. Amid the leftie soul-searching, Rosselson also finds a moment or two for more lighthearted satire, as in "The Neighbor's Cat," which opens the album, but on the whole this album is one of his less subtle, skillful efforts. Martin Carthy and Dave Swarbick pitch in, along with Liz Mansfield and Fiz Shapur... and with talent like that, and Rosselson's long legacy as a social satirist, this is still worth checking out, despite the creaking at the edges.




Leon Rosselson "Questions" (Fuse, 1994)
Songs and stories for children -- (cassette only)




Leon Rosselson "Intruders" (Fuse, 1995)



<! with Martin Carthy. >

Leon Rosselson "Harry's Gone Fishing" (Gadfly, 2000)


It's always nice to hear something new from Rosselson, though to tell the truth he does seem to have gone a bit adrift in the Clinton-Blair era... When you're a dissenter, it's always nice to have bad guys who are more clear cut and prominent, as opposed to skillful, centrist cooptationists who keep the economy pumping. Thus this record has a lot of too-easy targets -- witch hunters, military mercenaries and bad drivers -- and seems to lack the bite of albums gone by. The most challenging song is "Postcards From Cuba," in which Rosselson keenly and glumly notes that a leftwinger in Cuba is still just a tourist, and that the revolution there seems to have run out of steam. For a hard-leftie like Rosselson, it's a surprising moment of soul-searching, even though he does manage to tack on an inspirational, almost Hollywood-like ending. Also included are remakes of a few old favorites, such as "You Noble Diggers All" (with assist by Roy Bailey) and "Sun," which has always been one of my faves...
Leon Rosselson "The Last Chance: Four Songs On Israel-Palestine" (EP) (Fuse, 2002)

Leon Rosselson "Turning Silence Into Song" (Fuse, 2004)

Various Artists "They All Sang Rosselsongs" (Fuse, 2005)

Leon Rosselson "A Proper State" (MSI, 2008)
---
Best Ofs
---

Leon Rosselson "Perspectives" (Gadfly, 1997)

A recent US release which has a preponderance of Rosselson's less effective, more belabored material. But of course, it's all quite thought provoking, and includes gems such as "No Cause for Alarm," and "In the Park..." Still, I'm on the prowl for a best-of that has more of the Rosselsongs I'm looking for....
Leon Rosselson "Rosselsongs" (Fuse, 1990)


This is a much stronger compilation, and includes many of his best, most focused, songs. The classics "Palaces of Gold" and "World Turned Upside Down" have been inexplicably re-recorded for this collection, but that doesn't make much difference, when backed up by marvels such as "Penny for the Guy," "Stand Up for Judas," "Let Your Hair Hang Down" and "Don't Get Married Girls". Highly recommended!
Leon Rosselson "Guess What They're Selling At The Happiness Counter?" (Fuse, 1992)
Another nice retrospective disc, though again with many lamentable re-recordings. Includes "Boys Will Be Boys," "Abiezer Coppe," "Pills" and "The Ugly Ones."
---
Links
---
Rosselson's Fuse Records site has a good biography, and listings for his most recent releases.
To obtain CDs, cassettes, books in the U.S.A. contact:

THE ROSSELSONG SOCIETY
c/o Janet Chayes
191 Mathews Rd.
Conway, MA 01341
Phone: 413-369-0312

Raised Voices is a cool clearinghouse for various political songwriters and their websites.
Magic For Socialism is an only-in-Britain sort of affair... A populist prestidigitator who also has an affinity of Rosselson's work... there'll always be an England!
Pirate Jenny's Cabin is fascinating site looking at contemporary British cabaret acts and modern-day chanson performers... The Rosselson profile includes some nice asides and some brief record reviews. Nice.
---



Main Celt/Brit Index
International Music Index



---