<! MP3 12/27/08 > <! update 12/27/08 > <! outside 12/28/08 > <! links 00/00/00 > <! pix 00/00/00 > <! icons 01/02/11 >

---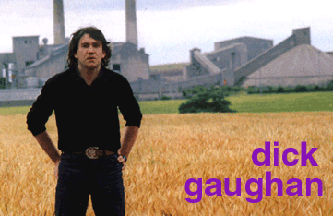 One of Scotland's greatest trad artists, guitarist Dick Gaughan is known as a diehard Socialist leftie, as well as one of the world's greatest guitar flatpickers. His career has ranged from straight trad to a brief fling at Celtic rock, and then into a near-complete submersion into politcal song during the Thatcher-Reagan years of the 1980s. His records have softened ever so slightly since those days, although his political commitment remains strong. A powerful and charming live performer, Gaughan is sure to bring a tear to your eyes, either because of some sad tale of woe, a particularly beautiful melody, or perhaps a particularly daft joke. Here's a quick look at his work...
---
Discography
---
Dick Gaughan "No More Forever" (Leader, 1972)


(Produced by Bill Leader)
A wonderful trad album, with a brace of ballads and instrumentals. Very sparse arrangements with Gaughan playing solo on guitar and vocals, and sometimes with Aly Bain on fiddle. Bain and Gaughan would later collaborate on many albums, including the first Boys Of The Lough album (below).
Boys Of The Lough "Boys Of The Lough" (Trailer, 1973)
(Produced by Bill Leader)
Dick Gaughan was only with this band briefly -- along with fiddler Aly Bain, Robin Morton and Cathal McConnell -- but his contributions were wonderful. Mainly traditional music from Scotland and Ireland, nice to hear the sometimes-downbeat Gaughan working with such a lively, sprightly group...


<! OUT OF PRINT - as of 12/08 > <! * The Boys of the Lough; * Slanty Gart; * In Praise of John Magee; * Wedding March from Unst; * The Bride's a Bonny Thing; * Sleep Sound i' da Moarnin; * Farewell to Whisky; * Old Joe's Jig; * Last Night's Joy; * The Granny in the Corner; * The Old Oak Tree; * Caoineadh Eoghain Rua; * The Nine Points of Roguery; * Docherty's reel; * Flowing tide; * Andrew Lammie; * Sheebeg and Sheemore; * The Boy in the Gap; * McMahon's Reel; * Jackson and Jane; * The Shaalds of Foulla; * Garster's Dream; * The Brig >

Dick Gaughan "Kist O'Gold" (Trailer, 1977)
(Produced by Bill Leader)





Five Hand Reel "Five Hand Reel" (Rubber, 1976)


(Produced by Geoff Heslop)
Gaughan goes electric -- a bubbling, exuberant debut... Even though the big deal with them was that they were electrifying Celtic trad, the results aren't nearly as lavish or absurd as some of the prog-influenced English bands. It's like hearing a great pub band, which, well, it pretty much was. Recommended!!
Five Hand Reel "For A' That" (RCA, 1977)


(Produced by Geoff Heslop)

Five Hand Reel "Earl O'Moray" (RCA, 1978)


(Produced by Simon Nicol)


Dick Gaughan "Gaughan" (Topic, 1978)



(Produced by Tony Engle)
Traditional ballads and instrumentals which showcase his full range both as a folklorist and as a rabble-rouser. Includes a nice version of the famous "Parcel Of Rogues." Recommended!
Dick Gaughan "Coppers And Brass" (Topic/Green Linnet, 1978)


(Produced by Tony Engle)
A lovely instrumental collection, showcasing the subtlety and craft of Gaughan's guitar work. Deceptively simple in its presentation, this is quite a treat for fans of Celtic instrumental music.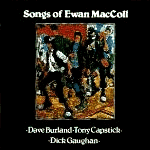 Dick Gaughan/Dave Burland/Tony Capstick "Songs Of Ewan MacColl" (Rubber/Black Crow, 1978)


(Produced by Geoff Heslop)
Songwriter, folklorist and troubadour Ewan Maccoll is often thought of as a paragon of the "British" folk movement; here, his place in the Scottish pantheon is reclaimed as a Scottish icon in a trio of gorgeous ballads by Dick Gaughan, including "Jamie Foyers," "Schoolday's End," and "Thirty Foot Trailer," as well as trading verses with Burland and Capstick on "Shoals Of Herring," which closes the album. It's a fine, heartfelt homage, with a very low-key, homespun feel. 'Twould be nice if a tune or two could find their way onto some of Gaughan's retrospective albums sometime soon, but if you can track the original album down, you'll be happy with that as well.

Dick Gaughan "Handful Of Earth" (Topic/Green Linnet, 1981)



(Produced by Dick Gaughan)
What a fine, fine album. This is Gaughan's greatest record, and one of the landmark folk and trad albums of the 1980s. Every song on here is sublime, including the mournful historical broadside, "Both Sides The Tweed" (about the political union of Scotland and England in 1707), the bitter labor song, "Worker's Song" and -- of course-- the shimmering beauty of "Song For Ireland," a song which, once in your mind, will never leave your heart. One of my favorite albums, in any genre. A must-have record.

Dick Gaughan & Andy Irvine "Parallel Lines" (Folk Freak, 1982)



(Produced by Dick Gaughan & Andy Irvine)
A collaboration with Irish trad giant, Andy Irvine, of Planxty. Much has been made of the historic crossover between the Irish and Scottish music camps signified by this album, though, in truth, it's a bit hard to see what the fuss is about. At this point Irvine's music is a bit soft, and while this album is perfectly fine, it's not the most engaging thing either of these two have done.


<! Reissued on Green Linnet and Appleseed Records. >

Dick Gaughan "A Different Kind Of Love Song" (Folk Freak, 1983)



(Produced by Dick Gaughan)
This is the artistic height of Gaughan's work as a political troubadour -- an unrelentingly abrasive set which examines nuclear war, torture and oppression worldwide. Sounds a bit harsh, doesn't it? But while this is astonishingly grueling, it is also effective and moving -- Gaughan is one of very few artists who could record such a humorless record, and still pull it off aesthetically. The title track anticipates such criticisms, basically arguing, "hey, in such times as these, what else can a feeling person do, but be as political as possible?" Perhaps the most well-reasoned, and most moving song on here is the anti-war anthem, "Think Again" (later covered by Billy Bragg), which provides historical and emotional balance to America's Cold War paranoia regarding the Soviet "evil empire." A recommended record, but you have to be in the right mood. <! Reissued on Appleseed Records. >




Dick Gaughan & Ken Hyder "Fanfare For Tomorrow" (Impetus, 1985)
(Produced by Dick Gaughan & Ken Hyder)



<! an electronica/jazz set? >
Dick Gaughan "Live In Edinburgh" (Celtic Music, 1985)


(Produced by Dick Gaughan)

Dick Gaughan "True And Bold: Songs Of The Scottish Miners" (STUC, 1986)


(Produced by Dick Gaughan & Ken Sorley)
Gaughan's bit for the big UK miner's strike which ran through much of 1980s... This album has a kind of Billy Bragg-ish perkiness about it, yet too little of the melodic deftness of his best work. An interesting footnote to his career, though perhaps mainly of interest to the brand of social folklorists who collect mining songs and labor ballads.
Dick Gaughan "Call It Freedom" (Celtic Music, 1988)


(Produced by Dick Gaughan)

Clan Alba "Clan Alba" (Clan Alba Productions, 1995)
(Produced by Dick Gaughan)
A sprawling, ambitiously diverse double CD made with Davy Steele, Patsy Seddon and others, on which Gaughan sings about half the material. This ranges from gorgeous traditional and political songs, to less successful crossover material. Interesting, though -- fans who are able to track down this rather obscure release will not be disappointed.

Dick Gaughan "Sail On" (Greentrax/Appleseed, 1996)



(Produced by Dick Gaughan)
This has its moments, though there are several lamentable arrangements, and some overly didactic politics on here as well. Gaughan's social conscience remains undiminished as he resurrects Pete Seeger's warning to LBJ, "Waist Deep In The Big Muddy," refashioning it from a Vietnam parable into a broadside about the complacency in the Clinton era. The highlight here is Hamish Henderson's "The 51st (Highland) Division's Farewell To Sicily," written in honor of the Scottish soldiers who had helped conquer the island in WWII, only to be sent off to another bloody battle -- Gaughan's guitar mournfully evokes (but doesn't just mimick) the regimental bagpipes, providing one of the album's most soulful and effective moments.

Dick Gaughan "Redwood Cathedral" (Greentrax/Appleseed, 1998)



(Produced by Dick Gaughan)


Dick Gaughan "Outlaws And Dreamers" (Appleseed, 2001)



(Produced by Dick Gaughan)
An excellent album. One of Gaughan's most stripped-down sets in years, this comes closer to the power of his live performances than his more ornate recent recordings. In the fine old folkie tradition, Dick renews his faith in rebels, free thinkers, and nonconformists. His partner on this outing, fiddler Brian McNeill, contributes three fine songs, and their version of Kimmie Rhodes' "Wild Roses" is also quite nice. Also included are songs by leftie stalwarts Phil Ochs, Si Kahn and Woody Guthrie; it's particularly nice in this day and age to hear someone infuse a song like Guthrie's "Tom Joad" with such passion and earnest conviction. It's also nice to hear Gaughan return to a simpler, more direct acoustic presentation -- his strengths shine through much more clearly. A moving piece of work -- definitely recommended!
Dick Gaughan "Lucky For Some" (Celtic America, 2006)

Dick Gaughan "Gaughan Live! At The Trades Club" (Greentrax, 2008)
(Produced by Dick Gaughan)



---
Best Ofs
---

Dick Gaughan "Prentice Piece" (Greentrax, 2002)



A nice collection of Gaughan's work, with some unfortunate omissions, and maybe a bit too much of the poppish later work. As he points out himself, the Five Hand Reel material was (at the time) unavailable for reissue, as are the early Leader label albums and, apparently, his work with the Boys Of The Lough. And some of the Clan Alba stuff would have been nice, too... Still, the crisp acoustic tracks from the folks at Topic are in a class all their own, and even if this leans heavily on later albums such as Sail On and Redwood Cathedral (which originally came out on Greentrax), it's still a nice introduction to his work. This also includes several one-off tracks from various compilation and tribute albums, including some that are listed below. Certainly worth picking up if you want to track down some of his harder-to-find material.
Dick Gaughan "The Definitive Collection" (Highpoint, 2006)

---
Related Records
---
The High Level Ranters "Bonnie Pit Laddie" (Topic, 1975)



Coal mining is a subject that holds a continuing fascination for UK folkies, both as folklore and as a topic fit for all upstanding class-conscious lefties. (The Thatcher-era miner's strike was one of the last great British labor struggles of the 20th Century... Scotland's gruff-voiced Dick Gaughan, who contributes several excellent performances to this disc, revisited the miner's plight on a couple of albums that came out in the mid-1980s.) At any rate, this is a fine album, featuring an celebrated Northumbrian ensemble anchored by Alastair Anderson on concertina, along with Johnny Handle, Colin Ross and Tommy Gilfellon. Gaughan sings on a couple of songs and Lancashire's Harry Boardman on a couple others -- the whole album is nice, with goofy, sprightly, humorous songs and lots of that oddball Celtic musical charm. I thought this record would sound really dry and academic, but was pleasantly surprised at how fun it was. Definitely worth checking out!
Various Artists "FOLK FRIENDS, v.2" (Folk Freak, 1981)
(Produced by Carsten Linde)
Gaughan plays guitar throughout and sings several songs; other artists include Alex Campbell, John Faulkner, Finbar Furey, and Andy Irvine.
---
Strays and Extras
---
Here are some songs from compilations and tribute albums, some of which do not appear on other Dick Gaughan albums.
Some of these tracks are available on MP3, and are linked to below:
"Bonnie Woodhaa" (from the High Level Ranters album, The Bonnie Pit Laddie; 1975)

"The Auchengeich Disaster" (from the High Level Ranters album, The Bonnie Pit Laddie; 1975)

"Arthur McBride" (from the Second Folk Review Record compilation, on Leader Records; 1976)

"The Rashie Moor" (from the Second Folk Review Record compilation, on Leader Records; 1976)

"The Cruel Brother" (from the Sandy Bells Ceilidh compilation; 1977)

"Sleepytoun" (from the Sandy Bells Ceilidh compilation; 1977)

"Jamie Foyers" (from the Songs Of Ewan MacColl album; 1977)

"Schooldays End" (from the Songs Of Ewan MacColl album; 1977)

"Thirty Foot Trailer" (from the Songs Of Ewan MacColl album; 1977)

"Shoals Of Herring" (from the Songs Of Ewan MacColl album; 1977)

"World Turned Upside Down" (from the Folk Friends 2 compilation; 1982)

"The Father's Song" (from the Folk Friends 2 compilation; 1982)

"Lassie, Lie Near Me" (from the Folk Friends 2 compilation; 1982)

"As I Walked On The Road" (from the Out of the Darkness compilation; 1984)

"Pastures Of Plenty" (from the Woody Lives! compilation; 1987)

"Vigilante Man" (from the Woody Lives! compilation; 1987)

"The Wind That Shakes The Barley" (from the Spirit Of Ireland compilation; 1997)

"Song For Ireland" (from the Spirit Of Ireland compilation; 1997) <! alternate version? >

"When I'm Gone" (from the Spirit Of Ireland compilation; 1997) <! Phil Ochs song, on "Outlaws" >

"Young Henry Martin" (from the Street Cries compilation; 2001)

"The Scarecrow" (from the Shining Bright compilation; 2001)

"The Bells Of Rhymney" (from the Seeds: The Songs Of Pete Seeger compilation; 2003)

"She Of Many Names" (from the Clear Stream compilation; 2004)

"Accrington McBrides/Wexford Assembly" (from the Clear Stream compilation; 2004)

"War Outside" (from the McCalman Singular compilation; 2004)



---
Links
---
---



Main Celt/Brit Index
International Music Index



---