<! MP3 12/30/08 > <! update 12/30/08 > <! outside 00/00/00 > <! links 00/00/00 > <! pix 01/14/11 - some added, but still need most albums reviewed > <! icons 01/14/11 >

---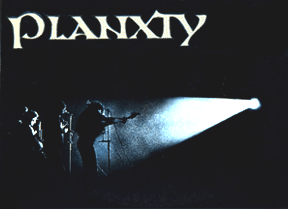 Perhaps the greatest band of the early '70s Irish "trad" boom, Planxty featured the immense talents of singer/multi-instrumentalist Andy Irvine, accordion/bagpiper Donal Lunny, and craggy-voiced politico, Christy Moore. Only a handful of albums document their time together as a band, though each member has gone on to record prolifically in their solo careers. Here's a quick look at the legacy of one of Ireland's great bands...
---
Discography
---

Planxty "Planxty" (Tara/Shanachie, 1972)



A brilliant debut, which shows the band's strong command of traditional material, along with their ability to transcend the tinny sound of much Irish trad. Strongly melodic, with soulful singing and strong song selection. This has a higher than normal proportion of vocal material, but even the instrumental tracks have a pleasant softness to them. It also features Michael MacConnell's moving political anthem, "Only Our Rivers Run Free," which is a gentle-sounding broadside at the British rule over Northern Ireland. It's a very effective, poetic song, although as "the troubles" have persisted decade after decade, protest songs like this have lost much of their charm... Still, what a great record; one of the touchstones of the Irish folk revival. Highly recommended.

Planxty "The Well Below The Valley" (Tara/Shanachie, 1973)



Planxty "Cold Blow And The Rainy Night" (Tara/Shanachie, 1974)






<! Planxty "Arise" (1974) 01/11: still unable to locate ASIN, album on AM. Does it exist? >

Planxty "After The Break" (Tara/Shanchie, 1979)



A lovely reunion album, with a pleasant emphasis on vocal numbers, alongside several fine, sprightly instrumental numbers. Irvine and Moore take turns as lead singer; for my money, Moore's tracks have more resonance, but really, it's all quite nice. Matt Molloy adds some flute and whistle work, and Liam O'Flynn joins on the uilliean pipes; the album closes with a Bulgarian dance tune that reflects Andy Irvine's ongoing fascination with Eastern European folk forms. All in all, it's quite nice.
Planxty "The Woman I Loved So Well" (Tara/Shanachie, 1980)



Planxty "Words And Music" (Shanachie, 1982)


---
Best-Ofs
---

Planxty "The Planxty Collection" (Tara, 1975)



An able summing-up of their first three albums.
---
Links
---
The Christy Moore Website has it all: discographies for Christy, Planxty and the Moving Hearts; fan gossip, updates, song lyrics, sound bites, site links and biographical information.
The Ceolas Andy Irvine page has all kinds of leads to his various post-Planxty projects (and there are a TON of them!) Well wortha whirl!
Shanachie Records has most of the Planxty albums still in print... thank goodness! Plus, Shanachie has tons of other great trad records to check out.
---



Main Celt/Brit Index
International Music Index



---