<! MP3 12/29/08, 01/21/11 > <! update 12/29/08, 01/21/11 > <! outside 00/00/00 > <! links 00/00/00 > <! pix 00/00/00 > <! icons 01/21/11 >

---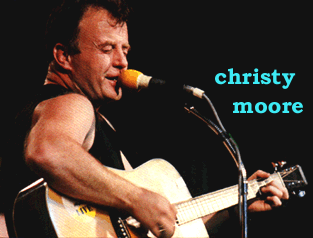 Smoky-voiced Dubliner Christy Moore is a tremendously charismatic, heartfelt and intensely political performer, and one of the longtime giants of the Irish trad scene. Originally from the trad supergroup Planxty, Moore set off on his own in mid-'70s, and to my way of thinking has been the best solo performer to come from the band. His rumbling voice carries a bit of a lilt and a great deal of conviction and, like his convictions, his arrangements have been muscular, compact and direct. Any of his old albums are worth going out of your way to find.
---
Discography
---

Christy Moore "Paddy On The Road" (Mercury, 1969)
A pre-Planxty album! It took a while for this album to track me down, but the good news is it's a delight. On his website, Moore describes this album as a "Paddy folkie greenhorn" making this debut album, a collaboration between himself and a pub band assembled by writer/producer Dominic Behan. And indeed, the opening tracks reveal a reedy-voiced tyro quite unlike the gruff Irish crooner we've come to know and love in the years since... But his vocals thicken even as the album progresses, and the Irish Rovers-y tone of the opening bars quickly gives way to a tougher tone. Largely this is due to the political content of the album, packed with the same pro-labor socialism and Irish nationalism that marked his later work: it's kinda cool to realize just how much of an unreconstructed leftie Christy Moore actually is! There's also plenty of solid folkloric material, with tunes like the "Curragh Of Kildare" and the like. Sure, maybe this particular crew didn't have the musical chops of the Planxty crew... but then again, who did, back then? This album still, sadly, hasn't made it fully into the digital era, but I'm sure eventually it will... And when it does, it's well worth tracking down and checking out.

Christy Moore "Prosperous" (Trailer/Tara, 1972)


This is the first record featuring the complete lineup of the band that would become known as Planxty: singers Christy Moore and Andy Irvine, bouzouki player Donal Lunny and piper Liam O'Flynn pitch in on this spiffy early album -- Irish trad with a healthy dose of Woody Guthrie veneration: Christy does a nice version of Bob Dylan's "Tribute To Woody," followed up with "The Ludlow Massacre." As Moore says in the liner notes, Guthrie "was the man." This political bent would continue for years, tempered, as here, with a strong foundation of sweet Celtic trad. Lovely record -- highly recommended!
Christy Moore "Whatever Tickles Your Fancy" (Polydor, 1975)

Christy Moore "Christy Moore" (Polydor, 1976)


Moore gathers personal gravitas, with his voice deepening and the songs becoming more resonant. Worth noting is the repertoire, particularly the inclusion of three songs -- "Lanigan's Ball," "Nancy Spain," and "Sacco & Vanzetti" -- that reappeared on Moore's 1983 masterpiece, The Time Has Come. These early versions are also nice, although their future incarnations are stunning. Still, fans of Moore's early work with be delighted to track this disc down... It's both a signpost for things to come, and a sweet album in its own right.


<! "Christy Moore" (aka "The Black Album") 1976 Donal Lunny—Producer, Bouzouki, Guitar and Vocals Jimmy Faulkner—Guitars Kevin Burke—Fiddle Barney McKenna—Banjo Declan McNeilis—Guitar Andy Irvine—Mandolin Lord Eric & Geoff Whittaker—African Drums >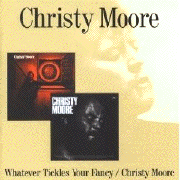 Christy Moore "Whatever Tickles Your Fancy/Christy Moore" (Raven, 2004)


This much-welcome reissue combines two of Irish folk legend Christy Moore's earliest solo albums, 1975's Whatever Tickles Your Fancy and Christy Moore, from 1976. Originally issued on the Irish branch of Polydor, these records have languished in major label limbo for ages, much to the dismay of his fans. Recorded after Moore's initial departure from the band Planxty, these albums point the way to his future work -- Whatever Tickles Your Fancy starts out acoustic, then slips into a rugged-sounding trad-electric mix, in anticipation of his work with the folk-rock band Moving Hearts. It's not, frankly, the most enjoyable work that Moore's ever done, but you'll want to check it out anyway. Ditto with the next record from '76 -- this one's more strictly acoustic, and a little more fluid-sounding, although overall both albums have a curiously stiff sound to them... Moore would later relax into his sound a bit more, and become a more mature artist, but hearing the youth in his voice and the unsteadiness to his early work is informative as well. Worth checking out!

Christy Moore "Live In Dublin" (Tara, 1978)


An exceptional live performance featuring the compact trio of Christy Moore, Donal Lunny and Jimmy Faulkner... All the songs are good, but Moore's version of Woody Guthrie's "Pretty Boy Floyd" is a fascinating appropriation of an American folk classic... It's also interesting to see the American outlaw myth through Moore's leftie political filter (as opposed to Guthrie's! :-) Great record, also collected as part of the Tara "best-of"... Recommended!

Christy Moore "The Iron Behind The Velvet" (Tara, 1979)


Traditionally-oriented material with a sweet, modern melodic lilt. A stellar cast of musicians includes Moore's oldtime Planxty pal, Andy Irvine, as well as his little brother Barry Moore (who later had a popstar fling as Luka Bloom). An outstanding set which includes the beautiful but blood-curdling anti-nuclear ballad, "The Sun Is Burning", and several gorgeous instrumentals. Recommended!
Christy Moore "The Time Has Come" (WEA, 1983)


One of my favorite records in the whole wide world. This is a trad-folkie tour-de-force, full of seductively beautiful melodies and captivating lyrics. The political songs are all top-notch, leagues apart from the usual baldly-declarative conventions of the genre. These range from the wistful home-rule ballad, "Only Her Rivers Run Free" to "The Wicklow Boy," which draws a seductive parallel between one of Britain's most celebrated false-charges trial and the imprisonment of IRA soldiers who, at the time, had recently finished their hunger strike campaign. Slightly less thorny ground is covered in topical broadsides such as "The Knock Song," which takes its digs at a church leader who once pushed to develop a religious tourist mecca, then did a swift about face when the government wanted to build a military airport in the same locale. All this hard stuff is leavened with lovely ballads, particularly the gorgeous "Nancy Spain." And of course, Irish identity sits in center row, with Moore whispering the Joycean "Lannigan's Ball" over his own soft bodhran drumming, and the astonishing "Faithful Departed," which speaks in insider's code about nostalgia for a stereotyped Ireland which is eternal… and yet perhaps never existed. An absolutely essential album.

Christy Moore "Ride On" (WEA, 1984)



Another fine, fine album, featuring Moore and Donnal Lunny in a lively set of trad-flavored modern folk gems. The credits mention Lunny playing some electric keyboards, but they sure don't get in the way, as a buoyant acoustic vibe predominates. Perhaps the most powerful song here is "Vive La Quinte Brigada," a rousing, heartfelt homage to the Irish volunteers who went to fight in the Spanish Civil War along with thousands of other ill-fated "premature antifacists"; the song also takes an unflinching view of the Irish who mistakenly threw in their lot with the Nazis, partly as a way to rise above the grim hard times of the Depression, and partly for the promise of throwing off the British yoke. Other highlights include "Lisdoonvarna," one of Moore's great, stream-of-consciousness rambles, this time in tribute to the Lisdoonvarna Folk Festival, held in the County Clare town best known for its reputation as the matchmaking capital of the world. A few tunes on here are a bit dreary and belabored, particularly on the second half of the album, but on the whole, it's another splendid Christy Moore record. Recommended.
Christy Moore "The Spirit Of Freedom" (WEA, 1985)

Christy Moore "Ordinary Man" (WEA, 1985)

Christy Moore "Nice 'N' Easy" (Polydor, 1986)

Christy Moore "Unfinished Revolution" (Atlantic, 1987)


Christy Moore "Christy Moore" (Atlantic, 1988)


An iffy album in which half the songs are terribly overwritten and lugubrious and the other half, though compelling, are generally buried in lamentably dense, pop-tinged production. Moore was clearly flirting with crossover ideas, and it's understandable how, after all those years, he an his pal Donal Lunny (who co-produced the album) would want to stretch out and try something new. Unfortunately, the glossy production takes him far away from his true strengths, which are his emotional directness, and intimate, plainspoken vocal style. This record is simply overwrought and requires too much forgiveness on the part of its audience -- you really have to be a devoted leftie-folkie, the kind who doesn't really care what the music sounds like, as long as the message is right. But that's a pretty rarified group, and -- if you ask me -- it's better to keep things simple so the songs can speak for themselves, rather than try and tart things up to appeal to some mythical crossover "pop" audience that's looking for sedate political songs that lack strong choruses and clear melodic hooks, but have a synthesizer or two instead. Okay, now that I've got that out of my system, I'll backtrack a little and say that there are some songs on here that are kind of catchy -- the rambling, unruly "Lisdoonvarna" and Moore's own "Delirium Tremens," which is the only song on here that he himself wrote. Then there are some outright disasters, like his languid version of "No Time For Love," which pales in comparison to the rawer, impassioned Roy Bailey original. Oh well; even though they suck on this album, many of these songs sounded great in concert.
Christy Moore "Voyage" (WEA, 1989)

Christy Moore "Smoke And Strong Whiskey" (1991)



Christy Moore "King Puck" (Sony, 1993)



A delightfully solid, good-humored acoustic album that ranks up there with the best of his early work. Includes a cover version of Jackson Browne's "Before The Deluge," which Christy makes all his own, as well as an improbably long, ramblingly discursive tall-tale live take on "Rose of Tralee," refashioned here as "Me And The Rose." This is Moore at his best... well worth tracking down and checking out!
Christy Moore "Live At The Point" (Sony, 1994)


Christy Moore "Graffiti Tounge" (Sony, 1996)


Christy Moore "Traveller" (Sony, 1999)



Christy Moore "This Is The Day" (Sony, 2001)



Moore's earnest, self-assured leftism seems markedly out of synch on an album that came out in the year that the Twin Towers fell... I don't mean this in a disparaging, dismissive, "oh, he's so Sixties!" kind of way, but just as a simple observation. The album's opener, "How Long," is a plaintive antimilitarist anthem, opining at society's tolerance for bloodshed and loss of life in war. Noble sentiments, yes, but nonetheless overshadowed by the gathering darkness. Of course, as it would play out, Moore's anti-authoritarian perspective holds up analytically, as the old Left-Right dichotomy was perpetuated most notably through the naked opportunism of the Bush-Cheney crew in the wake of the September 11 tragedy. How could the Left not respond, eventually, to such a crass, aggressive assault on the social contract? But there is still a palpable air that these songs belong, in part, to a world of the past, as does the desperate, flailing, apocalyptic greed of America's ruling elite. Old habits die hard, and -- in an optimistic scenario -- perhaps we can look back on these divisions and marvel at how long it took for us all to get our act together. I suppose, in my idealism, that I still tilt more towards Moore's side of things, but this batch of songs, about oppression in Latin America, war, and the need for men to learn how to cry, do seem like ground that's been covered before, many, many times by the folkie-folks... Doubtless these session were recorded well in advance of the 9/11 bombings, but the failure of Moore to address the most dramatic, pungent political issue of the day, is a glaring failure indeed. Other than that, this is fine, typical, late-issue Christy Moore fare... A bit sleepier than his best work in the '70s and '80s, and overly serious and emotive, but a good set, nonetheless.
Christy Moore "Live At Vicar Street" (Newberry, 2002)






<! with Donal Lunny and Declan Sinnott >

Christy Moore "Burning Times" (Sony-BMG, 2006)


Christy Moore "Live In Dublin: 2006" (Sony/Columbia, 2006)


Christy Moore "Live In Dublin: 2006" (DVD) (Sony-BMG, 2006)

---
Best-Ofs
---
Christy Moore "The Christy Moore Folk Collection" (Tara)
Not so much an actual "best-of" as a straight reissue of three of his best early albums, Prosperous, Live In Dublin, and The Iron Behind the Velvet. Apparently this is available as a cassette-only release... That's how I picked it up, during a trip to Ireland, and it provided a very welcome relief from the intense dullness of Irish radio. The albums are also all separately available on CD.
Christy Moore "The Christy Moore Collection: 81-91" (WEA, 1991)

Christy Moore "The Christy Moore Collection, Part II" (Sony/Columbia, 1997)






<! B000EQ5IIE >

Christy Moore "Box Set: 1964-2003" (Sony/Columbia, 2004)


Wow... a 6-CD box set that includes a bunch of his hard-to-find stuff from the 'Sixties, eh? Who woulda thunk it? A treasure trove, no doubt. I may have to shell out the big bucks for a copy myself!
---
Links
---
The Christy Moore Website (www.christymoore.com) has it all: discographies for Christy, Planxty and the Moving Hearts, with personal asides about each of the albums; fan gossip, updates, song lyrics, sound bites, site links and biographical information. Oh, and politics, too... but you knew that already, right?
The ever-fab Ceolas website has a cool Christy Moore page
Raised Voices is a cool clearinghouse for various political songwriters and their websites.
---



Main Celt/Brit Index
International Music Index



---