<! cd 09/26/12 > <! MP3 09/26/12 > <! outside 00/00/00 > <! links 09/26/12 > <! pix 09/27/12 > <! icons 09/26/12 > <! UPDATES: 09/26/12 - posted, added link to new Cilla Fisher page >

---
Scottish singer Archie Fisher came from a musical family, with sisters Ray and Cilla Fisher also established recording artists, all stemming from the family band who first recorded in the early 1960s folk boom. Archie Fisher is the best-known of the group, with a number of albums that are considered folk classics, particularly his work of the late 1970s. Here's a quick look at his career...


<! OLD: Glasgow's Archie Fisher was an early fixture on UK folk revival scene, cutting several highly-regarded LPs in the late '60s, and establishing himself as one of the best new songwriters in the style. >

---
Discography
---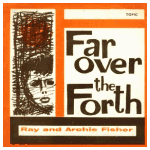 Ray & Archie Fisher "Far Over The Forth" (EP) (Topic, 1962)


This 4-song EP features two starkly traditional solo numbers by Ray Fisher and a pair of sweeter-sounding brother-sister harmonies featuring Archie and Ray together... Not sure if these have been anthologized elsewhere, but it's nice they're available digitally, at last.
The Fisher Family "Traditional And New Songs From Scotland" (Topic, 1966)


This family-band recording includes siblings Archie, Ray and Pricilla (Cilla) Fisher...


Archie Fisher "Archie Fisher" (Celtic Music, 1968)


Fisher's first solo album is notable for its melodic richness, a pleasant departure from the more plaintive style that predominated in trad music at the time. There are also nice, though mildly amusing, touches that were very much in keeping with the times, such as the gentle sitar work which pops up at the start of the album. He doesn't go overboard with it -- this is basically a solid trad album -- but it does show how early on many artists were open to outside influences. Nice album, if you can track it down.
Archie Fisher & Barbara Dickson "The Fate O' Charlie" (Trailer, 1969)
Archie Fisher & Barbara Dickson "Thro' The Recent Years" (Decca, 1999)
Archie Fisher "Orfeo" (Decca, 1970)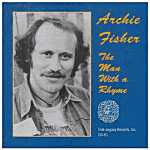 Archie Fisher "The Man With A Rhyme" (Folk-Legacy, 1976)


(Produced by Sandy Paton)
This was Fisher's first album recorded in the United States, a lovely set of pastoral trad-folk with gentle, sympathetic accompaniment by a few acoustic musicians -- a bit of fiddle, dulcimer, cello and flute -- though mainly it's Fisher's voice and guitar that fill the frame. This record is of a piece with his highly-lauded (and equally beautiful) Will Ye Gang, Love (reviewed below), another rich and rewarding album which features a dreamy mix of traditional ballads and original compositions. Highlights include the original version of Fisher's "Witch Of The West-Mer-Lands" (later recorded by several artists) and a CD bonus track, a haunting version of "Helen Of Kirkconnell," from the canon of Scottish slain-lover ballads. Marvellous.


Archie Fisher "Will Ye Gang, Love" (Topic, 1976)



A true classic. This mid-'70s album opens on a slightly strident tone, typical of this Scottish balladeer's semi-gruff style, but soon softens and settles into simple loveliness. Several of these songs are long-time favorites of mine, including "Lindsay" and "The Broom O' The Cowdenknowes," but the whole album is a delight. An enchanting record with stripped-down arrangements, this features mostly traditional material, but several top-notch originals as well.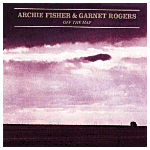 Archie Fisher & Garnet Rogers "Off The Map" (Snow Goose Songs, 1986)


A lovely live album, combining the talents of Glaswegian Archie Fisher and Canadian folkie Garnet Rogers, brother of the late folk crooner, Stan Rogers. This kicks off with a fairly goopy modern folk tune, "Borderland," but quickly settles into more standard, traddish Celtic fare. It's a soft, stately, simply gorgeous album, which shows their mutual warmth and sympathetic musical talents. Definitely worth tracking down.
Archie Fisher "Sunsets I've Galloped Into" (Greentrax/Red House, 1988)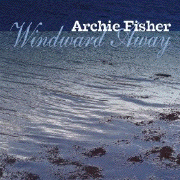 Archie Fisher "Windward Away" (Red House, 2008)



(Produced by Archie Fisher)
An utter delight. Since the 1960s, Archie Fisher has been a key player in the Scottish folk revival, singing first with his family band, and then as a solo artist. His early albums rank among my all-time favorites in the Celtic folk canon, and that was why, naturally, I approached this record with a wee bit of trepidation: was he an old, washed up coot? Was his voice going to be totally shot? Hardly. Fisher's great strength -- his resonant, reassuring voice, with its silken, soft-edged brogue -- is as unique and commanding as ever, giving him the uncanny ability to make contemporary folk songs sound ancient, and traditional songs sound timeless. This disc, his first album in twenty years, is an opus that took years to assemble but it sounds, for all the world, just like his best work from the 1970s and '80s. Indeed, there are eight tracks at the end that come from the long-lost master reel of a mid-'70s album that was first shelved and then misplaced for a decade or two. (Ooops!) There are many traditional tunes on here, but many more that are actually contemporary, Gordon Lightfoot-ish poetic-folk songs, whose modern origin only reveals itself after careful, intensive listening. Fisher is one of the few Celtic-trad singers I know who is so seamlessly able to blend present and past, retaining an elegant, serene acoustic sound, while never dipping into obtrusive pop crossovers This is an album that has a lot to offer and is deeply, richly rewarding. If you're an Archie Fisher fan, have no fear: you'll definitely want to check this out.
---
Links
---
---



Main Celt/Brit Index
International Music Index


---