<! cd 09/27/12 > <! MP3 09/27/12 > <! outside 09/27/12 > <! links 00/00/00 > <! pix 09/27/12 - a couple > <! icons 09/27/12 > <! UPDATES: 00/00/00 >

---
Scottish singer Cilla Fisher, sister of songwriter Archie Fisher, and a fine traditional folk singer in her own right, and is perhaps best known for her work with the children's music group, The Singing Kettle... Here's a quick look at her work...
---
Discography
---
The Fisher Family "Traditional And New Songs From Scotland" (Topic, 1966)


This family-band recording includes siblings Archie, Ray and Pricilla (Cilla) Fisher...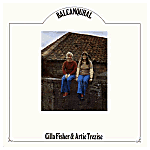 Cilla Fisher & Artie Tresize "Balcanquhal" (Trailer, 1976) (LP)


(Produced by Bill Leader)
A fine set of warm, understated Scottish folk ballads, with sweet, simple accompaniment on fiddle, guitar and melodeon. The material is great, the performances are sparing and relaxed, and the simple, plain-spun harmonies are a delight. Archie Fisher appears on a couple of tracks as well... Nice stuff! One of the gems from the Leader/Trailer vaults...
Cilla Fisher & Artie Tresize "Cilla & Artie" (Autogram, 1976)



"...Cilla & Artie Gelten Ale Schottlands Fuhrendes Folksanger Paar..." Yeah, okay... whatever you say! I'm not sure if this German LP was also issued on a UK label, but this edition has the added value of an extensive glossary of arcane Scottish phrases printed on the back cover... The performances are a bit stiffer and less melodically rounded than the other albums of theirs that I've heard... Great repertoire, though, hewing closely to traditional material, and plucking some fine old songs out of the highlands canon.
Cilla Fisher & Artie Tresize "Foul Day And Fair" (Kettle Records/Folk-Legacy, 1978)

Cilla Fisher & Artie Tresize "Cilla & Artie" (Topic, 1979) (LP)


(Produced by Robin Morton)
Another nice, low-key album from this Scottish duo... Some of Fisher's performances take on the dour, doleful, slightly-too-serious tone of June Tabor or Maddy Prior, but there's also a nudge and a wink to be found in some of the jauntier, more jovial songs. Again, a fine selection of material, performed with a richness and depth that's a pleasure to hear. Worth tracking down!
Cilla Fisher "Songs Of The Fishing" (Kettle Records, 1984) (LP)

Cilla Fisher & Artie Tresize "Reaching Out" (Kettle Records, 1986)

---
Links
---
---



Main Celt/Brit Index
International Music Index



---