<! cd = 02/05/09 > <! MP3 00/00/00 > <! update 00/00/00 > <! outside 00/00/00 > <! pix 00/00/00 > <! icons 01/21/11 >

---
Dougie MacLean is one of Scotland's best-known folk musicians, a singer and multi-instrumentalist with deep traditional roots who has gone on to explore more contemporary folk styles. MacLean started out as a member of the Tannahill Weavers, and was briefly part of the band Silly Wizard. He also made his mark as an independent label owner -- in 1981 he founded the Dunkeld label, on which he released almost all of his subsequent albums, as well as several records by other Scottish artists. Here's a quick look at his work...


<! MacLean started playing in school, forming a band with future Silly Wizard-ites Andy Stewart and Martin Hadden. In 1974, while busking on the street, Roy Gullane approached him and recruited him to the Tannahill Weavers, with whom he stayed until 1977, when he moved to Germany, playing solo and working with Alex Campbell and Alan Roberts. He replaced Johnny Cunningham as fiddle player for Silly Wizard for six months in 1980 and returned to tour with the Tannahills before going solo in 1981 and starting his own record company, Dunkeld, in 1983. Recently his songs have been featured in theatre and film (part of The Last of the Mohicans), and a 40-minute film of his life and music "The Land: Songs of Dougie MacLean") has been screened by the BBC. Wikipedia: His career started with a traditional band, The Tannahill Weavers, in 1976. His solo career started in 1981 and he recorded five albums. He plays multiple instruments, including guitar, violin, mandola, viola, bouzouki, banjo and bass as well as being a singer and composer[1]. MacLean's most famous pieces include "The Gael", from his 1990 album The Search, which was adapted by Trevor Jones as the main theme to the 1992 film Last of the Mohicans; and Caledonia, from his first album, which has been covered by singers and groups including Amy Macdonald, Kathy Mattea, Celtic Woman, Celtic Thunder, Frankie Miller and Leon Jackson. from his site: Dunkeld Records, which became one of Scotland's most respected independant record labels. Described as "Scotland's new heritage music," musicians recorded include Dougie MacLean, Hamish Moore, Sheena Wellington, Frieda Morrison, Gordon Duncan, David Allison and Blackeyed Biddy >

---
Discography
---
The Tannahill Weavers "Are Ye Sleeping Maggie?" (Hedera, 1974)


An early album, featuring Dougie MacLean on vocals...




Dougie MacLean & Alan Roberts "Caledonia" (Plant Life, 1977)



<! with Alan Roberts >

Dougie MacLean/Alan Roberts/Alex Campbell "CRM" (Plant Life, 1979)


The album title stands for "Campbell, Roberts, MacLean" -- or, Alex Campbell, Alan Roberts and, well, our pal Dougie.


<! with Alan Roberts, Alex Campbell >

Dougie MacLean "Snaigow" (Plant Life, 1979)

Dougie MacLean "On A Wing And A Prayer" (Plant Life, 1981)


MacLean's last release for the Plant Life label was more of a pop/dance oriented album; many of his more trad-minded followers find this disc to be a bit of a misfire. And, after this record came out, MacLean went on to form his own independent label, Dunkeld, on which almost all of his subsequent records were released.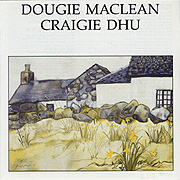 Dougie MacLean "Craigie Dhu" (Dunkeld, 1983)


A stalwart of the early-'80s Scottish folk-trad scene, singer-songwriter Dougie MacLean remains popular today, although over the years he has become progressively more of a folk-pop crossover artist. This is one of his best trad-oriented albums, and includes the lovely classic, "Caledonia," which has a truly beautiful melody, and a hauntingly memorable refrain. The song is also anthologized on a recent best-of on the Putumayo label, which is also worth looking for, if you want a wider view of MacLean's career.
Dougie MacLean "Fiddle" (Dunkeld, 1984)

Dougie MacLean "Singing Land" (Dunkeld, 1986)

Dougie MacLean "Real Estate" (Dunkeld, 1988)

Dougie MacLean "Butterstone" (Dambuster Music, 1989)

Dougie MacLean "Whitewash" (Dunkeld, 1990)

Dougie MacLean "The Search" (Dunkeld, 1991)

Dougie MacLean "Indigenous" (Dunkeld, 1991)

Dougie MacLean "Sunset Song" (Dunkeld, 1993)

Dougie MacLean "A Scot's Quair Destiny" (Dunkeld, 1993)

Dougie MacLean "Marching Mystery" (Dunkeld, 1994)

Dougie MacLean "Tribute" (Dunkeld, 1995)





<! Celtic Corner - label or distributor? >

Dougie MacLean "Riof" (Dunkeld, 1997)


I love MacLean's voice, yet still it must be said this is a pretty sleepy set. Heavy on the sententious singer-songwriter folkie tip, light on the trad. Oh, well.

Dougie MacLean "Live" (Dunkeld/Blix Street, 2000)


A sweet, stripped-down solo acoustic set which, while dipping deep into his singer-songwriter material, sheds the drippy poppish arrangements that make his studio albums so sluggish. MacLean's personal appeal comes through crystal clear, and his light, airy brogue is enough to charm any Scot-o-phile, and his personal asides are quite fun. The songs sound pretty and MacLean's charisma is complete. Nice version of "Caledonia," too, by the way.
Dougie MacLean "Perthshire Amber" (Dunkeld, 2000)

Dougie MacLean "Who Am I" (Dunkeld, 2002)

Dougie MacLean "Inside The Thunder" (Dunkeld, 2006)







Dougie MacLean "Muir Of Gormack" (Dunkeld, 2007)



<! not sure about label; unable to locate record on Amazon 02/09 >

---
Best-Ofs
---
Dougie MacLean "The Plant Life Years" (Plant Life/Osmosys, 1997)

Dougie MacLean "The Dougie MacLean Collection" (Putumayo, 1995)


A fine best-of set which covers the various phases of MacLean's career. This includes the sublime song, "Caledonia" (which can also be heard on the Craigie Dhu album, as well as some of his goopier pop material (which doesn't do much for me, but which is certainly part of his ouvre.)
Dougie MacLean "The Essential Dougie MacLean" (Dunkeld, 2007)

---
Links
---

<! 1974 Are Ye Sleeping Maggie? Hedera Recorde 101 (with Tannahill Weavers) 1977 Caledonia Plant Life with Alan Roberts 1979 CRM Plant Life with Alan Roberts, Alex Campbell 1979 Snaigow Plant Life 1983 Craighe Dhu DUN001 1984 Fiddle DUN002 1986 Singing land DUN008 1988 Real Estate DUN010 1989 Butterstone Dambuster music 1990 Whitewash DUN010 1991 The Search DUN011 1991 Indigenous DUN015 1993 Sunset Song DUN017 1993 A Scot's Quair Destiny (on Dunkeld label) 1994 Marching Mystery DUNCD019 1995 Tribute DUNCD020 1997 RIOF DUNCD021 # Perthshire Amber (2000) # Dougie MacLean Live (2000) # Who Am I (2002) # Inside The Thunder (2006) # Muir of Gormack (2007) >


---



Main Celt/Brit Index
International Music Index



---