<! MP3 12/29/08 > <! update 12/29/08 > <! outside 00/00/00 > <! links 00/00/00 > <! pix 00/00/00 > <! icons 01/21/11 >

---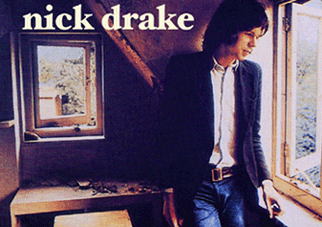 For those looking for an ultimate tragic hipster hero, space-folk martyr Nick Drake (1948-1974) can certainly fill the bill. For those seeking out transcendently beautiful, wholly original, evocative and atmospheric pop, his music is a godsend... And for those of us who got their indie knickers in a bunch over the unexpected expansion of Drake's devoted cult after Volkswagen commissioned a brilliant commercial that used Drake's best-known song, "Pink Moon..." Well, jeez, folks -- get a life!!
Singer-guitarist Nick Drake came of age at the height of the English folk-rock scene, although rather than opting for a more-trad-than-thou or an elves-in-the-woods stance, he carved out an intensely personal, unique and will-o-wispish niche in the annals of space rock. Signed by producer Joe Boyd to the fledgling Island label, Drake recorded and released only three albums before his untimely death at the age of 26. Still, his music has had a profound influence on countless artists in the underground and indie scenes of the last few decades. Drake created his own distinctive musical language, fashioning unparalleled new guitar tunings and sang in a whispery voice softer and subtler than any since Joao Gilberto. Drake was, however, deeply disturbed, living in a state of near-catatonic withdrawl and social isolation for several years before his perhaps-accidental overdose on antidepressant medication.
Drake fits squarely into the English Romantic tradition, both as a poet and as a tragic figure of eternal youth and neglected brilliance. His cult has grown steadily over the decades, punctuated by reissues and other milestones that have brought his music to new listeners... The most surprising event came in 1999, when the surprisingly subtle, beautifully conceived VW ad aired, bending countless thousands of ears Drake-ward, towards the sound of that lovely, dreamy tune. In the commercial's wake, sales for Drake's albums soared, from the thousands (total, since their original release) into the tens of thousands. Ironic, yes, but also an irritant to the true believer faithful, who found the very thought of their idol defiled on the altar of commercialism a crude and debasing thing. Mostly, though, I think it was more about protecting their indie turf against the great unwashed, those of the rabble not cool enough to know about Drake before the ad aired. Now, I can't lay any great claim to being Drakier-than-thou, only having discovered his music in the late '80s, when my radio station got a copy of the Fruit Tree box set, but I have to say, I find the whole "controversy" tedious... Great music isn't something to be hidden or hoarded, it's something to celebrate and share. That said, here's a quick look at Nick Drake's recorded legacy...
---
Discography
---

Nick Drake "Five Leaves Left" (Island, 1969)



An impressive debut which leans heavily on the chamber music orchestrations of arranger Robert Kirby. The ubiquitous British bassist Danny Thompson plays throughout, while Fairport Convention guitarist plays curlicued country riffs on the opening track, "Time Has Told Me." This is in many ways Drake's gloomiest, or perhaps his least accessible album, which, while it sheds nuances through limitless auditions, is less buttery and inviting than his subsequent efforts. Still, Drake's charismatic presence comes through from the opening verses to the closing hum -- it's a classic album and a testament to Drake's emerging talent. There was some precedent for his softened reinterpretations of blues and folk tradition, notably artists such as Fred Neil and Scotland's John Martyn, but Drake's creative approach was entirely original. This album's a bit austere, but lovely nonetheless.

Nick Drake "Bryter Layter" (Island, 1970)



Drake's dreamy Muse really settles into place here, on this enchanting album, which has a much lighter and more delicate feel. His innovative guitar work is more prominent, and while the classical chamber music motifs are still woven in, they feel more organically placed and less dominating than on Five Leaves Left. This album is absolutely lovely, magical and sublime. A masterpiece. The musical ties to Fairport Convention are further strengthened by the subtle, sympathetic backing of bassist Dave Pegg and drummer Dave Mattacks; guitarist Richard Thompson and Velvet Underground cellist John Cale also play on a few tunes. This is one of those rare, wonderful albums that are, quite simply, perfect little gems that never lose their lustre. Highly recommended.

Nick Drake "Pink Moon" (Island, 1972)



Another absolute gem. This was Drake's last studio album, recorded in a the short space of a few days in late 1971, after the music had brewed about in his mind during many months of depression and inactivity. Producer Joe Boyd had apparently left standing orders that the studios were to be opened at any time Drake wanted to record, and thankfully his devotion paid off. And yes, the title track is the song that was used in that super-cool VW commercial -- but even before Madison Avenue latched onto it, this album had been providing the backdrop for countless happy, whistful afternoons and rainy days at home. Part of the brilliance of this album is the total absence of the hated bongo drum, scourge of the hippie era. That and, of course, Drake's sublime vocal and guitar work. Highly recommended.

Nick Drake "Time Of No Reply" (Hannibal, 1987)


A posthumously-assembled odds-and-ends collection that has remarkable cohesion and depth. Compiled as part of the long-awaited Fruit Tree box set, this album includes ten songs that had never been released before, all of them nice additions to Drake's recorded legacy. Naturally, this doesn't have the same organic beauty as his three "real" albums, but once you've checked those out, there's really no reason to stop. Recommended.
---
Best-Ofs & Bootlegs
---
Nick Drake "Fruit Tree" (Island, 1979)


Originally, this was a 3-LP set, issued by Island at the decade's end, including the material from all three albums, and a few stray studio tracks. Later it would be reissued in an expanded version, after Joe Boyd had released the Time Of No Reply album.
Nick Drake "Fruit Tree" (Hannibal, 1986)


If you can pick it up, this is the ultimate Nick Drake package -- all three of his studio albums, and a fourth disc of the material on Time Of No Reply. Beautifully packaged, with a lovely booklet and plenty of info about Drake and his times. Great music, great sound quality, great presentation. Perfect.
Nick Drake "Fruit Tree" (Fontana, 2007)


I think this is the same old box set, back in print, with new artwork. Hooray!
Nick Drake "Heaven In A Wild Flower" (Island, 1990)


Nick Drake "Way To Blue: An Introduction To Nick Drake" (Island/Hannibal, 1994)



A standard Nick Drake "best-of" that's widely availabIe and has a lot of his best material. I suppose if you wanted to just "check out" his music, you could certainly do worse than to pick this one up... I assume it's a perfectly lovely set -- how could you go wrong with this music, really? -- but I have to say, I can't recommend the actual albums highly enough. It seems like you'd be cheating yourself if you settled for this, instead of hearing his albums in their entirety, and besides, after you hear this music, you'll probably just have to sell this back -- or give it to a friend -- since you'll doubtless be compelled to buy the full albums anyway. But, hey, don't be ruled by what I say... feel free to pick this up if you want... (I haven't heard this album, or attempted to recreate the song list, but I'm sure it's a quite pleasant album... So feel free to pick it up, either way...) By the way, the US and UK versions have the same songs, but different album art.
Nick Drake "Tanworth In Arden: 1967/68" (Anthology, 1994)


A popular bootleg with really crappy sound quality, and ultimately uncompelling music. Most of the songs are covers tunes, of Dylan, Bert Jansch, the Youngbloods, and the American expat Jackson C. Frank, whose "Blues Run The Game" was a popular standard on the UK folk scene. This is, I suppose, of great historical interest, since it reveals the extend of Drake's dramatic artistic artistic growth... Here is is laboring, as so many before him had under the shadows of Dylan and the British take on American blues; at this point, he sounds very similar to Scotland's John Martyn, whose first album, released around this time also has a brooding undercurrent of immense genius bubbling underneath what is, frankly, fairly pedestrian playing. I'm glad I had the chance to hear these recordings, just for the added perspective they provides, but I didn't think this album was worth hanging onto -- the quality of the recordings is appalling, and there is little of the perfectionist beauty of Drake's studio albums to be heard on here.
Nick Drake "The Complete Home Recordings" (Boyd)
Includes all the same material as the Tanworth recordings, and then some. Again, the sound quality is pretty bad on these lo-fi home demos...
Nick Drake "Made To Love Magic" (Island, 2004)



Demos, alternate tracks, and even some reconstructions (vintage studio tracks with modern dubs based on unused, old arrangements... And one "new" song previously unreleased in an official version.
Nick Drake "Family Tree" (Island/Tsunami, 2007)






<! Amazon.com You'd think there wouldn't be much more to present by a songwriter who recorded three albums in his lifetime and has been dead since 1974. However, interest in Nick Drake's riveting music has grown enormously in the new millennium. Rarities were added to a number of posthumous collections, but with Family Tree his estate has brought forth an hour of music that predates his first album, Five Leaves Left. This set illuminates Drake's musical background, with his mother and sister appearing, and even Drake himself on clarinet for a Mozart trio. He covers traditional numbers as well as songs by Dylan, Blind Boy Fuller, and Jackson C. Frank. There are clear links to his own early compositions, including a couple early versions that appeared on his debut. Some of this has circulated on bootlegs over the years, but here assembled and sonically polished, it radiates with warmth. Recorded in casual circumstances, there are bits of chatter and laughter between songs, painting a picture of a happy, loving home scene. --David Greenberger Product Description 2007 rarities collection from one of the most influential UK Folk artists of all time. Family Tree tells the story of Nick Drake's musical development in the years prior to his debut album Five Leaves Left in 1969. It features lo-fi recordings made on a reel-to-reel tape recorder at his home, Far Leys in Tanworth In Arden, as well as eight songs recorded on cassette during his sojourn in Aix En Provence. The inclusion of two songs by his mother Molly Drake bears testament to her influence on her son. His final performances on Family Tree, 'Day Is Done' and 'Way To Blue', recorded by his Cambridge friend and arranger Robert Kirby are the end of one story and the beginning of another. Family Tree comprises mostly other people's compositions: the Folk and Blues tunes used by many a young guitarist in the '60s, attempting to master the fretboard. Nick played Jackson C. Frank, Bert Jansch, Dave Van Ronk and, of course, Bob Dylan. Booklet printed on 'bible ' paper for initial pressings only! 28 tracks. Island. >

---
Tributes
---
Scott Appel "Nine Of Swords: Compositions By & About Nick Drake" (School Kids, 1995)

Keith James "The Songs Of Nick Drake" (Hurdy Gurdy, 2006)






<! Nowhere near as magical as the originals... a bit pedestrian, actually. Drake's work, transposed into more boring tunings. >

Keith James "The Songs Of Nick Drake -- Live At The High Barn" (Hurdy Gurdy, 2008)






<! 8872265231 >

Elton John "Sweet Suggestions" (Phantom, 1970/2002)


Get it while you can. Elton John's legendary demos of several of Drake's early compositions have appeared on various bootlegs; this is a reasonably aboveboard version that comes along with a thick CD-sized booklet extolling the great Drake legend. Sound quality is good, and the renditions of the four songs are also pretty interesting... Elton tackles the material from a much more conventional, rock'n'roll point of view, and yet seems to have a line on Drake's mystical interior landscapes. Definitely worth checking out; too bad they never wound up on a proper Elton John album.
Elton John "1968: The Nick Drake Sessions Best Of DJM Demos" (1968) <! date? >


There's also this version, which has Elton John's face on the cover, and lacks the big booklet.
Nick's Quest "Nick's Quest" (1999)

Nick Smart's Black Eyed Dog "Remembering Nick Drake" (33 Jazz, 2006)

Pigs On Corn "Solid Air: A Nick Drake Tribute" (POC International)

Christopher O'Riley "Second Grace: The Music Of Nick Drake" (World Village, 2007)


The Rabbit's Hat "Flesh & Nail: A Tribute To Nick Drake" (1999)

Lucinda Williams "Sweet Old World" (Elektra, 1992)



Covers of Nick Drake songs have become a little commonplace in recent years, although alt.country auteur Lucinda Williams led the pack with this sublime version of "Which Will," which is one of the highlights of this album. Although this isn't my favorite of all Lucinda's albums, this is certainly one of the best cover versions of Drake's music. She matches his introspective intensity in a way which few others have managed. Recommended!
Various Artists "BRITTLE DAYS" (1992)


Includes plenty of well-known rockers, like Nikki Sudden, the High Llamas, Loop, Shellyan Orphan, the Walkabouts, and a bunch of folkies such as Martyn Bates and Clive Gregson. Haven't heard it, but it sounds pretty groovy.
Various Artists "FIVE LEAVES THEFT" (1998)
Clever title... although I've never heard of any of these Italian bands before! Haven't heard it, so I can't really comment.
Various Artists "IN SEARCH OF A MASTER/IN SEARCH OF A SLAVE" (2000)
The difficult-listening Nick Drake tribute, with bands as disparate and obscure as Mumble & Peg, Sandycoates, Scumbucket, and Bugs Know Best. Again, I haven't heard this one.
Various Artists "JEREMY FLIES: A TRIBUTE TO NICK DRAKE" (Um & Ah, 2001)


(Produced by Brendan O'Brien & David Rudder)
An Australian inde-pop/folk-freak tribute album, which is quite good. I was pleasantly surprised by this one, and frequently return to it as a relaxing, intriguing record. A few tracks I didn't care for, but most are quite cool... Lots of unusual, but successful reinterpretations of well-known standards.
Various Artists "SCULPTING FROM DRAKE" (2000)
The artsy crowd -- including Archer Prewitt, Ben Vida, the Autumns, and Electroscope -- tackle Drake's tunes. I haven't heard this one either.
Various Artists "POOR BOY: SONGS OF NICK DRAKE" (Songlines, 2004)


---
Related Info
---

"A Skin Too Few: The Days Of Nick Drake" (2000)
A short documentary film by Dutch director Jeroen Berkvens which traces Drake's youth, brilliance and decline. The filmmakers revisit his home town, interview his family & friends, and investigate his Muse. I haven't see the film yet, but I've heard pretty good things about it. Here's a link to a Dutch arts website that profiles the director.
"Nick Drake: Under Review" (Sexy Intellectual, 2007)

---
Links
---
---



Main Celt/Brit Index
International Music Index




---
Top photo by Keith Morris c/o Rykodisc/Hannibal Records.
---