<! MP3 01/07/09, 01/14/11 > <! update 01/07/09 > <! outside 00/00/00 > <! links 00/00/00 > <! pix 00/00/00 > <! icons 01/14/11 >

---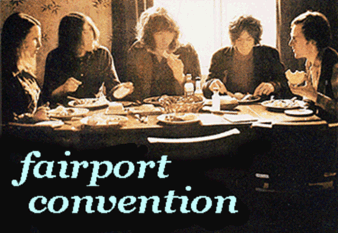 Fairport Convention were/are indisputably one of the great bands of the English folk/rock revival of the late 1960s. Founded in 1967, Fairport's membership has included such talented players as co-founder Ashley Hutchings, vocalist Sandy Denny, fiddler Dave Swarbrick, Simon Nicol, songwriter/guitarist Richard Thompson and an ever-changing cast of thousands. The group pioneered and defined the direction of the folk-fusion scene, setting the pace for the folk-prog and the trad revivals of the '70s, and brought dozens of brightly talented, innovative and intelligent musicians into the popular spotlight. The band has collapsed and reformed on a variety of occasions, but even after spanning five decades (and two millennia!), the group remains remarkably lively and vital.
---
Discography
---
Fairport Convention "Fairport Convention" (Island, 1967)



Before Sandy Denny came over from the Strawbs, Judy Dyble was the "girl" singer in the band... Many fans classify this debut album as "too rock"; in the band's words, they were trying to be the British version of the Jefferson Airplane, a roots-oriented psychedelic jugband. As such, this isn't as distinctive or original as their later work, but it's still a pretty good hippie rock record.
Fairport Convention "What We Did On Our Holidays" (Island, 1969)


Vocalist Sandy Denny joined the band... and history was made!

Fairport Convention "Unhalfbricking" (Island, 1969)


A classic early album by this pioneering British folk-rock band. Richard Thompson, Sandy Denny and company indulge their rock'n'roll side on several tunes, with loping electric downbeats, psychedelic whimsies and tarted-up Delta blue riffs. I prefer the more traditional material (which generally features Sandy Denny on vocals), and while there's nothing actually onerous on this album, Thompson's hautiness can be detected creeping into and dominating the band's sound (... beware!!) Includes several Dylan covers, one of which is a French-language translation ("Si Tu Dois Partir"), and Denny's signature tune, the justly-revered "Who Knows Where The Time Goes"... All in all, a pretty solid album... Recommended!

Fairport Convention "Liege And Lief" (Island/A&M, 1969)



This is the archetypal Fairport album, their much-beloved masterpiece. Stunned after a tragic auto accident that took the life of the band's drummer, Martin Lamble, and Richard Thompson's girlfriend, Jeannie Taylor, the band regrouped with the additions of drummer Dave Mattacks and fiddler Dave Swarbrick (who was best known for his work with the Ian Campbell Folk Group, and with guitarist Martin Carthy). They decided to try out an entirely new approach, foregoing almost all contemporary songwriting in favor of traditional English folk material, which they would play using aggressively modern, electric arrangements. The result was a landmark in the folk-rock scene -- indeed, an album that set the template for other bands such as Steeleye Span, Lindsfarne and others. Although I must confess that I frequently find Richard Thompson's guitar work a wee bit intrusive, vocalist Sandy Denny was at her finest, as was the other driving force behind the renewed traditionalism, Ashley Hutchings. Both Hutchings and Denny left the band not long after this album was recorded, she to found Fotheringay (basically the same as going solo...) and Hutchings to co-found Steeleye Span. But this one is, justifiably, a classic.

Fairport Convention "Full House" (Island, 1970)


Although it goes against all that I hold dear (ie. abhorrence of Richard Thompson), I must admit that this is a very, very good early album by this British trad-rock supergroup. The rock touches are firmly held in check -- a Beatles-y Fender tone here, a certain heaviness to the drums, but nothing glaring or heavy-handed. The formula is practically perfect: elegant traditional material delivered with the right mix of reverence and comedic irony. There's a wee bit of nudge-nudge wink-wink at play here, but not played so broadly that it detracts from the music, a trap that many trad fusion albums would later careen into. Best of all, even though this album contains one of his signature pieces, the shambling, inexorable "Sloth," Thompson seems in the background for once; instead of overpowering the proceedings, he actually underplays a bit. By the time the record came out, though, Thompson had left the band, off at last on his solo career; this departure was balanced, however, by the addition to the band of bassist Dave Pegg, a fellow Ian Campbell Folk Group alum who fiddler Dave Swarbrick brought into the fold. A very nice record - highly recommended.

Fairport Convention "Angel Delight" (Island, 1971)


In one of the band's many moments of heroic recovery, the "new" group rallied from Richard Thompson's departure by retrenching as a much more compact foursome -- Simon Nicol, Dave Mattacks, Dave Pegg and Dave Swarbrick. Keeping up their interest with traditional material, Swarbrick revived a few tunes from his days with guitarist Martin Carthy, while also exploring some new, original material as well.

Fairport Convention "Babbacombe Lee" (Island, 1971)


Still reeling from the defection of guitarist Richard Thompson, Fairport was shored up by the determination of fiddler Dave Swarbrick, who provided much of the creative impetus for this somewhat intense folk-ballad/concept album. The songs revolve around the legend of the English convict named John "Babbacombe" Lee, who was sentenced to death in the 1880's, but apparently survived being hung at the gallows not once, nor twice, but a full three separate times. Famous as "the man they could not hang," Lee spent two decades in prison, until his release in 1907, an event described in the album's rather arcane liner notes. I'm sure that when it first came out, this record must have baffled quite a few devoted Fairport fans -- its raspy, craggy tone is a throwback to Swarbrick's hypertraditionalist days working with guitarist Martin Carthy, and the compact foursome of Swarbrick, Nicol, Pegg and Mattacks clatter frantically to the finish line of each song; the tone could hardly be more different from the gauzy langour of Thompson's lazy style. This heavily acoustic album is more in keeping with the folkloric feel of the music on the Topic label, and in many ways anticipates the similarly-themed folk opera, The Transports written several years later by Peter Bellamy. Of particular note is the band's implicit criticism for Britain's tabloid culture, which had inflamed public opinion in the "Babbacombe" case; in the decades since this record's release, that tabloid mentality has practically overtaken our entire popular culture, making the message more timely than ever. An interesting album; very different than previous Fairport efforts, but kind of a treat for more traditionally-oriented fans.
Fairport Convention "Rosie" (Island, 1973)


Hodge-podgey collection of tracks recorded by several different lineups of the band. Among the musicians entering through the revolving door was guitarist Trevor Lucas, who had had been in the short-lived Fotheringay, and who later married Sandy Denny.
Fairport Convention "Nine" (Island, 1973)

Fairport Convention "Live Convention" (Island, 1974)


This disc marked the return of singer Sandy Denny, an event of collossal proportions to English folk-rock fans. She returned to the fold in part to keep tabs on her hubby, Trevor Lucas, and in part, just because that's where fate willed her to be. (Issued as A Moveable Feast in the US.)
Fairport Convention "Rising For The Moon" (Island, 1975)


A Thompson-less edition of the band, led by Denny, Dave Swarbrick and Dave Mattacks. This was the first Fairport album to feature no traditional material, although fans at the time seem not to have minded much.
Fairport Convention "Gottle O' Geer" (Island, 1976)


Many fans consider this album to mark the nadir of the band, with a near-complete implosion that left Dave Swarbrick and Dave Pegg holding the bag. They got a bunch of folks to come and pitch in, including Swarbrick's old pal Martin Carthy, but things had gotten a bit dicey for the band's longterm future... It was mainly Swarbrick's album; he wrote, cowrote or collected most of the material, and soon thereafter recorded a pair of highly-regarded solo albums for the Transatlantic label (see below).
Fairport Convention "House Full: Live At The L.A. Troubadour" (Polygram, 1977)


A live album that dates back to the end of 1970, when Richard Thompson was still in the band.
Fairport Convention "The Bonny Bunch Of Roses" (Vertigo, 1977)

Fairport Convention "Tipplers Tales" (Vertigo, 1978)

Fairport Convention "Farewell, Farewell" (Wormwood, 1979) (LP)


This album accompanied Fairport's first actual, official disbandment. As the '70s ground to a halt, so did the band. Dave Swarbrick had health problems, their last record deal ended bitterly, the jig, it seemed, was up. This swansong album was released on the band's semi-official label, and was later reissued -- when the band had gotten back together -- as Encore! Encore! Although the band called it quits in '79, their farewell performance that year at the Cropredy Festival sowed the seeds of a tradition of annual "reunion" shows. Fairport took over the local venue, and has ever since been the host band of an annual folk festival (and full-time cottage industry)...


<! only on LP as of 01/09 >

Fairport Convention "Moat On The Ledge: Live At Broughton Castle" (Wormwood, 1982)



Not quite a reunion of the band, this was actually a concert album, documenting a Cropredy concert with Richard Thompson back wielding the axe. It begat a long line of boot-ish releases that tided over the Fairport faithful.
Fairport Convention "Gladys' Leap" (Varrick, 1985)


Their first proper studio album in severn years, Gladys' Leap featured Nicol, Pegg and Mattacks and (with some acrimony), no Dave Swarbrick. A few other pals chipped in, but this was a notably stripped-down affair.

Fairport Convention "Expletive Delighted!" (Varrick, 1986)



An all-instrumental album, which pictures the bandmembers on the cover with censorship bars over their mouths. ('Cuz they can't talk or sing, right? Get it?) Anyway, it's an interesting execise that shows off the instrumental chops of the band's then-current lineup... Worth checking out.
Fairport Convention "House Full" (Hannibal, 1986)


This was an expanded re-release of the 1978 Live At The Troubador album, released by Island at the end of Fairport's contract. The reinsertion of several "missing" songs made many fans happy, particularly with the chance to hear even more Richard Thompson guitar work...
Fairport Convention "In Real Time" (Island/Universal, 1987)


Apparently a fake-live studio album, with crowd noise and applause mixed in...
Fairport Convention "Red & Gold" (Rough Trade, 1988)


Fairport Convention "The Five Seasons" (Rough Trade, 1990)


Fairport Convention "Jewel In The Crown" (Green Linnet, 1995)


Fairport Convention "Old, New, Borrowed, Blue" (Green Linnet, 1996)



Jeez, ya'd think you'd be able to totally write these old geezers off as yesterday's news by now... But even this late in the game, the Fairporters are as capable a folk outfit as you're likely to find. This compact, four-piece edition of the band includes Simon Nicol and Dave Pegg, joined by guitarist Maartin Allcock and fiddler Ric Sanders; they open with a perky gypsy jazz number, and drift into a pleasant mix of trad and earnest folkie material. The second half of the disc is a live show recorded in December, '95... The whole album has a crispness and clarity of purpose that may surprise you! Don't be fooled by the unimpressive cover art; this is a disc well worth checking out.
Fairport Convention "Who Knows Where The Time Goes?" (Green Linnet, 1997)

Fairport Convention "Close To The Wind" (Mooncrest, 1998)



Fairport Convention "The Cropredy Box" (Mooncrest, 1999)



A lavish, 3-CD, thirtieth-anniversary concert extravaganza, featuring as many of the surviving members of the band, in all its various incarnations, as fate and circumstance would allow. The group's original "girl" singer, Judy Dyble, is present, along with the ever-showy Richard Thompson, and the whole host of usual suspects -- Hutchings, Simon, Mattacks, Swarbrick, et al. The old farts sound pretty good, and although they step on one another's toes here and there, the ensemble sounds remarkably cohesive. Perhaps a bit too heavy on the electrified rock side of the equation, the subtlety of the songs does get occasionaly lost, but most fans probably will be delighted. Certainly, the group's skill and good humor come through loud and clear, and the songs themselves are still as delightful as ever. These performances were originally recorded over the course of two nights at the band's annual Cropredy Festival, and they cover pretty much all of their old "hits," as well as material running the length of the band's career. A "bonus" added track at the end features Simon Nicol playing a particularly nasty (but rather hilarious) April Fool's joke on Dave Swarbrick, which is a pretty cute glimpse into the band's off-stage life. Worth checking out.
Fairport Convention "The Wood And The Wire" (Compass, 2000)



An overly perky, even ditzy, ditzy, with bouncy, over-easy melodies and bright-eyed, glee-chorus vocals. I suppose if you're of a cutesy-folkie bent, then this'd be just fine, but I found it too sugary and blithe.
Fairport Convention "Kind Fortune" (Snapper, 2000)


A combination of live (Cropredy) material and studio stuff. Haven't heard it, myself.
Fairport Convention "Wishfullness Waltz" (Sanctuary, 2001)


Fairport Convention "XXXV" (Compass, 2002)


Fairport Convention "From Copredy To Portmeirion" (Eagle, 2002)



Fairport Convention "Over The Next Hill" (Compass, 2004)



The old coots are still kicking around and, if the truth be told, they don't sound half-bad. The lineup this time 'round includes Gerry Conway, Chris Leslie, Simon Nicol, Dave Pegg and Ric Sanders... veterans all. While they do get a little clompy and strain at the edges a bit as far as the poetry goes, this is actually a creditable effort. Many a dino-band has done far worse, and longtime fans will doubtless find this one of their better recent records. Worth checking out.
Fairport Convention "Who Knows -- The Wormwood Archives, v.1: 1975" (Talking Elephant, 2005)






<! apparently poor sound quality >

Fairport Convention "On The Ledge: 35th Anniversary Concert" (Secret Recordings, 2007)






<! a 2-CD live set >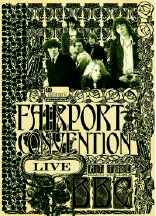 Fairport Convention "Live At The BBC" (Universal/Hip-O, 2008)



A 4-CD set of live performances on the venerable British Broadcasting Corporation... Pretty much everything the Fairport band played on the Beeb over the years. There's also a shorter, single disc version with highlights from the series... Either one is sure to be a treat for fans.
Fairport Convention "The Best Of The BBC Recordings" (Universal-Island, 2008)



A single-disc distillation of their BBC recordings...
---
>> Best-Ofs, Side Projects & Web Links <<
---



Main Celt/Brit Index
International Music Index



---