<! MP3 12/22/08, 01/04/11, 03/25/14 > <! outside 00/00/00 > <! links 00/00/00 > <! pix 00/00/00 > <! icons 01/04/11 > <! UPDATES: 12/22/08, 01/04/11 03/25/14 - several ASIN adds >

---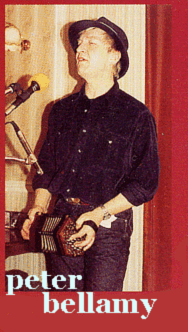 Peter Bellamy (1946-1991) was one of the most striking figures in the early years of the 1960s British folk revival, an uncompromised hypertraditionalist who brought a cappella folk singing to the foreground of the Britfolk scene. In 1965 Bellamy co-founded, along with Royston Wood and Heather Wood, the dynamic vocal trio Young Tradition, which imploded by decade's end, despite its growing popularity at home and abroad. Bellamy continued to record and perform prolifically throughout the 1970s and '80s, even though his fiercely loyal audience steadily shrank over the decades.
In addition to his impressive "folk opera", The Transports, (reviewed below), Bellamy is perhaps best known for his fascination with the poetry of Rudyard Kipling, having recorded no less than five albums of Kipling-related work. Bellamy's devotion to an avowedly procolonial 19th Century writer -- whose arch-imperalism was anathema to the left-leaning, intensely politicized English folk revival -- did little to endear him to many within the scene, and Bellamy himself became a figure of controversy among their ranks. Yet for those of lucky enough to track these albums down, it must be admitted, as Bellamy was fond of saying, that Kipling wrote exceedingly good songs. Here's a quick look at the legacy of this fascinating singer and of his cohorts in the Young Tradition -- music that's hard to track down, but well worth the search.
---
Discography
---

The Young Tradition "The Young Tradition" (Transatlantic, 1966)


The Young Tradition "So Cheerfully Round" (Transatlantic, 1967)


Emerging on the London folk scene in the mid-'60s, Royston Wood, Heather Wood and Peter Bellamy set the pace for like-minded traditonalists and folklorists. Although they were not a tremendous success financially (disbanding in 1969, after years struggling on the folk club circuit), the trio exerted great influence on (and was influenced by) many of their musical contemporaries. Their keening, compelling, growling, craggy a capella harmonies would be echoed in the work of bands such as Dolly and Shirley Collins, Steeleye Span and the Yorkshire family ensemble, The Watersons. This CD pairs up the Young Tradition's first two albums, both remarkable and potent examples of the new group's considerable artistic presence. Love ballads, hunting songs, sea shanties and dirges, all with compelling lyrics delivered with gusto and conviction. The trio perfectly captures the old-world view and odd, antiquated style -- one can only imagine the impression they made on audiences in the clubs of the time! This is a beautiful and much welcome reissue; check this disc out & continue your explorations from here.
The Young Tradition "Chicken On A Raft" (EP) (Transatlantic, 1968)



A delightful, but all-too-short set of rollicking sea shanties. The title track is a real hoot. (Reissued on CD along with the 1969 album, Galleries and Heather and Royston Wood's 1977 album, No Relation -- both reviewed below.)
Peter Bellamy "Mainly Norfolk" (Transatlantic, 1968)


The Young Tradition "Galleries" (Transatlantic, 1969)



The final Young Tradition album -- not counting the Adieu To Old England album, which went unreleased until 1995 -- this is an interesting mix of influences, although still very much in the distinctive YT style. Several high-powered British folkies chip in on this album, including fiddler Dave Swarbrick, Ian Campbell, Sandy Denny (just barely), and Dolly Collins, who brought in her pals from David Munrow's Early Music Consort to help add instrumental oompf to several of the album's medieval-oriented tunes. This is the most experimental, or at least adventurous, of the YT albums, and even includes an odd tune combining ye olde vocal style with some of Bellamy's blues slide guitar, in sort of a warped, latter-day version of British skiffle. Apparently it was the Wood's growing interest in medieval and Renaissance music that led Bellamy to make a break with the group -- he preferred more modern material. Some folks have called this album a folk music Sgt. Pepper, although I think that comparison was mostly due to the Beatles album having just come out -- this is hardly as sweeping or as striking a release -- but it certainly is a noteworthy swansong for such an intriguing trio. (Reissued on CD along with the Heather and Royston Wood's 1977 album, No Relation, and the earlier Chicken On A Raft EP, which are both quite wonderful.)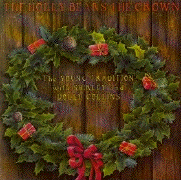 The Young Tradition & Shirley and Dolly Collins "The Holly Bears The Crown" (Fledgling, 1995)



A compelling collection of Christmastime and winter-y ditties, originally recorded in 1969, merging the talents of Dolly and Shirley Collins and the equally craggy and arcane Young Tradition trio. There's a great stylistic variation, from the craggy-voiced growls of the late Peter Bellamy to some of the sweetest harmonizations the Collins sisters ever did. There's a cool variant version of "The Holly Bears A Crown," and several other semi-pagan spirituality tunes, some of it stark, some of it melodic. But this is one of the most accessible Collins-related albums I've had the pleasure to hear... Highly recommended!
Peter Bellamy "Fair England's Shore" (Transatlantic, 1969)


Peter Bellamy "The Fox Jumps Over The Parson's Gate" (Topic, 1969)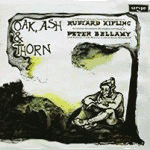 Peter Bellamy "Oak, Ash & Thorn" (Argo, 1970)


(Produced by Frederick Woods)
A stark, stripped-down set, with some a capella numbers, and sparse accompaniment on others. Heather and Royston Wood, of the Young Tradition, pitch in on the choruses and rough-hewn harmonies, along with Barry and Robin Dransfield, who add a bit of reserved instrumental accompaniment. This album is packed with striking songs, including "The Looking Glass" (about the remorselessness of time) and "Cold Iron," a reflection on the remorselessness of power. A typically rich trove of folkloric songcatching - the title track is another highlight, with the Young Tradition trio in full power. Definitely worth tracking down!


<! Produced by: Frederick Woods, engineer: Adrian Martins Recorded at: Decca Recording Studios - Argo Division Personnel were: Peter Bellamy Also featuring: Royston Wood, Heather Wood, Barry Dransfield, Robin Dransfield Re-Released as Part of Private Issue Cassette of ÔPuckÕs SongsÕ by Peter Bellamy in 1974. 01. Frankie's Trade 02. Poor Honest Men 03. Cold Iron 04. Sir Richard's Song 05. The Looking Glass 06. Oak Ash and Thorn 07. King Henry VII and the Shipwrights 08. The Brookland Road 09. A Three Part Song 10. The Ballad of Minepit Shaw 11. Our Fathers of Old 12. Philadelpia >

Peter Bellamy & Louis Killen "Won't You Go My Way?" (Argo, 1972) (LP)


A collaboration with singer Louis Killen...


<! 1971 or '72? >

Peter Bellamy "Merlin's Isle Of Gramarye" (Argo, 1972)


An album of songs adapted from Rudyard Kipling's fantastical Puck Of Pook's Hill short stories...
Peter Bellamy "Peter Bellamy" (Green Linnet, 1974)


Peter Bellamy "Tell It Like It Was" (Trailer, 1975) (LP)

Peter Bellamy "The Barrack's Room Ballads Of Rudyard Kipling" (Green Linnet/Free Reed, 1976)



Peter Bellamy/Dorothy Collin/Various Artists "The Transports" (Free Reed/Topic, 1977)


In the 1780s, with the Americas closed as a dumping ground for the criminal class and other assorted ne'er-do-wells, England decided to ship its convicts off to the rocky shores of Australia. Among the hundreds of prisoners on the penal transports of the "First Fleet" were Henry Cabell and Susannah Holmes, a young couple who met in jail, but had to make it all the way to Botany Bay before they were allowed to be wed. This dense song-cycle chronicles their journey -- convicted of petty theft, detained for several years in an English jail before being deported to Australia, and finally wed under colonial law, later to become one of the founding families of the new nation. Peter Bellamy wrote the libretto, and the album -- originally a double LP -- is widely considered to be his masterpiece. Bellamy enlisted a phalanx of the most talented British trad singers to help out, including June Tabor, Nic Jones, Martin Carthy and The Watersons, each taking on a role within the operetta. Dolly Collins provides orchestral arrangements that are mildly impenetrable or overly flowery at times, and the overall tempo of the album lacks variation, but the material itself is very powerful and the story is quite compelling. (For more folk music dealing with Australian history, also check out the various albums by Martyn Wyndham-Read.)
Peter Bellamy "Both Sides Then" (Topic, 1979)



Peter Bellamy "Keep On Kipling" (Fellside, 1982)


Bellamy's long and somewhat quixotic fascination with the poetry of Rudyard Kipling began with a pair of albums on the Decca label's Argo imprint, and continued throughout his life, with five albums total being recorded. Displeased that his early Kipling recordings had lapsed out of print for several years, Bellamy took it upon himself to record this album, the fourth of his Kipling outings, which recaps many of the songs he had recorded earlier. Unlike the previous three, this disc did not focus on a single narrative theme, rather, it glides through a cross-section of Kipling's work. Like most of Bellamy's work, it's the kind of thing you have to be in the right mood for, but if you get in on his wavelength, there are few folk recordings more rewarding. Recommended! (NOTE: This record was re-released on CD, along with Bellamy's last album, in a 2-CD set titled Mr. Bellamy, Mr. Kipling & The Tradition. Listed below.)
Peter Bellamy "The Maritime England Suite" (Tapes In The Wall, 1982)
(Cassette only)
Peter Bellamy "Fair Annie" (1983)


Peter Bellamy "Fair Annie/Peter Bellamy" (Fellside, 1983)



A 2-CD set that includes both the Fair Annie and Peter Bellamy albums...
Peter Bellamy "Second Wind" (English Folk Dance And Song Society, 1985)

Peter Bellamy "Rudyard Kipling Made Exceedingly Good Songs" (Dambuster, 1989)

Peter Bellamy "Soldiers Three" (1990)

Peter Bellamy "Songs An' Rummy Conjurin' Tricks" (Fellside, 1992)
Recorded off the cuff in 1991, this posthumously released live album captured Bellamy, undiminished, at the height of his powers. It's not music for casual listening; if you had this on in the background, it might well drive you to distraction. But once distracted, ah, what a pleasure. Bellamy's talents as a storyteller are readily apparent on all these songs, as he yowlps a capella or accompanied by a small, unflashy squeezebox. Some songs are more accessible than others, when I first put this on, the haltingly melodic "Slip Jigs And Reels" immediately caught my ear; on further exploration, other, more dauntingly severe, ballads came out in full relief. This is a lovely album, and a fitting -- if tragic -- epitaph to Bellamy's long and invaluable career. He may have had his detractors, both musical and ideological, but listening to the intensity and passion of these performances, it's certainly difficult to understand why. (NOTE: This album was re-released on CD, along with one of his Kipling albums, under the title Mr. Bellamy, Mr. Kipling & The Tradition. Listed below.)

Peter Bellamy "Mr. Bellamy, Mr. Kipling & The Tradition" (Fellside, 2001)



A heartily welcome 2-CD reissue that includes Bellamy's fourth Kipling collection, Keep On Kipling, along with his final album, the fine live set, Songs An' Rummy Conjurin' Tricks (both albums reviewed above). This also includes some stray tracks from cassette releases and out of print albums. Another fine album, and one of precious few Bellamy albums still in print. Recommended.
---
Best-Ofs
---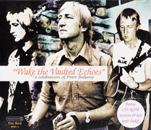 Peter Bellamy "Wake The Vaulted Echoes" (Free Reed, 1999)


An extravagant (but awesome!) 3-CD retrospective with a healthy dose of previously unreleased (or cassette-only) material. As with other Bellamy albums, you really have to be on his wavelength to appreciate this music. It may be a bit much for the casual listener, but for anyone already drawn to Bellamy's unique musical vision, a gold mine. Free Reed was able to get the rights to use Bellamy recordings made on a host of British labels, as well as access to early and archival material. A remarkably thick booklet contains careful liner notes, details about all of Bellamy's records and bittersweet testimonials from numerous UK folkies, such as Martin Carthy and Bob Copper (who was himself an inspiration for Bellamy's own explorations into traditional song). A great deal of Bellamy's work remains lamentably out of print and unlikely to see reissue for some time to come, so this set may be the definitive Bellamy collection for the foreseeable future. Highly recommended.
Peter Bellamy "The Ballads Of Peter Bellamy: Big, Broadside & Barrack Room" (Free Reed, 2008)

---
Related Records
---

Heather & Royston Wood "No Relation" (Transatlantic, 1977)



An absolute delight. Although Bellamy apparently parted ways with the (unrelated) Woods over their growing devotion to medieval and Renaissance music, they were certainly on to something good, as this lone album demonstrates. Bellamy chimes in himself on several of these songs -- which sound oddly enough quite a bit like classic Young Tradition tunes. But there is quite a bit of variety and rich musical range on here, including some truly exotic high harmonies and plenty of beautifully-realized, impressively researched old songs. This is one of the most striking folk/early music albums I've heard... Well worth tracking down! (Reissued on CD along with the Young Tradition's 1969 album, Galleries, and their earlier Chicken On A Raft EP.)
---
Links
---
---



Main Celt/Brit Index
International Music Index



---

---
Top photo courtesy of Mr. Paul Adams.

---