<! MP3 12/29/08, 01/08/11 > <! outside 00/00/00 > <! links 00/00/00 > <! pix 00/00/00 > <! icons 01/08/11 > <! UPDATES: 12/29/08 >

---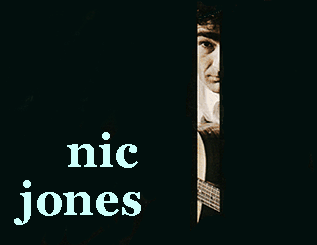 The English folk music scene was dealt a particularly nasty blow in 1982, when acoustic trad-folkie Nic Jones was injured and temporarily paralyzed in an auto accident. Jones had been on the scene since the late 1960s, a contemporary of Shirley Collins, Steeleye Span, Martin Carthy, Dave Swarbrick, Dave and Toni Arthur -- the whole lot of them. At the time of his accident, he had just released one of the greatest trad-folk albums ever made, Penguin Eggs which is, quite simply, one of the best records ever made.
Sadly, Jones' accident left him unable either to perform or record new music. Even before that, it had been difficult to hear much by this gifted performer, as his earlier albums -- Ballads and Songs, Nic Jones, From The Devil To A Stranger, and The Noah's Ark Trap -- have languished out of print for years, much to the dismay of his fans, particularly those of us in the States.
Recently, though, we've had cause to rejoice: Jones has released an album of live performances recorded around the same time as the Penguin Eggs LP. (The album is reviewed, and ordering information is provided below.)
---
Discography
---
Nic Jones "Ballads And Songs" (Leader/Trailer, 1970)


In an already booming British folk revival with plenty of uncompromising hyper-traditionalists to contend with, Jones distinguished himself by specializing in absurdly glum story songs, of lost loves and treacherous circumstances. Like the ballads that fed into American old-timey and bluegrass music, many of the olde English songs are hyperbolically horrific, yet the style that Jones sang retain the original old-country morbidity, and thus transcend the milder, campy melodrama that the colonials came to favor. Here, his delivery seems a little rushed, but the material is quite compelling. Features the heartbreaking tale of "The Little Musgrave", which was later covered on John Wesley Harding's tribute album (reviewed below).
Nic Jones "Nic Jones" (Leader, 1971) (LP)



A year later, Jones brought greater richness and subtlety to both his singing and guitar playing... and a little less severity in his repertoire. Certainly there are several gruesome murder ballads, but by comparison, "Dance To Your Daddy" is a bit on the lighter side, and could be considered the folkie purist equivalent of breaking a smile... His performances are all quite involving, and he seems a bit more at ease in the studio. A great album, which interestingly enough includes a re-recording of a song already included on his first album ("The Outlandish Knight").


<! "Songs For A Changing World" (Trailer, 1973) - with Jon Raven, Tony Rose - a compilation, or collaboration? >

Nic Jones "Noah's Ark Trap" (Trailer/Shanachie, 1977) (LP)





<! LP B00008FQXW >

Nic Jones "From The Devil To A Stranger" (Trailer, 1978) (LP)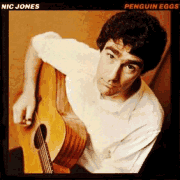 Nic Jones "Penguin Eggs" (Topic/Shanachie, 1980)



One of my favorite English folk albums... Indeed, one of my favorite albums in any genre. A wonderfully evocative collection of nine traditional and neo-traditional tunes: revamped sea shanties, gothically bleak tales of doomed and drowned lovers, raunchy tavern humor, and -- above all -- the intensely soulful guitar and vocals of Nic Jones. His melodic and dramatic delivery is extraordinary. The album is, in fact, sublime... and highly, highly recommended. This album includes his version of "Canadee-I-O", which caused a stir in the folk-rock world when Bob Dylan recorded a version which used Jones' arrangement without giving credit (or money) to Jones... Bob caught flak from all sides for ripping off the beloved Jones... Controversy aside, it's also a great song, revisiting the popular theme of a woman who disguises herself as a sailor in order to follow her own true love when he goes out to sea. This is the Nic Jones album to look for, not least because it's the only studio album that's been in print over the last few decades. Highly recommended!

Nic Jones "In Search Of Nic Jones" (Mollie's Music, 1998)


Now, at last, there is a "new" Nic Jones album, made from tapes of live performances from around the same time that Penguin Eggs was recorded. Ironically titled, this album is somewhat of a departure from Jones' normal specialty of cheerfully morbid traditional tunes (see above). Here we have several modern outings, such as Randy Newman's "Texas Girl At The Funeral Of Her Father," Loudon Wainwright's "Swimming Song," and an instrumental version of "Teddy Bear's Picnic." There are also a couple of originals that enter the well-trod realm of the earnest folkie environmentalism, giving an illuminating glimpse at a more modern Nic Jones than we'd heard on his earlier albums. His connection with the audience is compelling, as is his acoustic guitar work. All in all, a great record. If you like Penguin Eggs, this disc should make you giddy as well.


<! 01/11: really 110x108 >

Nic Jones "Unearthed" (Mollie's Music, 2001)


Celebration and exultation! The landmark release of this fabulous 2-CD set of live and studio recordings is certainly one of the most significant new releases to hit the UK trad circuit for many years. At last, Jones has prowled through his attic and compiled the master tapes of various BBC and folk club outings, recordings which perfectly capture his resonant vocals and dazzling guitar work as heard at his very peak. Several of these songs, such as "The Jukebox As She Turned" and "Warlike Lads Of Russia" have long been whispered about in trad-folk circles, and recently bounced around the Internet as Napsterized MP3s, coveted by fans who could not hear them anywhere else. These recordings sound as fresh today as they were decades ago, and Unearthed is easily one of the most satisfying folk releases in years Ð a prized plum for old fans, or a perfect introduction for Nic Jones initiates. Don't let the gruesome cover dissuade you... get this album now, while you can!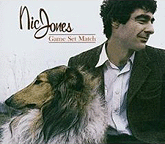 Nic Jones "Game Set Match" (Topic, 2006)



A lovely set of live recordings from British folk icon Nic Jones, whose career was cut short by a near-fatal car crash in the early 1980s. This collection compliments but does not supersede two earlier, similar albums, In Search of Nic Jones and Unearthed, which Jones released on his own cottage label, Mollie Music. For fans of raw, otherworldly old English ballads, all those songs about battles and duels, drowned lovers and tragic trysts, this disc is another goldmine from one of the finest traditional musicians of the English folk revival. Recommended!
---
Related Records
---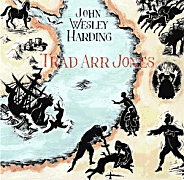 John Wesley Harding "Trad. Arr. Jones" (Zero Hour, 1999/Appleseed, 2001)



A curious, though thoroughly charming, tribute to Jones' work. Initially, when you hear this folk-oriented English power-popster tackle these songs, you may shake your head and wonder what's the point -- Nic Jones had already done them so wonderfully, and Harding's best intentions may seem a bit daft. But repeated listenings bring out the charm. For one thing, this is all such great material, a canny distillation of the off-kilter folk stories that Jones specialized in. Star-crossed lovers follow their hearts and are slain by jealous husbands, drown in raging rivers, and die of broken hearts while their love is away at sea. Harding's delivery is admirable as well -- many of these songs are from Jones' impossible-to-find early albums, and will be unfamiliar to most folks. However, Harding approaches the material with the same richly melodic, reflective style that Jones had developed late in his career, which in many cases rather offsets the briskness of the original, early '70s recordings by Jones. Harding puts his own stamp on the songs, unraveling each story with a sense of wonder and freshness, so that the casual listener will be drawn in... He sings each line with with feeling and attention to the meaning of the words, a performance style which has, sadly, grown out of fashion of late. Until recently, this record has been rather hard to find, since the Zero Hour label went out of business about a week after this came out. The Jones legacy has been undone, however, by a recent reissue on one of America's most earnest new folk labels. The Appleseed edition adds a few new tracks -- clompy Celtic rock versions of four Jones classics, performed by Harding's playful new side project, The Minstrel In The Galleries. Highly recommended.

The Halliard "The Irish In Me" (Society/Saga, 1967)
A super-early (and presumably super-rare) album featuring singer-guitarist Nic Jones in a three-piece Celtic folk band. It's not earth-shattering trad, but it's sung and played with great enthusiasm; the tracks where Jones takes the lead are the most compelling, and worth checking out if you are a devoted fan... Endearing, though not particularly resonant
The Halliard "The Halliard" (Broadside, 1968)
This second Halliard album has apparently been reissued on CD, but I suspect that edition, too, is rather hard to find.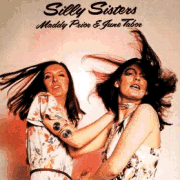 Silly Sisters "Silly Sisters" (Shanachie, 1976)



What a wonderful record. One of the greatest '70s trad albums... Maddy Prior and June Tabor's voices and musical sensibilities are a perfect match, and the material they chose is also a delight. Jones plays fiddle or guitar on most of these tracks. This was, amazingly enough, Tabor's musical debut (outside of a few tracks on various folk collections, dating back to 1972). And what an entrance it was!

June Tabor "Airs And Graces" (Topic/Shanachie, 1976)



A remarkable followup to her Silly Sisters debut. This features a brace of traditional tunes, Child Songs and the like, as well as a fine a capella version of Eric Bogle's hauntingly powerful antiwar ballad, "The Band Played Waltzing Matilda." Although she sings several songs unaccompanied, Tabor is once again joined on several songs by the crisp, stately fiddle and guitars of Nic Jones, as well as Jon Gillaspie on keyboards. The bounciness of the Silly Sisters album is replaced by a more stately feel, a sense of gravitas and seriousness that would later get laid on a bit too thick. But here, everything remains in a delicate, effortless balance, suspended, crystalline and serene. A fairly perfect English folk album, well worth searching out.

Peter Bellamy/Dolly Collins/Various Artists "The Transports" (Free Reed/Topic, 1977)


In the 1780s, with the Americas closed as a dumping ground for the criminal class and other assorted ne'er-do-wells, England decided to ship its convicts off to the rocky shores of Australia. Among the hundreds of prisoners on the penal transports of the "First Fleet" were Henry Cabell and Susannah Holmes, a young couple who met in jail, but had to make it all the way to Botany Bay before they were allowed to be wed. This dense song-cycle chronicles their journey -- convicted of petty theft, detained for several years in an English jail before being deported to Australia, and finally wed under colonial law, later to become one of the founding families of the new nation. Peter Bellamy wrote the libretto, and enlisted a phalanx of the most talented British trad singers to help out, including June Tabor, Nic Jones, Martin Carthy and the Watersons, each taking on a role within the operetta. Dolly Collins provides orchestral arrangements which are mildly impenetrable or overly flowery at times, and in terms of overall tempo the album lacks variation, but the material itself is very powerful and the story is quite compelling. (For more folk music dealing with Australian history, also check out the various albums by Martyn Wyndham-Read.)
Bandoggs "Bandoggs" (Trailer/Transatlantic, 1978)


An all-star collaboration between guitarist Nic Jones and fellow British folkies Christine Coe, Pete Coe and Tony Rose... Jones sings on about half the songs, including some that wound up in his regular repertoire... Sadly, this is one of the many, many fine out-of-print albums from the old Leader-Trailer record label that have been in a bizarre legal limbo for several decades. Sigh. I don't own a copy myself, but sure wish I did!


<! side one Tailor in the Tea Chest* Astleys Ride Up and Away The Rose of Allandale Hind Horn* The Herrings Head/Salmon Tails Up the Water/Little Fishes side two Ladies Dont Go A'thieving* Geordie* Dragoon and the Lady* Soldier Soldier* Adam Was A Poacher Hares in the Old Plantation Hunt the Hare >

Tony Hall "Field Vole Music" (Free Reed, 1977)





<! Tony Hall, Nic Jones, Johhny Moynihan, Keith Pearshouse, Ian McCoy (1977) Tripping Upstairs; Wooden-Ended Reel; Trumpet Hornpipe; Holmfirth Anthem; The Banks of the Seine; Andrew Rose; Gerry's Slow Tune; Shallow Brown; Bantry Bay; Peeler Creek; The Trim Rig Doxie; Bottom of the Punchbowl; The Weavers March / The Quaker; The Rounding of Cape Horn; The Major Minor Tune; Just As the Tide Was Flowing; The Wind That Shakes the Barley. >

Paul Metsers "Caution To The Wind" (Highway, 1981)
Jones joins kiwi folkie Paul Metsers as an accompanist for most of this album. Includes a version of Metser's best-known song, "Farewell To The Gold," which Jones also recorded on Jones' Penguin Eggs album (reviewed above).



Martyn Wyndham-Read "Emu Plains" (Fellside, 1981/2001)


Martyn Wyndham-Read specializes in Australian folk tunes, and recorded this gorgeous album of ballads from Down Under with Jones contributing on fiddle on a couple of tracks. It's a nice match, since Wyndham-Read has a very similar style to Jones: richly emotional, and an authoritative, entirely believable air. Full of pioneer story-songs, odes to natural spendor, and numerous beautiful melodies. Absolutely lovely -- just the kind of folk music I enjoy the most... with stately instrumentation and wonderfully expressive vocals. Highly recommended!!
---
Links
---
Selected English Folk Singers has a nice Nic Jones page... one of precious few in cyberspace! The site discography includes information on various Jones-related projects that I have not had the good fortune to hear myself (yet!)
The Living Tradition has a chatty entry on Jones, which concentrates on his guitar style, and where Jones fit into the British (and Celtic) folk revival... Very informative and insightful.
Music That Means Something is a pleasantly idiosyncratic site which includes a nice Nic Jones discography, including an exhaustive listing of his appearances on other folks' albums and various side projects.
Shanachie Records still has Penguin Eggs in print (and once had Noah's Ark Trap...) Plus, they have a lot of other great Celtic and British trad stuff to poke through on their ever-fascinating website...
Nic Jones is distributing his new album, literally, out of his home -- the most reliable method to get ahold of In Search Of Nic Jones and Unearthed is to write the artist courtesy of his cottage industry:

Mollie Music
52 Newland Park Drive
York, YO10 3HP
ENGLAND, UK


Check with the label regarding current prices. Checks or IMOs should be made payable to Nic Jones/Mollie Music.

Appleseed Recordings recently reissued John Wesley Harding's Trad Arr Jones album, reviewed above. Here is a link to a page wherein JWH discusses the new edition.
Wikipedia has a very informative new entry as well...
---



Main Celt/Brit Index
International Music Index



---